Absolute Game Changer – this T-Mobile Unlimited Video Streaming offer will Change the Way we Watch TV Forever!

IMAGINE BEING ABLE TO STREAM AS MUCH VIDEO AS YOU WANT, ON YOUR TABLET OR PHONE, WITHOUT USING UP YOUR DATA?
WELL, THAT DREAM JUST BECAME A REALITY WITH T-MOBILE'S NEW UNLIMITED STREAMING OFFER…. BINGE ON
Perhaps the most widely used medium of the digital age is the advent of online mobile streaming. Watching Netflix on your computer or television is pretty cool, but there's just something so convenient about watching television on your phone that it's hard to compare to other media forms. Not to mention, it's a great cord cutting tool as well.
Yet sadly, one of the biggest buzz kills to this technological revolution has been the ridiculous data caps imposed by telecom giants like AT&T. I mean seriously, do they really think that 3GB of data is enough to do anything besides browse the web? Give me a break!
---

No Data Caps on Video Streaming
But the good news for consumers and cord cutters alike is that data caps may soon become a thing of the past; or at least when it comes to online video. According to Forbes, T-Mobile will no longer count streaming from services like Netflix against your monthly data caps.
Let that sink in for a moment… That means no more fear of turning off Wi-Fi, no accidental overages, and no more crowded home Wi-Fi networks!
---
Video Streaming Services
Dubbed the "Binge On" feature, T-Mobile customers will be able to stream videos from up to 24 streaming services without having it count against your data; with more services to be added in the future.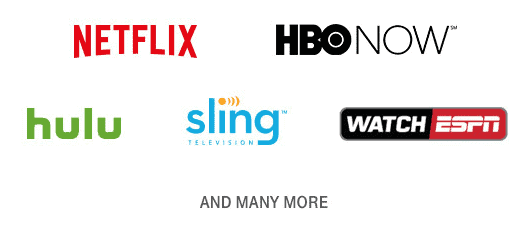 When asked whether or not T-Mobile would include XXX video apps, T-Mobile CEO John Legere told CNN that it would indeed.
"Any legal content that meets the tech requirement will be brought in," Legere continued. "Customers want reliable video. It's a big, big pain point."
T-Mobile also announced that it would double the amount of data that customers are paying for without raising their prices; as well as giving everyone on a family plan the same amount of data instead of a shared pool.
---
Drawbacks
Now there's no such thing as a free lunch so here are the drawbacks: Video quality is capped out at 480p; so you're stuck with DVD quality instead of true HD. Also, you won't be able to stream videos on Facebook or YouTube with the Binge On feature either; which is a bummer.
There are also concerns over what kind of precedent this will set, not only for the mobile market, but also for online streaming. The FCC was very clear that when it comes to internet traffic all feeds must be treated equally; and by allowing "zero ratings" offers, it could skew the market.
Think about it, companies like T-Mobile or Verizon could decide who become the next Netflix simply by deciding whether or not the app takes up data or not. Theoretically speaking, online streaming could become just as bad as cable through this model. But that's a worst case scenario.
---
Get a Discount on Sling TV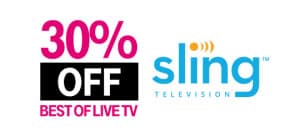 To make this deal even that much sweeter, ALL T-Mobile customers can get 30% off a full year of Sling TV. This discount drops the monthly price down to $14. Want to learn more about Sling? Read "WHAT IS SLING TV", or click here to view the T-Mobile / Sling TV offer buying options.
---
T-Mobile Free Streaming
Doomsday predictions aside, this is still a game changer; especially for cord cutters. Many cord cutting enthusiasts are still locked into internet contracts with companies like Comcast because they can't afford the high price of date; but this Binge On feature will completely shake that up.
Click here to get more details.
In my opinion, this is a good day for the cord cutting revolution and a bad one for big cable. But what do you think? Sound off in the comments below or send us tweet!
Latest posts by HotDog.com Staff
(see all)