Disclosure:
Your support helps keep our site running! We earn referral fees for some of the products & services we recommend.
Learn more
Red Sox fans both locally and across the US can watch most if not all games. And they can do this without a long-term cable contract.
In a hurry? When it comes to MLB, streaming is a bit complicated. We'll explain it all below. But if you are a fan who lives in or around Massachusetts, these are great options:
FuboTV: Get the TV home of the Red Sox and dozens of other sports channels. FuboTV allows you to try out its service free for 7 days.
DIRECTV STREAM: The king of RSNs will have you covered through the playoffs. FuboTV allows you to try out its service free for 7 days.
The Boston Red Sox have long been one of Major League Baseball's premier franchises, and its rivalry with the New York Yankees is amongst the sport's most intense. The pride of New England has also won a lot of hardware over the past several years, claiming World Series titles in 2004, 2007, 2013, and 2018.
Would you like to watch the Boston Red Sox play? Fortunately, they are regularly featured on national television. Their local broadcasts are carried by NESN, which is available through DIRECTV STREAM ($89.99/mo) and FuboTV ($69.99/mo) to local fans. For those outside the area, an MLB.TV subscription ($24.99/mo) does the same.
About the Red Sox
The Red Sox had supposedly suffered from the Curse of the Bambino for much of its history. Babe Ruth had helped Boston to World Series titles in 1915, 1916, and 1918, the club's third, fourth, and fifth.
But he was then traded to the Yankees, where he experienced mass success. Meanwhile, the Red Sox would not win another World Series title until 86 years had passed since the last one in 1918.
Between 1918 and 2004, the team played in the World Series four times, in 1946, 1967, 1975, and 1986. All of them resulted in seven-game series defeats.
However, the club has been one of the major's best since finally securing that elusive championship in 2004. It now has nine World Series titles with almost half of them since 2004. However, the Red Sox did experience a temporary dip in form after 2018, going 84-78 in 2019 and 24-36 in 2020, missing the playoffs both times.
But the team improved in 2021, going 92-70 and claiming a wild card berth before embarking on an impressive postseason run. Boston dispatched the Yankees in the wild card game and took care of the AL East Division champion Tampa Bay Rays, 3-1, in the Division Series. They fell just short of the American League pennant when the Houston Astros defeated them, 4-2, in the AL Championship Series.
Red Sox TV Channels
You can expect to see the Boston Red Sox feature regularly on national and regional broadcasts. These include Saturday games on Fox, Sunday Night Baseball on ESPN, and other televised games on Fox Sports 1 (FS1) and TBS. Also, appearances on NBC, ABC, and MLB Network are possible. In addition, keep in mind that Peacock Premium and Apple TV+ now have the exclusive rights to show some MLB games.
As for local broadcasts, those are shown on NESN, which stands for New England Sports Network. This regional sports network (RSN) carries the NHL's Boston Bruins as well. If both teams are playing at the same time, which is most likely to occur in April, one of the contests will be moved to NESN+.
NESN is available throughout New England with the exception of Fairfield County in southwestern Connecticut.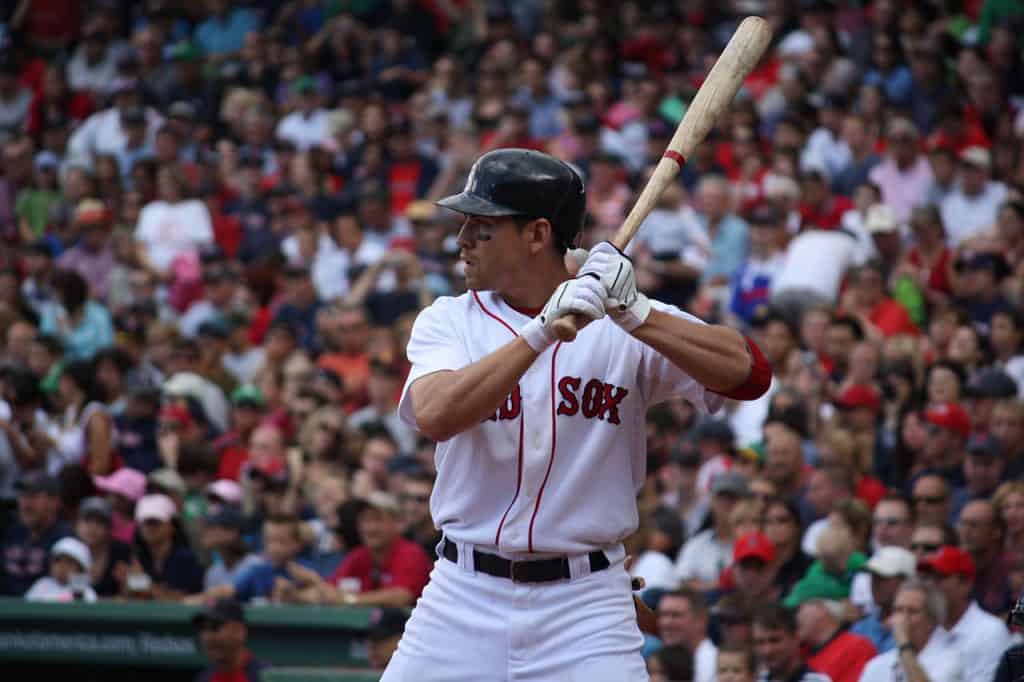 Watching the Red Sox
Are you looking to watch the Boston Red Sox play without a cable or satellite subscription? You have some options.
Antenna
Simply procuring an antenna will grant you access to numerous Red Sox games. Most notably, going this route will ensure that you can watch all World Series games that the team may play.
Plus, other playoff games and regular-season contests that Boston plays may be shown on Fox, NBC, and ABC.
Streaming
If you are searching for a way to stream NESN and other channels showing Red Sox games, consider these options.
Live TV Streaming Services
Only two services offer NESN but they couldn't be better:
DIRECTV STREAM (formerly AT&T TV): Offers access to NESN in its Choice plan ($89.99/mo) to subscribers who are located in that channel's broadcast area. It also offers a selection of other regional sports networks to most. For example, those in Boston get NBC Sports Boston as well. Meanwhile, you will receive local Fox, ABC, and NBC affiliates as well as access to national networks such as TBS, FS1, ESPN, and MLB Network. All plans come with unlimited cloud DVR storage (online sign up required) and streaming on up to 20 devices at once. (DIRECTV STREAM review)
FuboTV: Also provides access to NESN and NBC Sports Boston to subscribers located within its broadcast area while local ABC, NBC, and Fox affiliates are available as well. As for national outlets showing Red Sox games, ESPN and FS1 are included, but TBS is not, which will limit you in terms of playoff games. Meanwhile, if you want the MLB Network, need Fubo Extra ($7.99/mo) or Sports Plus with NFL RedZone ($10.99/mo). All plans come with at least 1000 hours of cloud DVR and streaming on up to 10 devices. (FuboTV review)
Other streaming services that do not carry NESN but that offer other networks that sporadically show Boston Red Sox contests that you may want to consider include Hulu + Live TV ($69.99/mo), Vidgo ($59.95/mo), Sling TV ($35/mo), and YouTube TV ($64.99/mo).
Specialty Streaming Services
Although these are usually thought of as on-demand streaming services, they provide lots of live sports:
Apple TV+: Has become an exclusive home of some MLB games. It streams two contests every Friday, and those may include Red Sox games from time to time. It costs $4.99/mo.
Peacock Premium: Also started exclusively streaming some baseball games in 2022. These contests, which may include Red Sox games, are on Sundays. Interestingly, some will have first-pitch times that are in the morning. Costs $4.99/mo. (Peacock review)
ESPN+: Will probably carry Red Sox games throughout the 2022 campaign. However, most or all of those may only be available to those not in the team's local market, so this is more of an out-of-market option to consider. The base plan is $6.99/mo but the Hulu Bundle is a better deal and includes Disney+. (ESPN+ review)
MLB.TV
If you are outside of the Boston Red Sox' blackout region, which includes nearly all of New England, you can watch NESN broadcasts of most of the team's games with an MLB.TV subscription ($24.99/mo) or $119.99/yr for a single team subscription.
However, do take note of national and local blackouts. For example, Sunday Night Baseball games on ESPN cannot be watched through MLB.TV if you are, for example, in Michigan. You cannot use MLB.TV to watch Red Sox-Tigers games.
Devices for Live Streaming Boston Red Sox Games
DIRECTV STREAM, FuboTV, and MLB.TV all support the most popular devices:
Amazon Fire TV
Android mobile devices
Apple TV
Chromecast
iOS mobile devices
Roku
Samsung smart TVs
Web browsers.
DIRECTV STREAM allows you to use its own device, which you can purchase from the company. FubuTV and MLB.TV also support Android TV and other smart TVs as well as the Xbox gaming system.
Wrapping Up
The Boston Red Sox may be watched through a number of means. The best options available to cord-cutters who are located in New England with are DIRECTV STREAM ($89.99/mo) and FuboTV ($69.99/mo). They both offer NESN.
If you are elsewhere, consider subscribing to MLB.TV ($24.99/mo) for access to most NESN game broadcasts.
Also keep in mind that sporadic regular-season and all postseason Red Sox games will be shown elsewhere. A list of these other possibilities includes Fox, ESPN, FS1, TBS, NBC, ABC, Apple TV+, and Peacock Premium.
FAQs
Where is the Red Sox game playing on TV tonight?
In most cases, assuming that the postseason has not started, you should head to NESN to watch tonight's Boston Red Sox game. If it is not there, try Apple TV+ if it is Friday, Fox if it is Saturday, and ESPN and Peacock Premium if it is Sunday. Other possibilities include ABC, NBC, FS1, and TBS. Meanwhile, if it is a postseason game, it will be on Fox, FS1, TBS, ESPN, or MLB Network.
Which radio station broadcasts Red Sox games?
The Boston Red Sox Radio Network is extensive, spreading across New England as well as into New York (Albany and St Johnsville). So you may actually get multiple radio stations broadcasting the game. Those in Boston should tune into WEEI, which may be found at 93.7 FM. Another option for those in New England as well as elsewhere is listening to those broadcasts online through MLB Radio ($2.99/mo).
Can I watch the Red Sox on TV for free?
If you have an antenna, you can watch some Boston Red Sox games for free. The team plays on Fox a few times a season, and any Red Sox World Series games are broadcast by Fox while regular-season games may be shown on ABC or NBC. Meanwhile, out-of-market fans should keep in mind that they may be able to stream Boston games for free courtesy of the MLB.TV Free Game of the Day.
Is it possible to watch Red Sox games on my smartphone?
Yes, you absolutely can watch Red Sox games on your smartphone. One option for most in New England is through the NESN app. Out-of-market fans with an active MLB.TV subscription can view most of those same broadcasts courtesy of the MLB app. Another example is that ESPN-broadcast Red Sox games can be viewed on your smartphone after logging into the ESPN app.
What is the Boston Red Sox 2022 Schedule?
For this regular season, the Red Sox will play against New York Yankees, Detroit Tigers, Minnesota Twins, Toronto Blue Jays, Tampa Bay Rays, Baltimore Orioles, Los Angeles Angels, Chicago White Sox, Atlanta Braves, Texas Rangers, Houston Astros, Seattle Mariners, Cincinnati Reds, Oakland Athletics, St Louis Cardinals, Cleveland Guardians, Chicago Cubs, Milwaukee Brewers, Houston Astros, Kansas City Royals, and Pittsburgh Pirates.
Here are all the Boston Red Sox games for the 2022 regular season with dates and times (EDT). Except where indicated, the games should air on NESN and MLB.TV.
Thu Apr 7 1:05 pm: @ Yankees (MLBN)
Sat Apr 9 4:05 pm: @ Yankees (FS1)
Sun Apr 10 7:08 pm: @ Yankees (ESPN)
Mon Apr 11 5:10 pm: @ Tigers
Tue Apr 12 1:10 pm: @ Tigers
Wed Apr 13 1:10 pm: @ Tigers
Fri Apr 15 2:10 pm: vs Twins
Sat Apr 16 4:10 pm: vs Twins
Sun Apr 17 1:35 pm: vs Twins (MLBN)
Mon Apr 18 11:10 am: vs Twins (MLBN)
Tue Apr 19 7:10 pm: vs Blue Jays (MLBN)
Wed Apr 20 7:10 pm: vs Blue Jays (MLBN)
Thu Apr 21 1:35 pm: vs Blue Jays
Fri Apr 22 7:10 pm: @ Rays
Sat Apr 23 6:10 pm: @ Rays
Sun Apr 24 1:10 pm: @ Rays (MLBN)
Mon Apr 25 7:07 pm: @ Blue Jays (MLBN)
Tue Apr 26 7:07 pm: @ Blue Jays
Wed Apr 27 7:07 pm: @ Blue Jays (MLBN)
Thu Apr 28 3:07 pm: @ Blue Jays
Fri Apr 29 7:05 pm: @ Orioles
Sat Apr 30 7:05 pm: @ Orioles
Sun May 1 1:05 pm: @ Orioles
Tue May 3 7:10 pm: vs Angels
Wed May 4 7:10 pm: vs Angels
Thu May 5 1:35 pm: vs Angels
Fri May 6 7:10 pm: vs White Sox (Apple TV+)
Sat May 7 4:10 pm: vs White Sox
Sun May 8 TBD: vs White Sox (Peacock)
Tue May 10 7:20 pm: @ Braves (TBS)
Wed May 11 7:20 pm: @ Braves
Fri May 13 8:05 pm: @ Rangers
Sat May 14 7:05 pm: @ Rangers
Sun May 15 2:35 pm: @ Rangers
Mon May 16 7:10 pm: vs Astros
Tue May 17 7:10 pm: vs Astros (TBS)
Wed May 18 6:10 pm: vs Astros
Thu May 19 7:10 pm: vs Mariners
Fri May 20 7:10 pm: vs Mariners
Sat May 21 4:10 pm: vs Mariners
Sun May 22 1:35 pm: vs Mariners
Tue May 24 8:10 pm: @ White Sox
Wed May 25 8:10 pm: @ White Sox
Thu May 26 8:10 pm: @ White Sox
Fri May 27 7:10 pm: vs Orioles (Apple TV+)
Sat May 28 12:10 pm: vs Orioles
Sat May 28 6:10 pm: vs Orioles
Sun May 29 1:35 pm: vs Orioles
Mon May 30 7:10 pm: vs Orioles
Tue May 31 7:10 pm: vs Reds
Wed Jun 1 7:10 pm: vs Reds
Fri Jun 3 9:40 pm: @ Athletics
Sat Jun 4 4:07 pm: @ Athletics
Sun Jun 5 4:07 pm: @ Athletics
Mon Jun 6 9:38 pm: @ Angels
Tue Jun 7 9:38 pm: @ Angels
Wed Jun 8 9:38 pm: @ Angels
Thu Jun 9 9:38 pm: @ Angels
Fri Jun 10 10:10 pm: @ Mariners
Sat Jun 11 10:10 pm: @ Mariners
Sun Jun 12 4:10 pm: @ Mariners
Tue Jun 14 7:10 pm: vs Athletics
Wed Jun 15 7:10 pm: vs Athletics
Thu Jun 16 1:35 pm: vs Athletics
Fri Jun 17 7:10 pm: vs Cardinals
Sat Jun 18 7:15 pm: vs Cardinals (Fox)
Sun Jun 19 TBD: vs Cardinals
Mon Jun 20 7:10 pm: vs Tigers
Tue Jun 21 7:10 pm: vs Tigers
Wed Jun 22 7:10 pm: vs Tigers
Fri Jun 24 7:10 pm: @ Guardians
Sat Jun 25 6:10 pm: @ Guardians
Sun Jun 26 1:40 pm: @ Guardians
Mon Jun 27 7:07 pm: @ Blue Jays
Tue Jun 28 7:07 pm: @ Blue Jays
Wed Jun 29 7:07 pm: @ Blue Jays
Fri Jul 1 2:20 pm: @ Cubs
Sat Jul 2 7:15 pm: @ Cubs (Fox)
Sun Jul 3 2:20 pm: @ Cubs
Mon Jul 4 1:35 pm: vs Rays
Tue Jul 5 7:10 pm: vs Rays
Wed Jul 6 7:10 pm: vs Rays
Thu Jul 7 7:10 pm: vs Yankees
Fri Jul 8 7:10 pm: vs Yankees
Sat Jul 9 7:15 pm: vs Yankees (Fox)
Sun Jul 10 7:08 pm: vs Yankees
Mon Jul 11 7:10 pm: @ Rays
Tue Jul 12 7:10 pm: @ Rays
Wed Jul 13 7:10 pm: @ Rays
Thu Jul 14 7:10 pm: @ Rays
Fri Jul 15 7:05 pm: @ Yankees
Sat Jul 16 7:15 pm: @ Yankees (Fox)
Sun Jul 17 1:35 pm: @ Yankees
Fri Jul 22 7:10 pm: vs Blue Jays
Sat Jul 23 4:10 pm: vs Blue Jays
Sun Jul 24 1:35 pm: vs Blue Jays
Mon Jul 25 7:10 pm: vs Guardians
Tue Jul 26 7:10 pm: vs Guardians
Wed Jul 27 7:10 pm: vs Guardians
Thu Jul 28 7:10 pm: vs Guardians
Fri Jul 29 7:10 pm: vs Brewers
Sat Jul 30 4:10 pm: vs Brewers (FS1)
Sun Jul 31 1:35 pm: vs Brewers
Mon Aug 1 8:10 pm: @ Astros
Tue Aug 2 8:10 pm: @ Astros
Wed Aug 3 2:10 pm: @ Astros
Thu Aug 4 8:10 pm: @ Royals
Fri Aug 5 8:10 pm: @ Royals
Sat Aug 6 7:10 pm: @ Royals
Sun Aug 7 2:10 pm: @ Royals
Tue Aug 9 7:10 pm: vs Braves
Wed Aug 10 7:10 pm: vs Braves
Thu Aug 11 7:10 pm: vs Orioles
Fri Aug 12 7:10 pm: vs Yankees
Sat Aug 13 7:15 pm: vs Yankees (Fox)
Sun Aug 14 TBD: vs Yankees
Tue Aug 16 7:05 pm: @ Pirates
Wed Aug 17 7:05 pm: @ Pirates
Thu Aug 18 7:05 pm: @ Pirates
Fri Aug 19 7:05 pm: @ Orioles
Sat Aug 20 4:05 pm: @ Orioles
Sun Aug 21 7:10 pm: @ Orioles
Tue Aug 23 7:10 pm: vs Blue Jays
Wed Aug 24 7:10 pm: vs Blue Jays
Thu Aug 25 7:10 pm: vs Blue Jays
Fri Aug 26 7:10 pm: vs Rays
Sat Aug 27 4:10 pm: vs Rays
Sun Aug 28 TBD: vs Rays
Mon Aug 29 7:40 pm: @ Twins
Tue Aug 30 7:40 pm: @ Twins
Wed Aug 31 7:40 pm: @ Twins
Thu Sep 1 7:10 pm: vs Rangers
Fri Sep 2 7:10 pm: vs Rangers
Sat Sep 3 4:10 pm: vs Rangers
Sun Sep 4 1:35 pm: vs Rangers
Mon Sep 5 4:10 pm: @ Rays
Tue Sep 6 6:40 pm: @ Rays
Wed Sep 7 6:40 pm: @ Rays
Fri Sep 9 7:05 pm: @ Orioles
Sat Sep 10 7:05 pm: @ Orioles
Sun Sep 11 1:05 pm: @ Orioles
Tue Sep 13 7:10 pm: vs Yankees
Wed Sep 14 7:10 pm: vs Yankees
Fri Sep 16 7:10 pm: vs Royals
Sat Sep 17 4:10 pm: vs Royals
Sun Sep 18 1:35 pm: vs Royals
Tue Sep 20 6:40 pm: @ Reds
Wed Sep 21 6:40 pm: @ Reds
Thu Sep 22 7:05 pm: @ Yankees
Fri Sep 23 7:05 pm: @ Yankees
Sat Sep 24 1:05 pm: @ Yankees
Sun Sep 25 1:35 pm: @ Yankees
Mon Sep 26 7:10 pm: vs Orioles
Tue Sep 27 7:10 pm: vs Orioles
Wed Sep 28 7:10 pm: vs Orioles
Thu Sep 29 1:35 pm: vs Orioles
Fri Sep 30 7:07 pm: @ Blue Jays
Sat Oct 1 3:07 pm: @ Blue Jays
Sun Oct 2 1:37 pm: @ Blue Jays
Mon Oct 3 7:10 pm: vs Rays
Tue Oct 4 7:10 pm: vs Rays
Wed Oct 5 TBD: vs Rays
Latest posts by Frank Moraes
(see all)