Don't miss the Wildcats at the Music City Bowl on Saturday, December 31st at on ABC!
The Kentucky Wildcats are one of the best men's basketball teams in the NCAA. They are followed both locally and nationally. As a result, you can find all their games on major national channels. Read on to learn how to watch without cable.
In a hurry? Wildcats games are usually aired on ESPN-related channels. These services provide all you need to see every Kentucky game and a lot more!
FuboTV: The best streaming service for international sports also provides 120+ well-selected channels. FuboTV allows you to try out its service free for 7 days.
DIRECTV STREAM: Get a great channel lineup with the best selection of RSNs in the industry. A 5-day free trial is now available for DIRECTV STREAM.
Hulu + Live TV: A great overall streaming service offering 85+ live channels along with ESPN+ and Disney+. Try one month for $69.99.
If you can't watch your favorite sports because of your location, get ExpressVPN to access the content you deserve.
Unfortunately, we don't know a streaming service in that covers this sport. But if you've already paid for the right service, and just can't watch because of your location, there is an easy way to get the content you deserve. You need a VPN, like one of the following.
ExpressVPN: Premium VPN provider that just works, with 3,000+ locations in 94 countries. Supports five simultaneous devices and comes with a 30-day money-back guarantee. (ExpressVPN review)
Surfshark: Connect to over 3,200 servers in 99 countries (+ tonnes of US metro areas). Try it with a 7-day free trial.
NordVPN: Connect to over 5,000 premium servers in 60+ countries. Comes with a 30-day money-back guarantee!
If you're overwhelmed and not sure where to begin, you'll find all the answers in our full VPN guide.
The Kentucky Wildcats are one of the founding members of the Southeastern Conference (SEC), and they currently sponsor 13 sports at the varsity level.
In addition to the men's and women's basketball team and men's football team, the school participates in other mainstream sports such as soccer, gymnastics, and tennis.
Let's take a closer look at the history of the school, its athletic programs, and how you can watch Kentucky athletics from wherever you happen to be.
Sign Up for a Free 7-Day Fubo Trial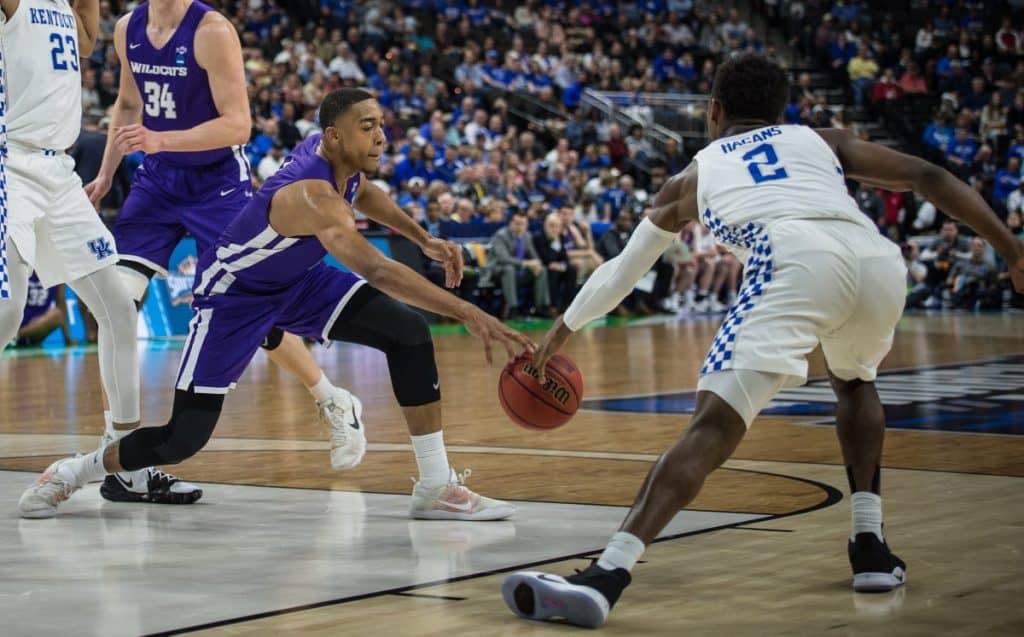 Kentucky Wildcats
The Wildcats got their nickname from a quote that was uttered after a football game played in 1909 against Illinois. Speaking at a church service the morning after the contest, the head of a nearby military college said that the team had fought like the ferocious jungle creatures. Several years later, the school officially adopted the moniker for all of its sports programs.
In recent years, the Kentucky men's and women's basketball teams have had varying levels of success. The men's program won its most recent national championship in 2012 and appeared in the national championship game in 2014. The women's team made the NCAA tournament in 2021 and advanced to the second round before being eliminated by Iowa.
The men's team is currently coached by John Calipari and plays its home games at Rupp Arena. Kentucky's home arena is named after Adolph Rupp, who was one of the most successful coaches in school history. He was hired by the school in 1930 and would remain there until 1972. During that time, his teams won four national championships as well as a National Invitational Tournament (NIT) title.
Throughout its history, the basketball team has produced a number of top players who have gone on to have lengthy professional careers. Those players include Devin Booker, John Wall, and Anthony Davis. In 2010, four Kentucky players were selected by NBA teams in that year's draft.
2022-2023 Kentucky Wildcats Schedule
Mon Nov 7 : Howard (63) at Kentucky (95) (SECN)
Fri Nov 11 : Duquesne (52) at Kentucky (77) (SECN)
Tue Nov 15 : Michigan State (86) at Kentucky (77) (ESPN)
Thu Nov 17 : South Carolina State (63) at Kentucky (106) (SECN)
Sun Nov 20 : Gonzaga (88) vs Kentucky (72) (ESPN)
Wed Nov 23 : North Florida (56) at Kentucky (96) (SECN+)
Tue Nov 29 : Bellarmine (41) at Kentucky (60)
Sun Dec 4 : Michigan (69) vs Kentucky (73) (ABC)
Sat Dec 10 : Yale (59) at Kentucky (69)
Sat Dec 17 : UCLA (63) vs Kentucky (53) (CBSSN)
Wed Dec 21 : Florida A&M (68) at Kentucky (88)
Wed Dec 28 : Kentucky (75) at Missouri (89) (SECN)
Sat Dec 31 : Louisville (63) at Kentucky (86) (CBSSN)
Tue Jan 3 : LSU (71) at Kentucky (74) (ESPN)
Sat Jan 7 : Kentucky (52) at Alabama (78) (ESPN)
Tue Jan 10 : South Carolina (71) at Kentucky (68) (ESPN/ESPN2)
Sat Jan 14 : Kentucky (63) at Tennessee (56) (ESPN)
Tue Jan 17 : Georgia at Kentucky (ESPN)
Sat Jan 21 : Texas A&M at Kentucky (ESPN)
Tue Jan 24 : Kentucky at Vanderbilt (SECN)
Sat Jan 28 : Kansas at Kentucky (ESPN)
Tue Jan 31 : Kentucky at Ole Miss (ESPN/ESPN2)
Sat Feb 4 : Florida at Kentucky (ESPN)
Tue Feb 7 : Arkansas at Kentucky (ESPN/ESPN2)
Sat Feb 11 : Kentucky at Georgia (ESPN/ESPN2)
Wed Feb 15 : Kentucky at Mississippi State (SECN)
Sat Feb 18 : Tennessee at Kentucky (CBSSN)
Wed Feb 22 : Kentucky at Florida (ESPN/ESPN2)
Sat Feb 25 : Auburn at Kentucky (CBSSN)
Wed Mar 1 : Vanderbilt at Kentucky (SECN)
Sat Mar 4 : Kentucky at Arkansas (CBSSN)
Unblock Your Favorite Events & Teams With a VPN
If you can't watch your favorite events or teams because of your location, a VPN will allow you to get the access you are entitled to, plus extra security and unequalled privacy. Check out our VPN Guide for everything you need to know, including our top pick ExpressVPN.
Wildcats Channels
The Wildcats have their games featured on a variety of channels but almost all of them are related to ESPN. The most common channel is SEC Network (SECN) or its substation (SECN+). Games also appear on ESPN itself and CBS.
If Kentucky is playing a non-conference opponent, it's possible that the contest will be shown on a network that typically broadcasts teams featuring that conference. For example, if the Wildcats were playing against an Atlantic Coast Conference (ACC) opponent such as Syracuse or Clemson, that game might be shown on the ACC Network.
Sign Up for a Free 7-Day Fubo Trial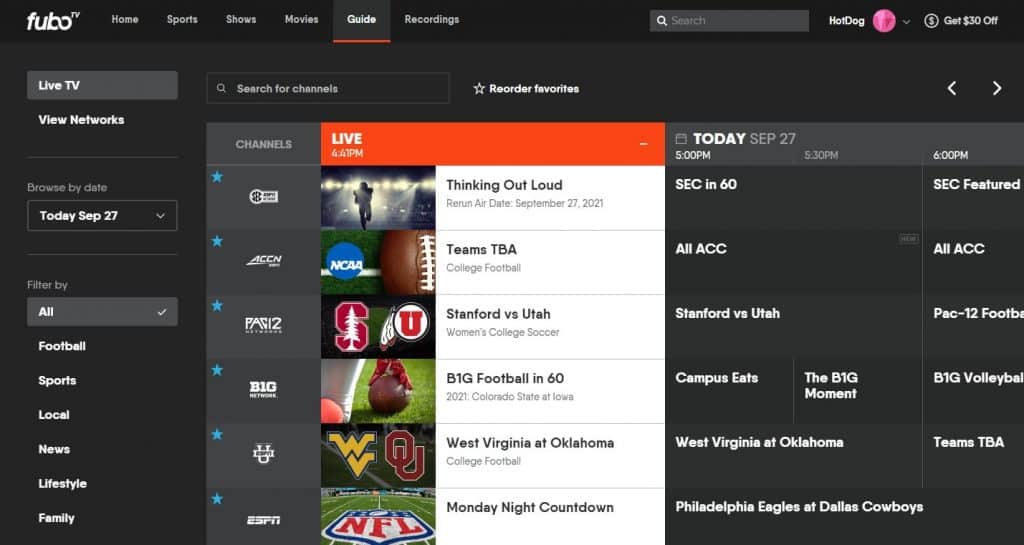 Stream Wildcats Basketball
Most of the major streaming services provide access to all the ESPN channels. Here are our favorites.
FuboTV

FuboTV starts at $74.99/mo, and the lowest service tier comes with ESPN and CBS. With the Fubo Extra add-on for $7.99/mo, you get 46 extra channels including SEC Network.
The base plan comes with 1000 hours of cloud DVR and simultaneous streaming on up to ten devices. Our FuboTV review has all the details.
Sign Up for a Free 7-Day Fubo Trial
Sling TV

Sling Orange comes with ESPN, ESPN2, and ESPN3 and roughly 30 other channels for just $40.00/mo. If you want SEC Network, you can add Sports Extra for $11/mo more. It's still a great deal.
This plan limits you to using one screen at a time but it does come with 50 hours of cloud DVR storage. See our Sling TV review for more information.
Hulu + Live TV

For $69.99/mo, Hulu Live provides ESPN, SEC Network, and CBS. In all, you get 85+ live TV channels as well as Disney+ and ESPN+.
This plan comes with unlimited cloud DVR (9 month storage) and streaming on up to two devices at a time. Get more information in our Hulu + Live TV review.
Other Streaming Options
For $74.99/mo, DIRECTV STREAM provides CBS, ESPN, and ESPN2. To get SEC Network, you'll need to upgrade to the Choice plan, which costs $99.99/mo. But there are many other advantages to this plan. See our DIRECTV STREAM review.
Vidgo offers all the ESPN channels for $59.95/mo. So does YouTube TV for $64.99/mo.
Stream Kentucky Wildcats Games With Most Devices and TVs
Hulu, Fubo, and Sling all support the major streaming devices: Amazon Fire TV, Android mobile, Android TV, Apple TV, Chromecast, iOS (iPad, iPhone), LG smart TVs, Roku, Samsung smart TVs, web browsers, and Xbox gaming systems.
Vizio smart TVs are supported by Fubo and Hulu. PlayStation and Nintendo Switch units are supported by Hulu.
All three streaming services support other less popular devices. See our individual reviews for complete lists.
Superpower Your Streaming With a VPN
For the sake of privacy, security, and access, you should be using a VPN. They are low-cost and easy to use. We've been using them for years and our top pick is ExpressVPN. Be sure to check out our Cyber Monday 2022 deals on ExpressVPN, NordVPN, SurfShark and PureVPN.
Other Wildcats Sports
As noted above, the Wildcats have a lot of sports worth watching.
Women's Basketball
Although the school is best known for its success in men's basketball, the women's team was the first to make its debut in 1902. The men's squad would be created a year later. In the 1920s, the women's program would be abolished until 1974 based on the strange premise that women weren't physically capable of doing so.
The program is currently coached by Kyra Elzy and plays its home games at the Memorial Coliseum. This is the same arena where the men's team played until 1976 when Rupp Arena was built.
Rhyne Howard is one of the most important members of the current team and has been named the SEC's best player in 2020 and 2021. In 1983, the Wildcats were ranked fourth in the nation, which was the school's highest ranking. That squad was led by all-time greats Valerie Still and Lea Wise.
The women's team games appear on the same channels as the men's team games although there are a lot more that appear on SECN+. This station should be available with any subscription that includes SECN — either directly or via TV Everywhere.
Football
Both basketball programs were created about a decade after the school started playing football. Kentucky's football team was coached by the legendary Paul "Bear" Bryant for eight seasons from 1946 to 1954, and the team was retroactively named the 1950 national champions in 2004.
During the 1950 season, the Wildcats defeated Oklahoma in its bowl game, and at the time, the Sooners were the top ranked team in the country. It's believed that Kentucky would have likely been the consensus pick to win the title that year if the NCAA had a formal process for naming a champion.
Kentucky's football team went 9-3 during the 2021 season and qualified for the Citrus Bowl. The team has featured several notable names in recent years including current quarterback Will Levis and 2019 first round NFL draft pick Josh Allen.
The Wildcats are currently coached by Will Stoops and play their home games at Kroger Field. Kentucky's top rivals in football include Louisville, Tennessee, and Vanderbilt. In a typical year, the Wildcats will play the Louisville Cardinals during the final week of the season for the Governor's Cup.
The Wildcat football games appear on the same channels as the basketball games.
Other Significant Programs
Since 2012, the track and field team has won 29 individual conference championships and an additional six at the national level. The school's cheerleading team has won 24 national titles and have made the cheerleading tournament finals every year that it has existed.
The school's baseball and softball teams have had a sustained run of success over the past decade thanks to new coaches and new stadiums. In 2018, the baseball team moved to Kentucky Proud Park while the softball team moved into John Cropp Stadium in 2013. In 2012, the baseball team earned its only number one ranking during a year in which it won 45 games and advanced to the NCAA tournament.
These games appear on ESPNU, SECN, SECN+, as well as ESPN+.
Wrapping Up
The Kentucky Wildcats are a popular team and so often featured on live TV. You can enjoy them without cable through a number of services like Hulu + Live TV and Sling TV.
Sign Up for a Free 7-Day Fubo Trial
More Basketball
The following guides explain how to watch other NCAA basketball teams without cable.
Ditch "Big Cable" Now – 3 Simple Steps to Cut the Cord
Pick the right streaming service
Get the content you deserve with the best VPN.
Supercharge your internet provider
That's it — you'll save money, take back control, and enjoy TV more!
Latest posts by Frank Moraes
(see all)