Mountaineers fans have a lot of choices to watch their team once they cut the cord. Read on to learn all you need to know.
In a hurry? Most West Virginia games appear on one of the ESPN channels. A couple are found on CBS. And 9 of the 2021-2022 season appear on ESPN+. This makes your options pretty easy:
FuboTV: The best streaming service for international sports also provides 100+ well-selected channels. FuboTV allows you to try out its service free for 7 days.
Sling TV: This low-cost service allows you to select just the channel lineup you want. Save 50% on your first month of Sling TV.
DIRECTV STREAM: Get a great channel lineup with the best selection of RSNs in the industry. A 5-day free trial is now available for DIRECTV STREAM.
If you can't watch your favorite sports because of your location, get ExpressVPN to access the content you deserve.
If you can't watch your favorite movies and shows because of your location, you need a VPN. Here are our top picks from our VPN guide:
ExpressVPN: Established VPN provider in close to 100 countries. Smart DNS and unlimited bandwidth. Try it with a 30-day money-back guarantee.
Surfshark: Connect to over 3,200 servers in 99 countries. Comes with a 7-day free trial!
CyberGhost: Great low-cost service with a free 24-hour trial.
A member of the Big 12 conference, the West Virginia Mountaineers have a long history of success at the highest level of college basketball.
The team is currently coached by Bob Huggins, who has been with the program for the past 15 seasons. West Virginia plays its home games at WVU Coliseum, which is usually packed to capacity regardless of who the Mountaineers are matched against.
The men's team has appeared in the NCAA Tournament 29 times and has won 13 Big 12 titles.
Sign Up for a Free 7-Day Fubo Trial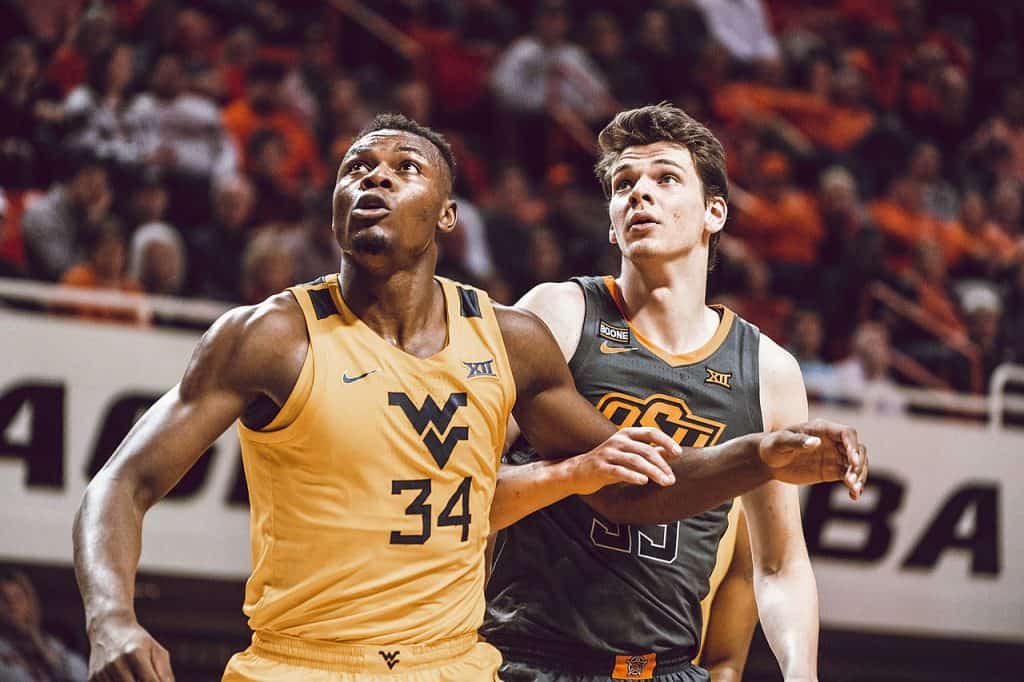 What Channels Are the Mountaineers Showcased On?
The majority of West Virginia men's basketball games will be shown on the ESPN family of networks. These networks include ESPN2 and ESPNU. Also, roughly a third of the games stream exclusively on ESPN+.
A couple of games appear on CBS and CBS Sports Network (CBSSN). If the Mountaineers make it to the NCAA Tournament, you will likely be able to watch those games on CBS.
Unblock Your Favorite Events & Teams With a VPN
If you can't watch your favorite events or teams because of your location, a VPN will allow you to get the access you are entitled to, plus extra security and unequalled privacy. Check out our VPN Guide for everything you need to know, including our top pick ExpressVPN.
How to Stream West Virginia Basketball
Live Streaming Services
There are lots of options if you want to watch most Mountaineers games.
FuboTV

The FuboTV Pro package is $69.99 per month and comes with ESPN, ESPN2, and local networks such as CBS, NBC, and Fox. So it will allow you to watch most West Virginia games but not all.
FuboTV is a great choice if you have varied sports interests — especially if they tend toward international sports and soccer. Its base plan also includes CBSSN, FS1, FS2, Galavision, Golf Channel, NFL Network, Olympic Channel, and multiple channels from TUDN and beIN Sports.
For all the details, see our FuboTV review.
Sign Up for a Free 7-Day Fubo Trial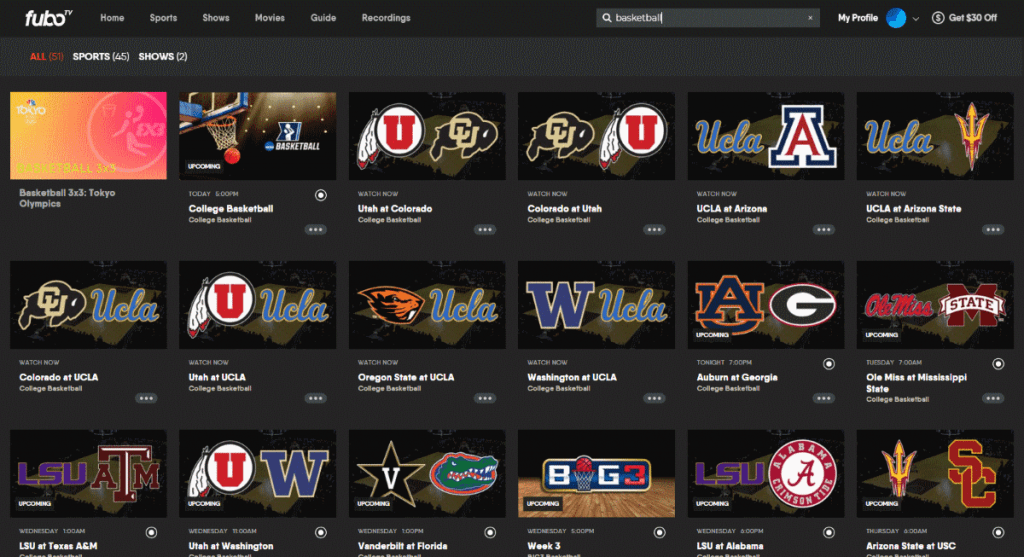 DIRECTV STREAM

For $69.99, you can get access to the DIRECTV STREAM (formerly AT&T TV), which is the lowest of the company's four main service options. This package comes with ESPN and ESPN2 so you will be able to watch most Mountaineers games.
But most likely, you will go with DIRECTV STREAM because of its selection of regional sports networks (RSNs), which you can get with the Choice plan for $89.99/mo. This also gives you ESPNU, ACCN, Big Ten Network, and SEC Network (as well as MLB Network and NBA TV).
For more, see our DIRECTV STREAM review.
Get DIRECTV STREAM Free for 5 Days
Sling TV

The Sling Orange package is $35 per month and comes with ESPN, ESPN2, and ESPN3. The Sports Extra add-on is $11/mo more and comes with ESPNU and ESPNews. In addition, this add-on includes ACCN, SEC Network, and Texas Longhorn Network. If you add ESPN+, that's still only $52.99 per month.
Sling TV is the customizable streaming service in the industry. If you want to know all your options, see our Sling TV review.
Hulu + Live TV

Hulu + Live TV is your one-stop source for West Virginia basketball. Its base plan includes over 85 channels including ESPN, ESPN2, and ESPNU. You also CBS, CBSSN, TBS, TNT, and truTV — all you need to watch March Madness.
But now, for $69.99/mo, you also get ESPN+ and Disney+. So you can watch every Mountaineers game of the season!
There's a lot more. See our Hulu + Live TV review for all the details.
Vidgo

For $59.95 a month, Vidgo provides ESPN, ESPN2, and ESPNU. Furthermore, you'll get to watch ESPNews and ESPN Deportes as part of the platform's base service package. It's a great package for NCAA fans — also including ACC Network, Big Ten Network, Longhorn Network, the Pac-12 Network channels, and SEC Network.
The problem with Vidgo is that it doesn't provide any CBS or Turner (eg, TBS) channels. And it doesn't come with a cloud DVR. But NCAA fans will find a lot to like. For more information see our Vidgo review.
YouTube TV

YouTube TV is $64.99 per month and offers all of your local channels as part of the base package. It also comes with CBS, CBSSN, ESPN, ESPN2, and ESPNU. It's a lot like Hulu + Live TV but for less but without ESPN+ and Disney+. See our YouTube TV review for more information.
Specialty Streaming Services
You can see a surprising amount going with a specialty streaming service.
ESPN+

For the 2021-2022 season, ESPN+ airs 9 of the 32 games played by the West Virginia Mountaineers. It won't provide any championship or March Madness games but that's still a lot coverage for just $9.99/mo.
But more likely, ESPN+ will be an addition to another streaming service. Hulu + Live TV is making this very easy but combining its exceptional on-demand streaming library, 85+ live channels, Disney+, and ESPN+ for $99.99/yr. That is a sweet deal!
Parmount+

Paramount+ streams content that airs on CBS and other stations that fall under the Paramount umbrella. That means during the 2021-2022 season, you could watch two West Virginia basketball games. But CBS also airs a lot of March Madness. So that makes this $4.99/mo service a great addition to Sling TV.
Get Paramount+ for 7 Days Free
Other West Virginia Sports
The Mountaineers are known for more than just their men's basketball team. (Storied though it is!)
Women's Basketball
As with the men's team, the women's basketball team primarily appears on ESPN and their family of networks. However, you will also find games on SEC Network Longhorn Network.
Football
West Virginia football games are broadcast on ESPN, ABC, and FS1. Some Mountaineer football games are also streamed on ESPN+.
Other
In addition to football and basketball, the school also sponsors men's soccer, women's volleyball, and baseball. Athletes also compete in a variety of other sports such as cross country, rowing and wrestling. Typically, these teams will be featured on ESPN+ and ESPNU.
Streaming Devices and TVs for Mountaineers Basketball
All the streaming services provide support for most streaming devices. Hulu and ESPN+ support all the following:
Amazon Fire TV
Android mobile
Android TV
Apple TV
Chromecast
iOS (iPhone, iPad)
Oculus
PlayStation 4

Roku
Samsung smart TVs
Xbox One
Xfinity
Web browsers.
ESPN+ also supports the Oculus VR device. Hulu supports a number of other devices that the standalone ESPN+ does not. These include PlayStation 3 and 4, LG and Vizio smart TVs, Echo Show, and Nintendo Switch.
Sign Up for a Free 7-Day Fubo Trial
Superpower Your Streaming With a VPN
For the sake of privacy, security, and access, you should be using a VPN. They are low-cost and easy to use. We've been using them for years and our top pick is ExpressVPN.
Wrapping Up
West Virginia Mountaineers men's basketball can generally be seen on ESPN and their family of networks. In some cases, games will be broadcast on other channels but these are a small minority.
The same is generally true of the women's basketball team as well as the football program. Most streaming services will carry some or all of these channels as part of their base plans or as part of an add-on to a base service package.
To watch all the games, you will also need ESPN+. Because of this, we recommend Hulu + Live TV.
FAQs
How can I watch West Virginia women's basketball?
If you have access to ESPN and its related channels, you will be able to watch the majority of contests featuring the West Virginia women's basketball team. But as with the men's basketball team, many games stream only on ESPN+ so you need to have access to both live channels this service.
Has West Virginia won a championship in basketball?
West Virginia has been one of the best NCAA men's basketball teams for decades so it's a bit surprising they have not won a national championship. They have, however, won a postseason tournament. In 2007, they were crowned champions of the National Invitational Tournament (NIT), which is a secondary competition that also takes place in March.
Although the women's basketball team has never won a national postseason tournament, they were Big 12 tournament champions in 2017.
Ditch "Big Cable" Now — 3 Simple Steps to Cutting the Cord
Pick the right streaming service
Get the content you deserve with the best VPN.
Supercharge your internet provider
That's it — you'll save money, gain control, and enjoy TV more!
Latest posts by Frank Moraes
(see all)