Falcons fans don't need to worry about cutting the cord. With the right streaming service, they can catch every game of the season. Read on to learn everything!
In a hurry? If you just want to cut to the chase, these streaming services will set you up to catch all the Falcons action this season:
FuboTV: The best streaming service for international sports also provides 120+ well-selected channels. FuboTV allows you to try out its service free for 7 days.
DIRECTV STREAM: Get a great channel lineup with the best selection of RSNs in the industry. A 5-day free trial is now available for DIRECTV STREAM.
Hulu + Live TV: A great overall streaming service offering 85+ live channels along with ESPN+ and Disney+. Try one month for $69.99.
If you can't watch your favorite sports because of your location, get ExpressVPN to access the content you deserve.
Unfortunately, we don't know a streaming service in that covers this sport. But if you've already paid for the right service, and just can't watch because of your location, there is an easy way to get the content you deserve. You need a VPN, like one of the following.
ExpressVPN: Premium VPN provider that just works, with 3,000+ locations in 94 countries. Supports five simultaneous devices and comes with a 30-day money-back guarantee. (ExpressVPN review)
Surfshark: Connect to over 3,200 servers in 99 countries (+ tonnes of US metro areas). Try it with a 7-day free trial.
NordVPN: Connect to over 5,000 premium servers in 60+ countries. Comes with a 30-day money-back guarantee!
If you're overwhelmed and not sure where to begin, you'll find all the answers in our full VPN guide.
Bottom line: 16 of the 17 regular season Falcons games will air on live TV with one only streaming (on Amazon Prime Video). The services above have you covered for the regular and postseason. See the Falcons schedule below.
The Atlanta Falcons have been around for over 50 years and have amassed quite a following in that time. Whether in the state of Georgia or across the country, Falcons fans are everywhere.
If you're a loyal Falcons fan, you probably don't miss a game if you can help it. Well, now it's possible to watch the Atlanta Falcons online without cable.
Are you a fan outside your team's broadcast area? Learn to get complete access with our NFL Out-of-Market Game Guide.
This guide offers all of the details you need to watch Atlanta Falcons games without a cable contract. Watching the NFL for any team will require a variety of channels, but you can watch them all without cable thanks to services like Hulu Live and FuboTV (free for 7 days), amongst others.
Keep reading to learn more about the services that will allow you to watch the Atlanta Falcons game live stream without cable!
Atlanta Falcons: NFL Postseason
Atlanta finished the season 7-10, which was good for last place in the NFC South. The team will have the eighth pick in the draft, and the team will likely choose the best player available as it has many roster issues to address.
Although the Falcons drafted Desmond Ridder with the hope that he would be the team's answer at quarterback, he largely struggled when given a chance to play. With Kyle Pitts returning next season, Atlanta will want to draft or sign a quarterback who can take advantage of the firepower available at the skill positions.
Sign Up for a Free 7-Day Fubo Trial
What Channels Offer the Atlanta Falcons Live Stream?
In order to watch the Atlanta Falcons live stream throughout the season, you're going to need a few specific channels. As with most teams, you'll be able to catch the NFL on local networks (CBS, FOX, and NBC), and broadcast networks like ESPN and NFL Network.
Keep reading to learn more about how and where you can stream these channels without cable.
Unblock Your Favorite Events & Teams With a VPN
If you can't watch your favorite events or teams because of your location, a VPN will allow you to get the access you are entitled to, plus extra security and unequalled privacy. Check out our VPN Guide for everything you need to know, including our top pick ExpressVPN.
How to Watch the Atlanta Falcons Without Cable TV
Services including Hulu with Live TV and FuboTV give you a chance to watch all of your favorite shows without cable. Depending on the service you choose, you'll also have some or all of the channels you need to watch the Atlanta Falcons live stream contract-free.
Each service offers a wide range of channels and may offer extra features like an on-demand library or a cloud-based DVR. This means you'll be able to watch a wide variety of NFL content throughout the season both live and on-demand.
Unlike cable, you'll be able to utilize these services from just about anywhere as long as you have a compatible device and an Internet connection. Device options vary based on the service you choose but could include mobile phones and tablets, computers, Roku, Chromecast, and other devices.
Out-of-Market Atlanta Falcons Games
If you are an Atlanta Falcons fan in the great Georgia area, it's easy to watch all the games live. But if you live far from the team, you will have a fairly limited selection of games to watch because of the regional nature of NFL broadcasting.
This is a well-known issue. We provide an overview of your options in NFL Out-of-Market Football Games.
Normally, the solution to this problem is NFL Sunday Ticket. (If you're interested, see our review.) But it is currently only available to subscribers of DIRECTV Satellite. This is not an option for cord-cutters.
There are other ways to watch out-of-market NFL games. One is to use a VPN. You can get all the details from ExpressVPN.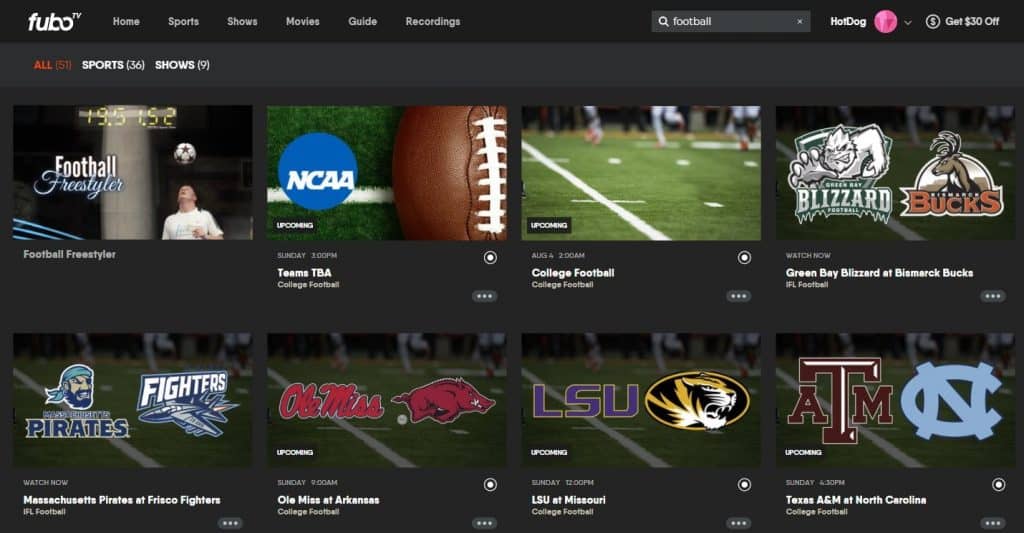 Watch Falcons Football Without Cable on FuboTV
FuboTV presents another great option for Falcons fans. In fact, you'll have over 120 channels in all (including over 35 sports-oriented ones) for just $74.99/mo.
Other FuboTV details:
FuboTV was originally created with sports fans in mind, but thanks to the large packages, there's something here for everyone. You also can watch content on-demand or you can save it to your cloud-DVR.
Sign Up for a Free 7-Day Fubo Trial
Watch the Atlanta Falcons Game Online on Hulu with Live TV
Hulu + Live TV works great as a full cable replacement service. The prices are fair and there is a wide variety of channel options. With over 85 channels, most people shouldn't have any trouble finding things to watch. Here's what you can expect:
Over 85 channels
Comes with Hulu on-demand library, ESPN+, and Disney+
All of the main channels you need for Falcons game streaming except NFL Network
Plans from $69.99/mo — cancel any time
Local channels (e.g. Fox, CBS, and NBC) available in most areas
You can watch ESPN online (Monday Night Football)
Unlimited cloud DVR (9 month storage)
Watch on mobile devices, Apple TV, Amazon Fire TV, computers, Roku, and more
Hulu on-demand is part of the Hulu Live package
Read our Hulu with Live TV review to learn more.
Hulu Live is one of the top ways to watch Falcons football without cable. Best of all, with this package, you'll be able to watch local channels, news, sports, and plenty of other shows.
You'll also have access to live and on-demand content, which gives you more options.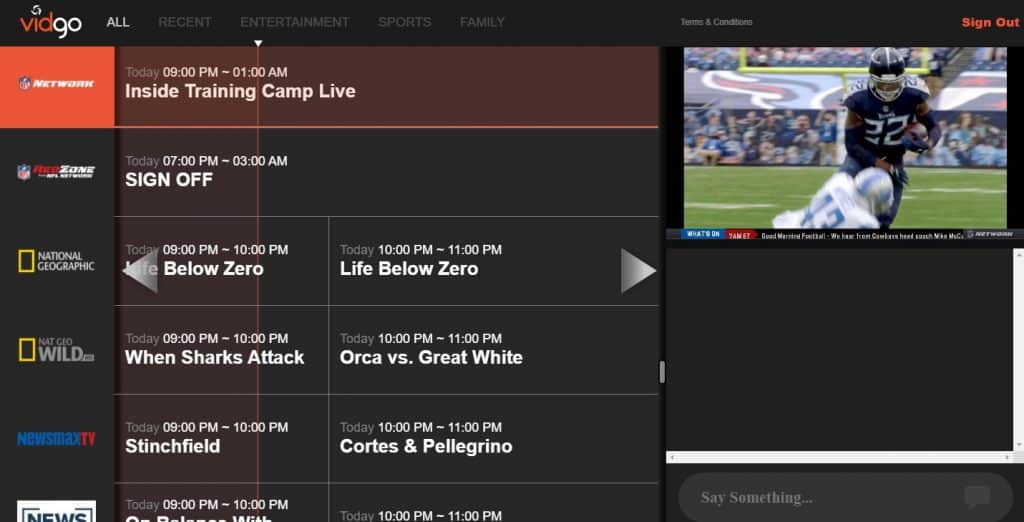 Superpower Your Streaming With a VPN
For the sake of privacy, security, and access, you should be using a VPN. They are low-cost and easy to use. We've been using them for years and our top pick is ExpressVPN. Be sure to check out our Cyber Monday 2022 deals on ExpressVPN, NordVPN, SurfShark and PureVPN.
Other Options to Watch Atlanta Falcons Online
Both Hulu Live and fuboTV are great options, but there are other services if you want more. All of the services below will give you a chance to watch some or all of the Atlanta Falcons season online without cable.
Available options include:
Looking for Info on How to Watch Another Team?
Need more information on how to watch the NFL without cable tailored specifically to your favorite team? Click on your team below.
No matter which service you choose, you'll have a cheaper, contract-free way to watch sports and any of the other shows you want. If you have questions about how to watch the Atlanta Falcons game without cable, make sure to let us know!
Sign Up for a Free 7-Day Fubo Trial
FAQs
Which channels do I need to watch the Atlanta Falcons?
The Atlanta Falcons are usually broadcast on a regional basis on Fox affiliates with a select number of Sunday afternoon contests airing on CBS instead, regionally as well. Evening broadcasts will be shown on ABC, NBC, NFL Network, ESPN, Fox or Amazon Prime Video. If you are not located in or near Atlanta, you will need to purchase NFL Sunday Ticket to watch Fox- or CBS-broadcast games that are not shown where you are.
What radio stations are the Atlanta Falcons on?
Understandably, the Atlanta Falcons radio network is focused on Georgia although games can be listened to on out-of-state radios situated near Georgia's borders and in select other communities. You can also listen to Falcons-produced broadcasts of the team's games through a TuneIn Premium subscription. In addition, Westwood One Sports provides national radio coverage of some Atlanta Falcons games, including all playoff games. Those broadcasts can also listen to online through TuneIn Premium.
How do I watch the Atlanta Falcons on my phone?
Watching Atlanta play on your device is particularly easy to do if you are located in Georgia as all in-market contests can be viewed courtesy of NFL+ for $4.99/mo. However, if you are situated elsewhere, especially so if you are not even in the South, you would then need to access a general streaming service like FuboTV or NFL Sunday Ticket.
How many championships has the Atlanta Falcons won?
The Atlanta Falcons do not have any Super Bowl trophies. They have claimed the NFC championship on two occasions, in 1998 and 2016, but the latter one is an especially painful one to remember for Falcons fans as Atlanta then blew a 28-3 lead to fall to the New England Patriots, 34-28, at Super Bowl LI. The Falcons also have six division championships, won in 1980, 1998, 2004, 2010, 2012, and 2016.
How do I watch the Atlanta Falcons game tonight?
Tonight's Atlanta Falcons game may be on NFL Network, ESPN, ABC, Fox, NBC, or even through Amazon Prime Video. However, note that any games broadcast on NFL Network, ESPN, or Amazon Prime Video will also be shown on an over-the-air channel in Atlanta. In order to access tonight's game broadcast, take advantage of the offerings that providers such as Sling TV and fuboTV provide. The television network's apps are options as well.
How do I record Atlanta Falcons live games?
Recording Atlanta Falcons games can be done through the recording availability that streaming services like FuboTV and Sling TV provide. Of course, most cable and satellite providers usually offer this option as well. However, note that NFL Sunday Ticket broadcasts cannot be recorded although a subscription to NFL+ will provide you with access to all previously played Atlanta Falcons games.
What is the 2022 Atlanta Falcons schedule?
Fri Aug 12 : Falcons (27) at Lions (23) [P]
Mon Aug 22 : Falcons (16) at Jets (24) (ESPN) [P]
Sat Aug 27 : Jaguars (12) at Falcons (28) [P]
Sun Sep 11 : Saints (27) at Falcons (26) (Fox)
Sun Sep 18 : Falcons (27) at Rams (31) (Fox)
Sun Sep 25 : Falcons (27) at Seahawks (23) (Fox)
Sun Oct 2 : Browns (20) at Falcons (23) (CBS)
Sun Oct 9 : Falcons (15) at Buccaneers (21) (Fox)
Sun Oct 16 : 49ers (14) at Falcons (28) (Fox)
Sun Oct 23 : Falcons (17) at Bengals (35) (Fox)
Sun Oct 30 : Panthers (34) at Falcons (37) (Fox)
Sun Nov 6 : Chargers (20) at Falcons (17) (Fox)
Thu Nov 10 : Falcons (15) at Panthers (25) (Prime Video)
Sun Nov 20 : Bears (24) at Falcons (27) (Fox)
Sun Nov 27 : Falcons (13) at Commanders (19) (Fox)
Sun Dec 4 : Steelers (19) at Falcons (16) (CBS)
Sun Dec 18 : Falcons (18) at Saints (21) (Fox)
Sat Dec 24 : Falcons (9) at Ravens (17) (Fox)
Sun Jan 1 : Cardinals (19) at Falcons (20) (Fox)
Sun Jan 8 : Buccaneers (17) at Falcons (30) (Fox)
Sign Up for a Free 7-Day Fubo Trial
Ditch "Big Cable" Now – 3 Simple Steps to Cut the Cord
Pick the right streaming service
Get the content you deserve with the best VPN.
Supercharge your internet provider
That's it — you'll save money, take back control, and enjoy TV more!
Latest posts by Frank Moraes
(see all)