If you're here, you're probably looking for a way to watch the Chicago Bears without cable. Well, you're in luck! There are plenty of ways to pick up the Chicago Bears live stream without cable, and we can tell you how!
In a hurry? It's not hard to watch all the Bears games without cable. All you need to do is pick the right streaming service:
FuboTV: The best streaming service for international sports also provides 100+ well-selected channels. FuboTV allows you to try out its service free for 7 days.
DIRECTV STREAM: Get a great channel lineup with the best selection of RSNs in the industry. A 5-day free trial is now available for DIRECTV STREAM.
Sling TV: This low-cost service allows you to select just the channel lineup you want. Save 50% on your first month of Sling TV.
The Chicago Bears are one of two remaining teams from the inaugural NFL season in 1920. If you're in Chicago, you know all about the Bears. Chicago fans are known for their rabid loyalty and despite a slump here and there, they always offer a good show.
The following guide will give you a look at how easy it is to stream your favorite content without cable thanks to services like FuboTV (free for 7 days). More specifically, you'll find all you need to know from the channels you need to the services that offer them so that you can watch the Chicago Bears online without a cable connection.
What Channels Offer the Chicago Bears Live Stream?
If you want to watch the Chicago Bears games online, you'll need a selection of channels to do that. The more channels you have, the more games you'll be able to watch. You can watch all of the following channels without cable, so if you've already cut the cord it won't make a difference.
The local channels you need include NBC, CBS, and Fox. You can access these through streaming services, depending on your location, or you can pick them up with a digital antenna.
Broadcast channels you'll need include ESPN and NFL Network. You'll need a streaming service or cable to watch these channels legally.
Do You Need a VPN?
If you find you can't watch particular events because of your location, a VPN should allow you to get the access you are entitled to. It also provides extra security and unequalled privacy. See our complete VPN Guide for all you need to know.
How to Watch the Chicago Bears Game without Cable
If you want to watch the Chicago Bears without cable, you've got options. Some of the best options for watching sports without cable include FuboTV and Hulu with Live TV.
Of course, there are other options available. In general, streaming services offer a low-cost way to enjoy most of the channels you had with cable without a contract.
Streaming services are easy to use. All you need is a streaming device (Chromecast, Amazon Fire TV, mobile devices, Roku, etc.) and an Internet connection.
You can stream from most locations. Signup is simple and usually takes less than a few minutes. This means you can be set up and watching the Chicago Bears live stream in no time.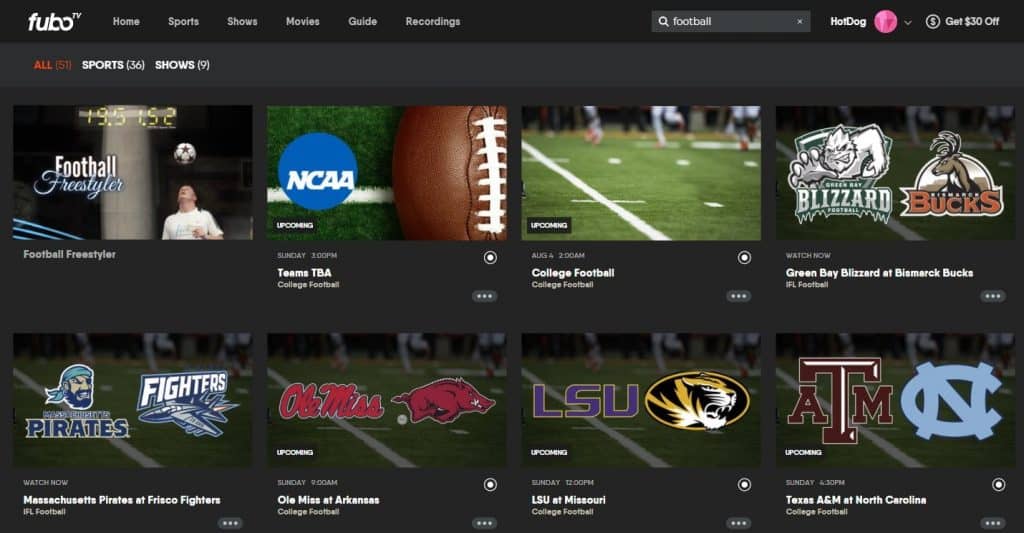 Watch the Chicago Bears without Cable on FuboTV
FuboTV offers one of the biggest starting packages in streaming with over 105 channels. This package also gives you access to an on-demand library and a cloud DVR.
For sports fans, FuboTV is hard to beat due to the 35+ sports channels included. More FuboTV details:
FuboTV is a great service whether you want to stream sports or family movies. In short, there is something here for everyone.
You can watch TV live or for up to 3-days after it airs in the on-demand library. You can also use TV Everywhere apps or record games to your cloud-DVR. FuboTV gives you plenty of options!
Don't forget to try the free for 7 days!
Watch the Chicago Bears Online via Hulu + Live TV
Hulu Live TV is a great way to watch Chicago Bears online this season. Local channels are available in almost all cities and ESPN is available nationwide. You'll have 85+ live channels plus Hulu's on-demand service. Here's more on Hulu Live:
85+ channels with Hulu on-demand for $69.99/month
Also includes ESPN+ and Disney+
ESPN is included nationwide, and local channels are available in most areas
Good solution to watch NFL games
Unlimited cloud DVR (9 month storage)
Watch on Roku, Apple TV, iOS/Android, Amazon Fire TV, and more
Visit our Hulu with Live TV review to learn more
Hulu Live is a great choice for cord-cutters who want to save money without missing their favorite shows. You can stream content live and on-demand, so there's always something to watch.
Superpower Your Streaming With a VPN
For the sake of privacy, security, and access, you should be using a VPN. They are low-cost and easy to use. We've been using them for years and our top pick is ExpressVPN.
Other Options to Watch Chicago Bears Game Online
We've discussed some great options between Hulu Live and FuboTV, but when it comes to streaming there are other options available.
If you want another option that will allow you to watch the Chicago Bears online without cable, here are your other options.
Looking for Info on How to Watch Another Team?
Need more information on how to watch the NFL without cable tailored specifically to your favorite team? Click on your team below.
As you can see, streaming services give you a chance to replace cable. You'll pay less without sacrificing when it comes to content. If you're still not sure how you can watch the Chicago Bears online without cable, feel free to reach out. We're here to help!
FAQs
Which channels do I need to watch the Chicago Bears?
Most Chicago Bears games will be shown on Fox affiliates on a regional basis with CBS broadcasting a select number of their contests regionally as well. For match-ups that are shown to a national audience, which are generally prime-time telecasts, channels such as ESPN, ABC, NBC, or NFL Network may show them instead; Fox broadcasts some night games as well. Regardless, all Bears games will be shown on an over-the-air station in the Chicagoland area.
What radio stations are the Chicago Bears on?
The Bears Radio Network spreads from its flagship stations of WBBM Newsradio 780 and 105.9 FM throughout Illinois and into Indiana (Plymouth) and Iowa (Burlington). If you are situated outside of the reach of the Bears Radio Network, you may be able to listen to a select number of Chicago's games, including each of the team's potential postseason contests, on Westwood One Sports. Local Bears radio broadcasts are also accessible through a TuneIn Premium subscription.
How do I watch the Chicago Bears on my phone?
If you are located in the Chicago Bears television broadcast area, which includes most of Illinois, you can watch all or nearly all of the team's games through the Yahoo Sports, Bears, and NFL apps. They provide access to Bears games that are being broadcast in your area regardless of where you are. In addition, general streaming services like FuboTV as well as NFL Sunday Ticket (out-of-market games only) allow you to watch on phones.
How many championships has the Chicago Bears won?
Chicago has won one Super Bowl, thanks to the Monsters of the Midway leading the 1985 Bears to a 15-1 record and three dominating playoff wins, the final one a 46-10 demolition of the New England Patriots in Super Bowl XX. However, the team has a total of nine NFL championships to its name. The other eight occurred before the first Super Bowl was played, in 1921, 1932, 1933, 1940, 1941, 1943, 1946, and 1963.
How do I watch the Chicago Bears game tonight?
Tonight's Bears game will be shown on Fox, ABC, ESPN, NBC, NFL Network, or Amazon Prime Video. The most likely options are NBC and ESPN, the channels that generally broadcast Sunday Night Football and Monday Night Football contests. In addition, all cable-broadcast games will be simulcast on a Chicago-based over-the-air television station for those in the Chicagoland area. Sling TV and FuboTV are additional options that you can use to gain access to tonight's contest.
How do I record Chicago Bears live games?
Bears games can usually be recorded with a DVR. These are usually options with cable and satellite providers. Almost all streaming services include cloud DVRs as part of their base plans. One notable exception is the inability to record NFL Sunday Ticket broadcasts. With a DVR, you can record games with the touch of a button and play them back at any time.
What is the 2022 Chicago Bears schedule?
Sat Aug 13 1:00 pm: Chiefs at Bears [P]
Thu Aug 18 8:00 pm: Bears at Seahawks (ESPN) [P]
Sat Aug 27 7:00 pm: Bears at Browns [P]
Sun Sep 11 1:00 pm: 49ers at Bears (Fox)
Sun Sep 18 8:20 pm: Bears at Packers (NBC)
Sun Sep 25 1:00 pm: Texans at Bears (CBS)
Sun Oct 2 1:00 pm: Bears at Giants (Fox)
Sun Oct 9 1:00 pm: Bears at Vikings (Fox)
Thu Oct 13 8:15 pm: Commanders at Bears (Prime Video)
Mon Oct 24 8:15 pm: Bears at Patriots (ESPN)
Sun Oct 30 1:00 pm: Bears at Cowboys (Fox)
Sun Nov 6 1:00 pm: Dolphins at Bears (CBS)
Sun Nov 13 1:00 pm: Lions at Bears (Fox)
Sun Nov 20 1:00 pm: Bears at Falcons (Fox)
Sun Nov 27 1:00 pm: Bears at Jets (Fox)
Sun Dec 4 1:00 pm: Packers at Bears (Fox)
Sun Dec 18 1:00 pm: Eagles at Bears (Fox)
Sat Dec 24 1:00 pm: Bills at Bears (CBS)
Sun Jan 1 1:00 pm: Bears at Lions (Fox)
TBD: Vikings at Bears
Latest posts by Frank Moraes
(see all)