Are you a New York Jets fan looking to cut the cord? Afraid you will have to miss out on games as a result? There's no need to worry. If anything, you'll be better off without your cable contract. Learn all your options below.
In a hurry? If you don't want to research the subject, just pick one of our favorite streaming services:
Fubo: The best streaming service for international sports also provides 130+ well-selected channels. Fubo allows you to try out its service free for 7 days.
DIRECTV STREAM: Get a great channel lineup with the best selection of RSNs in the industry. A 5-day free trial is now available for DIRECTV STREAM.
If you can't watch your favorite sports because of your location, get ExpressVPN to access the content you deserve.
Unfortunately, we don't know a streaming service in that covers this sport. But if you've already paid for the right service, and just can't watch because of your location, there is an easy way to get the content you deserve. You need a VPN, like one of the following.
| | | |
| --- | --- | --- |
| | ExpressVPN: Known as "The VPN that just works," it combines remarkable ease of use with with state-of-the-art power, speed, security, and privacy. Get three extra free months when you sign up for a year. Unleash your streaming with this top-rated VPN. | Sign Up Now |
| | Surfshark: Surfshark: Secure and easy to use with thousands of servers around the world. Of special note is its excellent collection of servers inside the US, which is great for regional sports lie NFL, MLB, and NBA. Get it now with an incredible 82% discount on a 24-month plan. | Sign Up Now |
| | NordVPN: One of the top VPNs with extremely fast servers all over the world. Great for streaming with tested perfomance on the biggest servers and included ad-blocking. Currently offering 70% discount on 2-year plans. | Sign Up Now |
If you're overwhelmed and not sure where to begin, you'll find all the answers in our full VPN guide.
Bottom line: 16 of the 17 regular season Jets games will air on live TV with one only streaming (on Amazon Prime Video). The services above have you covered for the regular and postseason. See the Jets schedule below.
The New York Jets are known for having one of the longest droughts in NFL history. Of course, unlike the other teams holding this distinction, the Jets have won a Super Bowl. Life can be rough if you're a Jets fan, but if you're like most fans, you continue to root for your team and you rarely miss a game.
If you're one of those fans, you no longer need cable to watch the Jets. Now you can watch the New York Jets online without cable thanks to services like FuboTV (free for 7 days) and Hulu Live and we can tell you how!
In order to pick up the New York Jets live stream online, you'll need a streaming service. If you're unfamiliar with streaming services, this guide will let you know more about streaming.
More importantly, you'll learn about the services that you can use to watch the New York Jets game online without cable.
Sign Up for a Free 7-Day Fubo Trial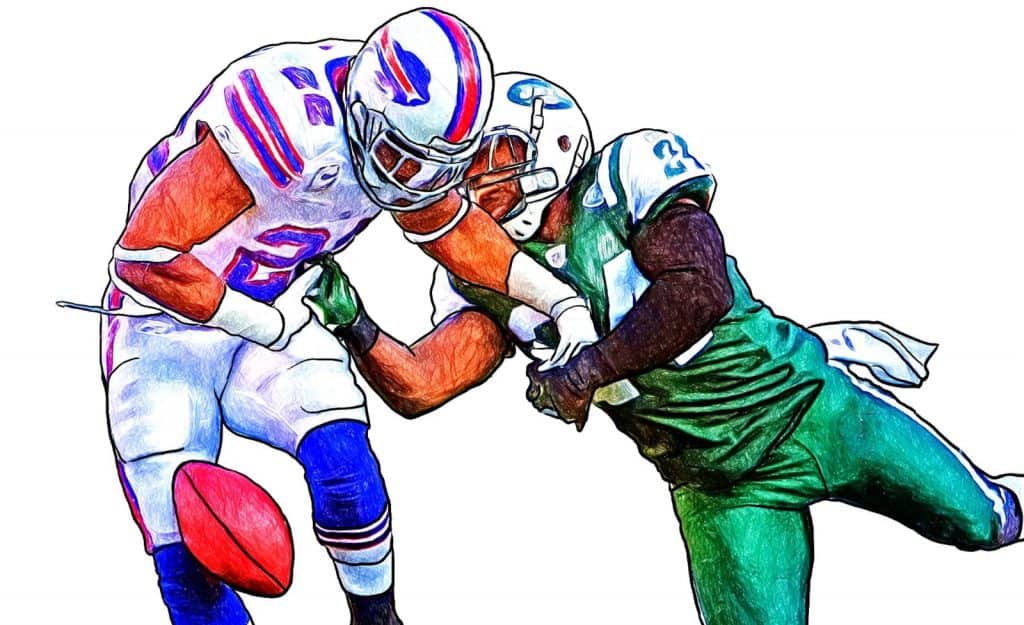 What Channels Offer the New York Jets Live Stream?
As long as you have the right channels, you can watch just about anything online without cable. When it comes to streaming the New York Jets you'll need NFL Network, ESPN, CBS, NBC, and Fox. All of these channels can be accessed through a variety of streaming devices.
The local area channels may also be available through a digital antenna. Depending on your location, an antenna may be an easier option to get local channels, as streaming services only offer them based on location.
Unblock Your Favorite Events & Teams With a VPN
If you can't watch your favorite events or teams because of your location, a VPN will allow you to get the access you are entitled to, plus extra security and unequalled privacy. Check out our VPN Guide for everything you need to know, including our top pick ExpressVPN.
How to Watch the New York Jets Game without Cable
You're here to find a way to watch the New York Jets games without cable. The first step to do that is to pick a streaming service. We'll go through all of your options at some point but will start with two of our top picks.
After you learn more about FuboTV and Hulu with Live TV, we will fill you in on all of your other options. All services mentioned here are contract-free and offer a free trial. This means you'll have plenty of chances to try these services until you find the right one for you.
Your streaming service will connect to a streaming device. Think of it kind of like a cable box would work for cable users. The main difference is that a streaming device connects to the Internet. This allows you to connect your device, at home or on the go.
Available device options can include smart TVs, Apple TV, Chromecast, Roku, mobile devices, computers, and even gaming consoles.
Out-of-Market New York Jets Games
New York Jets fans are all over the nation. But those in far away locations face special problems watching their team on Sunday afternoons. This is because Jets games won't usually air for fans in say, Seattle. These out-of-market fans face a kind of reverse blackout.
This problem is so common that we've created a guide, NFL Out-of-Market Football Games. It provides you with all your options.
NFL Sunday Ticket is the obvious choice for out-of-market fans. The problem is that it is currently only available through DIRECTV Satellite. But next season, that will all change. Until then, it's a struggle.
One option is to use a VPN. You need to be careful with licensing. But ExpressVPN has all the information you need.
Watch the New York Jets Online without Cable on FuboTV
FuboTV has everything you need to watch NFL. You get 120+ channels to start and more channels are available for a fee. Sports fans will have 35+ channels available to them. Local channels are available in many areas.
More FuboTV details:
$74.99/mo
120+ channels included – a top option to watch sports without cable
Fox, CBS, and NBC (Sunday Night Football) are available in many cities
Plenty of sports networks including NFL Network, ESPN and others
Stream on iOS/Android, Roku, computers, Apple TV, and more
Watch even more content on-demand
Learn more in our FuboTV review.
FuboTV offers a lot of channels for a reasonable price. Not only do you have live content, but you can also enjoy a variety of on-demand content through FuboTV and TV Everywhere apps. If you're worried about missing something, there's also the cloud-based DVR.
Sign Up for a Free 7-Day Fubo Trial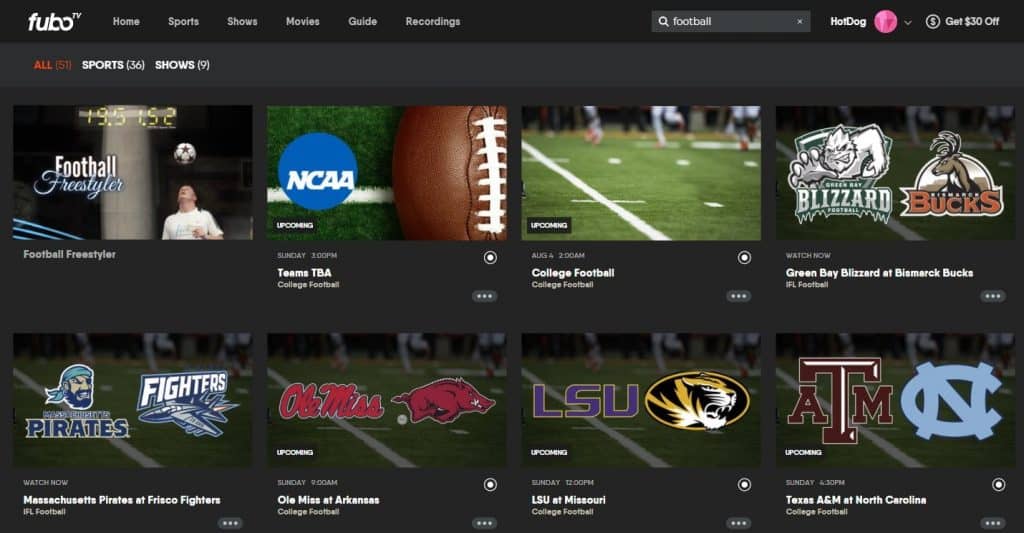 Watch New York Jets With DIRECTV STREAM
DIRECTV STREAM is a great service for New York Jets fans. You get 75+ channels including all the ones you need to watch the NLF (ABC, CBS, Fox, NBC, and ESPN). There are plenty of other options as well.
All DIRECTV STREAM packages include unlimited cloud DVRs. They also all let you stream on unlimited devices at the same time.
See our DIRECTV STREAM review for details.
Get DIRECTV STREAM Free for 5 Days
Watch the New York Jets Streaming Online with Hulu + Live TV
Hulu + Live TV starts you off with more than 85 live TV channels. From there, you get access to all of Hulu's on-demand content. Hulu Live is a great choice for sports streaming because they offer local channels in most areas, as well as ESPN, and many other popular sports channels.
Here's more on Hulu Live:
85+ channels
Hulu on-demand including Hulu Original content is included
Disney+ and ESPN+
$69.99/mo
Watch local channels in most areas
Watch on Apple TV, iOS/Android, Amazon Fire TV, and more
Visit our Hulu with Live TV review for more details.
Hulu + Live TV has everything you need to enjoy popular TV without cable. Multiple channels are included, and more are available for a fee. You also have the full extent of the Hulu on-demand service, plus extras like TV Everywhere apps and a cloud-DVR.
Other Options to Watch the New York Jets Game Online
Now that you know more about FuboTV and Hulu with Live TV, let's check out the other ways you can watch the New York Jets streaming without cable. All of these options offer some or all of the channels you'll need at a fraction of the cost of cable.
Superpower Your Streaming With a VPN
For the sake of privacy, security, and access, you should be using a VPN. They are low-cost and easy to use. We've been using them for years and our top pick is ExpressVPN. Be sure to check out our deals page on ExpressVPN, NordVPN, SurfShark and PureVPN.
Here are your other options: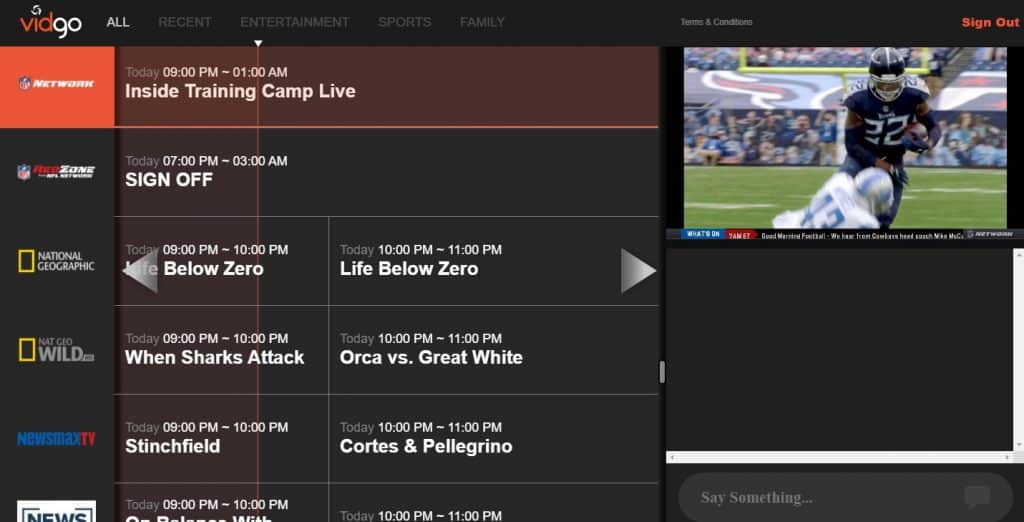 New York Jets: NFL Postseason
After starting the season 6-3, the Jets limped to a 7-10 finish, which was two games back of seventh place in the AFC. Despite the emergence of Breece Hall and Sauce Gardner, the team struggled because it lacked consistent play from the quarterback position.
It's also worth noting that the Jets have only six draft picks this year and only $15 million in cap space. Therefore, it will be tough to continue to build a roster that needs to compete with Buffalo, New England and Miami every year.
Wrapping Up
Streaming services offer a quick and budget-friendly way to enjoy your favorite shows. As you can see, that even includes sports! Still not sure how to watch the New York Jets online without cable? Just let us know! We're here to help!
FuboTV is our choice for Jets fans. Fubo allows you to try out its service free for 7 days.
Sign Up for a Free 7-Day Fubo Trial
FAQs
Which channels do I need to watch the New York Jets?
New York Jets games are aired across numerous channels depending on the day of the week including FOX, NBC, and NFL Network. ESPN is showing Monday Night Football and NBC covering Sunday Night Football. Most Jets games are aired Sunday afternoon and almost all of these are aired on CBS.
How can I watch another team?
Need more information on how to watch the NFL without cable tailored specifically to your favorite team? Click on your team below.
What radio stations are the New York Jets on?
The New York Jets are broadcast on ESPN New York 98.7 FM. Those who tune in every week will hear interviews with beloved players and the head coach. During the season, you can listen to live games on this same station. For coverage in Spanish, turn to WTMM-FM (New York) or WCHR-FM (New Jersey).
How do I watch the New York Jets on my phone?
When it comes to watching New York Jets games, you have several options for watching on your phone. The main streaming services all allow you to watch on Android and iOS devices. This is also true of apps specific to channels or the NFL itself. However, in all cases, you will need your streaming service password to get access.
How many championships has the New York Jets won?
The New York Jets have won a total of six championships in the team's history that dates to 1960. They have a regular-season record of 410 wins, 514 losses, and eight ties. The team's playoff record includes 12 wins against 13 losses. The Jets have won four division titles in its history, the last coming in 2002. Additionally, the Jets won both the AFL title and the Super Bowl after the 1968 season.
How do I watch the New York Jets game tonight?
Tonight's New York Jets game can be seen on ABC, ESPN, Fox, NBC, or NFL Network — depending on the night. The NFL Network and Fox show most Thursday Night games this year. ESPN is the place for Monday Night Football. ABC also airs some of these games. And NBC is the home for almost all Sunday Night Football games.
How can you record live New York Jets games?
All of the channels that air New York Jets games allow you to record them: CBS, ESPN, Fox, NBC, NFL Network, and others. Almost all of the major streaming services include a cloud DVR with their base plans. If yours does not, it's possible to buy a hardware unit to do so locally or sign up for an external cloud DVR service.
What is the 2023 New York Jets schedule?
Thu Aug 3 : vs Cleveland (NBC) [Preseason]
TBD: at Carolina (CBS) [Preseason]
TBD: Tampa Bay (CBS) [Preseason]
TBD: New York Giants (NBC) [Preseason]
Mon Sep 11 : vs Buffalo (ESPN/ABC/ESPN+)
Sun Sep 17 : @ Dallas (CBS)
Sun Sep 24 : vs New England (CBS)
Sun Oct 1 : vs Kansas City (NBC)
Sun Oct 8 : @ Denver (CBS)
Sun Oct 15 : vs Philadelphia (FOX)
Sun Oct 29 : @ New York (CBS)
Mon Nov 6 : vs Los Angeles (ESPN)
Sun Nov 12 : @ Las Vegas (NBC)
Sun Nov 19 : @ Buffalo (CBS)
Fri Nov 24 : vs Miami (PRIME VIDEO)
Sun Dec 3 : vs Atlanta (FOX)
Sun Dec 10 : vs Houston (CBS)
Sun Dec 17 : @ Miami (CBS)
Sun Dec 24 : vs Washington (CBS)
Thu Dec 28 : @ Cleveland (PRIME VIDEO)
Sun Jan 7 TBD: @ New England
Sign Up for a Free 7-Day Fubo Trial
Ditch "Big Cable" Now – 3 Simple Steps to Cut the Cord
Pick the right streaming service
Get the content you deserve with the best VPN.
Supercharge your internet provider
That's it — you'll save money, take back control, and enjoy TV more!
Page Updates
▼
▲
Updated some sub-sections. Updated some section headings. Changes to some of the sections. Removed section.

Updates to a section. Added links. Misc content updates.

Updates to a section. Image changes. Added useful links.

Added new section. Added some links. Various content updates. Changes to formatting.

Added links to streaming services. Added some links. Changes to formatting.

Added buttons for streaming services. Added streaming info. Updated some sub-sections. Pricing updates. Misc changes.

Added buttons for streaming services. Added sub-section. Pricing updates. Cross linking. Various content updates.

Updates to a section. Added some links.
Latest posts by Frank Moraes
(see all)