Don't miss Super Bowl LVII. Watch it free with a FuboTV free trial!
Super Wild Card Weekend is starting soon and there are six games from Saturday to Monday. The third game is on Sunday, January 15 with kickoff at EST and will be airing live on CBS. It features Miami Dolphins at Buffalo Bills. Read on to get all the details!
In a hurry? These streaming services give you access to CBS and all the channels you need to watch other postseason matchups:
Fubo: The best streaming service for international sports also provides 130+ well-selected channels. Fubo allows you to try out its service free for 7 days.
DIRECTV STREAM: Get a great channel lineup with the best selection of RSNs in the industry. A 5-day free trial is now available for DIRECTV STREAM.
If you can't watch your favorite sports because of your location, get ExpressVPN to access the content you deserve.
Unfortunately, we don't know a streaming service in that covers this sport. But if you've already paid for the right service, and just can't watch because of your location, there is an easy way to get the content you deserve. You need a VPN, like one of the following.
| | | |
| --- | --- | --- |
| | ExpressVPN: Known as "The VPN that just works," it combines remarkable ease of use with with state-of-the-art power, speed, security, and privacy. Get three extra free months when you sign up for a year. Unleash your streaming with this top-rated VPN. | Sign Up Now |
| | Surfshark: Surfshark: Secure and easy to use with thousands of servers around the world. Of special note is its excellent collection of servers inside the US, which is great for regional sports lie NFL, MLB, and NBA. Get it now with an incredible 82% discount on a 24-month plan. | Sign Up Now |
| | NordVPN: One of the top VPNs with extremely fast servers all over the world. Great for streaming with tested perfomance on the biggest servers and included ad-blocking. Currently offering 70% discount on 2-year plans. | Sign Up Now |
If you're overwhelmed and not sure where to begin, you'll find all the answers in our full VPN guide.
Which TV Channel is the Miami Dolphins vs Buffalo Bills Game On?
Two Wild Card games are aired on NBC, two are aired on Fox, one is on CBS and the last one is on ESPN.
Game 3 sees the Miami Dolphins come to Highmark Stadium in Orchard Park to take on the Buffalo Bills. It airs live on CBS with Jim Nantz doing play-by-play and Tony Romo on color commentary. Tracy Wolfson and Jay Feely will provide sideline reporting.
What Time Is the Game On?
Most major networks like CBS are over the air station so you can watch it for free if you have an antenna. This is a good option but you could also stream live.
Other games playing today are in our guide.
Watching Outside the US
Canadian viewers can watch the NFL playoffs including Miami Dolphins vs Buffalo Bills with DAZN.
Sky Sports will be broadcasting Miami Dolphins vs Buffalo Bills (and all the playoff games) in the UK and Ireland. In Australia, Kayo Sports and Foxtel are showing all the playoff games
Superpower Your Streaming With a VPN
For the sake of privacy, security, and access, you should be using a VPN. They are low-cost and easy to use. We've been using them for years and our top pick is ExpressVPN. Be sure to check out our deals page on ExpressVPN, NordVPN, SurfShark and PureVPN.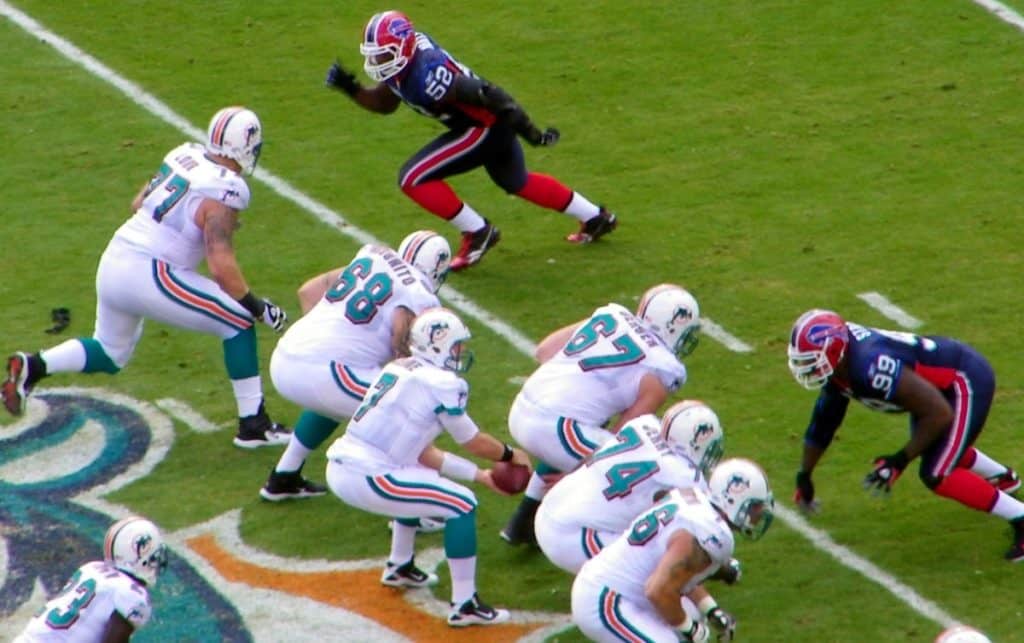 Sign Up for a Free 7-Day Fubo Trial
How to Live Stream Dolphins vs Bills Online
The Playoffs and Super Bowl this year will be aired on ESPN channels and local channels: NBC, CBS, and Fox. Game 3 will air live on CBS. Here are the streaming services that have CBS in their channel lineup:
Note that all of these services offer NFL Network and NFL RedZone except for DIRECTV STREAM. These are important channels for the regular season but not an issue for the playoffs. We expect DIRECTV STREAM to offer them for next season but we don't know at this time.
Paramount+ offers CBS for $4.99/mo. If you only want to watch this game and other NFL games on CBS Sports, you can sign up today. It offers a 7 day free trial for new subscribers. Since SlingTV and Vidgo do not offer CBS, you can combine either with a Paramount+ subscription so you can watch game 2. (Paramount+ review)
Streaming Outside the US
You can stream all of the playoffs with NFL Game Pass Intl in most countries (Canada and China are major exceptions).
Sign Up for a Free 7-Day Fubo Trial
Devices For Watching Miami-Buffalo
Most streaming services support the majority of the devices you have at home. Here are all the streaming devices supported by the various streaming services so you can watch the matchup live:
Amazon Fire TV
Android TV
Apple TV
Computers (web browsers)
Chromecast
Mobile devices (iOS and Android)
Roku
For more information on the devices, you can use to stream the game, visit the individual streaming service reviews.
Miami vs Buffalo NFL Wild Card Game Analysis
The Buffalo Bills clinched the second seed in the AFC by defeating the New England Patriots 35-23 in NFL Week 18. (They secured a playoff berth all the way back in mid-December after Week 15.)
The Miami Dolphins clinched the seventh seed that same day by defeating the New York Jets 11-6 after a five-game losing streak including losses to the Green Bay Packers and New England Patriots.
Let's take a look at how the two teams stack up against each other, some keys to the game, and who is likely to advance to the divisional round.
Sign Up for a Free 7-Day Fubo Trial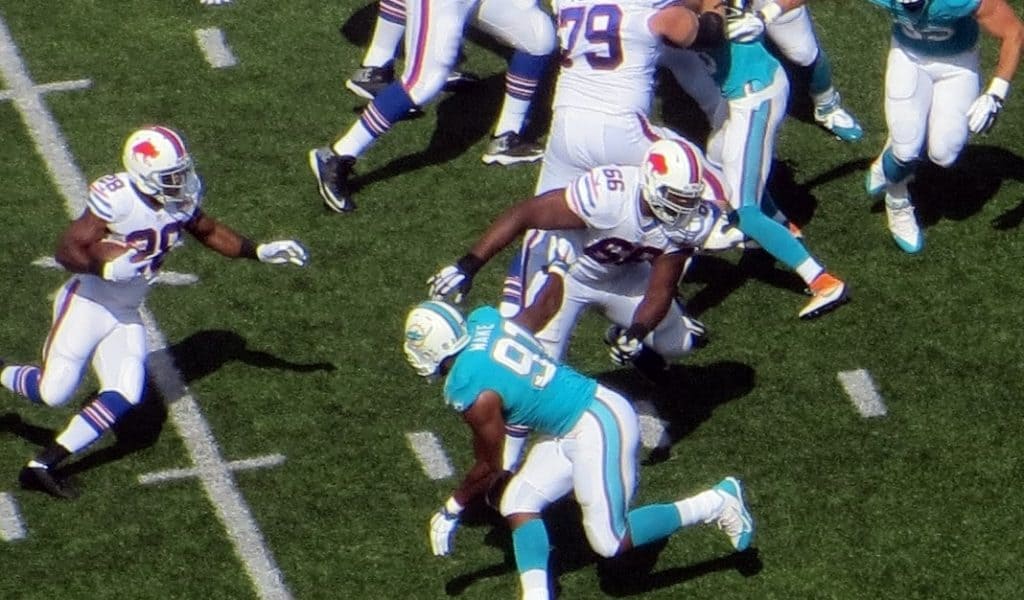 Regular Season Recap For Dolphins and Bills
Miami finished the season with a 9-8 record under first-year coach Mike McDaniel. The offense is led by speedsters Jaylen Waddle and Tyreek Hill who have combined to catch 196 passes and have over 3,000 receiving yards.
Tua Tagovailoa won eight games as the team's starting quarterback, but he has also missed several games due to injury, which is partially why the team struggled after starting the year 3-0.
On defense, the Dolphins are led by linebacker Jaelan Phillips and cornerback Xavien Howard.
Buffalo won the AFC East by virtue of finishing the season 13-3. They essentially go as far as Josh Allen's arm will take them on offense and rely on a zone scheme on defense to prevent big plays.
Buffalo only played 16 games this year as their matchup with Cincinnati was canceled after Damar Hamlin needed CPR on the field. Buffalo and Miami split their season series with the Dolphins winning in week three and the Bills winning at home in December.
Sign Up for a Free 7-Day Fubo Trial
Keys to the Game For Miami and Buffalo
For Miami, the key to winning the game is entering the contest as close to full strength as possible. The Dolphins will be without Tua for another week as he recovers from his third concussion of the season. And they may also be without Hill and Waddle who were injured against the Jets.
For Buffalo, the key to victory will be avoiding costly turnovers. While Josh Allen has played at an MVP level at times, he has also shown a tendency to make questionable decisions this season. The Bills will also need to rely on their running backs to shorten the game and take pressure off of Allen.
Who Wins Dolphins vs Bills?
In terms of the official NFL power rankings, the Bills sit at #2 with the Dolphins all the way down at #17 due to a weak late season. Other analyses differ but they are all roughly the same — Buffalo deviates one place either way and many see Miami a few spots higher.
The opening line for the game was Bills by 9 or 10 points. But at this point, all the sportsbooks have the Bills winning this game by 13 points — likely due to quarterback Tua Tagovailoa being ruled out for the game.
Sign Up for a Free 7-Day Fubo Trial
How Do the NFL Wild Card Games Work?
Let's go over the NFL Wild Card Round structure. Once the regular season is over, the 7 top teams in each conference proceed to the playoffs. These 7 teams comprise 4 division winners and 3 best teams conference-wide. Thus, the wild card teams often have way better records than the division winner as in last year when NFL East had every team outshine NFC South's winner.
In the NFC and AFC, the top-seed teams advance straight to the Super Wild Card Weekend. To get the remaining six teams that qualify, the teams are paired by their seed; top team against the bottom team. Say, #7 Seed at #2 Seed, #6 Seed at #3 Seed, and #5 Seed at #4 Seed.
This matchup consists of the AFC's #7 team (Miami Dolphins) at the #2 team (Buffalo Bills).
Sign Up for a Free 7-Day Fubo Trial
Wrapping Up
As we have seen, there are several services that will allow you to watch Miami Dolphins vs Buffalo Bills. If you would like to watch all the 2023 playoff games in one place, we recommend FuboTV. Fubo allows you to try out its service free for 7 days.
Sign Up for a Free 7-Day Fubo Trial
FAQs
What channels will be airing the NFL playoff games?
The playoffs will be aired on three local channels CBS, NBC, and Fox. One Wild Card Game will air on ESPN (Monday Night Football). The game on ESPN will also air on ABC (simulcast) and on ESPN2 (Manningcast). To watch the game in Spanish, here is our guide.
How do I stream other NFL playoff games?
The following guides provide details on watching the NFL playoffs:
Our article How to Watch NFL Without Cable has general info.
Page Updates
▼
▲
Added useful links. Reworded some things.

Formatting. Misc content updates.

Added new section. Added buttons for streaming services. Added links to streaming services. Reworked one section. Changed some content in main section. Updated some sections.

Added FAQ section. Added table of contents. More links. Various changes to content. Formatting changes.

Added streaming info. Added some links. Misc changes.