Oklahoma Sooners fans love to see their favorite team smash the competition. These guys are consistently rated at the top of the nation and always near the top of the Big 12. Is that you? If so, you don't need to worry about hanging on to your cable contract. Read on and we'll show you how!
In a hurry? Because of their popularity, Sooners games normally play on major networks and national channels. These services provide them and a lot more:
The Oklahoma Sooners are currently members of the Big 12 conference, but that will change in 2025 when they transfer to the Southeastern Conference (SEC).
The school is primarily known for its football program, which plays at Gaylord Family Oklahoma Stadium and is coached by Lincoln Riley.
Since the football program's inception in 1895, it has participated in 30 bowl games, won 50 conference titles, and has been named national champion on seven different occasions.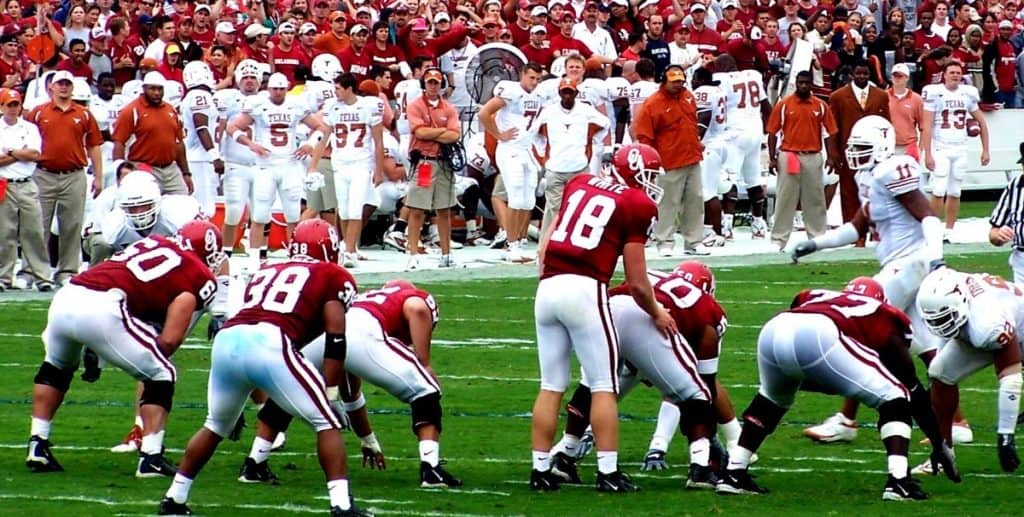 2021 Oklahoma Sooners Schedule
Get all these channels with FuboTV today!
Do You Need a VPN?
If you find you can't watch particular events because of your location, a VPN should allow you to get the access you are entitled to. It also provides extra security and unequalled privacy. See our complete VPN Guide for all you need to know.
Channels That Air Oklahoma Sooners
Let's take a closer look at the channels that Sooners games are broadcast on and the streaming platforms that make those channels available.
Games involving the Oklahoma Sooners are broadcast on ABC, Fox, and ESPN. The team may also appear on games broadcast elsewhere. Some games are only available via pay-per-view (PPV) but this has only been the case for one game each during the past two seasons.
Streaming Services for Oklahoma Sooners
Most full cable replacement services provide the channels you need to watch the Oklahoma Sooners.
FuboTV

The FuboTV Starter package is available for $69.99 per month and comes with well over 100 channels. These include all the location affiliates including the critical ABC and Fox.
And it also includes over 35 sports-oriented channels including ESPN, Fox Sports (FS1, FS2), CBS Sports Network (CBSSN), Big Ten Network (BTN), beIN Sports, and TUDN.
You can get even more college sports with the Fubo Extra add-on for $7.99/mo. It comes with ACC Network, Pac-12 Network, and SEC Network. You also get professional league channels MLB Network, NBA TV, and NHL Network. Alternatively, you can also get these with the Sports Plus With NFL RedZone for $10.99/mo.
All FuboTV plans come with at least 750 hours of cloud DVR and the ability to stream on up to ten devices/TVs simultaneously.
For more information, see our FuboTV review.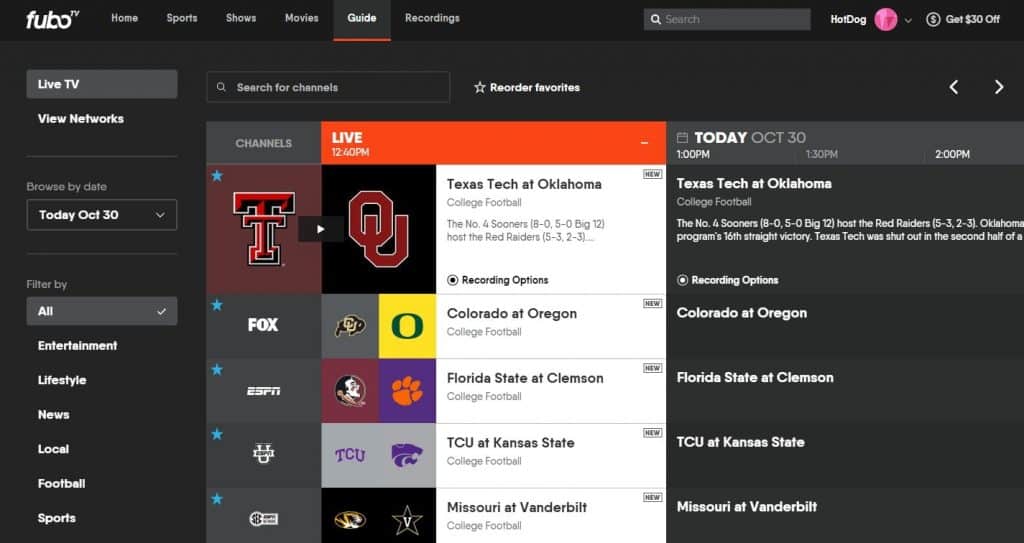 Hulu + Live TV

Hulu + Live TV provides you with more than 85 live TV channels that offer a variety of content such as sports, news, entertainment, and family-oriented programming.
Starting at $69.99, you'll have access to all the local channels including those that are critical to Sooners fans. You also get CBSSN, ESPN, and FS1. And you get the conference networks for ACC, Big Ten, and SEC. You also get Disney+ and ESPN+!
The plan comes with two simultaneous screens in case your household isn't united about what to watch. And you get unlimited cloud DVR with 9 months of storage.
You'll find all the details in our Hulu + Live TV review.
Vidgo
Vidgo is a low-cost streaming service with a base plan for only $59.95 per month. For this, you get over 85 channels.
And the lineup is particularly good for NCAA fans. They only provide local network affiliates ABC and Fox, but that's perfect for the Sooners. They also offer 5 ESPN channels in addition to the networks for ACC, Big Ten, all 7 Pac-12, and SEC. You also get the Longhorn Network and BYU TV.
The main downside of Vidgo is that it does not come with a cloud DVR. But you could set up your own or get one from a third party. Vidgo does come with the ability to stream on up to 3 devices.
Get more details in our Vidgo review.
DIRECTV STREAM

DIRECTV STREAM (formerly AT&T TV) offers roughly 80 channels in its base (Entertainment) plan for $69.99/mo. It includes all the local channels so you will be able to see almost all of the Sooners games. It also has the standard sports channels: ESPN, ESPN2, and FS1.
You get quite a bit more with the Choice package for $89.99 per month. It includes ACC Network and SEC Network. But more impressive, it includes access to DIRECTV STREAM's industry-best selection of regional sports networks (RSNs).
All DIRECTV STREAM plans come with unlimited cloud DVR (online purchases) and 20 simultaneous streams. This makes it a good choice for large households.
See our DIRECTV STREAM review for all the details.
Sling TV

Sling TV is not the best option for Oklahoma Sooners fans because it does not provide access to ABC. However, Sling makes it easy for you to set up an antenna and pipe your local stations right into its guide. In fact, if you sign-up for two or three months, Sling will throw in an antenna for free.
The Sling Orange package is just $35/mo. It comes with ESPN, ESPN2, and ESPN3 as well as TBS, TNT, and the Disney Channel. You may want to upgrade to Orange & Blue plan for $50/mo. It provides a total of 50+ channels including FS1 and NFL Network.
You can get all the college conference channels with the Sports Extra add-on for $11/mo. All plans come with 50 hours of cloud DVD storage, but you can only watch the ESPN channels on one device at a time.
See our Sling TV review for more information.
Other Options
Sooners fans have other options.
Live Streaming Oklahoma Sooners Football on Devices and TVs
These days, the streaming industry supports most devices that are commonly in use. We'll go over the most popular ones below.
The services besides Vidgo support Samsung smart TVs. FuboTV, Hulu + Live TV, and Sling TV also support LG and Vizio smart TVs. And the services besides DIRECTV STREAM support Android TV-based devices.
All the services support the stick TV devices: Amazon Fire TV, Apple TV, and Roku. And also Android and iOS mobile devices. You can also use them and some web browsers to cast to your TV with Chromecast.
FuboTV, Hulu + Live TV, and Sling TV support the Xbox One. Hulu also supports the Nintendo Switch and PlayStation. Sling supports the Oculus.
If you don't see your device here, check out our reviews of the streaming services you are interested in. The complete list will be found there.
Superpower Your Streaming With a VPN
For the sake of privacy, security, and access, you should be using a VPN. They are low-cost and easy to use. We've been using them for years and our top pick is ExpressVPN.
Wrapping Up
Oklahoma Sooners football games are almost always on ABC and Fox. This is great for cord-cutters who don't want to pay for a streaming service and are okay with an antenna.
But if you want to use a streaming service, there are lots of options. You can get these channels through almost any general service available on the market today. And you'll get a whole lot more than weekly Sooners games!
FAQs
Who are Oklahoma's most notable recent football players?
In 2017, Baker Mayfield won the Heisman Trophy for being the best player in college football. In 2018, Kyler Murray would win the award, and in 2019, Jalen Hurts would complete the trifecta of Oklahoma quarterbacks who would take home this prestigious prize. Josh Heupel, Jason White, and Billy Sims are among other Oklahoma players who have won this award.
Who are some of Oklahoma's biggest football rivals?
Texas is widely regarded as Oklahoma's biggest rival. The two schools play in the Red River Shootout each season. The school's other main rivals are Nebraska, Colorado, and Oklahoma State. Throughout much of the 20th century, Oklahoma would play Nebraska on Thanksgiving day, but the teams have not played each other much in recent years as they now play in different conferences.
When are the Oklahoma Sooners joining the SEC?
Officially, the Oklahoma Sooners are leaving the Big 12 and joining the SEC starting in 2025. However, they could leave as early as 2023. The Texas Longhorns are also leaving the Big 12 for the SEC. In response to these changes, the Big 12 is adding 4 new teams: BYU Cougars, Central Florida Knights, Cincinnati Bearcats, and Houston Cougars.
How can I watch other college sports without cable?
See our college football and college bowl games guides. And for particular teams, see these:
We have equivalent guides for college basketball and March Madness. And for particular college basketball teams, see these articles:
Latest posts by Frank Moraes
(see all)