The Colorado Avalanche won the Stanley Cup 4-2 against the Tampa Bay Lightning. If you live for the game but not the high price of cable, here's what you need to know about watching the Stanley Cup Finals without cable.
In a hurry? The Stanley Cup Finals aired on ABC as well as ESPN3. These services allow you to watch it all and more:
FuboTV: The best streaming service for international sports also provides 130+ well-selected channels. FuboTV allows you to try out its service free for 7 days.
Sling TV: This low-cost service allows you to select just the channel lineup you want. Save a bundle with Sling TV.
DIRECTV STREAM: Get a great channel lineup with the best selection of RSNs in the industry. A 5-day free trial is now available for DIRECTV STREAM.
If you can't watch your favorite sports because of your location, get ExpressVPN to access the content you deserve.
Unfortunately, we don't know a streaming service in that covers this sport. But if you've already paid for the right service, and just can't watch because of your location, there is an easy way to get the content you deserve. You need a VPN, like one of the following.
ExpressVPN: Premium VPN provider that just works, with 3,000+ locations in 94 countries. Supports five simultaneous devices and comes with a 30-day money-back guarantee. (ExpressVPN review)
Surfshark: Connect to over 3,200 servers in 99 countries (+ tonnes of US metro areas). Try it with a 7-day free trial.
NordVPN: Connect to over 5,000 premium servers in 60+ countries. Comes with a 30-day money-back guarantee!
If you're overwhelmed and not sure where to begin, you'll find all the answers in our full VPN guide.
See our NHL Finals Viewer's Guide for more information about watching all the games without cable!
Stanley Cup Finals Channels
The NHL playoffs are spread over ABC/ESPN and Turner channels. The early rounds play primarily on TBS, TNT, ESPN, and ESPN2. The Conference Finals will air exclusively on ESPN.
The Stanley Cup Finals will air on ABC. This is the first time that the event has ever been on broadcast TV. So you can watch it for free if you set up an antenna.
All ABC Sports events are also shown live on ESPN3. That means that you can watch the games through the ESPN app, as long as you have access through your TV provider. (Note: Sling TV offers ESPN3 directly.)
And the finals will also stream live via ESPN+, which you can subscribe to directly or get it with Hulu + Live TV.
Get DIRECTV STREAM Free for 5 Days
2023 Stanley Cup Finals Schedule
See our NHL Playoffs Viewer's Guide for the complete schedule. The Stanley Cup will take place in June. Check back for more details!
Here is the schedule and results from 2022:
Wed Jun 15 : Tampa Bay (3) vs Colorado (4) (ABC)
Sat Jun 18 : Tampa Bay (0) vs Colorado (7) (ABC)
Mon Jun 20 : Colorado (2) vs Tampa Bay (6) (ABC)
Wed Jun 22 : Colorado (3) vs Tampa Bay (2) (ABC)
Fri Jun 24 : Tampa Bay (3) at Colorado (2) (ABC)
Sun Jun 26 : Colorado (2) at Tampa Bay (1) (ABC)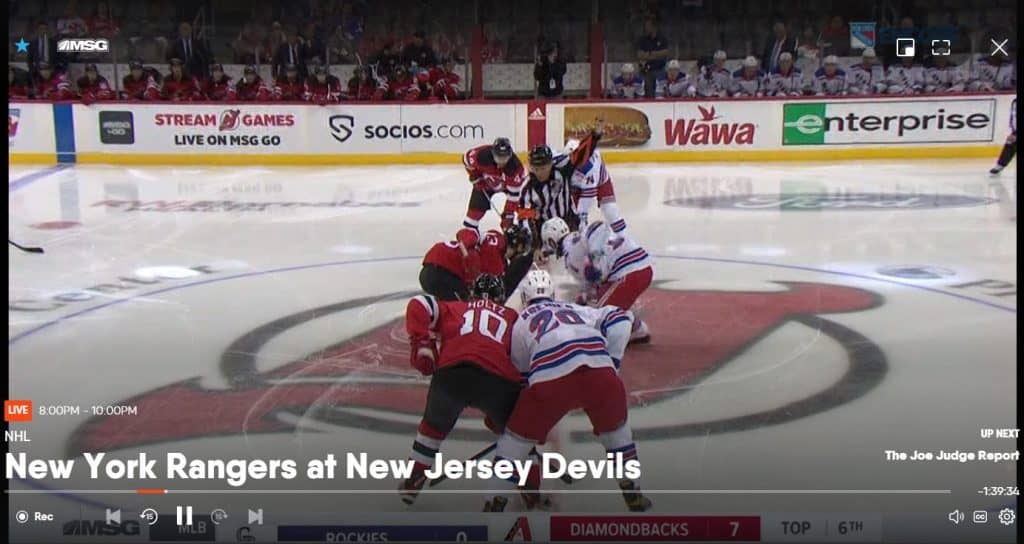 Unblock Your Favorite Events & Teams With a VPN
If you can't watch your favorite events or teams because of your location, a VPN will allow you to get the access you are entitled to, plus extra security and unequalled privacy. Check out our VPN Guide for everything you need to know, including our top pick ExpressVPN.
Watch 2022 Stanley Cup Finals
This is the first year you will be able to watch the entire Stanley Cup Finals for free on broadcast TV. Every game will air on ABC. So if you've been thinking of setting up an antenna, now is the time to do it. You will be impressed with everything you get. And it is all digital and in HD. See our Antenna Guide for complete information on doing it!
But to watch all of the playoffs without cable or satellite, you will need to choose a live TV streaming service.
Get DIRECTV STREAM Free for 5 Days
Devices to Live Stream the Stanley Cup Finals
There are some minor exceptions, but all the live TV streaming services support most of the following devices:
Amazon Fire TV
Android mobile
Android TV
Apple TV
Chromecast
iOS devices (eg, iPhone)
Roku
Samsung Smart TVs
Web browsers
Xbox.
Hulu + Live TV and YouTube TV also support the PlayStation.
Get DIRECTV STREAM Free for 5 Days
Wrapping Up
You can watch all of the Stanley Cup Finals on ABC this year. So do it for free by hooking up an antenna. Or use one of the live TV streaming services we've highlighted above!
Ditch "Big Cable" Now – 3 Simple Steps to Cut the Cord
Pick the right streaming service
Get the content you deserve with the best VPN.
Supercharge your internet provider
That's it — you'll save money, take back control, and enjoy TV more!
Latest posts by Frank Moraes
(see all)