France went 5-0 in the 2022 Six Nations besting Ireland, which also had a good tournament. Check back here in early Feb 2023 for all the details on watching without cable.
In a hurry? If you live in the US, it's easy to watch the Six Nations because every game will stream live on Peacock for just $4.99/mo!
Canadians can sign up with DAZN Canada for $20 CAD per month, which gives you way more than this event.
Read on to learn more!
What Is the Six Nations Championship?
The Six Nations Championship (Guinness Six Nations) is an annual rugby tournament held between England, France, Ireland, Italy, Scotland, and Wales.
It was first played in 1883 as the "Home Nations" and featured only England, Ireland, Scotland, and Wales. It has gone by different names and featured different teams over the years:
1883-1909: Home Nations (England,Ireland,Scotland,Wales)
1910-1914,1920-1931: Five Nations (England,France,Ireland,Scotland,Wales)
1932-1939: Home Nations (England,Ireland,Scotland,Wales)
1947-1999: Five Nations (England,France,Ireland,Scotland,Wales)
2000-Present: Six Nations (England,France,Ireland,Italy,Scotland,Wales)
As a result of all the name changes, this is the 23rd Six Nations Championship but the 128th time the event has been held.
The event is held over the course of five weeks with each team playing one of the other teams each week. As a result, there are three games each week for a total of 15.
There are no playoffs. Whichever team wins the most matches, wins the Championship. In 2021, Wales (4-0-1) won the championship even though they lost their last game to second-place France (3-0-2).
Sign Up for Peacock Premium for $1.99/mo!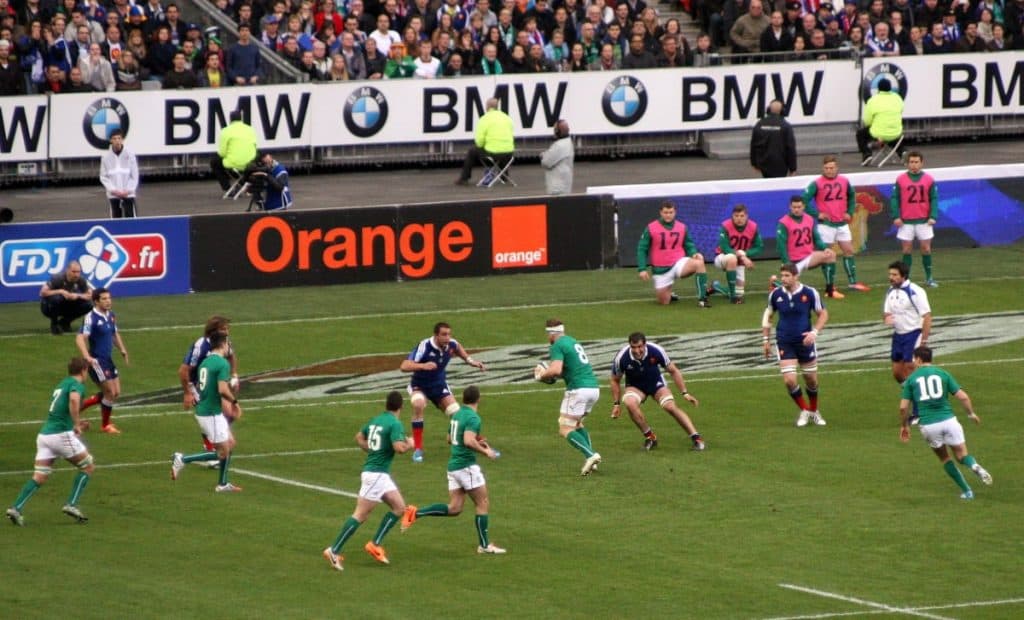 Unblock Your Favorite Events & Teams With a VPN
If you can't watch your favorite events or teams because of your location, a VPN will allow you to get the access you are entitled to, plus extra security and unequalled privacy. Check out our VPN Guide for everything you need to know, including our top pick ExpressVPN.
2022 Six Nations Championship Schedule
The Six Nations Championship consists of 15 matches over five weeks. Here is the 2022 schedule — all times EST.
Feb 5 9:15 am: Ireland (29) vs Wales (7)
Feb 5 11:45 am: Scotland (20) vs England (17)
Feb 6 10:00 am: France (37) vs Italy (10)
Feb 12 9:15 am: Wales (20) vs Scotland (17)
Feb 12 11:45 am: France (30) vs Ireland (24)
Feb 13 10:00 am: Italy (0) vs England (33)
Feb 26 9:15 am: Scotland (17) vs France (36)
Feb 26 11:45 am: England (23) vs Wales (19)
Feb 27 10:00 am: Ireland (57) vs Italy (6)
Mar 11 3:00 am: Wales (9) vs France (13)
Mar 12 9:15 am: Italy (22) vs Scotland (33)
Mar 12 11:45 am: England (15) vs Ireland (32)
Mar 19 9:15 am: Wales (22) vs Italy (21)
Mar 19 11:45 am: Ireland (26) vs Scotland (5)
Mar 19 3:00 am: France (25) vs England (13).
2022 Six Nations Championship Results
France: 5-0 (28)
Ireland: 4-1 (21)
England: 2-3 (10)
Scotland: 2-3 (10)
Wales: 1-4 (7)
Italy: 1-4 (4)
How to Stream Six Nations Championship
You can watch the Six Nations Championship all over the world. But where it will be streamed varies:
USA: Peacock is the exclusive one to Six Nations so you need to sign-up with it for $4.99/mo. See our Peacock review for details.
Canada: DAZN Canada provides service here. Get more information in our DAZN Canada review.
UK: ITV and BBC One will air all of the matches. Most of the matches featuring Wales will be simulcast on S4C. You should be able to stream most of the games on ITV Hub and BBC iPlayer.
Ireland: RTÉ (Raidió Teilifís Éireann) is live streaming all the matches for free for all in the country.
Australia: Stan Sport has exclusive rights to Six Nations here. Subscriptions start at $10 AUD per month.
New Zealand: Sky Sports will broadcast Six Nations matches.
Devices to Stream Six Nations Championship
The services we've discussed support the most popular devices. In particular, Peacock supports the following:
Amazon Fire Tablet
Amazon Fire TV
Android Mobile
Android TV
Apple TV
Chromecast
Cox Set Top Boxes
Hisense Smart TVs
iOS Devices
LG Smart TVs
PlayStation
Roku
Samsung Smart TVs
VIZIO Smart TVs
Web browsers
Xbox One and S/X
Xfinity Set Top Boxes.
Superpower Your Streaming With a VPN
For the sake of privacy, security, and access, you should be using a VPN. They are low-cost and easy to use. We've been using them for years and our top pick is ExpressVPN.
Wrapping Up
Regardless of where you are located, you should be able to enjoy most if not all of the 15 matches of the Six Nations Championship. In the US, you need to subscribe to Peacock.
Watch Six Nations With Peacock!
Ditch "Big Cable" Now — 3 Simple Steps to Cutting the Cord
Pick the right streaming service
Get the content you deserve with the best VPN.
Supercharge your internet provider
That's it — you'll save money, gain control, and enjoy TV more!
Latest posts by Frank Moraes
(see all)