Although it isn't quite the independent film hub that was in the beginning, IFC is still a great channel for film buffs. And thankfully, it's pretty easy to get access to without cable. Read on to learn how!
In a hurry? IFC isn't as broadly available as some channels but there are still a number of top choices. Here are our favorites:
Sling TV: The top low-cost streaming service provides a great base channel lineup in both its plans. Save with Sling TV.
DIRECTV STREAM: Makes it easy to switch from cable to streaming with their 75+ channel Entertainment plan and options for much more. A 5-day free trial is now available for DIRECTV STREAM.
Philo: This service gives you 60+ live TV channel for just $25/mo!
If you can't watch your favorite movies and shows because of your location, try ExpressVPN to get access to the content you deserve.
Unfortunately, we don't know a streaming service in that offers this TV channel. But if you've already paid for the right service, and just can't watch because of your location, there is an easy way to get the sports, movies, and TV you deserve. You need a VPN, like one of the following.
ExpressVPN: Premium VPN provider that just works, with 3,000+ locations in 94 countries. Supports five simultaneous devices and comes with a 30-day money-back guarantee. (ExpressVPN review)
Surfshark: Connect to over 3,200 servers in 99 countries (+ tonnes of US metro areas). Try it with a 7-day free trial.
NordVPN: Connect to over 5,000 premium servers in 60+ countries. Comes with a 30-day money-back guarantee!
If you're overwhelmed and not sure where to begin, you'll find all the answers in our full VPN guide.
If you like programming that tends to be on the unconventional side, you will enjoy watching IFC. Although this channel still produces and showcases independent films and documentaries, it has largely abandoned its original format in favor of sketch comedy, talk, and similar types of shows.
Let's take a closer look at the history of this channel, a few of its more popular programs, and how you can watch them without the need for a cable subscription.
What Is IFC?
In 1994, the Independent Film Channel (IFC) was officially spun off from Bravo. It was intended as a hub for independent content creators. By 2001, the channel largely went by IFC in most of its marketing materials.
Over the next decade, the channel started its shift to a format featuring a mixture of off-color comedy and horror content. In 2011, IFC owner Rainbow Media became its own company called AMC Networks. In 2014, AMC Networks announced that the channel would be rebranded as IFC.
IFC Programming
While IFC has a lot of quality programming to offer viewers, many of its shows are no longer in production or were acquired from other networks. Let's take a closer look at some of the top shows that you are encouraged to check out first if you're new to IFC.
Portlandia: This sketch comedy program generally made fun of the idea that everyone in Oregon's largest city is a hipster or is otherwise part of a counterculture. Veteran comedians Fred Armisten and Carrie Brownstein created the show, and it won a Peabody Award during its eight seasons on IFC.
Comedy Bang! Bang!: This program presents sketches, spoof interviews, and other content using a faux talk show format. Adapted from a podcast by Scott Aukerman, it continued to make new episodes for IFC until 2016.
Brockmire: A traditional comedy, it follows the adventures of a former Kansas City Royals play-by-play announcer trying to resurrect his career following a public outburst. Throughout most of the show, the titular character calls games for a minor league team in Pennsylvania before eventually moving to New Orleans. The show came to an end in May 2020.
Stan Against Evil: A horror-comedy that sees two police officers coming together to battle demons threatening to take over their town. This program ran for three seasons between 2016 and 2018.
Bunk: Comedians complete a series of challenges such as shaming puppies and coming up with new movie ideas to win prizes awarded by host Kurt Braunohler. There are 10 episodes available for streaming on IFC.com.
If you are interested in shows that are still airing new episodes, you should watch comedies Sherman's Showcase and Documentary Now. They are currently slated for renewal by the network and are both scheduled to air new episodes at some point in 2022. In addition, Slo Pitch is expected to debut its second season in June 2022.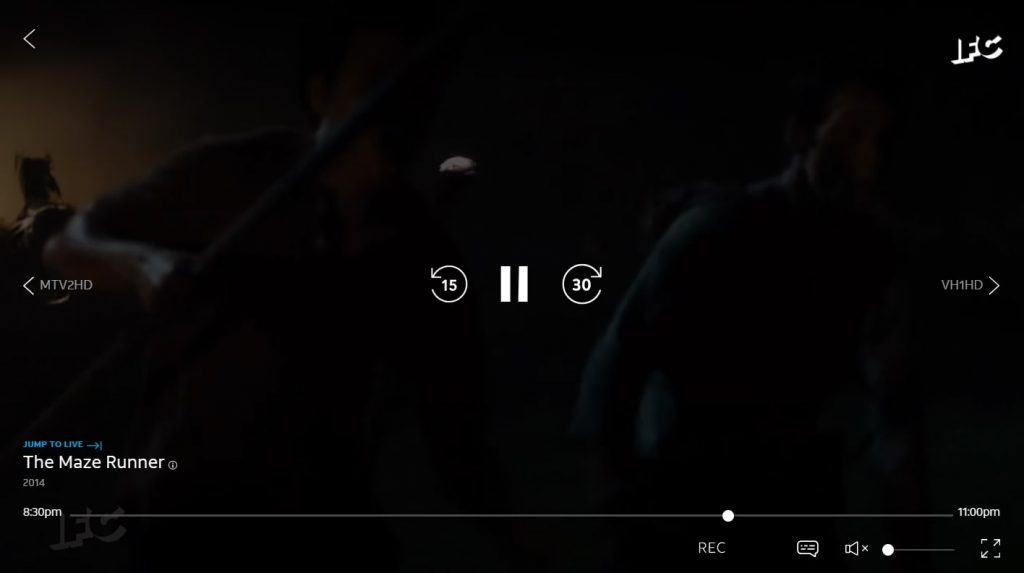 Unblock Your Favorite Movies and Shows With a VPN
If you can't watch your favorite movies and shows because of your location, a VPN will allow you to get the access you are entitled to, plus extra security and unequalled privacy. Check out our VPN Guide for everything you need to know, including our top pick ExpressVPN.
Stream IFC
Two of the biggest live TV streaming services, FuboTV and Hulu + Live TV, do not offer IFC. But many others do.
IFC Films Unlimited
IFC Films Unlimited is a subscription on-demand movie platform. There are more than 500 films available on the platform at any time. The selection features most genres and tends toward the more unusual.
You can subscribe to it through Sling TV, YouTube TV, and AMC+.
Superpower Your Live TV Streaming With a VPN
You can't beat a VPN for privacy, security, and access. We have used them for years as an important part of our streaming toolkit and we recommend ExpressVPN.
TVs and Devices to Live Stream IFC
Most popular devices can be used to stream IFC. All the ones we've discussed support these:
Amazon Fire TV
Apple TV
Android mobile
Chromecast
iOS devices
Roku
Web browsers.
Other than Philo, they all support Samsung smart TVs. And other than DIRECTV STREAM, they support TVs built to the Android TV standard. Smart TVs from LG and VIZIO and gaming systems from Xbox are supported by Sling and YouTube.
If you don't see a device listed here, it may still be supported. Our streaming service reviews for the complete lists.
Wrapping Up
IFC offers a combination of horror and comedy shows with a dash of independent films and documentaries to round the channel's programming.
It is available through a number streaming services, so it shouldn't be difficult to find a platform that meets your needs and budget. We recommend Sling TV for IFC but if you don't need a live stream, AMC+ is a great deal.
Frequently Asked Questions
Does IFC have any new shows?
Aside from Sherman's Showcase, Documentary Now, and Slo Pitch, IFC does not have much original programming. However, the Baroness Von Sketch Show recently finished up its run in 2021 if you are looking for shows that are still relatively new despite being out of production. And it is likely IFC will produce more original content in the future.
Is there a Canadian version of IFC?
Until 2019, there was a Canadian version of IFC that was owned by Corus Entertainment. This entity licensed the IFC name from AMC during the majority of its 18 years on the air. A number of mainstream shows such as Game of Thrones and Californication were also broadcast on this channel.
How can I watch non-IFC channels without cable?
See the following options for watching other entertainment channels:
Ditch "Big Cable" Now – 3 Simple Steps to Cut the Cord
Pick the right streaming service
Get the content you deserve with the best VPN.
Supercharge your internet provider
That's it — you'll save money, take back control, and enjoy TV more!
Latest posts by Frank Moraes
(see all)