English Premier League is back.

Stream it live on NBCUniversal channels with Fubo!
If you're an American soccer fan, you're probably often frustrated by the lack of coverage of even our own US national soccer teams, let alone any of the action on the pitch south of the border in Latin America or the European leagues.
Enter the streaming service Fanatiz, which brings South and Central American plus a couple European leagues right into your living room. Are you ready for some football that's not gridiron? Then read on.
In a hurry? If you already know what Fanatiz offers, you can get started with the 7-day free trial. If you like what you experience, you get continue to access your favorite sports leagues for $9.99 per month.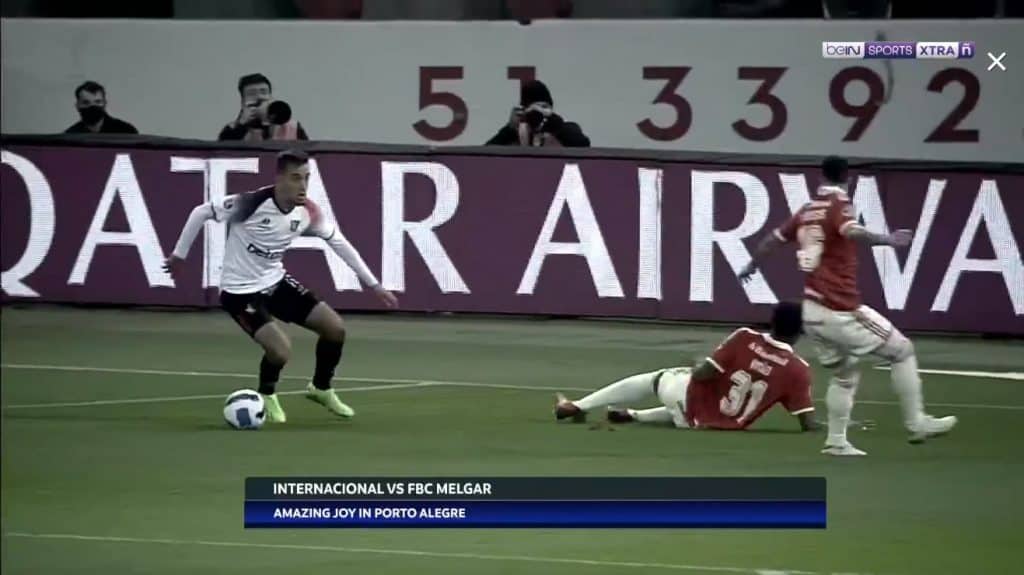 Fanatiz Overview
| Pros | Cons |
| --- | --- |
| ✔ Affordable at $9.99 per month | ❌ Cloud DVR is not included |
| ✔ 7-day free trial | ❌ On-demand not all-inclusive |
| ✔ No contracts or commitments | ❌ Content limited to niche sports |
| ✔ Watch live or on-demand | |
| ✔ Includes international channels | |
Fanatiz is an OTT sports streaming service. OTT stands for Over The Top, meaning it bypasses traditional TV providers like cable and satellite.
In this case, it broadcasts various soccer leagues, tournaments, and a variety of international sports channels. You'll get to watch soccer competitions from around the world. Commentary is generally available in English, Spanish, and Brazilian Portuguese, depending on channel.
You'll also find motorsports, golf, handball, polo, and more.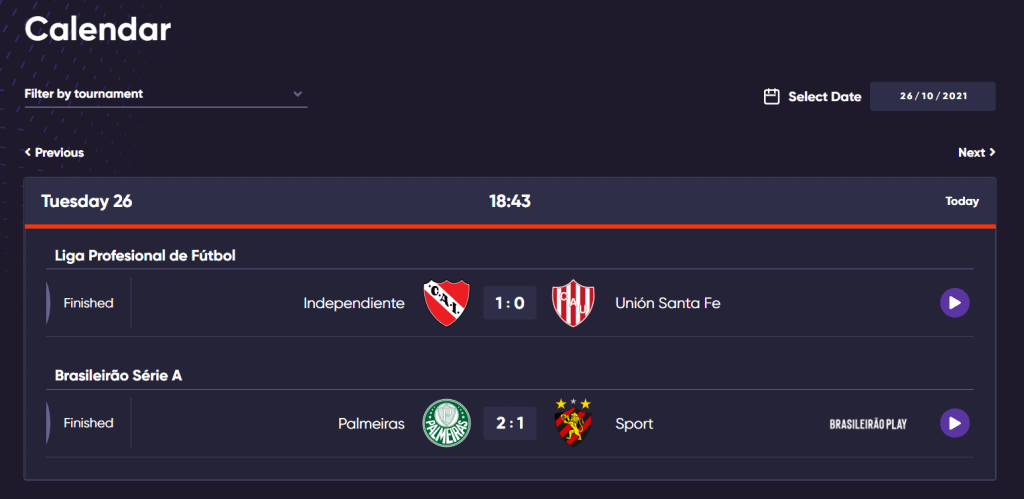 In the US, services like this are worth considering for soccer fans, because many leagues and tournaments can be hard to find.
While there are some options for international sports, the channels and events you want are only available on limited streaming services. In most cases, you can't find them through cable without an extra fee, if at all.
However, services like Fanatiz remove the need for extra fees by allowing you to stream your favorite sports without cable online.
How To Sign Up
Fanatiz works like any other streaming service. Here are the basics:
Start by registering for a free account.
Signing up for a free 7-day trial of the Front Row plan. You can check out the full service for seven days.
If you love what you're watching, then your subscription will start on the 8th day.
The standard price is $9.99 per month — there are no contracts or commitments, so you can cancel at any time.
Stream content on Roku, Amazon Fire TV, Apple TV, Chromecast, computers, mobile, and other supported devices.
Watch and enjoy your favorite team, liga nacional de fútbol, motorsport and more!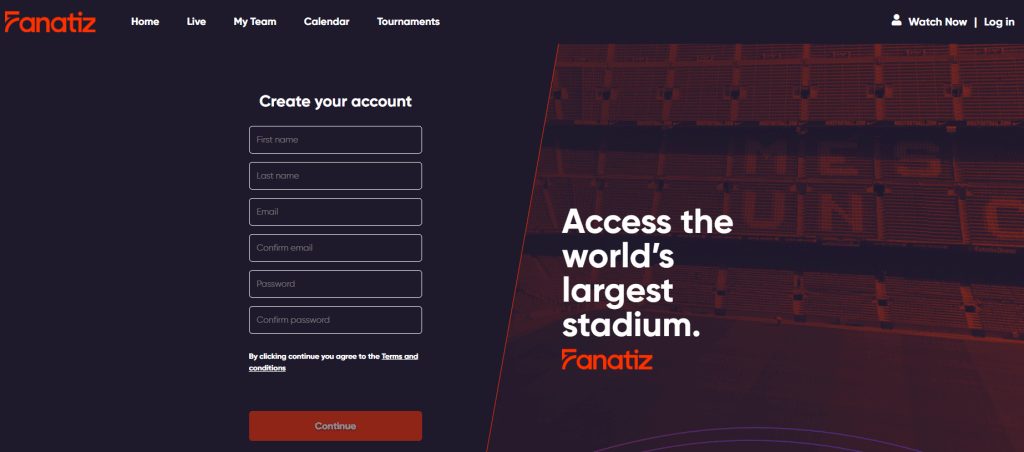 Fanatiz is set up much like other streaming services. You connect through most streaming devices and you can watch your favorite sports legally, without cable.
If you're not satisfied with what you find during your trial, you can cancel, and you won't be charged. Otherwise, you're able to remain a subscriber as long as you want.
Fanatiz Content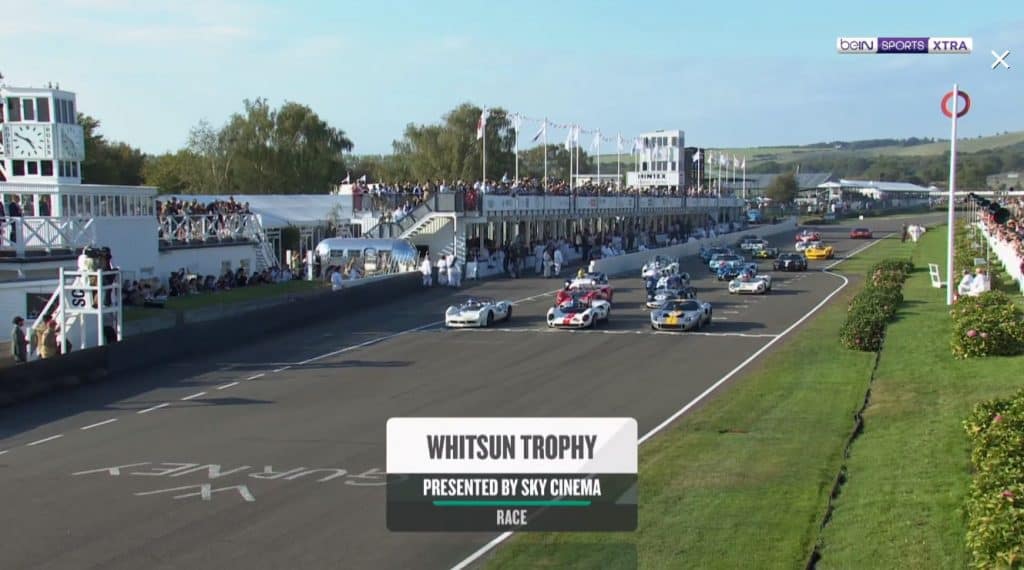 Fanatiz offers content based on where you live. In the US, there's basketball, handball, boxing, motorsports, and, of course, soccer. You can catch every time River Plate goes up against Boca Juniors, or, if you're more of a Ligue1 fan, never miss a PSG match. You'll receive the following tournaments and more:
LigaGT (Guatamala)
Copa Libertadores
Copa Sudaméricana
Superliga Argentina
Liga Profesional Argentina
Liga BetPlay Dimayor (Colombia)
Ligue1 (France)
Brasileirão Serie A and Serie B (Brazil)
Liga Pro (Ecuador)
Turkish Süperlig
Peruvian Liga 1
Uruguayan Primera División
Copa Argentina
Primeira Liga (Portugal)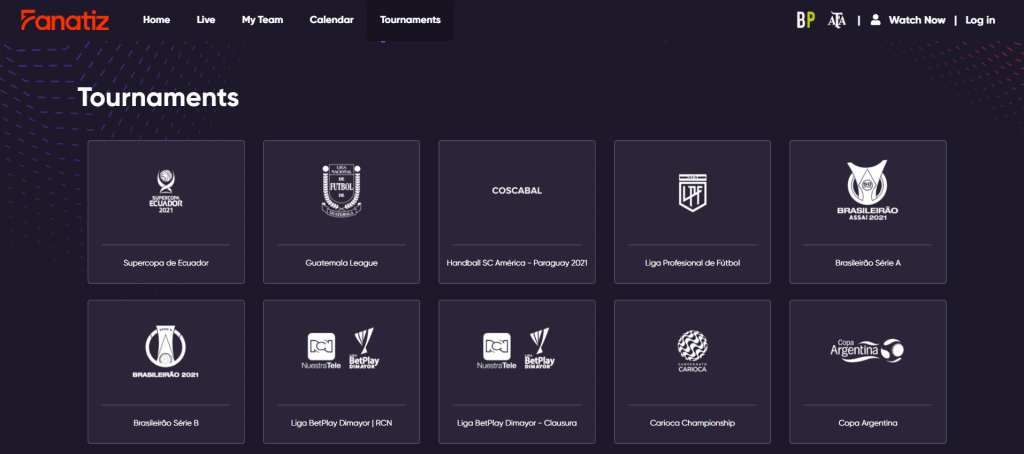 ​On top of all this, you'll also get the following sports channels on Fanatiz:
beIN Sports

beIN Sports en Español
beIN Sports Xtra
beIN Sports Xtra en Español

GolTV (English and Español)
RCN NuestraTele Internacional
Tigo Sports
Real Madrid TV
For The Fans (FTF)
AFA LPF
AFA Play
Brasileirão Play
Centroamérica TV
ATA Football
Fanatiz can't be expected to provide access to every single soccer league around the world for $10/mo. Here are a few major leagues Fanatiz is missing, and how to watch them:
Click on any of them to see our full guide on how to not miss a minute of any match.
Fanatiz Prices and Plans
Fanatiz offers several plans to US viewers:
Freemium Plan: The free tier gives you access to four live channels: beIN Sports Xtra, For the Fans, beIN Sports Xtra en Español, and RealMadrid TV Español. You get highlights, statistics, and information, plus some sports.
Front Row Plan: The standard $9.99/mo plan. Save $40 by signing up for a year for $79.99.
Brasileirão Play Pack: Get all the best of futebol brasileiro with live and on demand Brasileirão Serie A and B games, documentaries, highlights, and more, $7.99/mo or $63.99/yr.
AFA Play Pack: Every Argentine Professional League match, live or on demand, plus other sports and channels live from Argentina, interviews, documentaries, highlights, and more, $7.99/mo or $63.99/yr.
There are no contracts and no long-term plans — you can cancel whenever you want. You can cancel your package any time during the free trial. Doing this ensures that you won't be charged in the future.
Freemium Plan vs. Free Trial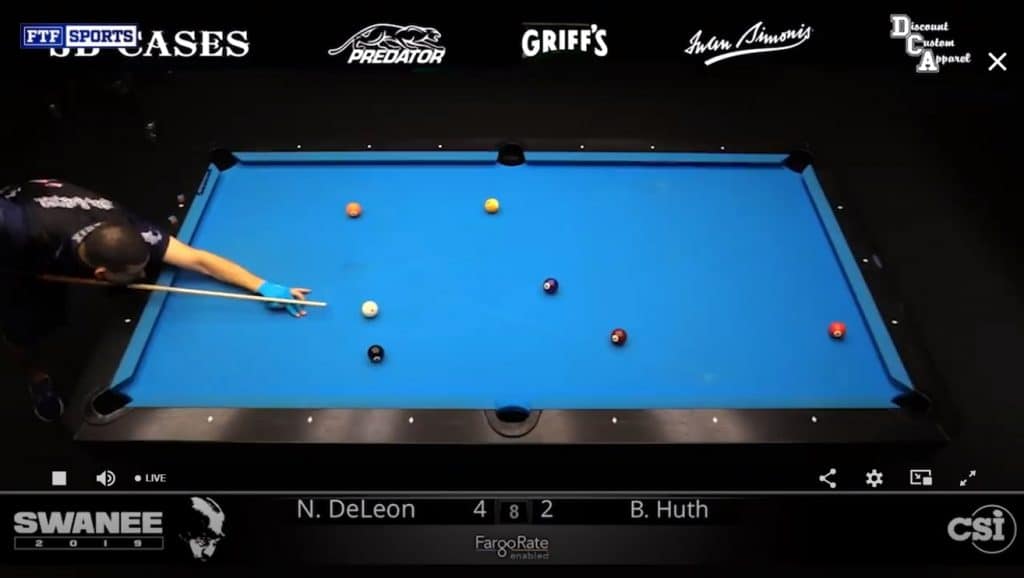 The freemium plan will not satisfy the vast majority of serious soccer fans. BeIN Sports Xtra is not the same channel as beIN Sports — they cover different sports, different leagues, and the more popular, higher division leagues and tourneys (like Ligue1 and Copa Libertadores) are going to be on beIN Sports, not beIN Sports Xtra. You can find a complete list of leagues beIN Sports Xtra covers on the beIN Sports website.
If you want to truly experience what Fanatiz has to offer, we highly recommend signing up for the 7-day free trial, which gives you a whole week of all the live channels, entire top flight matches, and thousands of hours of exclusive content. Then you can make an informed decision on whether Fanatiz is worth your money.
International Streaming
For this Fanatiz review, we've mainly focused on US content because we're in the States. That said, Fanatiz is an international streaming service that offers a wide range of sports coverage to many countries around the world. Here are a few price points around the globe:
| Country | Front Row Plan |
| --- | --- |
| Argentina | 349 ARS/mo |
| Brazil | 29.99 BRL/mo |
| Canada | 9.99 CAD/mo |
| Chile | 3,999 CLP/mo |
| Ireland | 9.99 EUR/mo |
| Mexico | 79 MXN/mo |
| UK | 5.99 GBP/mo |
Fanatiz is available outside the above areas for $5.99 USD/mo, but the coverage is much more limited. All countries get the benefit of the 7-day free trial.
Supported Devices
Fanatiz is available on the most commonly-used streaming devices. Besides watching on www.fanatiz.com via your Chrome or Firefox browser on your desktop or laptop computer, you can stream on:
Android TV
Android mobile
iOS devices
Roku
Apple TV
Amazon Fire TV
Chromecast
For exact supported models, refer to the supported devices section at support.fanatiz.com.
Alternatives to Fanatiz
If Fanatiz doesn't seem like the right choice for you, you can check out these alternatives. Some of them are better suited if you want to cut the cable completely and get a bigger set of live TV channels, including sports:
Is Fanatiz Worth It?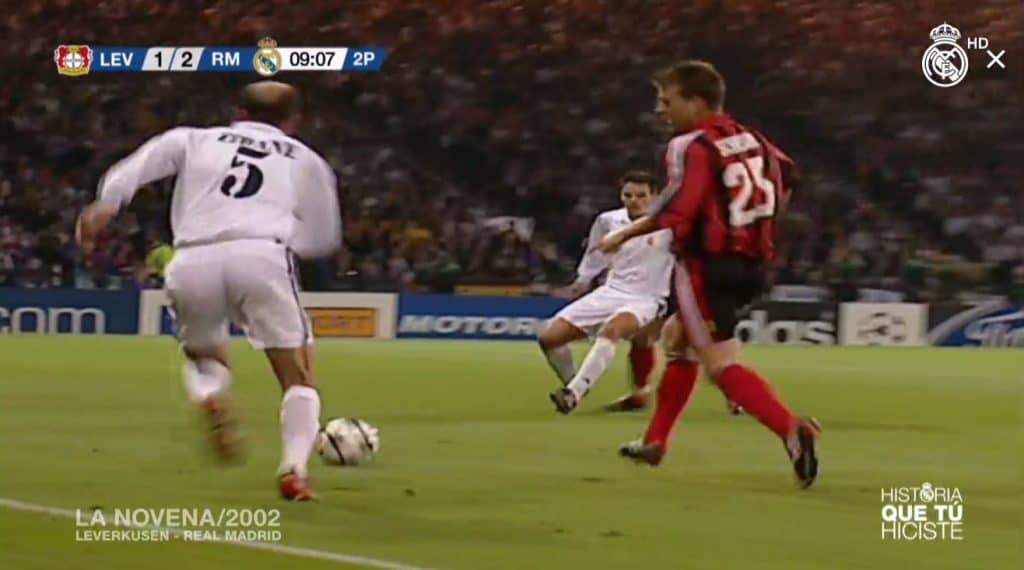 Ultimately, whether any service is worth it will depend on personal preference. But if you follow one of the great Brasileirão Serie A teams (or any other Latin American league), bottom line: you will not find a better package for coverage of Central and South American soccer available in the US. It's the exclusive home of most Colombian top flight games.
Mexican soccer fans should take a look at combining Fanatiz and fuboTV, which includes all the Univision/TUDN stations that cover Liga MX. If your interest goes beyond the Americas, Fanatiz would be a great companion service to ESPN+ (Bundesliga, La Liga), Paramount+ (UEFA and more), and Peacock (EPL).
Fanatiz is inexpensive and offers a good deal of content for what you're paying. There are no contracts, so if you sign up and aren't satisfied, canceling is easy. All in all, it's definitely worth checking out the 7-day free trial if you're a soccer fan.
FAQ
What is Fanatiz?
Fanatiz is a streaming service dedicated almost exclusively to soccer coverage. Originally from Chile, it now covers most of South and Central America along with parts of Europe. It features both direct broadcast live games and matches through its live channels.
Is Fanatiz TV free?
Making an account is free and does not require a credit card. There is a freemium plan, which includes temporary (roughly 1 minute) access to most channels and full access to four: beIN Sports Xtra, beIN Sports Xtra Español, Real Madrid TV, and For the Fans. The first and fourth are in English and the other two are in Spanish.
Additionally, Fanatiz offers a free 7-day trial for its full version if you want to check it out first before purchasing.
How much does Fanatiz cost?
In the US, the Front Row subscription includes 13 live channels plus video on demand for $9.99/mo. You also have the option of subscribing to just the AFA Play (the Argentine Superliga) or Brasileirão Play (Brazilian top league) for $7.99/mo each. They're both included in the Front Row package.
What are the benefits of Fanatiz?
The biggest benefit of Fanatiz is probably that it is by far the cheapest way to watch beIN Sports, the next cheapest running about $40/mo (Sling TV). beIN Sports covers a lot of soccer (all of the European leagues Fanatiz carries are on beIN Sports, such as Ligue1 and Süperlig).
Almost as important to a dedicated fan of Latin American soccer is all the channels needed brought together into one affordable package. Most of these channels — Real Madrid TV, GOL TV, CATV, NuestraTele — can be found on other streaming services, but they're tucked away in Spanish-language packages or catch-all sports add-ons. This gives you a bundle that is specifically tuned to a soccer fan's tastes.
Where can I find Fanatiz TV?
Signing up for Fanatiz is free and easy — you don't even need a credit card. Just go to Fanatiz.com and click the "Register" button to sign up. From there you can watch a few minutes of live TV, check out some clips, or go straight to signing up for Front Row.
Once you have an account, you can watch through your browser, or you can download the app directly to most smart TVs, streaming devices, or mobile gadgets.
What channels does Fanatiz have?
In the US, Fanatiz carries around a dozen channels. Here are the channels currently available in the United States and Puerto Rico:
beIN Sports

beIN Sports en Español
beIN Sports Xtra
beIN Sports Xtra en Español

GolTV (English and Español)
RCN NuestraTele Internacional
Tigo Sports
Real Madrid TV (English and Spanish)
For The Fans (FTF)
AFA LPF
AFA Play
Brasileirão Play
Centroamérica TV
The website is a bit coy about what channels are available outside your particular viewing region, meaning there's no comprehensive list anywhere. Some of the non-US-available channels mentioned are Perú Mágico, Todo Noticias, and OneFootball. However, if you check the "Plans" section of the Fanatiz website, it will always show what's available to you where you live.
What leagues does Fanatiz have?
Like asking which channels, this is not as straightforward an answer as you would think. Depending on your country, you may have as few as two or three, but in the US, there's around 25. This is a partial list of what US viewers can tune into with Fanatiz:
LigaGT (Guatamala)
Copa Libertadores
Copa Sudaméricana
Superliga Argentina
Liga Profesional Argentina
Liga BetPlay Dimayor (Colombia)
Ligue1 (France)
Brasileirão Serie A and Serie B (Brazil)
Liga Pro (Ecuador)
Turkish Süperlig
Peruvian Liga 1
Uruguayan Primera División
Copa Argentina
Primeira Liga (Portugal)
Complicating matters is the constantly-shifting nature of sports broadcasting rights, especially in Europe. Fanatiz depends mostly on its live channels for its sports coverage, so if one of its channels loses rights to a league, Fanatiz loses that league too.
Does Fanatiz have a free trial?
Yes! Try Fanatiz out absolutely free for 7 days. Cancel anytime and owe nothing. Once your trial is up, you're still only committing $9.99 at a time for a single month. If you're sure you like Fanatiz, you can save $40 by paying a year at a time. That's a great deal, but be aware you're trading your flexibility for your yearly discount. There won't be any penalty for canceling early, but you'll still be out the $79.99.
Can I record Fanatiz?
Fanatiz does not have any cloud DVR capability at this time. It does provide all of the content it can on demand, to the extent allowed by the channels supplying the content. You can watch anything from beIN Sports for up to 72 hours after it airs live.
Is Fanatiz available on Samsung Smart TV?
No, not currently, but keep checking back, since the list of supported devices keeps growing. In the meantime, you can use an external device, such as a Roku or Amazon Fire TV with your TV to stream Fanatiz. You could also use a Chromecast to cast from your computer or mobile device to your TV.
Can I watch Fanatiz on Fire Stick?
Yes! Fanatiz is available for Fire TV Stick Generations 1, 2, and 3 as well as the Lite and the 4K. Just search "Fanatiz" in the Amazon app store, download the free app, login with your account, and enjoy all the football goodness. As Dani Rojas (from Ted Lasso) says, "Football is life!"
Is Fanatiz on Roku?
You bet your cleats it is. Just hop onto the Channel Store, find Fanatiz (on older Rokus, it's under "Movies and TV," while on newer ones, it's listed as "Sports"), click "Add channel," and then "Go to channel." Log in with your Fanatiz account, and get ready to invite some buddies over for the game (there's always a game on with Fanatiz!)
Is Fanatiz legal?
100% totally, completely, absolutely legal and above-board. All of Fanatiz's content is officially and legitimately licensed from its source broadcasters. This is not one of those sleazy "free streaming" websites — this is the real deal. You can watch with your conscience clear that you're not ripping off your favorite team in the process.
Is beIN Sports on Fanatiz?
Yes yes yes! beIN Sports Connect is integrated right into Fanatiz's app, so you get beIN Sports, beIN Sports en Español, beIN Sports Xtra, and beIN Sports Xtra en Español. This means that whatever beIN Sports has rights to, you can watch through Fanatiz — including Copa Libertadores, Ligue1, and Turkish Süperlig.
Does Fanatiz have ESPN?
No, probably because ESPN is the most expensive channel in the US — probably in the world — to carry, over three times as expensive as the next-most expensive (TNT) and almost five times the average. So while ESPN does have the US rights to La Liga, Liga MX, and Bundesliga (among others), you'll have to subscribe to a bigger (and unfortunately, more expensive) streaming service than Fanatiz to watch it.
May we recommend fuboTV? In addition to ESPN, it's got TUDN (Univision's sports channel) and all the major networks — NBC, FOX, and CBS — that carry soccer.
Does Fanatiz have the Champions League?
No, CBS managed to snag the US rights to the UEFA. You can find major Champions League games (like finals) on CBS, which you can pick up free with an antenna. Regular season games will more likely be on CBS Sports Network or Paramount+, CBS's streaming service.
Pairing Fanatiz and Paramount+ is still only around $15/mo ($20/mo if you spring for the ad-free tier of Paramount+, though keep in mind the CBS live stream and live sports events will still have commercials.)
Does Fanatiz have La Liga and Bundesliga?
Not anymore, sadly. They used to be on beIN Sports, and thus on Fanatiz, but ESPN bid higher, so now they're on ESPN+. The good news is that ESPN+ is another OTT subscription that's $9.99/mo, so you don't have to shell out the big bucks for a major live TV provider. Unless you're in the market for one, of course, in which case, we just want you to know that ESPN+ is included with a Hulu + Live TV subscription (along with Hulu and Disney+) for $69.99/mo.
Now that you've read our Fanatiz review do you still have questions? If so, feel free to leave them in the comments!
Ditch "Big Cable" Now – 3 Simple Steps to Cut the Cord
Pick the right streaming service
Get the content you deserve with the best VPN.
Supercharge your internet provider
That's it — you'll save money, take back control, and enjoy TV more!
Page Updates
▼
▲
Updated some sub-sections. Updated some section headings. Linking.

Image changes. More links. Formatting.

Added new section. Mentioned channel info. Added links to streaming services. Updates to a section. Updated some section headings. Reworked one section. Cleaned up list.

Added some more links. Pricing updates. Various content updates.

Image changes. Pricing updates. Added useful links.

Updated some section headings. Updated some sub-sections. More links.
Latest posts by Frank Moraes
(see all)