Hulu has long been a titan of the streaming industry with its on-demand and live TV streaming services. As a result, they rarely offer deals of this kind. But one of the exceptions is this week from May 19th through May 27th.
And Hulu is offering a hot offer: Hulu (With Ads) plan for only $2.00 per month. That's a 70% discount off the regular price and you get it for your first 3 months!
All the way back in 2018, Hulu offered a similar deal for just 99¢/mo. But in recent years, it's always been $1.99/mo. It looks like they've decided to go for round numbers.
Don't miss Super Bowl LVII. Read all about it in our streaming guide!
With this plan, you can only stream the available content when you're connected to the internet. But you can add-on to this subscription with bundles for Disney+ and ESPN+, as well as Live TV.
The deal is available now and runs through Pacific time on Saturday, May 27, 2023.
As in the past, this Hulu deal is being offered to both new and eligible returning subscribers.
What Is Hulu's National Streaming Day Promotion Deal?
Basically, Hulu is giving away three months of its service. Okay, not exactly. But $2.00 per month is almost nothing! You can probably find that in your couch. And there is probably more cash in your wallet right now than what you need for the three months!
And all you need to do to get the great Hulu deal is click over and sign up — starting May 19th.
No codes to mess with. No contracts to sign. Just sign up and you're done!
Well, there is one thing: this deal never lasts long! You must sign up by the end of Saturday, May 27th. Don't miss out!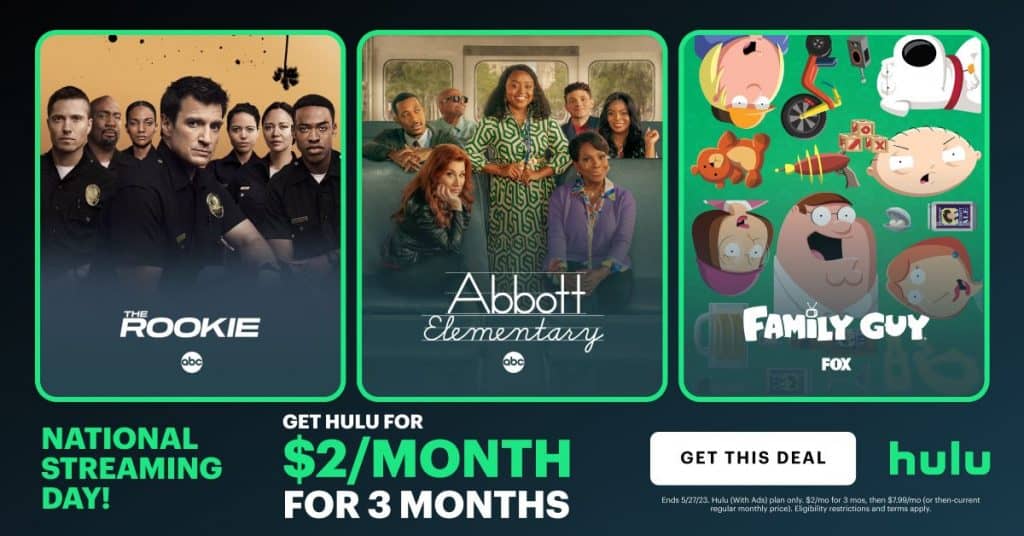 Why Get Hulu?
If you still want to watch the latest TV shows but don't care if you see them the moment they are released, Hulu is the service for you. Most episodes are available the day after they air.
It doesn't matter if you are fan of The Bachelorette or What We Do in the Shadows, you can watch it before people start talking about it at work the next day! You also get great original shows like The Handmaid's Tale.
Hulu subscriptions come in three plans:
On-demand ad-supported plan ($7.99/mo): Gives you access to its complete library including Hulu Originals, premium channels like HBO Max with commercial interruptions.
On-demand no-ads plan ($14.99/mo): The same access but totally, completely ad-free!
Live TV ($69.99/mo): The same access along with Disney+, ESPN+, and 85 live TV channels covering sports, news, entertainment, and more.
Regardless what you are looking for, Hulu has a plan for you!
See our streaming trials page.
FAQs
Does Hulu's National Streaming Day Promotion offer come with the Disney bundle?
No, the National Streaming Day Promotion is for Hulu's plan with ads only. The Disney bundle isn't included in this limited-time deal. Other Hulu add-ons aren't included either, including ESPN+ or the no-ads option. In practice, Hulu is offering its standard student rate for everyone. And it's not just for new Hulu subscribers — eligible returning subscribers can also get in on one of the best deals around.
Do live channels come with Hulu's National Streaming Day Promotion?
Live channels come with Hulu + Live TV, which includes 85+ live TV channels, ESPN+, and Disney+ and costs $69.99/mo. There is no deal for this package. However, the base Hulu on-demand plan on offer for $2.00/mo does offer some live TV — news and occasional sporting events like hockey games. It also provides access to many shows shortly after they air.
What is the cheapest way to get Hulu?
The cheapest way to get Hulu is to wait for one of its special deals. Its National Streaming Day Promotion is just $2.00/mo for three months. That is the cheapest way you can get it. If you are a college student, you can always get this deal. But there have been years when Hulu went even lower, offering its base plan for just $0.99/mo. This is an even better deal since Hulu just had a $1 price hike in October 2022.
What is the most expensive Hulu?
The normal price for Hulu itself is $7.99/mo. If you want to get it without commercials, it is $14.99/mo. And the Hulu Bundle promo, which includes Disney+ and ESPN+, is $13.99/mo ($19.99/mo with no-ads). But if you want it all, the most expensive way to get it is with Hulu + Live TV, which adds 85+ live TV channels for $69.99/mo.
What is the difference between Hulu and Hulu Live?
Hulu is (mostly) an on-demand streaming service. Hulu + Live TV (Hulu Live) takes the base Hulu plan and adds the ESPN+/Disney+ bundle. And then it tops it off with 85+ live TV channels. What channels? All the local network affiliates (ABC, CBS, Fox, NBC) and all the cable channels you expect like CNN, ESPN, FX, Lifetime, National Geographic, Nickelodeon, TBS, and USA. For a complete list, see our package guide.
What devices does Hulu support?
Hulu supports a really wide variety of devices, more than most streaming services, including:
Apple TV
Roku
Chromecast
Samsung Smart TVs
Browser (hulu.com)
Android and Apple smartphones and tablets
Amazon Fire TV and Fire tablets
Nintendo Switch, Xbox, and PlayStation 4
Specific Cord-Cutter Deals
Here are all the deals we are following:
Page Updates
▼
▲
Added sub-section. Added more info about plans. Added pricing. Updated some section headings. Changes to some sections. Pricing updates. Cleaned up list.

Added FAQ section. Updated one section. Formatting changes. Misc changes.

Pricing updates. Mentioned deals. Additional links.
Latest posts by Frank Moraes
(see all)