Disclosure:
Your support helps keep our site running! We earn referral fees for some of the products & services we recommend.
Learn more
E! is one of the most popular TV channels with news and dishing about the entertainment industry. And given that it is one of the most popular channels, it is also relatively easy to watch it without cable. Read on to learn how!
In a hurry? You can't do better than these streaming services to get full access to E!
Hulu + Live TV: Probably the best overall entertainment service with 85+ live channels, an incredible on-demand library, and ESPN+ and Disney+!
FuboTV: If you like your entertainment with a large bit of sports, this is the way to go with 110+ channels and more. FuboTV allows you to try out its service free for 7 days.
Sling TV: This low-cost streaming service gives you E! plus 40 others with many options to add more. Save 50% on your first month of Sling TV.
If you enjoy celebrity gossip and the latest news from the entertainment industry, E! is a place to be. Although many networks offer shows that deal with Hollywood happenings, E! Entertainment's entire lineup will fill your day with relevant information.
Luckily, you don't require a cable TV subscription to watch this network. Simply having an internet connection and a streaming service will allow you to enjoy all the fun.
What is E!?
On Jul 31, 1987, the MovieTime network was launched. Later, at the helm of Lee Masters, this was turned into E! Entertainment.
Masters' expertise in the entertainment industry came from his time as general manager of MTV. He wasn't afraid to mix things up and to think outside of the box when it came to celebrity television.
His influence brought to E! an unusual form of entertainment and celebrity content. Programs spotlighted Hollywood stars but included their input. He gave them partial control that wasn't present anywhere else.
E! Entertainment Programming History
In the early 1990s, Howard Stern put his face on television while taping on the radio. E! gave him a talk platform that riveted viewers.
Also, Joan Rivers extended her talk show persona and became the network's fashion guru. After celebrities walked the red carpet, Joan would give a complete blow-by-blow of who wore what best.
Also, extremely popular was the series Talk Soup. The format followed comedic commentary of the week's most famous talk show clips. Thanks to the inexpensive production and high ratings that attracted advertisers by the bushel, the show brought millions in yearly network revenue.
The most lucrative production of the network, however, was E! News Daily. It was set up like a regular newscast but only covered Hollywood events.
Recent Events and Today
By the mid-90s, E! was a mainstay in the cable television industry. To please the 20-something demographics, it bought off-network rights to Fox shows like Melrose Place. Although Masters considered entering the world of syndication, he realized that it would only detract from his network.
Today, E! is under the ownership of NBCUniversal. Also, it joins a lineup of sister channels that provide high entertainment value. Some of the most popular include Bravo, Oxygen, and USA. The channels are well-known for their unique and specialized broadcasting efforts.
E! Programming
To repeat, the key to E!'s success has been its ability to produce fun and inexpensive programs. Today, the lineup is filled with a number of popular TV shows.
E! News: This continues to be the flagship show of the channel. It delivers the best place to look at celebrity news and gossip.
Total Bellas: This reality series follows the two sisters in the Bella family. Although known for their life inside of the wrestling world, you get a glimpse of how things go down outside of the arena.
E! True Hollywood Story: Who doesn't want to catch a behind the scenes recap of celebrities that have been in the news from scandals or death? This show uncovers the secrets of the Hollywood elite and delivers it right to your living room.
Clash of the Cover Bands: This is an American reality music competition that pits two similar bands head-to-head to cover popular songs. In the end, the winner receive cash prizes.
The Soup: A continuation of the network's longest running series, this show blends the best viral videos of the moment, the top reality TV clips, and a sharp sense of humor from host Jada Catta-Preta. It remains a pop culture classic.
Celebrity Game Face: The pandemic has transformed the kinds of broadcasting that is possible. More and more shows are taped outside of studios, including this one. Hosted by Kevin Hart, each episode dares celebrity couples with trivia and various physical challenges.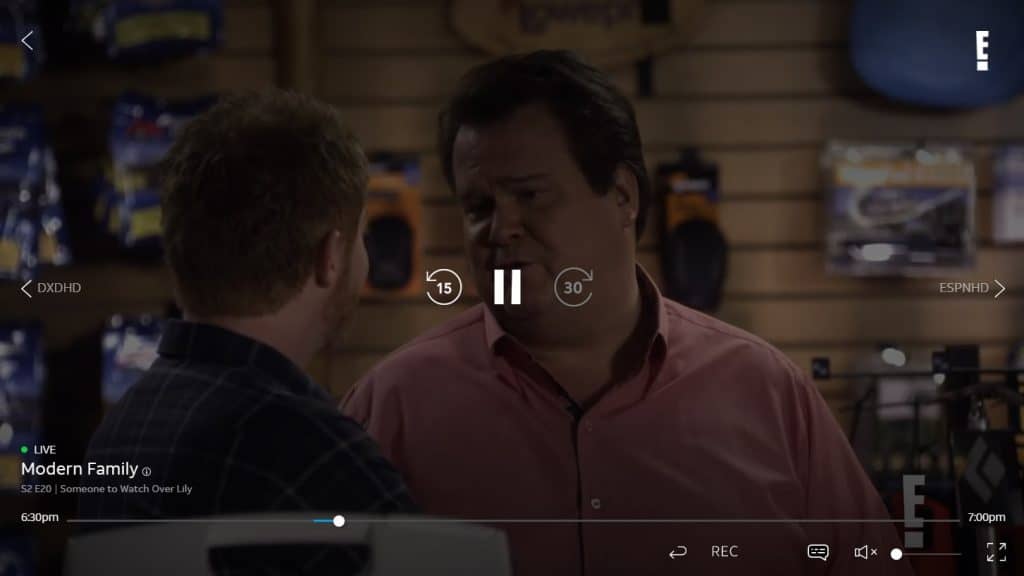 E! on Live TV Streaming Services
Luckily, E! is available in the base plans for all of the major streaming services except Philo. Here's a closer look at some of the most popular options.
Other Ways to Stream
Peacock: NBCUniversal's streaming service provides access to E! on-demand for $4.99/mo.
YouTube TV: This service offers 85+ top channels in various genres for $64.99 per month. It features unlimited DVR storage and streaming on up to 3 devices.
E! App: You can watch E! live and on-demand through their app. But you must already have a TV provider like Sling TV to unlock the content with TV Everywhere.
In addition to these, you can stream E! shows on-demand on various services — specifically Amazon Prime Video and Hulu.
TVs and Devices to Stream E!
The services we discussed above most likely support the streaming devices you already own. They all support the following:
Amazon Fire TV
Android mobile
Apple TV
Chromecast
iOS (iPhone,iPad)

Roku

Samsung smart TVs

Web browsers

.
Other than DIRECTV STREAM, they all support Android TV devices. Xbox gaming systems are supported by Fubo, Hulu, and Sling. PlayStation units are supported by Hulu.
Get the complete details in our streaming reviews, which list every device (including the less-popular ones).
Wrapping Up
It is often nice to escape into the world of celebrities and to immerse yourself in the hijinks of pop culture. E! provides an oasis. Thankfully, it is simple to stream this network without a cable subscription.
Any of the above-mentioned streaming services allow you to enjoy the network. We recommend Hulu + Live TV although if you are on a budget, Sling TV is the way to go. In the end, you will truly understand that E! really does stand for entertainment.
Latest posts by Frank Moraes
(see all)