Paris Saint-Germain FC was always one of the most popular teams in Ligue 1, but after the 2022 World Cup, that has intensified. Read on to learn how to watch every match.
In a hurry? PSG games will be found on the various beIN Sports channels. These services offer them and much more:
FuboTV: Get all the beIN Sports and TUDN channels right in the app! FuboTV allows you to try out its service free for 7 days.
Sling TV: The least expensive way to watch Ligue 1. Save 50% on Sling TV now!
Vidgo: Includes a large large channel selection for a reasonable price. Try one month for $64.95.
Paris Saint-Germain was already one of the world's most popular clubs prior to the 2022 World Cup, but the captivating performances of PSG players Lionel Messi and Kylian Mbappe in leading Argentina and France to the final has led to a considerable boost in interest.
Another high-profile player on its squad is Neymar, who is Brazil's national team's most known member.
How can you watch Les Parisians? As is usual for this sport, the answer to that question depends on where you are located and what competition the match is a part of. We will discuss a few options below.
Where to Watch PSG
Fortunately, considering the massive stature of this club and its worldwide popularity, you should be able to watch all or nearly all of its matches wherever you are. In many cases, this will be through beIN Sports, channels related to that network and streaming options such as beIN Sports Connect.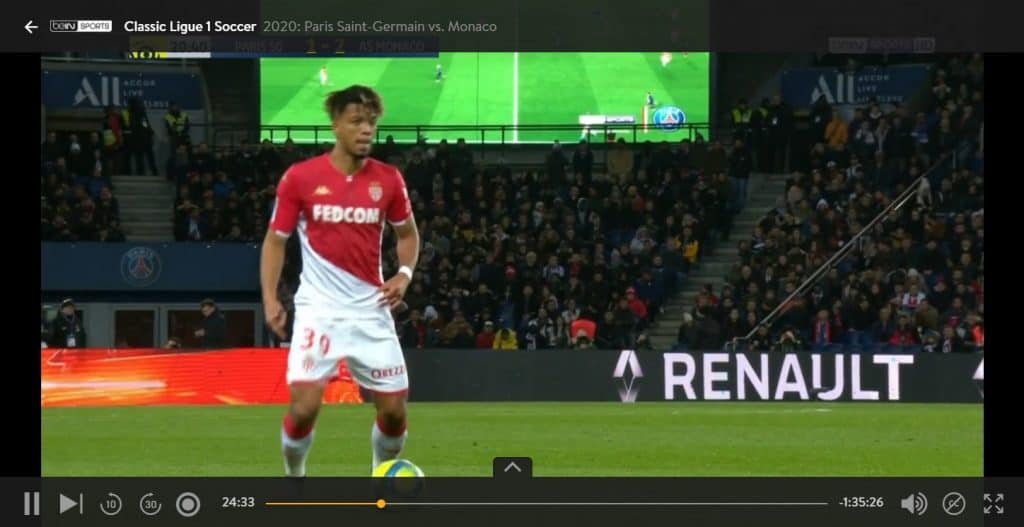 US
The US is one of the countries that offers Ligue 1 coverage on beIN Sports. However, keep in mind that that only applies to those league matches. For example, Coupe de France contests are available in the US through Fox-affiliated outlets; the 2022-23 CdF showdown with Olympique de Marseille was shown in this country on Fox Soccer Plus.
Check out these streaming services to watch all the Ligue 1 matches featuring PSG:
FuboTV: This is the best streaming service for soccer fans with beIN Sports and TUDN right in its app with plans starting at $74.99/mo. Also includes 1000 hours of cloud DVR and streaming on up to 10 devices. (FuboTV review)
Sling TV: Sling Orange + World Sports Mini is the least expensive way to get beIN Sports but there are other options. This play also provides ESPN and The Disney Channel. But you have a ton of options that allow you to get just the channels you want. Note that CBS is not available. (Sling TV review)
Vidgo: Get a bunch of channels along with access to beIN Sports Connect for $69.99/mo. Note that you will need to upgrade to get access to its DVR and that CBS is not provided. (Vidgo review)
Fanatiz: This sports-only streaming service provides great access to Central and South American as well as beIN Sports for $9.99/mo. (Fanatiz review)
YouTube TV: Provides limited access to beIN Sports channels in its Sports Plus add-on for $75.99/mo total.
CBS, more specifically Paramount+, owns the rights to the club's UEFA Champions League matches.
All the services listed above allow you to live stream on most devices including Amazon Fire TV, Android Mobile, Android TV, Apple TV, Chromecast, iOS, Roku, and web browsers. Various smart TVs and gaming consoles are also supported, but not universally.
Elsewhere
The list of countries where you can watch PSG's Ligue 1 matches on beIN Sports is extensive. It includes predominantly English-speaking nations such as Canada, Australia, and New Zealand as well as Turkey and numerous ones in Asia — eg, Hong Kong, Indonesia, Malaysia, Saudi Arabia, United Arab Emirates, Palestine – and Africa — eg, Morocco, Algeria, Tunisia, Libya, Egypt, Chad, Sudan, South Sudan.
This network also shows the club's Coupe de France matches in some of those countries, but that list is much shorter. However, it does include Canada, Australia, and New Zealand as well as Turkey and Hong Kong.
With that said, many more of those countries do showcase PSG's Champions League contests on beIN Sports as well. That list, however, does not include Canada (DAZN), Australia (Stan Sport), or New Zealand (Spark Sport).
Ligue 1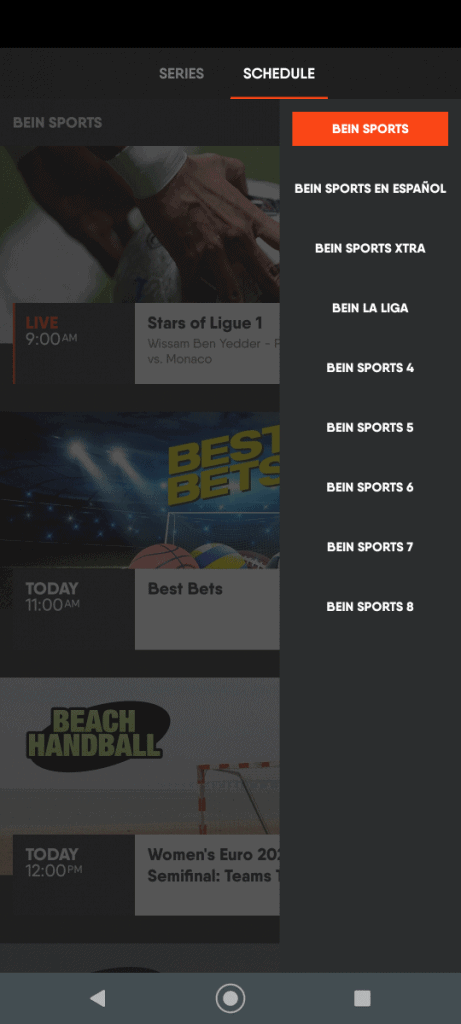 Ligue 1 has been atop France's soccer pyramid since its inaugural 1932-33 season. Although the sport had been a part of French culture for decades prior to then, professionalism had only been approved in 1930, and Ligue 1 became the country's first professional league. It was a 20-team competition at the time although the sides were divided into a pair of 10-club groups with the winners of each playing in a final.
For the 2022-23 season, Ligue 1 also consists of 20 teams but in one table with each playing 38 matches. However, this will be the last year with that format as it will be an 18-club competition in 2023-24.
Other Competitions
All Ligue 1 sides take part in the Coupe de France. In fact, it seems like every French club does as more than 7,000 do. Four-fifths of those enter eight rounds before top-tier clubs take part. The competition's format consists of one match per round, all hosted by one of the two sides except for the final, which is played at the 80,000-seat Stade de France.
The top Ligue 1 teams, a group that has included PSG for the past decade, also play in the UEFA Champions League while a handful of others take part in the Europa League or Europa Conference League.
PSG
In a sport that is full of historic clubs with well over a century of stories, PSG is relatively new to the party, having been founded in 1970. However, its roots do date much further than then. That is because PSG is the result of a merger between Paris FC and Stade Saint-Germain; the latter of those was initially founded in 1904. Interestingly, however, Paris FC, which was founded in 1969, split back off of PSG in 1972 and has been its own entity ever since, currently competing in France's second tier.
PSG earned promotion to France's top division after its first season and after that split in 1972 resulted in it being pushed down a couple of levels for administrative reasons, earned two more promotions, those in back-to-back seasons. It has never been relegated on the basis of its play, but it did come close as recently as 2007-08, finishing 16th, two spots and three points above the relegation cutoff.
However, Les Parisians have dominated French football over the past decade, winning eight Ligue 1 championships, six Coupes de France, and six Coupes de la Ligue from 2012-13 to 2021-22. (The Coupe de la Ligue, France's league cup, ceased to exist following its 2019-20 edition.)
But European success has eluded Paris Saint-Germain. Its lone European title was the 1995-96 edition of the now-defunct UEFA Cup Winners' Cup. It did reach the Champions League semifinals in 1994-95 but did not get back to that stage until 2019-20 when it advanced one step further before falling in the final. Another semifinal appearance was achieved the following season.
PSG's biggest rival is Olympique de Marseille, a rivalry that is referred to as Le Classique. Although Paris Saint-Germain has now created a wide gap in talent between the two, their matches remain heated.
Lionel Messi headed to PSG in 2021 after a long career with Barcelona, Kylian Mbappe has been a member of the squad since joining it on loan from Monaco in 2017 and then signing a contract directly with PSG the following year, and Neymar, like Messi, went to France's capital after having played for Barcelona; he moved there in 2017.
2022-23 PSG Squad
Christophe Galtier started as head coach of Paris Saint-Germain FC this season. The primary squad this year is listed below.
Goalkeepers
Defenders
Juan Bernat
Achraf Hakimi
Presnel Kimpembe
Marquinhos
Nuno Mendes
Nordi Mukiele
Sergio Ramos
Midfielders
Danilo Pereira
Fabián Ruiz
Renato Sanches
Carlos Soler
Marco Verratti
Vitinha
Warren Zaire-Emery
Forwards
Hugo Ekitike
Ilyes Housni
Kylian Mbappé
Lionel Messi
Neymar
2022-23 PSG Schedule
Sat Aug 6: Clermont Foot v PSG
Sat Aug 13: PSG v Montpellier
Sun Aug 21: Lille v PSG
Sun Aug 28: PSG v AS Monaco
Wed Aug 31: Toulouse v PSG
Sun Sep 4: Nantes v PSG
Sun Sep 11: PSG v Brest
Sun Sep 18: Lyon v PSG
Sun Oct 2: PSG v Nice
Sun Oct 9: Stade de Reims v PSG
Sun Oct 16: PSG v Marseille
Sun Oct 23: AC Ajaccio v PSG
Sun Oct 30: PSG v Troyes
Sun Nov 6: Lorient v PSG
Sun Nov 13: PSG v AJ Auxerre
Wed Dec 28: PSG v Strasbourg
Sun Jan 1: Lens v PSG
Wed Jan 11: PSG v Angers
Sun Jan 15: Stade Rennais v PSG
Sun Jan 29: PSG v Stade de Reims
Wed Feb 1: Montpellier v PSG
Sun Feb 5: PSG v Toulouse
Sun Feb 12: AS Monaco v PSG
Sun Feb 19: PSG v Lille
Sun Feb 26: Marseille v PSG
Sun Mar 5: PSG v Nantes
Sun Mar 12: Brest v PSG
Sun Mar 19: PSG v Stade Rennais
Sun Apr 2: PSG v Lyon
Sun Apr 9: Nice v PSG
Sun Apr 16: PSG v Lens
Sun Apr 23: Angers v PSG
Sun Apr 30: PSG v Lorient
Sun May 7: Troyes v PSG
Sun May 14: PSG v AC Ajaccio
Sun May 21: AJ Auxerre v PSG
Sat May 27: Strasbourg v PSG
Sat Jun 3: PSG v Clermont Foot
Wrapping Up
Have you gotten interested in Paris Saint-Germain after seeing Lionel Messi and Kylian Mbappe entertain the planet at the World Cup? Or perhaps you were a PSG fan from before it was purchased by Qatar and was battling relegation. Regardless, it should be relatively easy for you to watch the club play, no matter where you are located.
FuboTV is our top choice for Paris Saint-Germain fans. FuboTV allows you to try out its service free for 7 days.
Other Soccer Viewer's Guides
Cropped from Kylian Mbappé, Lionel Messi, and Neymar by Bigmatbasket under CC BY-SA 4.0.
Latest posts by Frank Moraes
(see all)