Disclosure:
Your support helps keep our site running! We earn referral fees for some of the products & services we recommend.
Learn more
The 2021 MLS Cup ended with New York City FC beating Portland Timber in a shootout. The 2022 season ends Oct 9th and the 2022 MLS Cup playoffs begin resulting in the final on Nov 5th. In the meantime, there's plenty of other soccer to watch!
In a hurry? These streaming services will provide you with access to all the MLS Cup matches:
FuboTV: Provides access to all the games on ESPN and FS1 in addition to a reasonable choice of regional sports networks (RSNs). FuboTV allows you to try out its service free for 7 days.
DIRECTV STREAM: The best source for RSNs; if they support your home team, this is worth the extra money. A 5-day free trial is now available for DIRECTV STREAM.
Hulu + Live TV: Includes ESPN+ as well for lots of regular-season action.
The MLS Cup playoffs are the culmination of an eight-month journey that 27+ soccer clubs take part in, leading to the MLS Cup final, which is simply referred to as MLS Cup. This is the most significant United States- and Canada-based soccer competition, featuring the top teams in those two countries.
MLS's attendances are amongst the world's best. Its 2019 average of 21,265 ranked eighth, only behind the Bundesliga (43,445), Premier League (38,182), La Liga (26,933), Serie A (24,931), Chinese Super League (24,076), Ligue 1 (22,833), and Liga MX (22,788).
How can you stream the MLS Cup matches? Read on!
Want to watch the MLS regular season? Read our MLS Guide!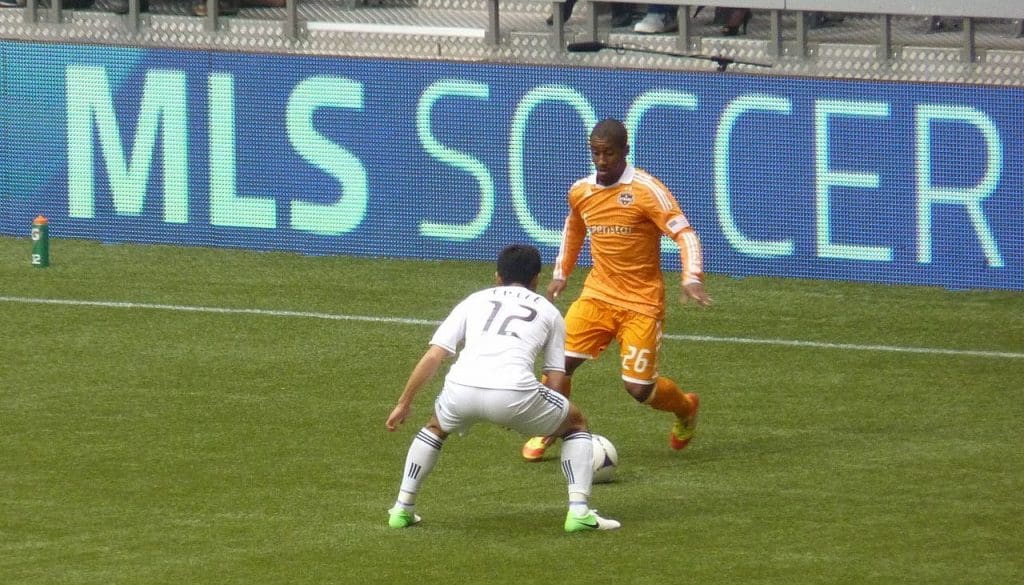 What Is MLS?
MLS stands for Major League Soccer, a league that was created in connection with the 1994 World Cup. You can find all the details about the league and information on watching the regular season in our MLS Viewer's Guide.
MLS Playoffs
The MLS Cup playoff format is relatively simple. The top seven teams in both the Eastern and Western Conferences qualify with the top club in each receiving a bye in the first round.
Otherwise, it is a March Madness-type setup with one game per match-up and no reseeding. That one-match format throughout replaced the previous one, which included two legs apiece in the middle two rounds, in 2019.
Whichever club had the best MLS season record amongst the two participating teams is the host for the match. If the contest is tied at the end of 90 minutes, 30 minutes of extra time will be played in their entirety. If the score is also tied at the end of 120 total minutes, the teams will participate in a penalty shootout.
In 2021, the playoffs ran from November 19th to the middle of December.
2021 MLS Cup Playoff Schedule
Nov 20 2:30 pm: Philadelphia (1) vs New York (0)
Nov 20 5:00 pm: Kansas City (3) vs Vancouver (1)
Nov 21 3:00 pm: New York City (2) vs Atlanta (0)
Nov 21 5:30 pm: Portland (3) vs Minnesota (1)
Nov 23 8:00 pm: Nashville (3) vs Orlando (1)
Nov 23 10:30 pm: Seattle (0) vs Salt Lake (0)
Nov 25 4:30 pm: Colorada (0) vs Portland (1)
Nov 28 3:00 pm: Kansas City (1) vs Salt Lake (2)
Nov 28 5:30 pm: Philadelphia (1) vs Nashville (1)
Nov 30 7:30 pm: New England (2) vs New York City (2)
Dec 4 6:00 pm: Portland (2) vs Salt Lake (0)
Dec 5 3:00 pm: Philadelphia (1) vs New York City (2)
Dec 11 3:00 pm: Portland (1) vs New York City (1)
All times are EST.
2022 MLS Cup Playoffs Schedule
We don't yet have the 2022 MLS Cup Playoffs schedule, but we do know when it will take place.
The Regular season ends on Oct 9th. The Audi 2022 MLS Cup Playoffs begin shortly after that. This ends with the MLS Cup itself played on Sat Nov 5th.
Where to Watch MLS
On a national level, Fox/FS1 (Fox Sports 1) and ABC/ESPN own broadcasting rights for MLS matches. They aired all the 2021 MLS playoff matches in English with Univision, UniMas, and TUDN airing the matches in Spanish. Some Spanish-language coverage also airs on Fox Deportes and ESPN Deportes.
Check back here for complete channel/streaming information once the schedule is set. For the regular season, see our thorough MLS Viewers' Guide.
How to Watch MLS Cup
You have a number of options to stream MLS Cup.
FuboTV

FuboTV ($69.99/mo) is your best option if you want access to both MLS's English- and Spanish-language broadcasts as it offers Fox, FS1, ESPN, ESPN2, ABC, Univision, UniMas, and TUDN. (Note that you need to get the International Sports Plus add-on for $6.99/mo or Latino Plus add-on for $19.99/mo to watch games on ESPN Deportes and Fox Deportes.)
You might also receive access to one or more RSNs that show locally produced MLS games. You also get 1,000 hours of cloud DVR storage and the ability to stream on 10 devices simultaneously.
See our FuboTV review for more details.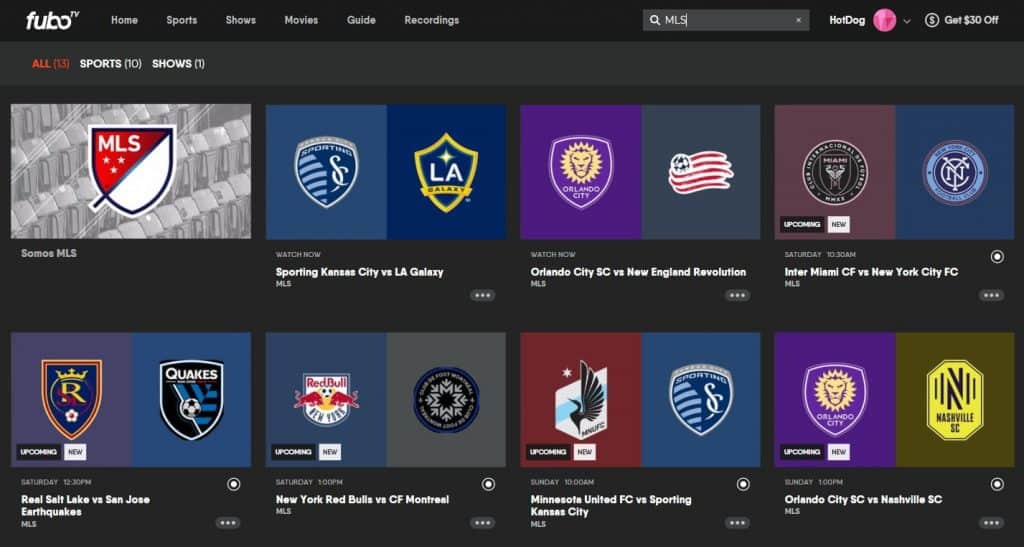 Hulu + Live TV

Hulu + Live TV ($69.99/mo) offers ABC, Fox, ESPN, ESPN2, and FS1 and the ability to get Fox Deportes and ESPN Deportes through the Espanol add-on for $4.99/mo. Univision, UniMas, and TUDN are not available through this service, but it does come with ESPN+.
Hulu + Live TV does offer several RSNs that show MLS matches to local audiences. It allows you to stream on up to two devices at once and store an unlimited amount on its DVR.
Our Hulu + Live TV review provides all the details.
Note that YouTube TV offers a very similar plan with 85+ channels for $64.99/mo but without ESPN+.
DIRECTV STREAM

DIRECTV STREAM (formerly AT&T TV) provides access to several MLS-related channels with its Entertainment plan ($69.99/mo). Its offerings of RSNs is where it most shines with almost all Bally Sports and NBC Sports channels. But you would need to upgrade to its Choice plan ($89.99/mo) to get those.
At this level, you get MLB Network and NBA TV. At the Ultimate level ($104.99/mo), you get NHL Network. UDN, ESPN Deportes, and Fox Deportes are only available through its Deportes package ($5/mo).
All plans come with unlimited cloud DVR and streaming on up to 20 devices. Read our DIRECTV STREAM review for more information.
Sling TV

To watch MLS action through Sling, you will need to get its combined Orange & Blue plan ($50/mo) as the Orange one has the ESPN channels while the Blue one offers Fox-affiliated sports channels.
Note that although ABC is not available with either and Fox is only available in select markets, you can access games shown on those channels through Sling TV's access to ESPN3 and Fox Live.
Our Sling TV review has more details.
Devices to Live Stream MLS
All the streaming services support Amazon Fire TV, Android mobile, Apple TV, Chromecast, iOS (iPhone, iPad), Roku, and web browsers.
FuboTV also supports the Xbox One and Android TV, LG, Samsung, Vizio, and Hisense smart TVs.
Hulu + Live TV supports all those devices plus Android TV, LG, Samsung, and Vizio smart TVs and Xbox, Nintendo Switch and PlayStation.
DIRECTV STREAM supports all the devices plus Samsung smart TVs and its own device.
Sling TV supports the devices plus the LG, Samsung, and Vizio smart TVs, Xbox, and Oculus.
Wrapping Up
If you are US-based and looking for English-language coverage of MLS Cup playoffs, FuboTV will serve you well. But it's worth checking out Hulu + Live TV, DIRECTV STREAM, and Sling TV.
FAQs
Which teams play in MLS?
The MLS' Western Conference includes:
Austin FC
Colorado Rapids
FC Dallas
Houston Dynamo
LA Galaxy
Los Angeles FC (LAFC)
Minnesota United
Portland Timbers

Real Salt Lake
San Jose Earthquakes
Seattle Sounders
Sporting Kansas City
Vancouver Whitecaps.
Its Eastern Conference includes:
Atlanta United
Chicago Fire
Columbus Crew
DC United
FC Cincinnati
Inter Miami
CF Montreal
Nashville SC

New England Revolution
New York City FC
New York Red Bulls
Orlando City SC
Philadelphia Union
Toronto FC.
Fourteen of those will participate in the 2021 MLS Cup playoffs. Charlotte FC will join the league in 2022, and St Louis City will do so in 2023.
Which channels are MLS games on?
MLS games are broadcast nationally on ABC, Fox, FS1, ESPN, ESPN2, Univision, UniMas, UDN, ESPN Deportes, and Fox Deportes to those located in the US. Various local outlets will also provide regional coverage of non-nationally telecast games. Canadians can watch live match coverage on CTV, TSN, and TVA Sports.
How can I stream other soccer leagues without cable?
These guides show you how to watch other soccer leagues:
Latest posts by Frank Moraes
(see all)