If you use an Amazon Fire TV stick to stream content to your TV, pretty much any service will support you. But if you want to watch on an Echo Show or Nintendo Switch, your options are limited. Thankfully, Hulu + Live TV features exceptional device support.
When Hulu first launched back in 2007, the idea was crazy. Revolutionary. Rival networks are going to get together and pool content? You can watch series from Fox and NBC and ABC all in the same place? Not from last season, but from last week?
Try one month for $69.99.
Hulu's grand consortium has since merged into Disney holding the reins with NBCUniversal (owned by Comcast) as a silent partner, but Hulu continues to break ground as a service, most recently by adding Disney+ and ESPN+ to its Live TV service.
As one would expect from such a trend-setter, Hulu + Live TV has one of the best (if not the best) device support of any of the streaming services. Let's take a closer look at what makes Hulu so cool.
Devices
In order to run Hulu + Live TV, a device must support the latest version of the Hulu app. Some older devices can still run the Classic Hulu app, with Hulu's on-demand content. But they won't be able to stream any of the live channels or premium add-ons. A list of these devices that support Classic Hulu but not Hulu + Live TV is at the end.
Smart TVs
Android TVs: Android operating system configured for smart TVs. This gives you the ability to integrate your TV with Google Assistant on your Android phone (if you have one), and Google Nest devices you may have, or an Android smartwatch. TVs that use Android TV include:

Sony Bravia Android TV (2015 and later models)
Nvidia Shield
Hisense Android TV
Select Xiaomi devices
Chromecast with Google TV.

LG TVs: Newer LG TVs actually come with Hulu pre-installed. Look for these models:

All LG TVs with webOS 3.5 or higher
LG TVs powered by Roku TV (LF5700 series)
Some LG TVs with webOS 3.0 (excluding the B6, UH6350, and UH6330 models, or the UH77, UH76, and UH61 series).

Samsung TVs: All models 2016 or later are Hulu good to go.
VIZIO SmartCast TVs: These innovative smart TVs depend on you using a mobile device to "cast" to them, similar to a Chromecast. All models support Hulu + Live TV.
TV Devices and Boxes
These are devices that plug into or otherwise connect to your TV to allow you to stream.
Amazon Fire TV: Integrates with Alexa on your Amazon Echo devices. The latest version of Hulu is supported on:
Apple TV: Integrates with Siri on your iPhone and other iProducts, similar to the Fire TV. Hulu + Live TV-compatible devices are:

Apple TV (4th generation)
Apple TV 4K.

Chromecast: Other devices run software that runs the apps that stream your programs, but Chromecast transmits (or "casts") your streaming program app from another device to your TV. You can stream to a Chromecast from:

Supported iOS mobile devices
Supported Android mobile devices
Hulu.com using the latest version of Chrome
VIZIO Smartcast TVs
Android TV-enabled devices with Chromecast built-in.
Unfortunately, casting from anything else, such as an Amazon Fire tablet, Barnes & Noble Nook e-reader, or Windows, isn't supported yet.
Roku: One of the oldest and best streaming devices, for Hulu + Live TV you need a supported Roku model (see below), its firmware needs to be version 8.1 or higher, and the Hulu app itself must be 6.6.3 or higher. Supported models include:

Roku Ultra
Roku Premiere and Premiere+
Roku Express and Express+
Roku 3 and 4
Roku 2 (model 4210X)
Roku Streaming Stick (model 3500X or later)
Roku TV
4k Roku TV.

Xfinity Flex Streaming: Not sure why you would need Hulu + Live TV if you have Xfinity, but if you have one of these Roku-wannabes, all models support the service.
Mobile Devices
These are your smartphones and tablets, and Hulu supports all three major ones: Amazon Fire, Android, and iOS.
Amazon Fire Tablet: Funny to think this started out as a souped-up e-reader. Any that run Fire OS 5 or higher can run Hulu Live:

Fire (5th generation or higher)
Fire HDX 8.9″ (4th generation)
Fire HD 6 (4th generation)
Fire HD 7 (4th generation)
Fire HD 8 (5th generation or higher)
Fire HD 10 (5th generation or higher).

Android mobile devices: Tablet or phone, if it runs Android 5.0 or above and its screen size is at least 800 x 480 pixels, it should be able to run the latest Hulu version.
iOS mobile devices: Hulu requires iOS 12, but recommends iOS 13.0 or better. iOS 12 requires one of the following devices:

iPhone 5S or later
iPad 5th generation or later (iPad Air, iPad Air 2, iPad Pro, and iPad mini 2, 3 and 4)
iPod Touch 6th generation or later.
Desktop and Laptop Computers
Any computer that meets the recommended specs below can stream live channels on Hulu.com.
Mac OS X 10.13 or above, Microsoft Windows 10, and Chrome OS
Chrome, Firefox, Safari, and Microsoft Edge on Windows 10 (latest versions)
HTML5 enabled
JavaScript and Cookies enabled
Gaming Consoles
Gamers, Hulu has got you covered.
Sony PlayStation: You can stream Hulu's live channels on a PS4 or PS5
Xbox: Hulu can run on Series X/S, Xbox One, and the 360.
Nintendo Switch: One of the very few services to show Nintendo some love.
Other
Amazon Echo Show: Enjoy Alexa support while watching live channels on Hulu on your Echo Show.
Amazon Echo, Echo Dot, Echo Spot, or Voice Remote: Pair it up with Fire TV and you can use your Alexa to control your Hulu.
Not Supported for Live Streaming
The following devices only support the Classic Hulu app, no live-streaming channels are available. Bummer.
Apple TV (3rd generation)
Cox Contour Stream Player
Cox Contour 2
Older LG TVs and Blu-Ray players running WebOS 3.0
Playstation 3
Roku 1 (model 2710X)
Roku 2 (model 2720X)
Roku LT (model 2700X)
Samsung TVs 2013-2015
Samsung Tizen Blu-Ray Player
Sony 4K Blu-ray players
Sony internet-enabled TV models manufactured from 2012 to 2014
Sony Android TV models manufactured from 2015 to 2018
TiVo Premiere
TiVo Roamio
TiVo Mini
Xfinity X1.
Device Features
There are two device-related features with Hulu + Live TV:
Unlimited Cloud DVR: Get unlimited storage with the included DVR. Recording can be stored for up to 9 months.
Two Screen Limit: Watch on up to two devices at once. If you need more, you can get the Unlimited Screens add-on for $9.99/mo, which allows you to watch on as many screens at home as you like and three when outside your home location. Note that HBO Max, Showtime, and other premium channels may limit you to 5 simultaneous streams.
Hulu + Live TV Alternatives
No other live TV streaming service supports Nintendo Switch (poor Mario). Only YouTube TV also supports PlayStation. Sling TV's got some interesting ones. But overall, you won't find better device support than Hulu itself.
Wrapping Up
Hulu + Live TV has some of the most solid device support of any live TV streaming service. Only Sling TV comes close. It's such a nice feeling when you get all hyped up for a new service and you can just sit down and watch it on a device you already have.
Ditch "Big Cable" Now – 3 Simple Steps to Cut the Cord
Pick the right streaming service
Get the content you deserve with the best VPN.
Supercharge your internet provider
That's it — you'll save money, take back control, and enjoy TV more!
Page Updates
▼
▲
Cross linking. Various content updates. Small layout changes.

Changed some content in main section. Updates to a section. Updated some sub-sections.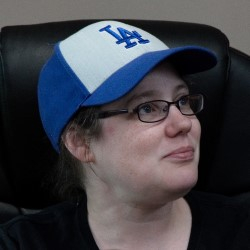 Latest posts by Alanna Baker
(see all)