Showtime is (confusingly) both a channel and a streaming service. For all the details about getting Showtime and its subchannels, see our Showtime Channel Guide. This article deals with the Showtime streaming service.
In a hurry? Regardless of how you get Showtime, the cost will be about the same: $10.99/mo. One advantage of getting the standalone Showtime streaming service is that it is often available with great deals.
Currently, Showtime is offering a 30-day free trial followed by 4 months for only $3.99/mo. After that, it's the regular price. Try it now!
Showtime is available to cord-cutters in a number of forms. To start with, you can get live streaming plans with all the Showtime channels (eg, Showtime Extreme). Or you can get a simple on-demand plan like Hulu that allows you to stream whatever you want from Showtime's library. The live plans generally include all the on-demand content as well.
Additionally, you can get Showtime directly. We discuss this option below.
Get Showtime With Paramount+ Premium!
What Is Showtime
Showtime started as a channel back in 1976. It was originally known for providing commercial-free access to recent films. But even at the start, it presented many original series, events, and documentaries.
It got into streaming in 2010 with the release of Showtime Anytime. It is still around. It's an app that allows subscribers from other services to watch Showtime content. For example, if you subscribe to Showtime through FuboTV, you can use your credentials to watch via Showtime Anytime.
It wasn't until 2015 that Showtime started its own streaming service like HBO Max, Hulu, and Netflix. Unfortunately, Showtime uses the same name for its channel as it does for its streaming service, so it can be confusing.
The streaming service costs $10.99/mo. But it is more on-demand focused than the other ways of getting Showtime. For example, Sling TV's Showtime add-on comes with 9 Showtime channels. The Showtime streaming service does not. Here is what you get:
Live: featuring Showtime East (the east coast feed) and Showtime West (the west coast feed)
On-demand: featuring Showtime's complete library. These movies and TV shows can be streamed or downloaded to watch later.
All of the content is ad-free. If you have any concerns, Showtime offers a fantastic 30-day free trial.
Paramount+ Bundle
Showtime is owned by Paramount Global. So one option is to bundle Showtime with Paramount+. The basic plan is just one dollar more: $11.99/mo. That gives you the base Paramount+ service, which is normally $4.99/mo. This includes a ton of on-demand content as well as lots of live sports.
If you would like all the on-demand content ad-free as well as your local CBS affiliate, you can get the Showtime and Paramount+ Premium bundle for $14.99/mo. For more information, see our Paramount+ review.
Get Paramount+ for 7 Days Free
Showtime Streaming Shows
Showtime offers a constantly changing collection of films. But they are probably better known today for their original programming. They are currently producing a number of popular series:
Billions
City on a Hill
Couples Therapy
Shameless.
But you also get full access to hits from the past like: 60 Minutes Sports, The Affair, Californication, Dexter, Homeland, Inside the NFL, Nurse Jackie, Penny Dreadful, Ray Donovan, Twin Peaks, and Weeds.
Showtime Device Support
Showtime appears to allow you to stream on up to 3 devices at the time time. More interestingly, it supports downloads for offline viewing on some titles. You can store these shows and movies on up to 5 devices.
An extremely robust array of streaming devices have Showtime apps for them.
Get Showtime With Paramount+ Premium!
TVs and Set-Top Devices
Amazon Fire TV
Android TV (LeEco TV, NVIDIA Shield, Sony BRAVIA, Hisense TV, Xiaomi MiBox)
Apple TV
Cox Contour
Facebook Portal TV
LG smart TVs
Roku devices
Roku TV
Samsung smart TVs
Xfinity Flex
Mobile Devices
Amazon Fire
Fire HD
Kindle Fire HDX
Android mobile
iOS (iPhone, iPod Touch, iPad, iPad Mini)
Gaming Systems
Oculus Go
Oculus Quest
PlayStation 4 and 5
Xbox One and Xbox Series X/S
Computers
Windows 10+
Mac OSX 10.10+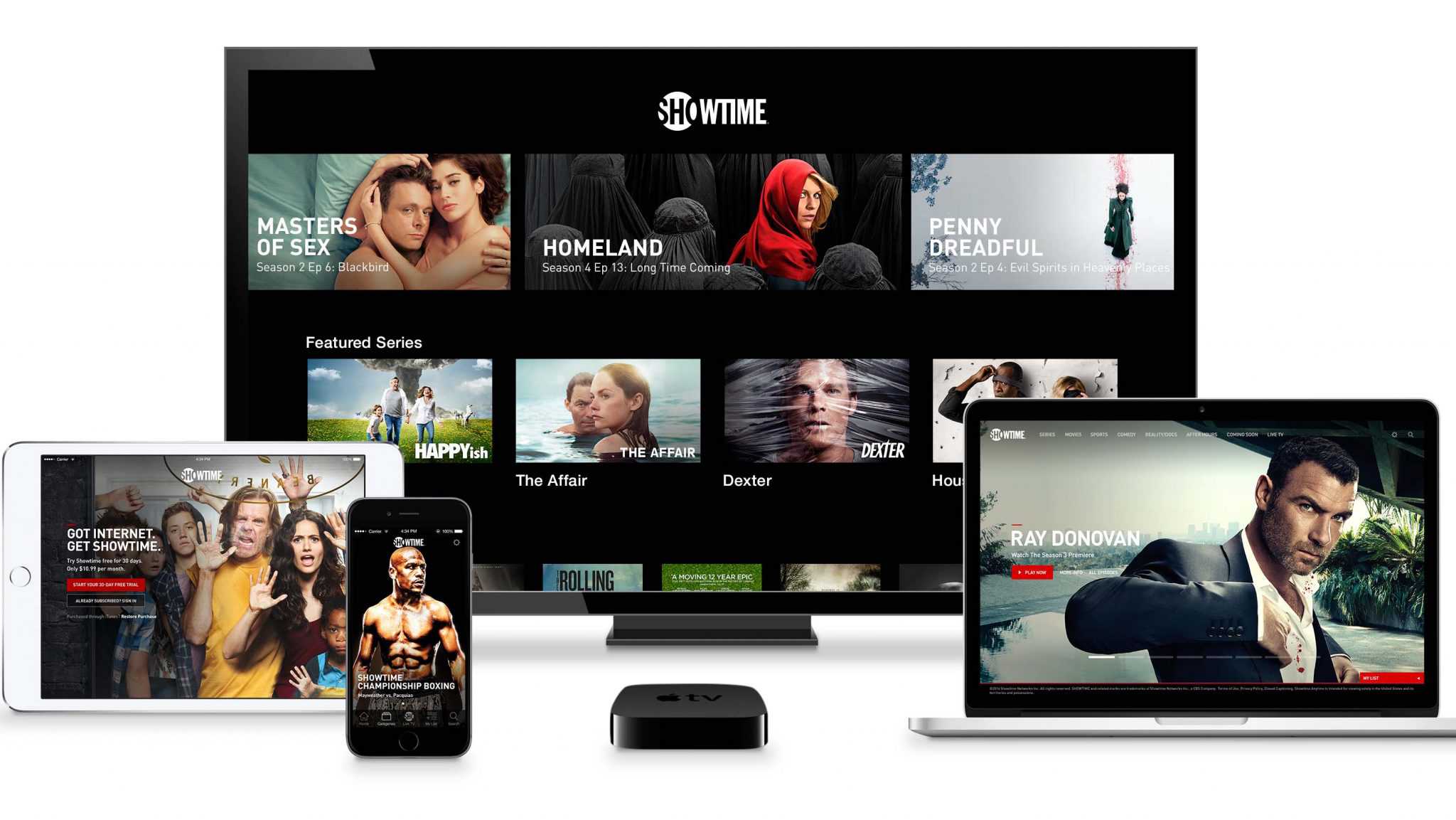 Showtime With Other Streaming Services
All the major streaming services offer Showtime add-ons.
Wrapping Up
It wasn't that long ago that abandoning cable meant abandoning the premium channels like Showtime. But thankfully the market has come around and now there is very little that is actually out of the reach of the cord cutter.
Cord-cutting isn't always easy, but the trade-off is worth it: better selection of channels, cheaper prices, and no commitments. You might have to sacrifice a little time to read up on your options, but one thing you won't have to sacrifice is the content and TV shows that you love.
Get Showtime With Paramount+ Premium!
Other Streaming Services
Ditch "Big Cable" Now – 3 Simple Steps to Cut the Cord
Pick the right streaming service
Get the content you deserve with the best VPN.
Supercharge your internet provider
That's it — you'll save money, take back control, and enjoy TV more!
Page Updates
▼
▲
Reformatting. Various changes to content.

Added table of contents. Added sub-section. Reworked one section. Updated one section. Updated some sub-sections. Removed section. Cleaned up list.

Changed some content in main section. Reworked one section.

Pricing updates. Linking.
Latest posts by Frank Moraes
(see all)