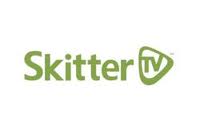 Skitter.TV is an end-to-end platform for streaming and viewing converged internet TV, video on demand, live broadcast and satellite TV.
Most intriguingly, this services claims to allow you to watch Live Local TV (typically accessible via an Antenna, Cable, or Dish TV subscription) directly on your WDTV or Roku set top box.
Holy Grail of Cable TV Alternatives — If it Works
Assuming Skitter.TV is available in your area, it still has a monthly cost, so it is best used for people who cant use an Indoor or Outdoor Antenna for whatever reason. The Skitter.TV app is available on set-top boxes like Roku, WD TV Live and Live Hub. Acquire a single subscription to Skitter and play local stations on these set-top boxes without having to connect to an antenna to every television.
One of the most important aspects of Skitter.TV is the picture quality, which is between HD and standard definition. In using this service, excellent picture quality can be achieved if you have a connection of 2 GB per hour.
And for intensely loyal TV viewers, make it a point to have a stable broadband plan that has sufficient speed and a non-existent or adequately high data cap. AT&T's cap is 150 GB per month, and Comcast's is 300 GB per month. Both services sell increments of 50 GB for $10 if you inch over your cap. Verizon currently doesn't have a cap.
Subscribers pay somewhere between $12 and $15 a month, and Skitter.TV isn't available on computers, smartphones or tablets — yet. Even more importantly, Skitter.TV is only supported in some areas — primarily Portland Oregon. To find out if Skitter.TV is available in your area shoot them an email at: [email protected]
Too Good to be True?
Access Local Channels in HD without an Antenna — over the internet! Well it is too good to be true, unfortunately. Last year Skitter.TV was told to stop transmitting network TV channels. In responce to this order they dropped their prices and removed many channels from their line up. They are trying to work out a new deal with the networks, but their progress has been very slow moving.
Skitter is not the first service to try offering this service, only to get shot down by the broadcasters. Other OTT services such as Aereo and iviTV have had court orders placed against them, and like Skitter.TV those companies have been hit with lawsuits preventing them from transmitting TV signals over the web.
Alternatives to Cable TV
Users of the service can still watch a number of local channels including The CW, PBS, PBS Encore, JCTV, KWVT, TBN, TCC, Enlace, SOAC and Retro TV, but do to it being only offered in select areas, I don't think Skitter.TV is a very good Cable TV Alternative.
The idea is great and maybe the Holy Grail of Cable TV Alternatives, but for now, it does not look like anyone has been able to effectively put all the necessary pieces together.
But the good news is that there are companies out there like Skitter.TV trying, and that means some day someone will succeed. And for us cable killers, that gives us something to look forward too.
Alternatively, we always have Antennas and Video Streaming Services to turn to. Millions of people across the US have substituted their Cable or Dish TV subscription for an Indoor or Outdoor Antenna, Hulu, Netflix and a Video Streaming Device.
To get started check out our article on the Mohu Leaf Ultimate — Its an amazing Antenna that offers local HD TV stations with no monthly fee.
Ditch "Big Cable" Now – 3 Simple Steps to Cut the Cord
Pick the right streaming service
Get the content you deserve with the best VPN.
Supercharge your internet provider
That's it — you'll save money, take back control, and enjoy TV more!
Page Updates
▼
▲
Image changes. Added useful links. Reformatting.

Changed some content in main section. Formatting.

Updated one section. Mentioned offers. Changed a few bits of content.

Mentioned offers. Added a few links. Misc content updates.
Latest posts by Jessica Saxena
(see all)