Wrangler National Finals Rodeo is the top yearly rodeo event of the Professional Rodeo Cowboys Association (PRCA), the world's largest rodeo organization. Despite being one of the most exciting sporting events it isn't necessarily one you will find in cable or streaming packages. Unless you have Sling TV, of course. Read on to get all the details.
In a hurry? The National Finals Rodeo will air live on The Cowboy Channel and RFD-TV. These are both included in the Heartland Extra add-on for just $6/mo on top of the base Sling Orange or Blue plans for $40.00/mo. Save 50% on Sling TV now!
National Finals Rodeo Overview
The National Finals Rodeo (NFR) is the Super Bowl of rodeo. But maybe it is better to think of it is as the NASCAR playoffs since it features individual competitors and awards based on the PRCA World Standings.
But even this under-sells the complexity of the NFR. It features 7 of the standard 8 rodeo events in professional rodeo (steer roping is the exception).
The live event is held each year in Las Vegas. Last year, it was at the Thomas & Mack Center but this year, it is at the South Point Arena & Equestrian Center. It occurs nighly over the course of 10 days.
Roughstock Events
Roughstock events are judged the way that figure skating is. The cowboy must ride for at least 8 seconds. Two judges score both the rider and the animal. There are three events:
Bareback riding: horse without saddle
Bull riding: bull without saddle
Saddle bronc riding: horse with western saddle.
Timed Events
If roughstock is like figure skating, timed events are like speed skating. It's just about getting the job done in the shortest amount of time. There are four events:
Barrel racing: Rider and horse race around two barrels — this is a cowgirl-only event at the professional level.
Steer wrestling: The rider jumps from a horse and wrestles a steer to the ground by its horns.
Team roping: Two riders rope a steer, one by the head and the other by the feet — this is the only team event.
Tie-down roping: Mounted rider ropes a calf, tackles it, and ties up three of its legs.
2022 Wrangler NFR Schedule
The 2022 National Finals Rodeo is 10 days of events. In fact, it all starts before its official December 1st start with events like the contestant introductions for Miss Rodeo America on Sunday and the start of the PRCA National Convention on Monday.
There are other major events like the 35th Annual Pro Rodeo League of Women Style Show and daily NFR Tailgate Party that will air on The Cowboy Channel.
But the main attraction each night will be featured on The Cowboy Channel and RFD-TV:
Thursday, December 1st ( – ): Pendleton Whisky Night
Friday, December 2nd ( – ): Coors Night, Purina Vet of The Year
Saturday, December 3rd ( – ): Hesston By Massey Ferguson Night
Sunday, December 4th ( – ): Polaris Ranger Night, Memorial Night
Monday, December 5th ( – ): Tough Enough To Wear Pink Night
Tuesday, December 6th ( – ): Resistol Rookie Night
Wednesday, December 7th ( – ): Tarleton State Night
Thursday, December 8th ( – ): Justin Boots Night, Canadian Night
Friday, December 9th ( – ): Ram Rodeo Night
Saturday, December 10th ( – ): Wrangler National Patriot Night
Channels to Watch the NFR Live Stream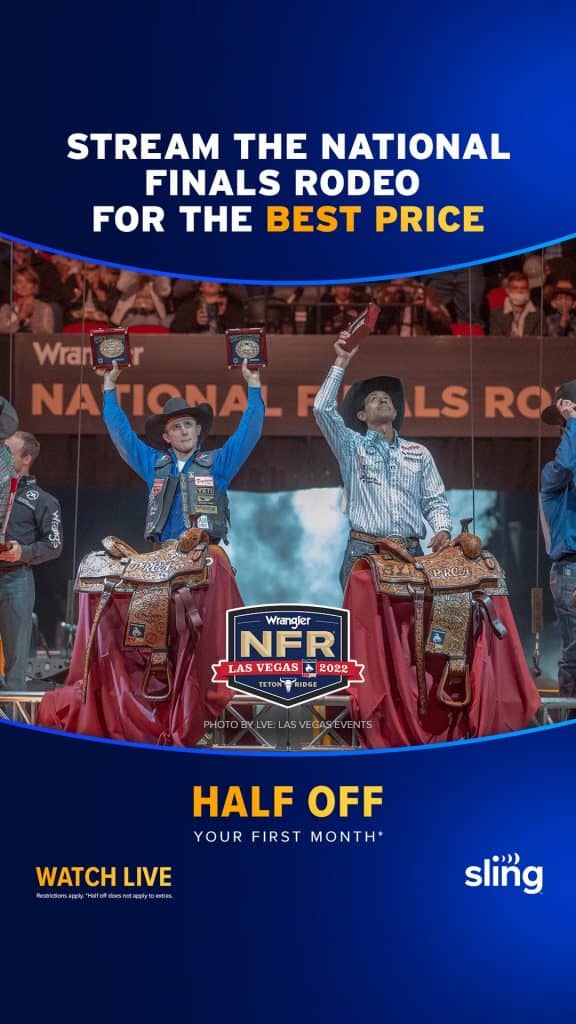 You can get the NFR Streaming Pass to watch the National Finals Rodeo, but it's very expensive for a single-source streaming service. You can also get Cowboy Channel Plus, but its 2022 NFR 10-Day Stand-Alone Streaming Pass is $99.99! So these are really only the best options for the most intense rodeo fan.
Most viewers will be best served by the coverage on The Cowboy Channel and RFD-TV. They are sister channels owned by Rural Media Group that cover a lot of the same events. RFD-TV is more focused on the western lifestyle whereas TCC covers more western sports.
RFD-TV will air coverage nightly from through . The Cowboy Channel will feature coverage at that time as well as lots of other coverage throughout the day and on the weekends.
Streaming the NFR 2022 With Sling TV
Sling TV is the most customizable live TV streaming service in the industry. It starts with a basic plan and allows you to customize it from there.
Sling Blue offers a collection of 40+ channels including Fox and NBC. Sling Orange offers 30+ channels including ESPN and Disney. Either of these plans cost $40.00/mo or you can get them together for $55.00/mo.
To get The Cowboy Channel and RFD-TV with the Heartland Extra add-on for just $6/mo more. In addition to these channels, you get: American Heroes Channel, Destination America, Great American Family, Great American Living, INSP, Outdoor Channel, PixL, Pursuit, Sportsman Channel, and World Fishing Network.
If you get the Blue plan, you also get NatGeo Wild.
Why Sling TV?
The primary reason to get Sling TV is that it has the channels you need. None of FuboTV, Hulu + Live TV, and YouTube TV offers either The Cowboy Channel or RFD-TV. And DIRECTV STREAM offers RFD-TV (but not The Cowboy Channel) and it costs 50% more! Only Vidgo and Sling still offer Newsmax, and Sling has it cheaper.
There are many other reasons to choose Sling TV. Both base plans come with 50 hours of cloud DVR storage. In addition, to live TV, you get tens of thousands of on-demand movies and TV show episodes.
Devices to Live Stream the NFR on Sling TV
Sling TV provides awesome support for streaming devices. See our device review for complete information. But here are the most popular devices it supports:
Amazon Fire TV (Firestick)
Android mobile devices
Android TV
Apple TV
Chromecast
iOS (iPhone, iPad)
LG TVs
Roku
Samsung TVs
Vizio TVs
Web browsers
Xbox
Wrapping Up
You won't want to miss any of the National Finals Rodeo. And with Sling TV, you don't need to spend much money do it. Sign up now!
FAQs
Why isn't steer roping held at the NFR?
The National Finals Rodeo is held each year in Las Vegas, Nevada. But Nevada has outlawed steer roping. It isn't alone. Most states ban it. The event involves roping a steer from horseback and yanking it so as to stun the animal for long enough for the cowboy to dismount. Many in the rodeo world dislike the event, which leads to many injuries and even deaths.
Page Updates
▼
▲
Added new section. Added links to streaming services. Mentioned channel info. Reworked one section. Updated some sections. Added a few links.
Latest posts by Frank Moraes
(see all)