The US Women's National Team (USWNT) has made it into the knockout phase of the 2023 FIFA Women's World Cup. And you can watch all of their matches through Fox Sports. Read on to get all the details.
In a hurry? Subscribing to Sling TV for $40.00/mo gives you Fox and NBC in select markets plus roughly 40 other TV channels. And you can watch all of the World Cup knockout stage for half off. Sign-up now!
Team USA entered the World Cup tournament in Australia and New Zealand as the top-ranked women's soccer team in the world. They also entered having one the 2015 and 2019 World Cup tournaments.
They made it through the Group Stage this year but it wasn't pretty. They beat a weak Vietnam team and then tied The Netherlands and Portugal.
But we are hopeful that Alex Morgan, Megan Rapinoe, and the rest of the USWNT squad will shake this off and attack the knockout matches with their usual skill and determination.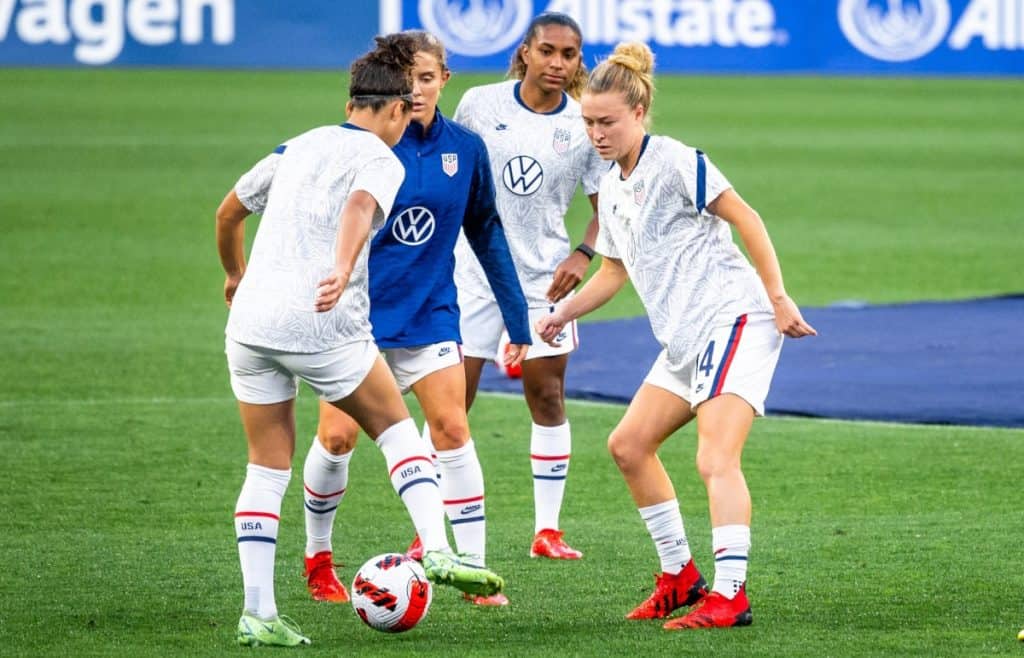 How to Watch USWNT in the Knockout Phase
Most of the Women's World Cup Round of 16 matches will air on FS1. But USA's match against Sweden will air on Fox. And the quarterfinals, semifinals, and final matches will all air on Fox.
That means to watch Team USA in the knockout phase of the tournament, you need to have access to Fox. Depending on where you live, you could set up an antenna and watch these matches for free.
Stream the Team USA
If you want the ease of streaming, Sling TV is your cheapest option. It is normally only $40.00/mo but you get a 50% discount on your first month!
The Sling Blue plan offers the local Fox affiliate in the following locations:
Atlanta (WAGA)
Austin (KTBC)
Chicago (WFLD)
Dallas (KDFW)
Detroit (WJBK)
Gainesville (WOGX)
Houston (KRIV)
Los Angeles (KTTV)
Milwaukee (WITI)
Minneapolis (KMSP)
New York (WNYW)
Orlando (WOFL)
Philadelphia (WTXF)
Phoenix (KSAZ)
San Francisco (KTVU)
Seattle (KCPQ)
Tampa (WTVT)
Washington (WTTG)
Sling Blue also includes local affiliates of ABC and NBC in select locations. See our Sling TV Local Channel Guide for details. (Note: If ABC is available in your area, Sling Blue costs $5/mo more.)
Additionally, you get many more channels including Adult Swim/Cartoon Network, AMC, BET, Comedy Central, FX, History, NFL Network, National Geographic, Syfy, TBS, TNT, USA Network, and more.
And the plan allows you to watch on up to 3 devices at once. That means that while you are watching the World Cup, others in your household can watch it or one of the 40+ other channels.
Finally, Sling Blue comes with 50 hours of cloud DVR storage so you can record matches.
Spanish-Language Coverage
The US team's matches can also be viewed with Spanish-language commentary. They will be broadcast on Telemundo and Universo. Sling TV doesn't offer Telemundo but you can get Universo either with Sling Latino alone ($10/mo) or as an add-on ($5/mo) to the Sling Blue plan.
You can also stream with Peacock ($5.99/mo).
Why Sling TV?
Sling TV is the oldest live TV streaming service in the world. And as a result, there are many advantages to signing up with them. Here are some big reasons:
Customizable: Sling offers more add-ons than any other service to help you create exactly the channel lineup you want.
Inexpensive: Sling Blue costs substantially less than comparable choices like DIRECTV STREAM, Fubo (FuboTV), Hulu + Live TV, and YouTube TV.
Device support: Live stream on pretty much any device on the market including Amazon Fire TV, Android Mobile, Android TV smart TVs, Apple TV, Chromecast, iOS (iPhone), Roku, Xbox One, web browsers, and more.
On-demand video: Great selection of movies and shows to watch on-demand.
USWNT Knockout Phase Schedule
The Americans came in second in Group E so that puts them against the winner of Group G:
Round of 16 — Sunday August 6 : Sweden vs United States
We will update this schedule as more information becomes available.
Wrapping Up
Sling TV is the best choice to watch the USA team compete in the 2023 Women's World Cup knockout phase. Save 50% now!
USWNT vs Paraguay by Erik Drost under CC BY 2.0.
Latest posts by Frank Moraes
(see all)