The XFL is back and raring to go! For the first time since 2020's pandemic-abbreviated season, the XFL will fill that lonely, football-deprived gap between the Super Bowl and the NFL preseason. And it all kicks off live on ABC on Saturday, February 18!
In a hurry? You can stream the XFL's big comeback with Sling Orange for $40.00/mo. If you want to watch the whole season, you'll need Sling Orange + Blue, which is just $55.00/mo.
Sling TV is the original live TV streaming provider. It's uniquely modular structure lets you customize your own channel package, so you're only paying for the channels you want.
This is great for live sports fans, too — you can focus on sports channels, and skip the drama (and horror, kids, romantic comedies, or whatever programming you're not into.) There's no cheaper way to catch the entire XFL season!
Advantages of Streaming the XFL on Sling TV
Whether you're expecting serious sports or just a novel diversion, if you want to check out the XFL without breaking the bank, then Sling TV is the live TV streaming service for you.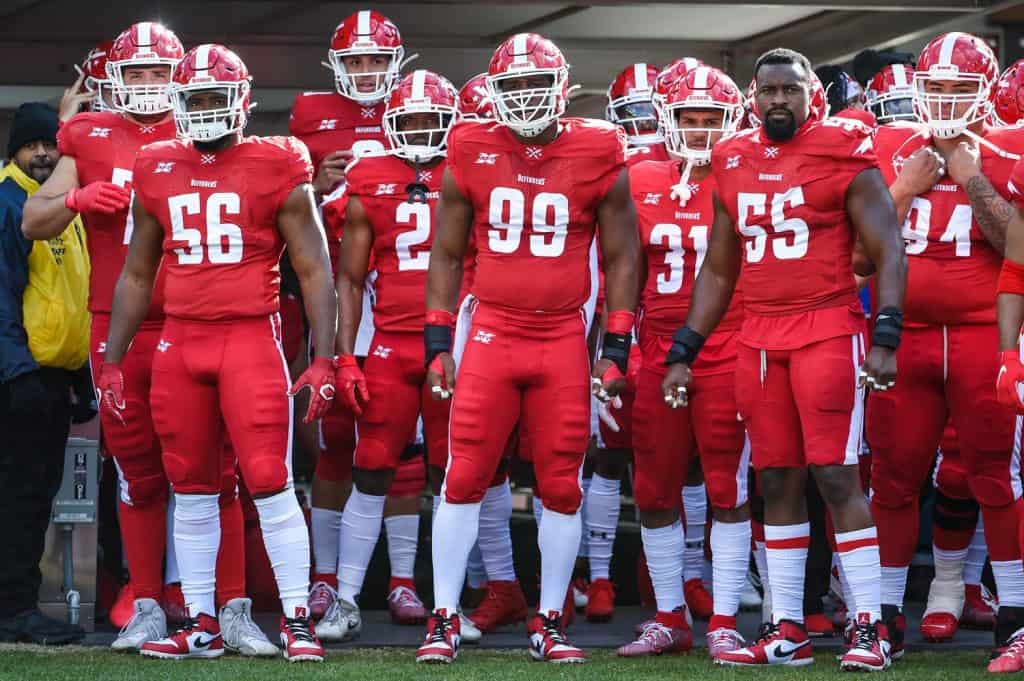 Sling TV's Plans and Pricing
Sling has two base plans to choose from: Sling Orange and Sling Blue. Either one costs $40.00/mo. For those who can't decide, there's Sling Orange + Blue, which is the best of both worlds, for $55.00/mo. It will also let you watch USFL.
The Blue plan has Fox- and NBC-owned networks (including FX and Fox Sports 1) among its 40+ channels, while Sling Orange has Disney-owned networks (like ESPN) included in its 30+ channels. Your local Fox and NBC affiliates are available in select markets. Sling does not carry ABC or CBS.
There are also a number of themed channel bundles called Extras (such as the Sports Extra!), and over forty premium services you can add on. Yes, several are sports networks, like the NBA League Pass, but you don't have to have any of them to watch XFL.
Streaming Devices Supported by Sling TV
Sling TV is compatible with all the most popular streaming gizmos, plus a few more obscure ones:
Amazon Fire Tablet
Amazon Fire TV
Android mobile
Android TV devices
Apple TV

Chromecast
iOS mobile
LG smart TVs
Portal
Roku

Samsung smart TVs
TIVO Stream
Web browsers
Xbox Series S/X.
How to Stream the XFL on Sling
If you're curious but aren't sure you're down for the whole season just yet, you only need Sling Orange to watch the first weekend's matchups. The season opens with four games over February 18 and 19, and they're all going to air on either ESPN or ABC. Sling doesn't offer ABC, but ABC's sports events are simulcast on ESPN3, which is included in the Orange plan.
If you know you're going to want to tune in all season, you'll have to upgrade to Sling Orange and Blue. The majority of XFL games will be on ESPN, ESPN2, or ABC (ESPN3 for Sling subscribers), but fourteen or so games are on FX, which is only found in the Blue package.
Unblock Your Favorite Events & Teams With a VPN

If you can't watch your favorite events or teams because of your location, a VPN will allow you to get the access you are entitled to, plus extra security and unequaled privacy. Check out our VPN Guide for everything you need to know, including our top pick ExpressVPN.

Other brands worth checking out include Hotspot Shield and CyberGhost.
Alternatives to Sling TV
Of course, Sling TV isn't your only shot at streaming the XFL — it's just the cheapest. But if you're in the market for something bigger, with more TV channels and more football:
All the streaming services discussed on this page, including Sling TV, come with the ability to watch on multiple devices at the same time and include cloud DVR.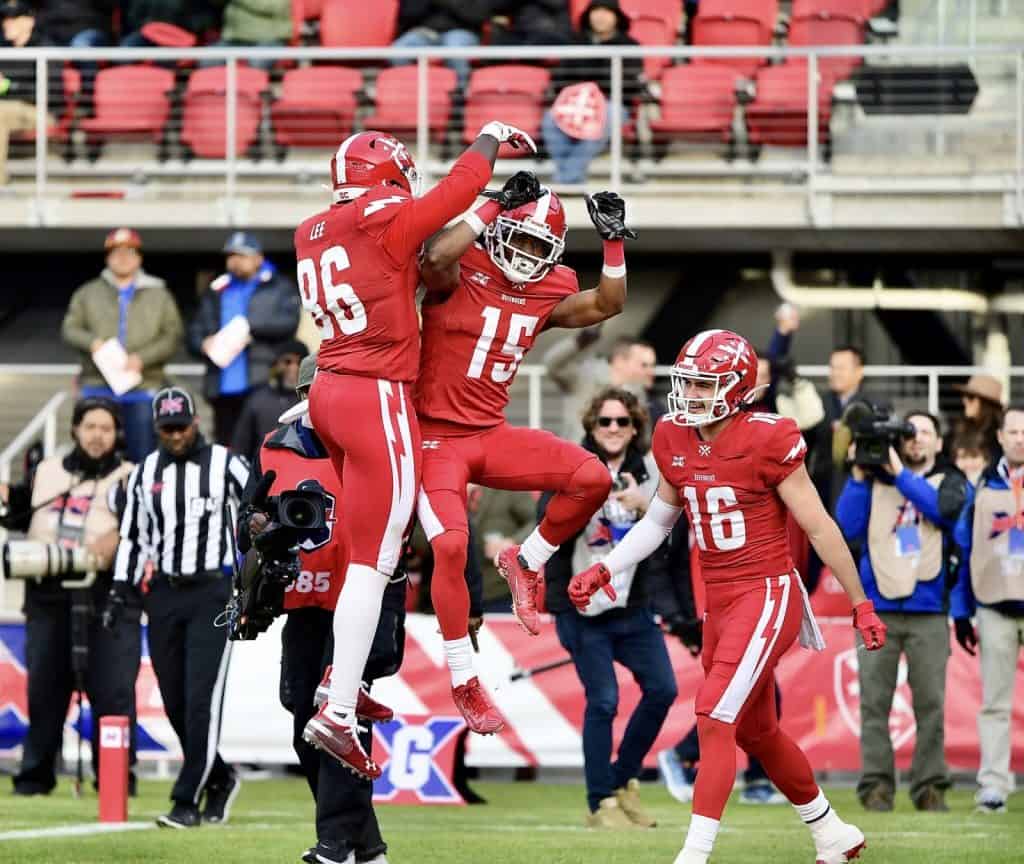 The XFL: A Must-Watch for Sports Fans
We've got way more deets over in our full guide to streaming the XFL, but here's an overview to get you up to speed.
The 2023 XFL
Rescued from bankruptcy by Dwayne "The Rock" Johnson, the Grand Relaunching of the XFL is planned for February 18. The eight teams, reshuffled a bit since 2020, are divided into two divisions, North and South.
North Division
DC Defenders
Seattle Sea Dragons
St. Louis Battlehawks
Vegas Vipers
South Division
Arlington Renegades
Houston Roughnecks
Orlando Guardians
San Antonio Brahmas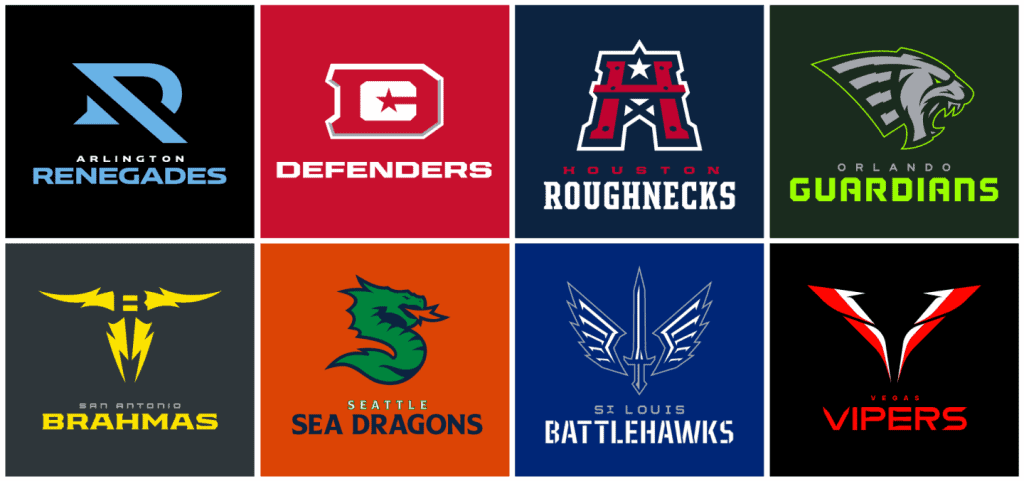 The New York Guardians moved to Orlando, the Tampa Bay Vipers moved to Las Vegas, the LA Wildcats were replaced by the San Antonio Brahmas, and the Seattle Dragons are now the Seattle Sea Dragons. The Renegades, Defenders, Roughnecks, and Battlehawks all remain the same, but everyone got a logo makeover.
The regular season is ten weeks, with four football games per week. Each team plays each of its division rivals twice, one home game and one away. Each team also plays the four teams of the other division once.
The two-week postseason pits the top two teams from each division in single-elimination playoffs, leading up to the XFL Championship game on Saturday, May 13.
Why It's Worth Watching
Despite all the over-the-top promises of blood on the turf, cheerleader objectification, and the scripted feel, the 2001 XFL made some potentially interesting changes to the sport. The rules modifications are geared toward shorter, faster-paced games with more action. For example, the play clock will be 25 seconds (versus the NFL's 40-second play clock).
Many tech innovations that were pioneered by XFL in 2001 have long since become standard in the NFL, such as the SkyCam, putting mics on the players, and camera angles from the sidelines and field. We can't wait to see what they're going to come up with this time around.
Wrapping Up
So if you're a football fan on a budget who's typically jonesing for some gridiron action from February through April, don't give up on the XFL yet. It's got more comebacks than a retiring quarterback. You don't want to be left reading about how cool it was after the fact. Sign up for Sling TV, get half off your first month, and watch it unfold live!
Featured photo by Joe Glorioso/All-Pro Reels under CC BY-SA 2.0 via Flickr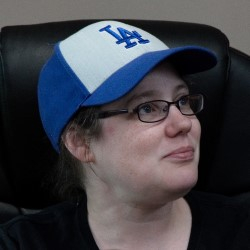 Latest posts by Alanna Baker
(see all)