The 2022-23 UEFA Round of 16 is upon us. PSG plays Bayern Munich on February 14th at . Watch it on Paramount+!
While the UEFA Europa League might nominally be the second tier of European soccer, it still offers some of the best play in the world with an exciting and diverse season. Read on to learn how to watch it all!
In a hurry? You have a few options to watch Europa League soccer:
Paramount+: This service offers a lot of live soccer including all of the UEFA Euopa League. Try Paramount+ free for 7 days.
FuboTV: Get all the TUDN stations but UniMas, Galavision, and more. FuboTV allows you to try out its service free for 7 days.
DIRECTV STREAM: Watch Europa matches with this expandable service. A 5-day free trial is now available for DIRECTV STREAM.
The UEFA Europa League is a European competition that, in many ways, is more intriguing than the top-tier UEFA Champions League. No, the best teams are not playing in the Europa League, but the quality of the clubs and matches is still impressive. Plus, the nations represented in the group stage are more varied than in the Champions League. Examples in 2021-22 included the Czech Republic, Denmark, and Bulgaria.
Watching the Europa League in the US can be done through a subscription to Paramount+ for just $4.99/mo. Or securing access to TelevisaUnivision channels such as UniMas, Galavision, and TUDN or, even better, access to TUDNXtra, the latter of which can be secured through a subscription to FuboTV.
Get Paramount+ for 7 Days Free
UEFA Europa League
The UEFA Europa League is Europe's second-tier competition although it decreased significantly in size in 2021-22 as many of the teams that had been going here now go to the UEFA Europa Conference League instead. However, the Europa League does still take on several clubs that get eliminated in the same season's UEFA Champions League.
The Europa League's roots date to 1955 and the Inter-Cities Fairs Cup, which was, for much of its history, deemed to be a second or third competition to the Champions League. However, the Inter-Cities Fairs Cup was not organized by UEFA.
The UEFA Cup itself got its start in 1971, the same year that the Inter-Cities Fairs Cup stopped existing. Teams not qualified for the European Cup, the name at the time for the Champions League, or UEFA Cup Winners' Cup were eligible for this competition.
It would take on its current moniker in 2009. At that time, the UEFA Intertoto Cup, which had qualified teams for the Europa League, was eliminated and its clubs incorporated directly into the Europa League's qualifying rounds.
The Europa League final used to be played over two legs with each of the finalists hosting one match. The last time that this occurred was in 1997 when Schalke 04 defeated Inter Milan, 4-1 in the penalty shootout that followed the second leg. Both teams had won their home matches, 1-0.
Sevilla has been the strongest club in Europa League history, having won six trophies (2006, 2007, 2014, 2015, 2016, and 2020). In fact, the Spanish team has gone undefeated in six finals.
No other team has more than three championships. Inter Milan is next on this list with five appearances in the final and three titles. Meanwhile, Liverpool and Juventus both have three trophies and one runner-up appearance while Atletico Madrid went undefeated in its three finals.
During the 2021-22 campaign, Eintracht Frankfurt and Rangers outpaced the field in advancing to the final. The German club defeated West Ham United in the semifinals while the Scottish side dispatched RB Leipzig at that stage of the competition. Ultimately Eintracht Frankfurt got the better of Rangers as they won on penalties.
Sign Up for a Free 7-Day Fubo Trial
Structure
Many Europa League teams come from that same campaign's Champions League. In fact, more than half do. During the 2021-22 Europa League, just 21 of the 58 participants had started their European seasons in this competition. The other 37 moved here after being eliminated from the Champions League.
Of the 21 teams that started in the Europa League, two apiece came from the countries ranked in Europe's top five while the next 11 countries in those rankings each sent one club here. All domestic cup winners from these nations are guaranteed spots here unless they are playing in the Champions League. Also, the previous season's Europa Conference League holder secures a place.
As for the same season's Champions League participants that moved here that season, they were as follows: second qualifying round losers (13 teams), third qualifying round losers (10 teams), playoff losers (6 teams), and clubs that finished in third place in the group stage (8 teams).
The 2022-23 Europa League is slated to get underway on Aug. 4 and run until May 31. Puskas Arena, which is located in Budapest, Hungary, will host the final.
Related Competitions
As noted above, the Champions League is interrelated with the Europa League in many ways.
Also, some Europa League clubs drop down to the same season's Europa Conference League. These include teams eliminated in the third qualifying round (8 teams) and playoff round (10 teams) and the sides that finished in third place in the group stage (8 teams). So, it is possible for a club to play in all three of these competitions.
Meanwhile, the winner of the Europa League secures a spot in the following campaign's Champions League group stage as well as the UEFA Super Cup, where it will take on the current season's Champions League winner.
Unblock Your Favorite Events & Teams With a VPN
If you can't watch your favorite events or teams because of your location, a VPN will allow you to get the access you are entitled to, plus extra security and unequalled privacy. Check out our VPN Guide for everything you need to know, including our top pick ExpressVPN.
2022-23 UEFA Europa League Schedule
The final will be held in Budapest at the Puskás Aréna stadium.
Qualifying: Aug 4, Aug 11
Playoffs: Aug 18, Aug 25
Group Stage

Matchday 1: Sep 8
Matchday 2: Sep 15
Matchday 3: Oct 6
Matchday 4: Oct 13
Matchday 5: Oct 27
Matchday 6: Nov 3

Knockout Phase

Playoffs: Feb 16, Feb 23
Round of 16: Mar 9, Mar 16
Quarterfinals: Apr 13, Apr 20
Semifinals: May 11, May 18
Finals: May 31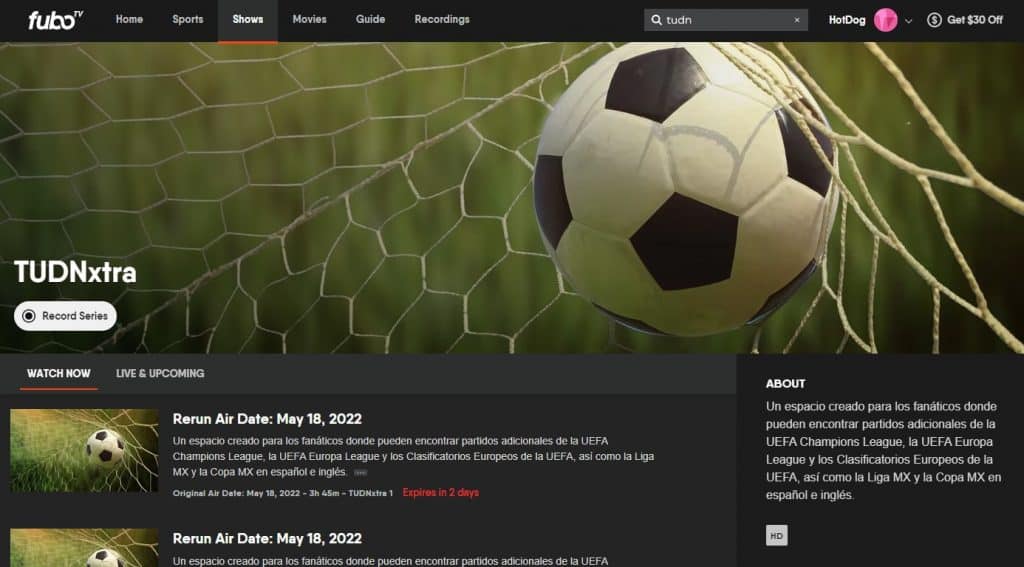 Watching the UEFA Europa League
The UEFA Europa League receives significant television coverage throughout the world.
Sign Up for a Free 7-Day Fubo Trial
United States
Those looking to watch Europa League matches in the US with English-language commentary have a simple option: subscribe to Paramount+ ($4.99/mo). All matches from the group stage through to the final are available for viewing through this service. See our Paramount+ review for more information.
Live TV
CBS Sports Network will show matches on occasion, such as was the case for the 2021-22 final.
Fans looking for Spanish-language commentary get to enjoy more televised games as several Europa League contests are shown on UniMas, Galavision, and TUDN. UniMas and TUDN were slated to broadcast the 2021-22 final.
You can get these base channels with FuboTV, DIRECTV STREAM, and Vidgo.
However, the vast majority of Europa League games are available to watch with Spanish-language commentary only through TUDNXtra, an online offering. This is especially the case for the group stage.
To get it, you have one choice:
FuboTV: Comes with 110+ channels including all the TUDNXtra ones for $74.99/mo. This also comes with 1,000 hours of cloud DVR and streaming on up to 10 devices at home and 3 away. For details, see our FuboTV review.
Also, all UniMas-broadcast matches can be viewed with a Univision Now subscription ($10.99/mo). This service offers 24/7 access to UniMas and Univision. Or, if you have a UniMas affiliate channel in your area, you can watch those games with an antenna.
Sign Up for a Free 7-Day Fubo Trial
Elsewhere
Those in Canada seeking access to the Europa League should utilize DAZN ($20 CAD/mo). FuboTV also provides a lot of soccer coverage.
BT Sport is the destination for Europa League viewers in the United Kingdom and Ireland. Note that several matches in this competition are only available online through BTSport.com and the BT Sport app.
Meanwhile, Aussies should head to Stan Sport and New Zealanders to Spark Sport. Also, 9Gem shows some matches in Australia. For example, the 2021-22 final was broadcast on that channel as well as Stan Sport.
Get Paramount+ for 7 Days Free
Devices to Live Stream Europa League
Paramount+ and the 3 live TV streaming services support these devices:
Amazon Fire TV
Android mobile
Apple TV
Chromecast
iOS mobile
Roku
Web browsers.
DIRECTV STREAM also offers its own device that you can get directly from it. All the services other than Vidgo support Samsung smart TVs. And all other than DIRECTV STREAM support Android TV devices.
FuboTV and Paramount+ also support LG and VIZIO smart TVs as well as Xbox gaming systems. Paramount+ supports the PlayStation.
Superpower Your Streaming With a VPN
For the sake of privacy, security, and access, you should be using a VPN. They are low-cost and easy to use. We've been using them for years and our top pick is ExpressVPN. Be sure to check out our Cyber Monday 2022 deals on ExpressVPN, NordVPN, SurfShark and PureVPN.
Wrapping Up
The UEFA Europa League is a Europe-wide competition that features many of the continent's biggest clubs. In fact, its 2021-22 edition included the likes of Barcelona. Those based in the US who want to watch this competition should consider Paramount+, FuboTV, or both!
FAQs
How have UEFA Europa League teams done in the UEFA Super Cup?
With the UEFA Super Cup featuring the previous season's UEFA Champions League and UEFA Europa League holders, one would think that the former side would win a considerable percentage of the time. However, from 2000, when the Europa League winner started participating in this match, until 2012, that competition's representative claimed seven of 13 matches. However, Champions League participants then secured eight of the next nine.
How do I watch other soccer events/leagues?
See the following guides:
:soccer-pages:
Ditch "Big Cable" Now – 3 Simple Steps to Cut the Cord
Pick the right streaming service
Get the content you deserve with the best VPN.
Supercharge your internet provider
That's it — you'll save money, take back control, and enjoy TV more!
Latest posts by Frank Moraes
(see all)