If you are a fan of Italian soccer or any of the best soccer in the world, then you should follow Serie A. But if you are in the US, you won't see many matches on TV. You really need to go online.
In a hurry? All the Serie A games stream live on Paramount+, which you can get for as little as $4.99/mo. If you are a rare soccer fan, we also recommend getting FuboTV for $69.99/mo, featuring over 100 live channels including the best coverage of international soccer in the industry.
Serie A is Italy's top soccer league, and it is comprised of 20 clubs, including prestigious ones such as Inter Milan, AC Milan, Juventus, Napoli, Roma, Lazio, and Atalanta. Although everybody will have their own views of which is the best league in Europe, this one is in the top five in nearly every metric.
It is also quite an easy competition to watch for those based in the United States as a Paramount+ subscription ($4.99/mo) grants access to all 380 matches played in this competition from August to May.
Get Paramount + Free 7-Day Trial
What Is Serie A?
Serie A sits atop the Italian soccer pyramid, which is comprised of nine levels, the top three of which – Serie A, Serie B, and Serie C – consist of professional clubs. At the end of every season, three say goodbye to Serie A and prepare to take part in Serie B the following year. Meanwhile, a trio of Serie B clubs does the opposite, moving up and preparing to play against the country's biggest clubs.
An Italian football champion has been determined annually since 1898 although Serie A was officially held for the first time with the 1929-30 season. Prior to then, different structures were used to determine who would claim the national title, sometimes solely involving a cup competition.
Dating to 1898, Juventus has the most championships (36) with Inter Milan (19) and AC Milan (18) trailing behind. Inter took its 19th crown in 2020-21, beating out AC Milan by 12 points and Atalanta and Juventus by 13 tallies.
Only one team that took part in the 1929-30 Serie A campaign has never been relegated (sent to Serie B): Inter Milan. Its closest call came in 1993-94 when the club escaped relegation by just one point.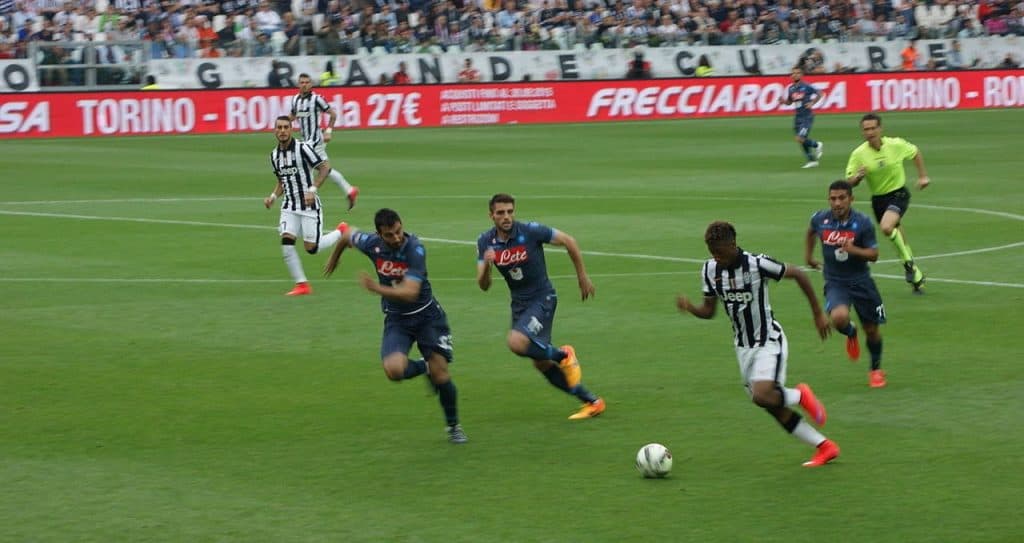 Derbies
Italy is full of derbies (rivalries). This becomes even more clear when you consider that three pairs of Serie A clubs share stadiums with their rivals:
San Siro (Milan's Inter Milan and AC Milan)
Stadio Olimpico (Rome's Lazio and Roma)
Stadio Luigi Ferraris (Genoa's Genoa and Sampdoria).
A fourth heated rivalry in Serie A is contested between Juventus and Torino, who split Turin but have their own stadiums: Juventus' Allianz Stadium and Torino's Stadio Olimpico Grande Torino.
Structure
Serie A, like most European leagues, has a simple scheduling format. All 20 teams play their opponents twice, once at home and once away, for a total of 38 matches.
Whichever club has the best record when all is said and done lifts the trophy at the end of the year? The primary tiebreakers used if teams are equal on total points are head-to-head points and head-to-head goal difference.
Coppa Italia and Supercoppa Italian
Every Serie A team takes part in Coppa Italia, the country's knockout cup. Juventus also has the most of this type of trophy (14). Behind it on this list are Roma (9), Lazio (7), and Inter Milan (7).
Twelve Serie A clubs enter in the first round while the remaining eight join in the third round, otherwise known as the round of 16.
Every round is one match apiece except for the two-leg semi-finals. The final is played at Rome's Stadio Olimpico, where it has been since a two-leg final was eliminated in 2007. (There was an exception in 2021 when it was played in Reggio Emilia's Mapei Stadium. The 2022 final will return to Rome on May 11.)
Another competition is the Supercoppa Italian. This single match features the previous season's Serie A and Coppa Italia winners and may or may not be played in Italy. Its 1993 edition was the first to be contested outside of Italy, in Washington, and 11 since then have taken place in other countries. However, the 2021-22 edition is slated for Jan 12 in Milan, at the San Siro.
European and Worldwide Competitions
Every season, the top four clubs in the Serie A table prepare to take part in the UEFA Champions League the following season. If an Italian team was to win the previous campaign's Champions or Europa League and not finish in the top four in Serie A, it would also secure a spot in that prestigious competition.
In addition, the Coppa Italia winner and the Serie A fifth-place team will secure spots in the Europa League. If either or both of those sides are playing in the Champions League, the one or two teams next in the table will head to the Europa League instead.
The remaining European place designated for an Italian club, to the UEFA Europa Conference League, goes to the next side in Serie A that has not secured a seat at the table at either the Champions or Europa League.
Whichever teams win the Champions and Europa Leagues also advance to the next campaign's one-match UEFA Super Cup. The Champions League winner secures a spot at the following FIFA Club World Cup as well.
AC Milan has the most Champions League titles of any Italian club with seven while Inter Milan has three of those trophies, and Juventus has two. AC Milan and Inter Milan are the only Italian clubs to have lifted the Club World Cup trophy, both having done so on one occasion.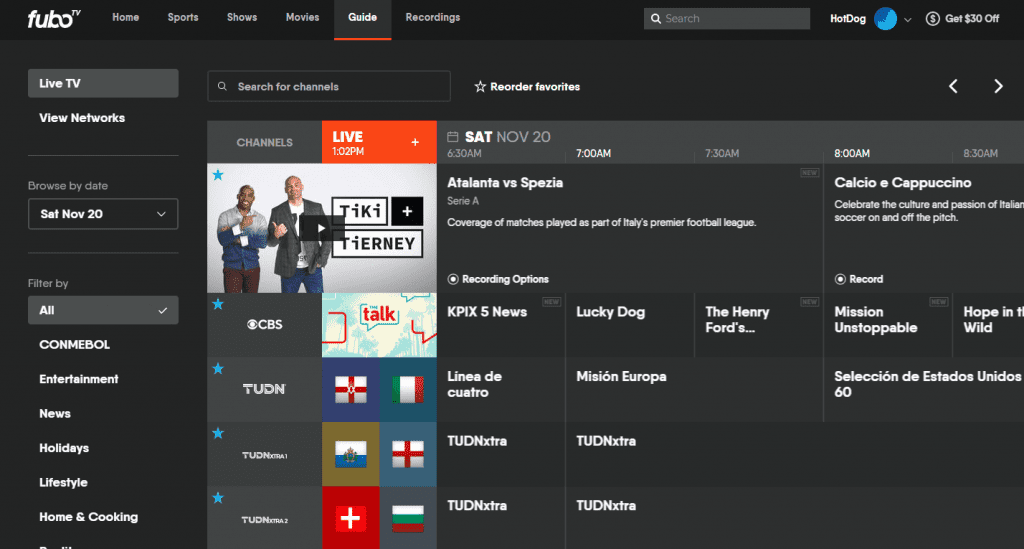 Do You Need a VPN?
If you find you can't watch particular events because of your location, a VPN should allow you to get the access you are entitled to. It also provides extra security and unequalled privacy. See our complete VPN Guide for all you need to know.
Where Can I Watch Serie A?

All that you need to do to watch all 380 Serie A matches is subscribe to Paramount+ for $4.99/mo. You can also get a Premium plan for $9.99/mo, which comes with a live stream of your local CBS affiliate as well as commercial-free viewing of on-demand content.
A select number of matches will be shown on CBS Sports Network, but that will be a relatively small number. A couple of early examples of CBSSN coverage that occurred in the 2021-22 season were the Udinese-Juventus contest on Aug 22 and the Genoa-Napoli match a week later. However, broadcasted contests will still be streamed on Paramount+.
Note that Paramount+ also streams Calcio e Cappuccino, a show that features discussions of Italian soccer, not just what is being played on the pitch but also the sport's off-the-pitch happenings.
Watch All Serie A With Paramount +
How Can I Watch Other Italian Competitions?
Paramount+ also owns the rights to the Coppa Italia and Supercoppa Italian. For the former competition, all matches except for the four preliminary round contests are streamed on Paramount+. That means that all Coppa Italia matches that involve Serie A teams will be on Paramount+.
Since Paramount+ streams the UEFA Champions League, Europa League, Europa Conference League, and Super Cup as well, that is also where you need to go to watch Italian clubs play in those competitions.
The only possible competitive matches that a Serie A club could play that would not be available on Paramount+ would occur if one was to participate in the FIFA Club World Cup.
In that situation, you would need to secure access to Fox-related channels, most likely Fox Sports 1 (FS1) and Fox Sports 2 (FS2). FuboTV offers these and many other channels that would appeal to international soccer fans like beIN Sports and TUDN as well as general sports channels CBSSN and ESPN.
Sign Up for a Free 7-Day Fubo Trial
Devices and TVs to Watch Serie A
Paramount+ and FuboTV both provide support for most streaming devices:
Amazon Fire TV
Android mobile devices
Android TV devices
Apple TV
iOS mobile devices
Chromecast
LG smart TVs
Roku
Samsung smart TVs
Vizio smart TVs
Web browsers
Xbox One gaming systems.
Paramount+ supports the PlayStation. See our FuboTV and Paramount+ reviews for complete lists of supported devices.
Sign Up for a Free 7-Day Paramount + Trial
Wrapping Up
If you want to watch every competitive match that one or all of the Serie A teams play, subscribe to Paramount+ for as little as $4.99/mo. You will be all set for their Serie A, Coppa Italia, Supercoppa Italian, UEFA Champions League, Europa League, Europa Conference League, and Super Cup contests.
Superpower Your Streaming With a VPN
For the sake of privacy, security, and access, you should be using a VPN. They are low-cost and easy to use. We've been using them for years and our top pick is ExpressVPN.
FAQs
How is the Serie A champion decided?
The 20 Serie A clubs play their opponents once at home and once away, and those 38 results will determine who wins the league and where everybody is dispersed below that champion. These games also play a significant role in determining which European competitions Italian clubs will take part in the following season while the three teams that sit at the foot of the table will be relegated to Serie B.
The season lasts from August to May, Aug 21 to May 22 in the case of the 2021-22 campaign. Note that one thing that sets Serie A apart from most other leagues is that it does not schedule all 10 of its matches being played the final weekend at the same time. In fact, they are generally split across two days.
How can I watch Serie A matches outside the US?
Serie A television and streaming rights vary considerably throughout the world. For example, if you are in Italy and want to watch Serie A matches, you will need to subscribe to DAZN. In fact, DAZN is also what you would need to watch Serie A in Austria, Germany, and Japan.
Meanwhile, Italian soccer fans who find themselves in the United Kingdom will need to garner access to BT Sport. Those in Australia and New Zealand must get beIN Sports. And Canadians looking to catch all of the action will need to subscribe to FuboTV.
What teams are currently in Serie A?
AC Milan
AS Roma
Atalanta

Bologna

Cagliari
Empoli

Fiorentina

Genoa
Hellas Verona
Inter Milan
Juventus
Lazio

Napoli

Salernitana

Sampdoria
Sassuolo
Spezia Calcio
Torino
Udinese
Venezia
How can I stream other soccer leagues without cable?
These guides explain how to watch other soccer leagues:
Have questions or feedback about streaming Serie A online without cable? Comment below and we'll get back to you!
Latest posts by Frank Moraes
(see all)