CBS Sports Network (CBSSN) is one of the most important national sports channels. It's one of the channels fans worry about losing if they cut the cord.
However, there are plenty of ways to watch CBS Sports Network without cable. Read on to find out more.
In a hurry? If you want a solid streaming service with lots of sports channels as well as CBS Sports Network, these services will work great:
The CBS Sports Network is part of the larger CBS Entertainment Group. But unlike the flagship CBS network, it is not available over the air via antenna. It requires a provider to access it.
While CBSSN is a general sports channel, it began with a focus on college sports and still airs a lot of college sports events.
How to Watch CBS Sports Network Without Cable
CBS Sports Network presents a wide variety of sports. Their coverage of college football and basketball is exceptional, although they cover other sports. They also show professional soccer, golf, tennis, and more.
Since CBS Sports Network is a "cable" channel, you must get it through a provider. And if you want to avoid the cable company, you need a streaming service. They become more popular every year for their ease of use and accessibility. You simply need a streaming device and an internet connection.
Streaming devices can be anything from a smartphone to a big-screen TV. You probably already have one of these in your home. Now, with the help of this guide, you need to select the right streaming service.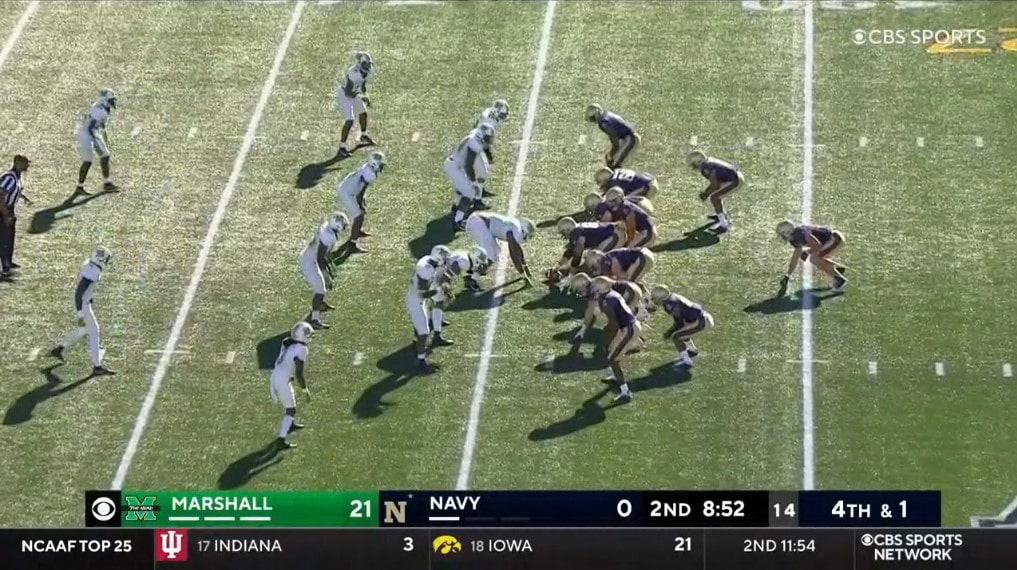 Streaming Services With CBS Sports Network
CBS Sports Network is not as widely supported by streaming services as, say, ESPN. For example, neither Sling TV nor Vidgo offers CBSSN — even as an add-on.
Luckily, there are a number of others that do.
FuboTV

| | |
| --- | --- |
| Base Channels | CBSSN, ESPN, ESPN2, FS1, FS2 |
| Total Channels | 105+ |
| Cloud DVR | 750 hours |
| Simultaneous Screens | 10 |
| Free Trial | ✅ |
| FuboTV Price | $69.99/mo |
With a base (Starter) plan on FuboTV, you can access many of your favorite channels including CBS Sports Network. You also get the major national sports channels, as well as others like TUDN, beIN Sports, and Big Ten Network (B1G).
In total, there are over 35 sports channels included in the basic plan.
For $69.99/mo, get a well-rounded selection of 100+ channels. FuboTV also offers over 130 events each year in 4K! It has a cloud DVR with 750 hours of storage. And you can use up to ten screens at once so everyone can enjoy their favorite games and shows simultaneously.
To find out more about FuboTV, check out our guides:
DIRECTV STREAM

| | |
| --- | --- |
| Base Channels | ESPN, ESPN2, FS1 |
| Total Channels | 75+ |
| Cloud DVR | Unlimited |
| Simultaneous Screens | 20 |
| Free Trial* | ✅ |
| DIRECTV STREAM Price | $69.99/mo |
DIRECTV STREAM (formerly AT&T TV) offers several plan tiers with different channel line-ups. To access CBS Sports Network, you will need to choose the Ultimate or Premier plans which are on the higher end of the price list.
Both plans offer all the major national sports channels as well as MLB Network, NBA TV, Golf Channel, and more. The Ultimate plan includes 250+ live channels for $104.99/mo.
The Premier plan is much more expensive: $149.99/mo but it comes with a bunch of premium channels from HBO Showtime, Starz, and Cinemax.
Find out more in our DIRECTV STREAM Review.
Hulu + Live TV

| | |
| --- | --- |
| Base Channels | CBSSN, ESPN, ESPN2, FS1, FS2 |
| Total Channels | 85+ |
| Cloud DVR | Unlimited (9 months storage) |
| Simultaneous Screens | 2 |
| Free Trial | ❌ |
| Hulu Price | $69.99/mo |
Hulu was one of the main companies to make streaming popular with their on-demand selection of recently aired TV shows. Hulu + Live TV is exactly what the singular plan's name sounds like: the addition of 85+ live TV channels to their on-demand library.
For $69.99/mo, you get all the major national sports channels where you can also watch live college sports streams. You also get ESPN+ and Disney+.
You can also record live TV with unlimited cloud DVR with 9 months of storage. If you have a variety of sports fans in your family, you can watch on two screens at once with the base plan.
You can learn more with our Hulu guides:
Other Ways to Get CBS Sports
Aside from major streaming platforms, there are other ways you can access CBS Sports without cable:
Watching CBS Sports Network on Your TV or Device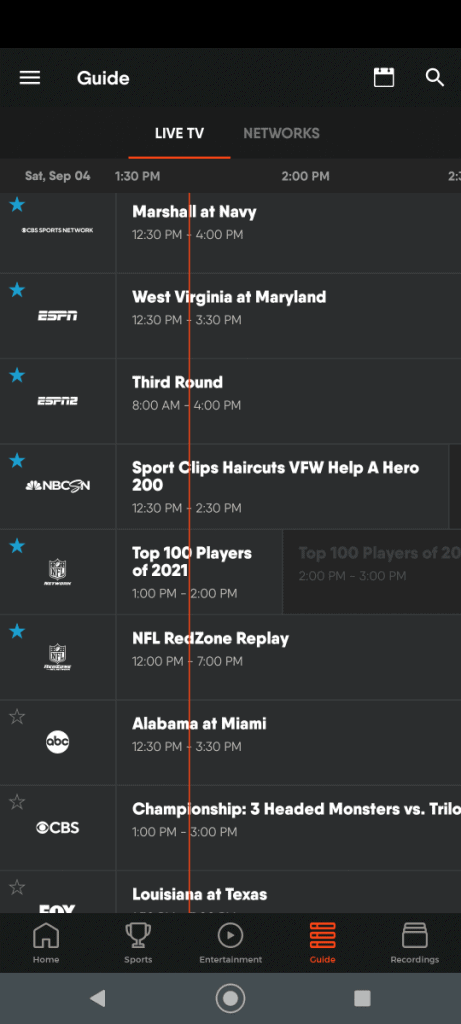 Most of the streaming devices currently in use are supported by the streaming services we've discussed. This includes iOS and Android smartphones and tablets.
It also includes most web browsers like Chrome, Edge, and Safari.
Most recent TVs can be cast to so you can set up the streaming service's app on your phone run it in a browser and cast to your TV. And if you TV cannot be cast to, you can always get a Chromecast device for around $30. It plugs into your TV and allows you to cast to the big screen.
TV streaming devices are also very popular. These include Amazon Fire TV, Apple TV, and Roku devices. You plug them into your TV and they run apps from FuboTV, Hulu, DIRECTV STREAM, and literally hundreds of other ones. They are also super easy to install.
Some TVs are supported right out of the box. Recent models from Samsung are supported by all the streaming services. FuboTV and Hulu both support LG smart TVs and units that run Android TV.
Hulu supports VIZIO SmartCast TVs. And FuboTV supports VIDAA Smart OS enabled TVs by Hisense.
Both FuboTV and Hulu support the Xbox gaming system. Hulu supports a few others as well.
Wrapping Up
CBS Sports Network is a great channel for live games, commentary, scores, and shows. Cutting the cord with cable and still having access to it is easier than ever with streaming services.
No matter what sport you are most enthralled in, you can stay up to date with CBS Sports Network around the clock.
Grab your streaming device and start watching every minute of your favorite games!
FAQs
What sports does CBS Sports Network offer?
As you may have guessed, CBS Sports Network covers a wide array of sports. In 2011, they began to incorporate mainstream sports into their programming. This includes Football, Tennis, Soccer, Rugby, Basketball, and more. There is 24/7 coverage so you never miss a game-winning score.
Is the PGA Tour on CBS?
Yes, you can access the PGA Tour every year on CBS and its sister channels. They have been home to the golf Masters and PGA Championship for many years now. You won't have to miss a single shot, put, or hole-in-one when you have access on your streaming devices.
What is CBS Sports HQ?
CBS Sports HQ is a 24/7 news channel available from CBS Sports. You can watch CBS Sports HQ without having a cable subscription. You will, however, need to have a broadband connection and a streaming device. Just install the CBS Sports app on your device and it will start playing.
Do I need to pay a fee to watch live games on CBS?
You will not be charged a verification fee in order to stream live games when you use CBS Sports. You will need to have a login for any games that stream live on Paramount+ or CBS Sports Network, of course. Any live games that air directly on CBS can be viewed entirely for free over the air with an antenna.
How can I watch sports on other channels without cable?
Need to know how to watch games on another channel? Check out the channel-specific guides below:
Latest posts by Frank Moraes
(see all)