Vidgo is an odd curious of college sports, family entertainment, conservative news, and Spanish-language channels. But with that in mind, it offers a lot of channels for a good price of $59.95/mo.
And like so much about Vidgo, for good or bad, it keeps its device selection short and simple. But it does have all the major bases covered, so chances are you already own something that can stream it.
Check out Vidgo for $59.95/mo.
Devices
Vidgo does not have the worst device support of any streaming service. In most regards, it offers better support than DIRECTV STREAM. Both support most of the most popular streaming services. And DIRECTV STREAM supports its own device and Samsung smart TVs, which Vidgo does not.
But Vidgo supports Android TV and DTVS does not. This is a big deal since many TV models from Sony, Sharp, Philips, and Hisense use this standard. While this doesn't mean Sony TVs (and the others) can't run DIRECTV STREAM at all, it does mean you'll need to keep track of an extra doohickey to do it.
The biggest problem with Vidgo's device support is the lack of specificity on what exactly it supports. Go to DIRECTV STREAM or FuboTV's webpage on device support and you will find a long, detailed list with model names and numbers, dates, and version numbers.
We strongly suspect that despite Vidgo's comparatively meager listings, its support is just as broad. But we are data-oriented and would prefer to know. No one is in a position to test the service on the dozens of Roku versions, for example.
Smart TVs
These are TVs that can run Vidgo straight out of the box, more or less. Some may even come with Vidgo pre-loaded. With others, you'll have to download it from the app store, but you don't need any additional gadgets.
TVs that are built on the following are supported:
Set-Top Boxes and Accessories
These are boxes or dongles that plug into your TV and run streaming apps — in this case Vidgo — for you. They typically require access to an HDMI port (any modern TV will have at least one or two of these in the back or on the side, labeled as such) and a power outlet.
Chromecast is a little different. You use an app on your phone or PC to send or "cast" content to your TV via the Chromecast.
Amazon Fire TV
Apple TV
Chromecast
Roku.
Mobile Devices
These are smartphones and tablets. Notably, Amazon Kindle Fire Tablets are not listed.
Android
iOS (iPhone, iPad).
Web Browsers
If all else fails, you can always load up Vidgo on your computer and watch in your web browser. Edge does not appear to be supported.
Video does not list Edge or Opera browsers but given they are both standards-compliant, we assume that will work.
DVR
Vidgo has been late to the DVR party. All of its competitors offer DVRs with their base plans. Many (eg, Hulu + Live TV) offer unlimited storage while others simply provide tons of it (FuboTV).
Currently, Vidgo offers 20 hours of cloud DVR storage. But this is only with the Premium Plan for $79.95/mo.
Currently, they are offering 90 days of access to their DVR with the Plus and Mas plans. Repeated requests as to what happens after the 90 days have gone unanswered but our hunch is that they are planning to make it standard at that time and increase the storage of the Premium Plan up to something more reasonable like 200 hours of storage.
Alternatives
DIRECTV STREAM, as mentioned, has the most sparse device support, no doubt because it would prefer you use its own optional set-top box. It's the only service that doesn't work with Android TV. But it does support Samsung smart TVs as do all the others below.
All the following streaming services support LG and VIZIO smart TVs as well as Xbox gaming systems.
Hulu + Live TV and YouTube TV are all roughly equivalent as far as device support goes. Hulu Live has the best game console support (it's the only one that supports the Nintendo Switch).
Sling TV supports the Oculus VR device smart home devices.
FuboTV supports most of these same devices along with some smart TVs by Hisense.
Wrapping Up
Vidgo's device support isn't the best, but it isn't the worst, either. Its adherence to the basic, established platforms is totally on-brand for Vidgo, especially the simple-to-a-fault list of devices.
The bottom line is that you either have a device that can run it or not. And chances are, with Vidgo, you do.
Ditch "Big Cable" Now – 3 Simple Steps to Cut the Cord
Pick the right streaming service
Get the content you deserve with the best VPN.
Supercharge your internet provider
That's it — you'll save money, take back control, and enjoy TV more!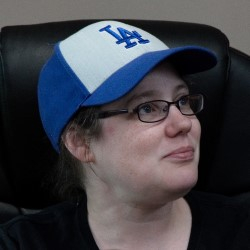 Latest posts by Alanna Baker
(see all)