NBC Sunday Night Football is a mainstay of modern football. One of the three nationally televised games aired in primetime every week during the NFL regular season, it's consistently one of the most popular programs on TV. Best of all, you don't need an expensive cable subscription to watch it because Sling TV's got you covered for NFL.
In a hurry? As the name implies, Sunday Night Football is exclusively broadcast on NBC, which is included with Sling Blue. We've got other options as well below.
If you've been considering getting rid of your cable account but don't want to miss out on your Sunday night football game, Sling TV is your best option to get affordable NFL, including NBC Sunday Night Football (SNF). Let's get into details.
Watching NBC on Sling TV
Sling TV runs $40.00/mo for either of its base packages, Sling Blue or Sling Orange. We talk more about Sling Orange in our Monday Night Football guide, but Sling Blue is the plan with NBC.
As with most bargains, there are some tradeoffs. For one, Sling does not have the same level of coverage of your local network stations. Sling only carries NBC in select media markets:
Boston (WBTS)
Chicago (WMAQ)
Dallas (KXAS)
Hartford (WVIT)
Los Angeles (KNBC)
Miami (WTVJ)
New York (WNBC)
Philadelphia (WCAU)
San Diego (KNSD)
San Francisco (KNTV)
Washington (WRC)
If you live in or around one of those cities, great — you can skip down to the schedule below.
If you don't…
Sling TV, Antennas, and You
Here's the thing we've all forgotten since cable became standard in every home: local networks are supposed to be free. Everyone used to know this, back when you just bought a set and an antenna, put up the antenna, and started watching. Then somehow it became cable OR antenna — why would you have an ugly, unreliable antenna when cable included your local stations?
And now that people want to move away from cable, and have the means to customize their viewing selection through streaming services, it's easy to continue to forget that all you need to get local networks is an antenna.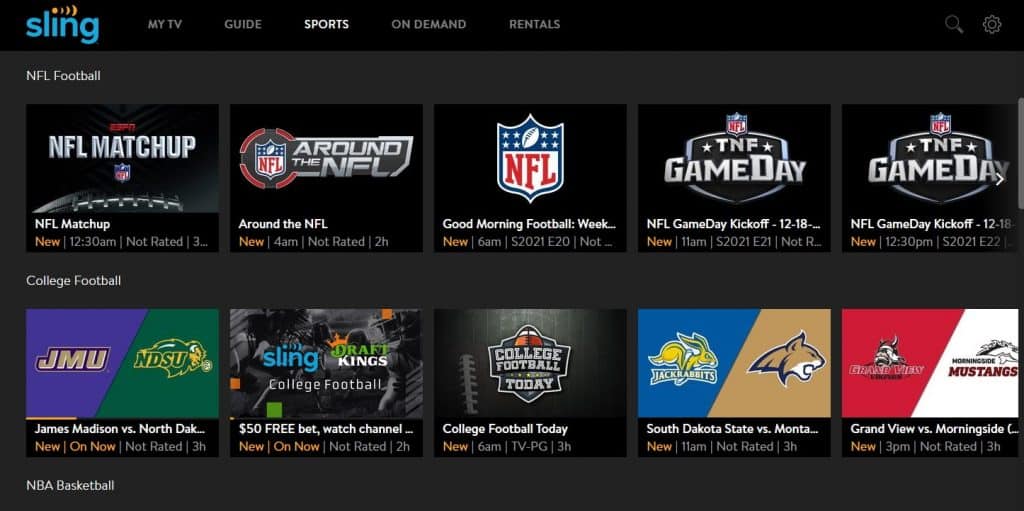 And TV antennas are not the oversized wire coat-hanger things on your roof anymore — they're flat vinyl squares that attach to your inside wall. You can pick one up at your local Walmart-type store or order one off Amazon for $50 or less.
Or, you can take advantage of Sling TV's offer to give you a free antenna just for paying for two months in advance. You can cancel anytime and still keep the antenna.
Sling has other hardware offers — check them out with our Sling TV Local Channels Guide.
Sunday Night Football Schedule
In addition to the regular Sunday night matchups this year, NBC also gets the Thursday night NFL season opener on September 7 as well as the Thanksgiving Thursday game on November 24.
NBC starts off all its NFL games with Football Night in America at . Kickoff is scheduled for .
Thu Aug 3 : Cleveland Browns at New York Jets [Preseason]
Thu Sep 7 : Detroit Lions at Kansas City Chiefs [Regular Season Opener]
Sun Sep 10 : Dallas Cowboys at New York Giants
Sun Sep 17 : Miami Dolphins at New England Patriots
Sun Sep 24 : Pittsburgh Steelers at Las Vegas Raiders
Sun Oct 1 : Kansas City Chiefs at New York Jets
Sun Oct 8 : Dallas Cowboys at San Francisco 49ers
Sun Oct 15 : New York Giants at Buffalo Bills
Sun Oct 22 : Miami Dolphins at Philadelphia Eagles
Sun Oct 29 : Chicago Bears at Los Angeles Chargers
Sun Nov 5 : Buffalo Bills at Cincinnati Bengals
Sun Nov 12 : New York Jets at Las Vegas Raiders
Sun Nov 19 : Minnesota Vikings at Denver Broncos
Thu Nov 23 : San Francisco 49ers at Seattle Seahawks [Thanksgiving Day]
Sun Nov 26 : Baltimore Ravens at Los Angeles Chargers
Sun Dec 3 : Kansas City Chiefs at Green Bay Packers
Sun Dec 10 : Philadelphia Eagles at Dallas Cowboys
Sun Dec 17 : Baltimore Ravens at Jacksonville Jaguars
Sat Dec 23 : Cincinnati Bengals at Pittsburgh Steelers
Sat Dec 23 : Buffalo Bills at Los Angeles Chargers
Sun Dec 31 : Green Bay Packers at Minnesota Vikings
NBC will also be airing one wild card game and one divisional playoff game in the postseason.
Wrapping Up
If you live in one of the media markets that includes NBC in Sling Blue, it's really a no-brainer! But even if you don't, Sling's antenna offer is a whale of a deal. Don't wait, sign up now! Save 50% on your first month of Sling TV.
FAQ
Who are the commentators on NBC this year?
Same as last year: Mike Tirico will be calling the play-by-play, former Bengals receiver Cris Collinsworth will be doing color commentary, and Melissa Stark will be reporting from the sidelines.
Spanish commentary by Miguel Gurwitz and Rolando Cantú is on NBCUniversal sister-stations Universo and/or Telemundo.
Where can I watch football when it's not Sunday night?
Thursday Night Football has landed on Amazon Prime Video — if you're an Amazon Prime member, you can already watch it, just download the app. Sunday afternoon games (at and ) are on CBS (AFC) and Fox (NFC), or check out NFL RedZone to get a best-parts version of all of them. Monday Night Football is on ESPN. The NFL schedule shifts a bit for the playoffs — see our NFL Playoff guide for channels — and the Super Bowl rotates between NBC, Fox, and CBS.
For more information on alternative ways to watch games, see our Out-of-Market NFL Guide.
How can I watch my favorite team?
We've got team-specific guides for every franchise in the NFL. Check it out!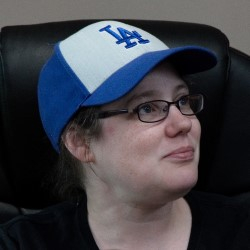 Latest posts by Alanna Baker
(see all)