Can you enjoy the NFL season while saving a bundle? You can with Sling TV! In fact, if you are willing to use a free HD antenna, you can easily watch the whole season for just $40.00/mo. Read on to learn all your options (and there are many)!
In a hurry? Just sign up for the Sling Orange + Blue plan for $55.00/mo. Save 50% on Sling TV!
If you are looking for an easy and affordable way to watch the NFL this season, you should consider signing up for Sling TV. You have a lot of options.
You can stick with the Sling Blue plan and watch about four regular-season games per week plus about half the playoffs. Or you can get the Orange & Blue plan that also includes ESPN for even more coverage. Or you can easily integrate an antenna and get everything!
NFL Channels
During the regular season, games featuring AFC teams are typically shown on CBS while games featuring NFC teams are primarily broadcast on Fox. If an AFC team is playing an NFC team, the game will be shown on CBS if the AFC team is on the road and on Fox if the NFC team is playing on the road.
In recent years, the NFL has given networks the right to shuffle football games in an effort to ensure that they both have access to appealing matchups. Therefore, it's possible that a game featuring two AFC teams will be shown on Fox while a game featuring two NFC teams will make its way to CBS.
Note that these Sunday afternoon games are scheduled such that between two and four are played at the same time. So you can't watch them all live — unless you get NFL RedZone, which is available from Sling as an add-on.
Nationally broadcast Sunday and Monday night games will always appear on NBC and ESPN regardless of who is playing. Fox and the NFL Network simulcast Thursday night games until next season when Amazon Prime Video acquires those rights.
During the playoffs, ESPN gets exclusive rights to a Monday night wild card playoff game while NBC gets the rights to a Saturday or Sunday night game during the first two weeks of the postseason.
Otherwise, CBS will (again) show postseason games involving AFC teams while Fox gets playoff games involving NFC teams. The Super Bowl generally rotates between Fox, NBC, and CBS. In 2022, NBC will be the exclusive broadcast provider of this contest.
If you are serious fan who wants to know how to watch every game, see our NFL Out-of-Market Game Guide.
NFL on Sling TV
The Sling Blue package offers NBC, Fox, and the NFL Network without the need for special equipment. The Sling Orange package gives you access to ESPN and its family of networks. (Besides 3 ESPN channels, the main Orange-specific channel is Disney.)
With these plans, you can watch the following during the regular season:
Thursday Night Football is now mostly exclusive to Amazon Prime Video, so you will need that regardless of the service you get because it doesn't air on live TV.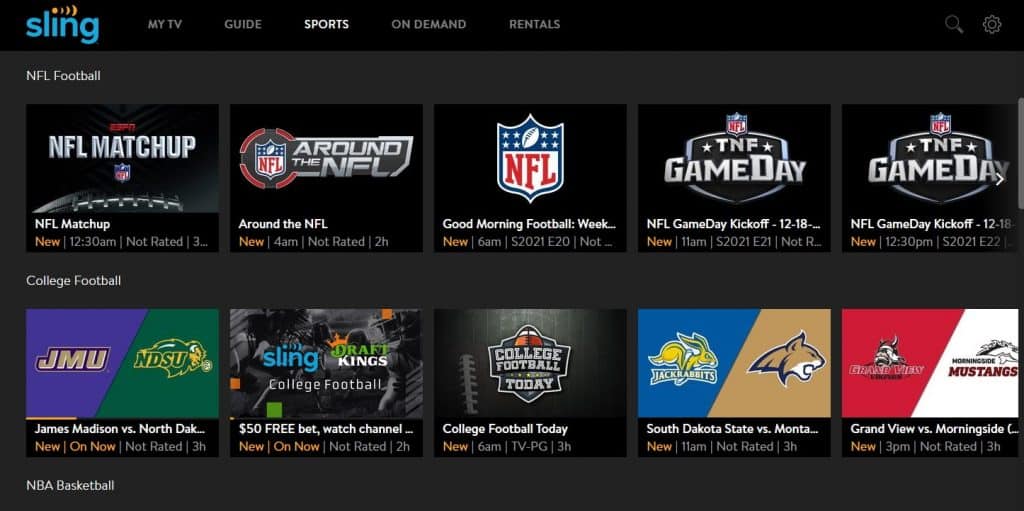 CBS
CBS is an essential channel for NFL fans — especially during the playoffs. And even during the regular season, you want CBS if your favorite team is in the AFC since it covers most games played by them. There are two ways to get access to these games.
Paramount+
Since Sling TV is far less expensive than other streaming services, it isn't unreasonable to add a Paramount+ subscription. For just $4.99/mo, you get live access to all the CBS-aired NFL games — and many other sports besides.
You can also get a Premium plan for $9.99/mo, which gives you access to your local CBS affiliate as well as ad-free streaming of on-demand content. You can learn all the details in our Paramount+ review.
Get Paramount+ for 7 Days Free
Antenna
With an antenna, you can stick with just the Sling Orange plan and get access to all the games — assuming you are in a relatively large media market. You do have to set up an antenna, but Sling makes this really easy. And you will get other local channels like ABC, The CW, Univision, and Telemundo (depending on where you live).
If you pre-pay for three months of service, they will give you an indoor HD antenna and AirTV 2 device for $49.99. Given this is worth roughly $150, you are getting the service for free.
With this hardware, you can watch all your local channels right from within the Sling TV app. No moving back and forth between apps. This is like having a top-self streaming service like DIRECTV STREAM at half the cost!
Our HD antenna guide tells you all you need to know. There's also more information in our Sling TV review.
NFL RedZone
NFL RedZone is a channel that is affiliated with NFL Network and features live coverage of every game being played on Sundays.
As the name suggests, the channel focuses on games featuring teams that are within scoring range. If no game features a team that is close to scoring, it will default to any game that is perceived to be the most interesting.
One of the unique features of this channel is that you don't have to sit through commercials. When one game goes to a commercial break, you will be shown another game that is currently in action.
You can get RedZone for $11 a month as part of the Sling Blue Sports Extra add-on or for $15/mo with the Sling Orange & Blue Sports Extra add-on. It is not available if you only subscribe to Sling Orange. In addition to NFL RedZone, this add-on comes with MLB Network, MLB StrikeZone, NBA TV, NHL Network, and many more.
Recording Games
Since the Sunday afternoon football games are played at the same times, you will likely want to record some of them. Games appearing on the streaming channels ESPN, Fox, and NBC can be recorded with the included 50 hours of cloud DVR storage.
Games that appear via antenna can be recorded using the AirTV device. You will have to provide external storage but this can be as simple as a thumb drive (must be at least 50 GB, however).
Alternatives to Sling TV
We will never pick favorites but we will admit to having a very large soft spot for Sling TV. Not only is it the first live TV streaming service, it's also the most flexible. But we understand that what we consider flexibility others consider complexity.
Beyond this, other streaming services have their own advantages and may work better for you. If you aren't sure about Sling TV, consider these alternatives.
FuboTV

For $69.99/mo, FuboTV gives you access to all of the channels you need to watch the NFL: CBS, ESPN, Fox, NBC, and the NFL Network. In all, you get over 110 channels. Of these, 35+ are sports channels including CBS Sports Network, ESPN2, FS1, FS2, TUDN, and beIN Sports.
See our FuboTV review for all the details.
Sign Up for a Free 7-Day Fubo Trial
DIRECTV STREAM

DIRECTV STREAM (formerly AT&T TV) is one of the best streaming services for those who want access to local channels. For $69.99/mo, you will get all the channels you need to watch the whole NFL season.
It is also a great pick for those who want access to regional sports networks. Although the NFL is only shown on national networks, regional channels can be ideal for those who enjoy watching hockey, basketball, or baseball. You can get your favorite local, regional, and national networks through the DIRECTV STREAM Choice package for $89.99/mo.
For details, see our DIRECTV STREAM review.
Get DIRECTV STREAM Free for 5 Days
Hulu + Live TV

Starting at $69.99/mo, Hulu + Live TV offers all the channels that NFL games air on. Furthermore, you get access to Hulu's industry-leading on-demand library.
For more information, see our Hulu + Live TV review.
YouTube TV

Like many of the major streaming services, YouTube TV is also available starting at $64.99/mo. It also has all of the channels that you'll need to watch the whole NFL regular season and all of the postseason. Learn more in our YouTube TV review.
Devices to Live Stream NFL on Sling TV
Sling provides excellent support of modern streaming devices and smart TVs:
AirTV
Amazon Fire Tablet
Amazon Fire TV
Android mobile
Android TV devices
Apple TV

Chromecast
iOS mobile
LG smart TVs
Portal
Roku

Samsung smart TVs
TIVO Stream
Web browsers
Xbox Series S/X.
Summing Up
If you are looking to watch your favorite NFL teams this year, it may be in your best interest to sign up for Sling TV. It comes with NBC, Fox, and NFL Network with its Blue plan and ESPN with its Orange plan. These plans are $40.00/mo or $55.00/mo for the two combined.
You have a couple of options to get CBS as well. And NFL RedZone can be yours for $11/mo to help you keep track of every game going on at any given time even if it isn't being broadcast in your local market.
What are you waiting for? Sling TV is the best deal around for NFL fans!
FAQs
Can I watch every NFL game on Sling?
Sling TV provides you with access to most channels that have broadcast rights to NFL games. But you can't watch every game for two reasons. The first is that Sling TV does not provide CBS. But you can get it by setting up an antenna. The fundamental problem is that Sunday afternoon NFL football games play at the same time, so you can't actually watch them all — live anyway.
How do I subscribe to Sling TV?
To subscribe to Sling TV, you simply select your desired service plan and provide some basic information about yourself. Once you have verified your email address and payment information, you should be able to start using your account. Sling generally allows you to modify or cancel your account at any time. So there is no risk.
How do I find information on streaming individual NFL teams?
We've created streaming guides for every team in the NFL:
Ditch "Big Cable" Now – 3 Simple Steps to Cut the Cord
Pick the right streaming service
Get the content you deserve with the best VPN.
Supercharge your internet provider
That's it — you'll save money, take back control, and enjoy TV more!
Latest posts by Frank Moraes
(see all)