Update: November 27th, 8pm EST ExpressVPN is offering a Cyber Monday deal that is both simple and sweet: when you sign up for its heavily discounted yearly plan, they give you three extra months free! Sign up now!
A VPN is an essential tool for cord-cutters. And ExpressVPN is one of the best VPNs and our favorite. This Cyber Monday, they are offering a great deal: lock in a low price for one year and get 3 extra months free.
Find out all about the free trials for top streaming services!
The normal price of ExpressVPN is $12.95/mo. When you buy a one-year subscription, it is $99.95 or $8.33/mo. But you get 3 extra months free for a cost of just $6.67 per month for 15 months — saving nearly 50%!
Get ExpressVPN's Cyber Monday Deal!
Why You Need a VPN
There are many reasons you need a VPN service:
Private Browsing: No one sees what you are doing online. And unlike some VPN companies, Express does not log your activity.
Unblock Sites: Eliminate restrictions imposed by governments, employers, schools, and more.
Secure Access: Get access to the internet that you expect and deserve regardless of where you are. ExpressVPN works with Netflix, Disney+, Hulu, FuboTV, YouTube, and pretty much all streaming services.
Stay Hidden: Keep your IP address hidden so spying eyes don't see where you are browsing from.
Of course, ExpressVPN isn't the only VPN provider worth considering, but we do think it's the best. See our round-up of Cyber Monday VPN deals as well as an overview of all the best Cyber Monday deals this year. Four VPN services definitely worth considering are NordVPN, Surfshark, IPVanish, and CyberGhost.
Why You Need ExpressVPN
ExpressVPN has many advantages over its competition.
Proven Record: The parent company of ExpressVPN is Express VPN International. And it has been around since 2009. It is known as a dependable company that won't care to political pressure.
Trustworthy: Offers a strict no-logs policy and 256-bit encryption of various kinds.
Exceptional Server Reach: Has over 3,000 servers in 94 countries across six continents.
User Friendly: Despite being a technological powerhouse, ExpressVPN boasts one of the easiest interfaces in the industry. You will be up and running in just a couple of minutes. And moving servers is trivial and is done with just a click of a mouse.
Device Support: ExpressVPN provides apps for just about every kind of hardware and works on all the major operating systems.
Great for Streaming: ExpressVPN is focused on streaming and can help you work with even the most difficult providers.
Other things: ExpressVPN includes built-in speed tests, which make it easy to find the best servers. And technical support is available 24/7.
Get ExpressVPN's Cyber Monday Deal!
2022 ExpressVPN Cyber Monday Deal
ExpressVPN is offering a great deal from now through Black Friday and Cyber Monday (it ends November 30th). You normally get a better deal the longer you sign up for. But if you sign-up for the one-year plan, ExpressVPN offers 3 extra months free.
$12.95/mo (1-month plan)
$9.95/mo (6-month plan)
$8.33/mo (12-month plan)
$6.67/mo (15 months — limited time only)
This deal ends November 30th. If you don't use it, you may have to wait until next year — and maybe not even then!
Step-by-Step Guide to Getting the ExpressVPN Cyber Monday Deal
Getting the ExpressVPN Cyber Monday deal is quite easy. Just follow these steps:
Navigate to the ExpressVPN home page. But you can move around the site. You can sign up from just about any page.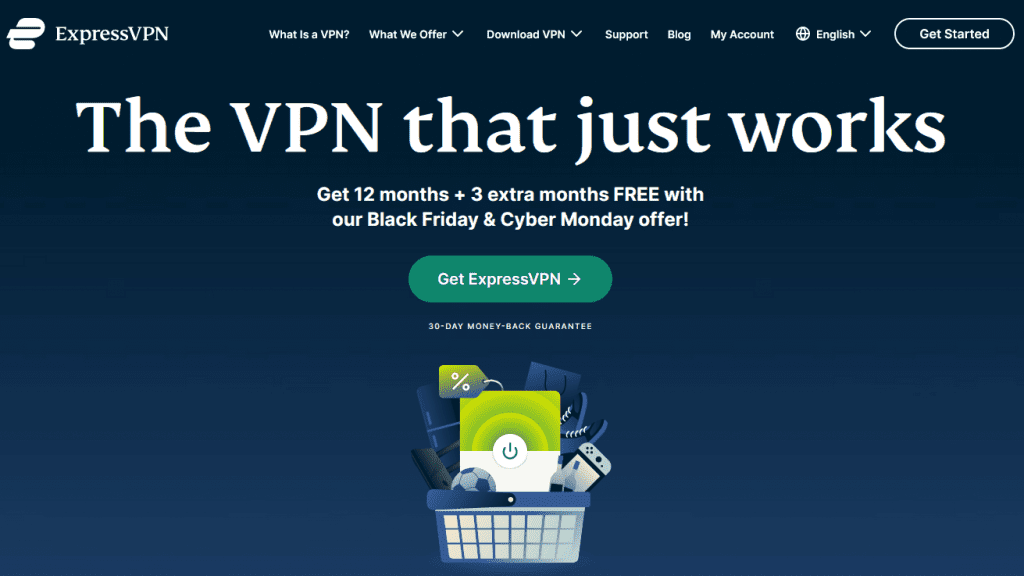 Click the "Get ExpressVPN button. It will change color when you hover the mouse over it.

The next screen that loads allows you to pick from three plans. There is no deal if you select the monthly or every six months plans. You need to select the yearly plan labeled "Cyber Monday DEAL."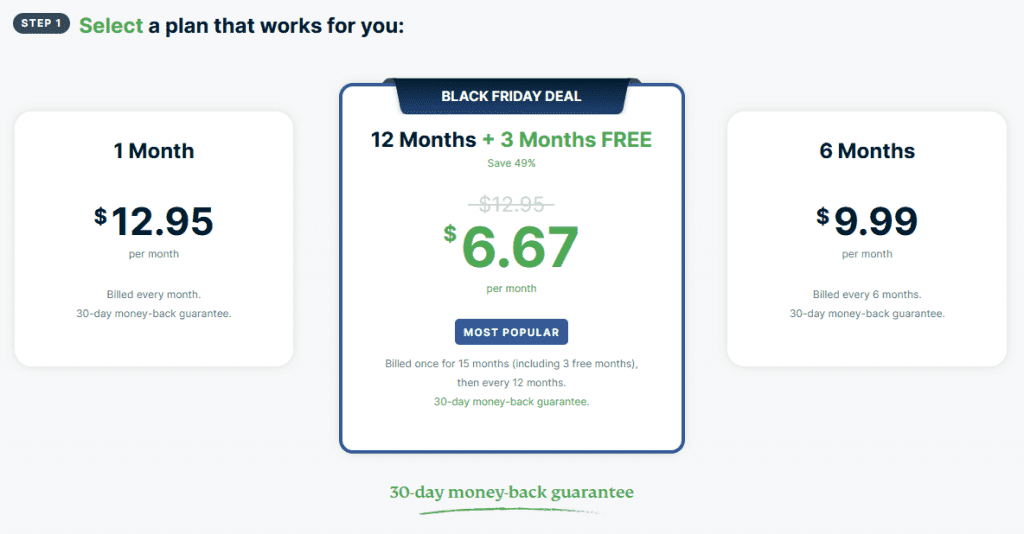 Scroll down the screen and enter your email address. You will use this to log into your account and all your ExpressVPN apps.

Enter your payment method. You have the option to use a credit/debit card, Paypal, Bitcoin, or several other methods.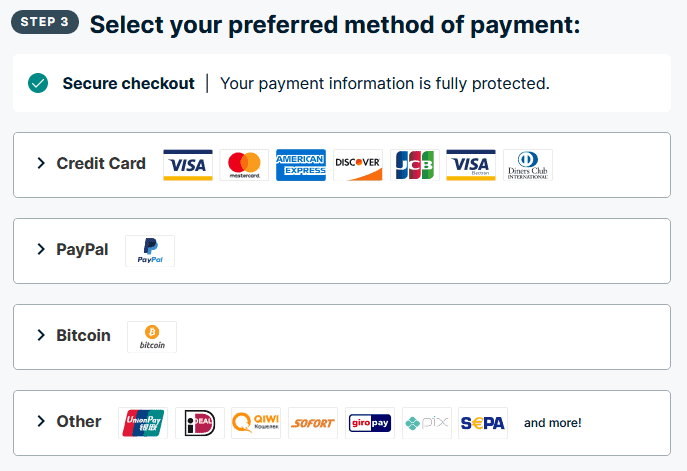 Enter your payment information. This will depend upon your payment method. Below, we show the credit card method since that's the most common. Whatever method, just follow along. In most cases, you click click the big green button as shown below.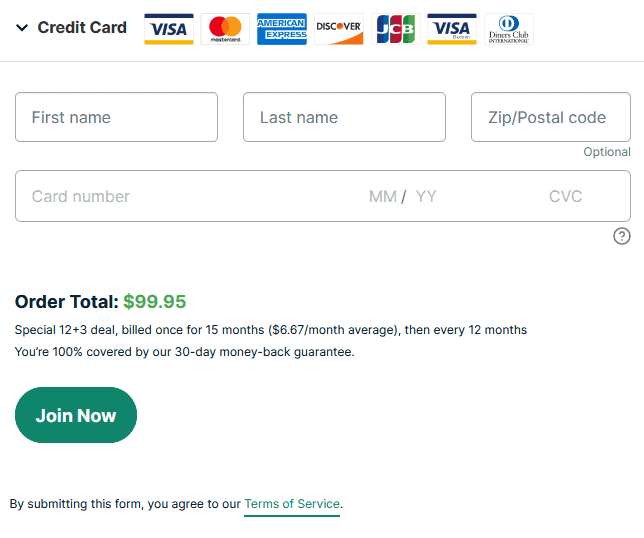 That's it! You'll all signed up. Now just follow the instructions to get started. It's easy. ExpressVPN really is the VPN that just works!
Get ExpressVPN's Cyber Monday Deal!
Why ExpressVPN
There are many reasons why you should choose ExpressVPN over other VPN services:
Many Server Locations: 3,000+ VPN servers in 94 countries
TrustedServer: independently audited servers never write data to hard drive
Split Tunnelling: Run partly through VPN and partly on the straight internet
Network Lock: Keeps data safe if VPN connection drops
DNS Leak Protection: Stops your system from using ISP domain servers.
Kill Switch: stops all internet traffic if VPN connection fails
No Activity Logs: ExpressVPN has a strict no-logs policy
Strong 256-bit AES Encryption
Private Encrypted DNS
Best of all, ExpressVPN comes with a 30-day money-back guarantee so you can try it for yourself without risk. This deal is only available through the end of the month. Get ExpressVPN now!
FAQs
Does ExpressVPN offer a Cyber Monday deal?
We don't know if there will be a special Cyber Monday sale. But the ExpressVPN Cyber Monday sale runs through the end of November — right through Cyber Monday and through Wednesday. If there is a special deal for Cyber Monday, we will alert you here. But ExpressVPN hasn't done that in the past.
What devices does ExpressVPN work with?
ExpressVPN is available on a wide variety of hardware. It has apps for all the major operating systems: Windows, macOS, Android, iOS (iPhone), and Linux. It also supports the streaming devices Amazon Fire TV, Apple TV, and Chromecast. And it supports smart TVs from Samsung and any that run Android TV.
ExpressVPN doesn't support Roku devices directly (no VPN does). But you can run ExpressVPN through a router or wiki hotspot to get protection for Roku devices. See our ExpressVPN review for details about the service.
How do I get 3 months free on ExpressVPN?
At least through Cyber Monday weekend, all you need to do to get 3 months of free service from ExpressVPN is to sign up for a year of service. Purchasing ExpressVPN by the year automatically reduces the price 35% from $12.95/mo to $8.33/mo. But doing so now, reduces the monthly cost to just $6.67/mo — a total savings of 48% on the best VPN in the world.
What are the pros and cons of ExpressVPN?
The primary pro of ExpressVPN is that they operate rock-solid servers in 94 countries. The main reason we all use ExpressVPN is because of its stability. But there are many other reasons to use it like its compatibility with most streaming services. The primary con of ExpressVPN is its price. It is modestly more expensive than a lot of competitors. But we think it's worth it.
Does ExpressVPN offer a free trial?
ExpressVPN does not offer a free trial, but it does offer a 30-day money-back guarantee. This is standard in the industry. Almost no VPN offers a free trial and when they do, they are extremely short. There are, of course, a lot of free VPNs around, but we caution against using them.

Specific Cord-Cutter Deals
Here are all the deals we are following:
Page Updates
▼
▲
Added new section. Added sub-section. Added more info about plans. Updates to a section. Mentioned deals. Image changes.

Added FAQ section. Changed some content in main section. Cross linking. Mentioned deals.

Added streaming info. Mentioned deals. Cross linking. Various content updates.
Latest posts by Frank Moraes
(see all)