Halloween is coming up and regardless of whether your taste tends toward Casper or Leatherface, Sling TV has you covered — in its base plans, add-ons, and even free channels. Read on to learn what's available for Halloween 2022!
Halloween Movies on Sling TV
You just want to know where to find the best thrills and chills this Halloween season? We just so happen to have inside information on Sling TV's best horror films. From the creeping weirdness of Get Out to the classic slicing and dicing of camp counselors in Friday the 13th to family favorites like Hotel Transylvania, Sling's got something for everyone.
Paranormal: Visitations from Beyond
Are hauntings, demonic possessions, and occult curses your favorites? This category features other-worldly (spirits, not aliens from another planet) entities and powers.
Let's start off with some real-life ghost stories. At this point, they may as well rename The Travel Channel to "The Haunting Channel." Ghost Hunters, Ghosts of Flight 401, Urban Legend, and The Haunted Museum: 3 Ring Inferno all make their debut this month. The Travel Channel is available on both Orange and Blue Sling plans.
A new chapter in American Horror Story just started on FX: American Horror Story: NYC. You'll want Sling Blue for that.
If it's war in heaven you're after, The Prophecy series is on AMC+, one of Sling's many a la carte premium channels, and Rosemary's Baby is on Showtime.
Starz, another premium option, has Ghostbusters: Afterlife and A Haunted House 2.
And finally, totally free (who doesn't love free?), you can watch Dreamaniac, In a Dark Place, at least 5 Amityville sequels on demand, plus the live channel Haunt TV, which is, as of this writing, showing a marathon of Ghost Chasers.
Monsters: Werewolves, Zombies, and Vampires
The monster subgenre covers all manner of ghouls and beasties, from the campy classic movie monsters to the more sexy modern werewolves and vampires, not to mention the current zombie rage. Though still usually supernatural (or extraterrestrial) in origin, monsters have a physical form and cause direct, physical damage to their prey (humans).
Let's start off with the freebies this time. Sling Free has both old and new horror with Ginger Snaps, Attack of the Crab Monsters, Earth vs the Spider, 4 separate installments of The Howling, An American Werewolf in Paris, Night of the Living Dead (two versions), The Mummy, and Return of the Killer Tomatoes.
AMC/AMC+ a have killer selection once again, with The Walking Dead universe, plus the new series Anne Rice's Interview with the Vampire. You can also find Jaws, An American Werewolf in London, and Piranha 3D.
Also in the AMC+ mix by way of IFC is the spider-riffic thriller Arachnophobia. AMC is available with both Sling Blue and Sling Orange, while AMC+ is available as an add-on.
Syfy, not to be outdone, serves up a pint each of undead mayhem and dry wit with Shaun of the Dead. Also on the science fiction network is the new TV show Reginald the Vampire and season 2 of Chucky. You can find Syfy on Sling Blue.
And last, but certainly not least, you can watch Killer Klowns from Outer Space on Showtime and Zombieland: Double Tap on Starz. Both are optional add-ons.
Stream Monster Movies on Sling TV
Slashers: Don't Look Behind You!
While ghosts, werewolves, and giant spiders might not be real, serial killers definitely are. In fact, some of the entries in this section are actually documentaries of real-life murderers like Ted Bundy. Truth can indeed be scarier than fiction.
To start, we turn again to AMC, which has the Final Destination series (the killer is Death himself, but it still retains many of the elements of the slasher flick) and the Candyman franchise (the murderer here is an avenging ghost). More mundane origins but no less blood can be found in the Friday the 13th movies and the (original) Halloween series.
Speaking of Halloween, the new 2018 version is on Freeform along with Happy Death Day and Happy Death Day 2U. Freeform comes with Sling Orange.
Sling Free's got some serial killer films to die for: My Friend Dahmer and Ted Bundy. You can also see Prom Night and the iconic feminist slasher, Slumber Party Massacre.
And you can't beat the surprisingly bloodless but terrifying The Texas Chain Saw Massacre (Showtime).
Get the Best Slashers on Sling TV
Psychological: The Stuff of Living Nightmares
We come to the real terror, the movies that worm their way inside your head and set up housekeeping, ready to feed your waking fears and worst nightmares alike. Movie studio A24 in particular specializes in this kind of pure emotional and mental dread.
Showtime's got several of A24's best mind twisters: Hereditary, Midsommar, and It Comes at Night.
Freeform has Jordan Peele's Get Out and A Quiet Place.
The creepy Watcher comes to Shudder and AMC+ this month, as well as the classic The Silence of the Lambs. Maybe watch that last one with some fava beans and a nice Chianti?
Family: Tricks and Treats for Kids Big and Small
These span all the categories above, with a lighthearted, fun take on All Hallows Eve for the whole family.
Freeform: Goosebumps (1 & 2), Frankenweenie, The Nightmare Before Christmas, and Hotel Transylvania (1 & 2)
Disney Channel: Tim Burton's Corpse Bride, Zombies (1-3)
Paramount Network (Comedy Extra): The Addams Family, Addams Family Values.
There's also Casper (USA), The Addams Family 2 (MGM+), and Scooby Doo on Zombie Island (Cartoon Network).
Have a Family Halloween With Sling TV
Sling TV's Year-Round Horror
If you are a horror fan all year long, Sling TV offers a number of add-ons you may want to check out.
AMC+ ($7.99/mo): Includes lots of horror from AMC along with Shudder, IFC, and Sundance.
Monsters & Nightmares ($3.00/mo): A small but always changing collection of horror and thriller titles.
ScreamFlix ($3.00/mo): A live channel of horror.
Shudder ($6.00/mo): The essential service for horror fans that presents the full range of content from the world over along with originals and documentaries.
Wrapping Up
At just $40.00/mo for either base package — Sling Orange (ESPN, Disney) or Sling Blue (NBC, Fox) — or $55.00/mo for Sling Orange + Blue, Sling TV is one of the most affordable live TV streaming services. All plans come with 50 hours of cloud DVR
Right now, you can get half off your first month. Get offer details on sling.com, and catch all your scary favorites of this spooky season. Happy Halloween!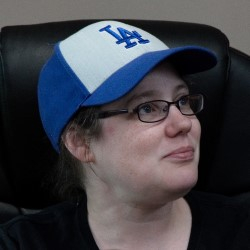 Latest posts by Alanna Baker
(see all)