If you live in cities such as Indianapolis, Terre Haute, or Muncie, you are likely within the Bally Sports Indiana broadcast zone. This network is the primary broadcast home of the Indiana Pacers as well as select college games between teams that may be of interest to local viewers.
Fubo: Get over 130 channels including a great selection of RSNs starting at $85.98/mo. Fubo allows you to try out its service free for 7 days.
DIRECTV STREAM: Sets you up with every regional channel in your area and 100+ others for $99.99/mo. A 5-day free trial is now available for DIRECTV STREAM.
If you can't watch your favorite sports because of your location, get ExpressVPN to access the content you deserve.
Oops! The two streaming services aren't available in . But if you've already paid for the right service, and just can't watch because of your location, there is an easy way to get the content you deserve. You need a VPN, like one of the following.
| | | |
| --- | --- | --- |
| | ExpressVPN: Known as "The VPN that just works," it combines remarkable ease of use with with state-of-the-art power, speed, security, and privacy. Get three extra free months when you sign up for a year. Unleash your streaming with this top-rated VPN. | Sign Up Now |
| | Surfshark: Surfshark: Secure and easy to use with thousands of servers around the world. Of special note is its excellent collection of servers inside the US, which is great for regional sports lie NFL, MLB, and NBA. Get it now with an incredible 82% discount on a 24-month plan. | Sign Up Now |
| | NordVPN: One of the top VPNs with extremely fast servers all over the world. Great for streaming with tested perfomance on the biggest servers and included ad-blocking. Currently offering 70% discount on 2-year plans. | Sign Up Now |
If you're overwhelmed and not sure where to begin, you'll find all the answers in our full VPN guide.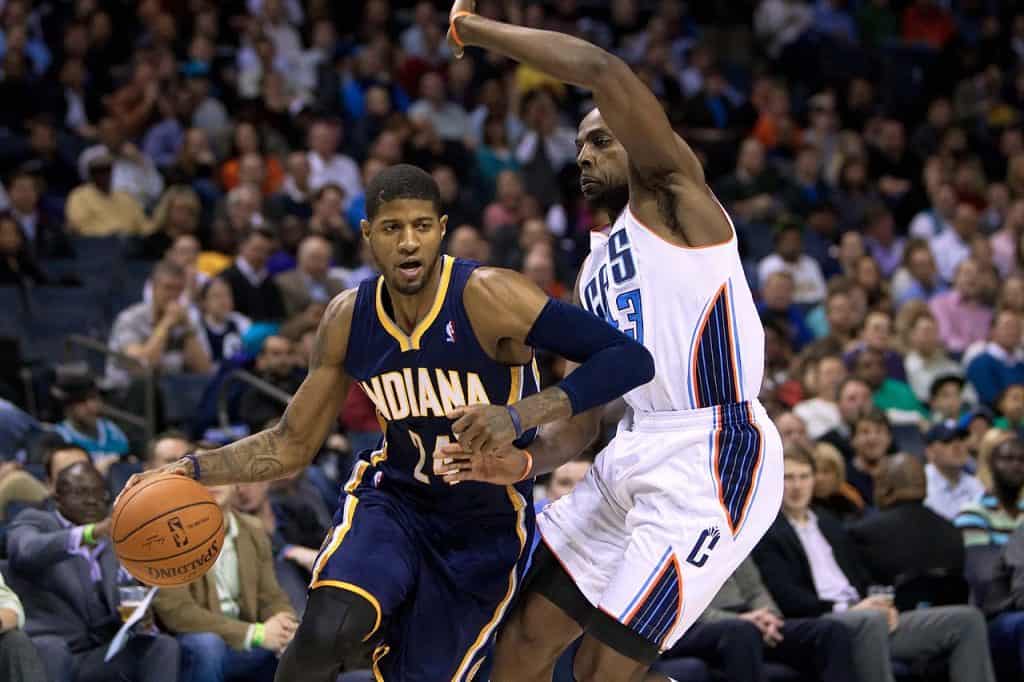 Unblock Your Favorite Movies and Shows With a VPN
If you can't watch your favorite movies and shows because of your location, a VPN will allow you to get the access you are entitled to, plus extra security and unequalled privacy. Check out our VPN Guide for everything you need to know, including our top pick ExpressVPN.
Streaming Bally Sports Indiana
A few years ago, Hulu + Live TV and YouTube TV provided Bally Sports Indiana to their subscribers. But it's been a while since they dropped their contracts. As a result, there are now only two streaming services that provide access to Bally Sports Indiana.
FuboTV

FuboTV is a great service for sports fans. It provides access to most RSNs across the country and all of those in the greater Indian area. And it provides many national sports channels including ESPN, ESPN2, CBS Sports Network, FS1, FS2 and the networks of beIN Sports and TUDN.
Subscribers in the Indianapolis area will also get:
It's also a great general streaming service with all local channels like NBC, Fox, and ABC as well as a good selection of "cable" channels like FX, SyFy, and USA Network.
You also get 1,000 hours of cloud DVR storage. And it provides streaming on up to 10 devices at once.
The base price of FuboTV is $74.99/mo but there is also an RSN fee. Most people in Indiana will get 3 RSNs so the monthly price should be $88.98/mo.
Plan Cost: $74.99/mo
RSN Fee:

One RSN: $10.99/mo — total: $85.98/mo
Two or More RSNs: $13.99/mo — total: $88.98/mo
For details, see our FuboTV review.
Sign Up for a Free 7-Day Fubo Trial
DIRECTV STREAM
DIRECTV STREAM offers multiple service packages that provide access to regional sports networks. Note that DIRECTV STREAM's zip-code lookup tool does not mention Bally Sports Indiana. It is, however, listed in their channel guide.
You get all it and 100+ other channels with the Choice plan for $99.99/mo. Beyond the RSNs and all the local network affiliates, you get the main national sports channels ESPN, ESPNU, FS1, MLB Network, NBA TV, and NBCSB.
If you move up to the Ultimate plan for $109.99/mo, you'll get 130+ channels including CBS Sports Network, FS2, and NHL Network. The Premier plan is much more expensive ($154.99/mo), but includes a bunch of premium channels from Cinemax, HBO, Showtime, and Starz.
For a thorough discussion of all this, see our DIRECTV STREAM review.
Get DIRECTV STREAM Free for 5 Days
Bally Sports+
Note: At this point, Bally Sports+ has secured rights for the games of all covered NBA and NHL teams. But it has not secured rights to most MLB team games. Make sure that your teams will be available before signing up. Or go with FuboTV.
Bally Sports offers its own direct-to-consumer streaming service called Bally Sports+. From September 26th, 2022 onward, fans in the channels' broadcast area can subscribe. There are two ways to pay:
Monthly: $19.99
Yearly: $189.99
This provides you with whatever Bally Sports channels broadcast in your area. This will be one but, depending on your location, could be more. For example, subscribers in Indianapolis get access to Bally Sports Indiana and Bally Sports Midwest.
This is a nice option to have. But it is relatively expensive given it is limited to Bally Sports channels. To watch playoff games, you will need national channels like TBS, FS1, Fox, and MLB Network. But you could combine Bally Sports+ with a live TV streaming service like Sling TV.
And for fans in many areas, you will still be missing out. Those in Indianapolis also get Marquee Sports Network (Chicago Cubs) and NBC Sports Chicago (Chicago White Sox, Chicago Blackhawks) if they subscribe to DIRECTV STREAM or FuboTV.
This Bally Sports+, you can watch directly through BallySports.com. But most fans will want to watch on streaming devices. Currently, the choices are relatively meager: Amazon Fire TV, Android TV-compatible TVs, tvOS, as well as mobile devices with iOS (iPhone, iPad) or Android.
Bally Sports Indiana Alternatives
It is still possible to watch Pacers, Reds, and Blues games without subscribing to DIRECTV STREAM. It is just a question of how well you can do it.
For instance, it may be possible to get Bally Sports Indiana directly through your cable provider. If you take this route, can stream the channel on the Bally Sports app. See below.
However, if you are intent on cutting the cord for good, you can still watch your favorite teams without a cable subscription. The most obvious way to do this is to limit yourself to nationally televised games. In that case, you will do well with a subscription to a general live streaming service like Hulu Live or Sling TV.
If you do not live in the Indiana area but want to watch Indiana-based sports teams, you have a number of options:
MLB.TV: Get all non-blacked out games $24.99/mo. Blacked out games may be watched 90 minutes after they complete.
NBA League Pass: Get all non-blacked out games for $28.99/mo. Blacked out games are usually not available for 3 days so this service really isn't useful for Indiana-based fans.
NHL Center Ice: An out-of-market streaming service. Blacked out games are available after two days, so as with NBA League Pass, this is not a good choice for in-market fans.
ESPN+ is also a good option for MLB and NHL fans.
You can also stream Bally Sports Indiana using internet, cable, and satellite providers Cox, DIRECTV satellite, Mediacom, Optimum, Spectrum, SuddenLink, U-verse, WOW, and Xfinity.
Devices and TVs for Bally Sports Indiana
Most likely, FuboTV and DIRECTV STREAM support the streaming devices you already own. These include Amazon Fire TV, Android Mobile, Android TV smart TVs, Apple TV, Chromecast, iOS mobile devices, Roku, Samsung, and most web browsers.
DIRECTV STREAM offers its own device for $120 or $5/mo. And FuboTV offers many other smart TVs as well as the Xbox gaming system.
Additionally, Bally Sports has its own app that you can watch on. These are available on even more devices. To use this app, you need to log in using your DIRECTV STREAM or FuboTV credentials. If you have a cable or satellite provider, those should work too.
Superpower Your Live TV Streaming With a VPN
You can't beat a VPN for privacy, security, and access. We have used them for years as an important part of our streaming toolkit and we recommend ExpressVPN.
What Is Bally Sports Indiana?
Bally Sports Indiana is a regional sports network (RSN) that is available to those living throughout the central portion of Indiana. It is based in St Louis, Missouri — along with sister stations Bally Sports Kansas City and Bally Sports Midwest. (In many ways, they are all the same station.)
It is part of the network of 19 Bally Sports channels owned by Diamond Sports Group, a company formed for that purpose by Sinclair Broadcast Group and Entertainment Studios. It gets its name from Bally's Corporation through a licensing deal.
You can obtain access to this network through your local cable provider or by subscribing to DIRECTV STREAM.
Sign Up for a Free 7-Day Fubo Trial
You cannot get access to this network if you live outside of its broadcast area as it does not own the rights to do so. Those outside this area have other options, which we discuss below.
Bally Sports Indiana is the home of the Pacers. They provide Pacers games to sister station Bally Sports Midwest. Bally Sports Indiana also airs Cincinnati Reds games via Bally Sports Ohio and St Louis Blues games via Bally Sports Midwest.
Depending on where you are located, you will also see St Louis Cardinals games as well as games from the Detroit area.
The WNBA's Indiana Fever are occasionally featured on Bally Sports Indiana. Other games will appear on NBA TV, CBS Sports Network, Facebook, ESPN3, and Amazon Prime.
Programming
Bally Sports Indiana is focused mostly on games. These include associated shows like Pacers Live Pre-Game and Pacers Live Post-Game, half-hour shows before and after games.
It also airs the other standard shows from the network like Live on the Line and Inside the Association. And it shows other sports, archival footages, and general licensed shows that should appeal to fans.
Chris Denari and former Indiana Pacers player Quinn Buckner team up to call the action from the hardwood in Indianapolis, Denari as play-by-play announcer and Buckner as analyst. They are joined by in-game reporter Jeremiah Johnson.
Wrapping Up
Bally Sports Indiana has the exclusive regional broadcast rights to Indiana Pacers games. However, this channel may also show content provided by other Bally Sports networks in the region.
FuboTV is our top choice for Bally Sports Indiana. Fubo allows you to try out its service free for 7 days.
FAQs
Why do I have to be inside the Bally Sports Indiana coverage area to get it?
Regional networks are only allowed to broadcast games within a specific geographic region. This region typically coincides with a local team's home market, to which it also has exclusive rights. Therefore, allowing a regional network to broadcast games outside of its designated broadcast zone would be a violation of a team's territorial rights.
Why is there a blackout on Bally Sports Indiana games?
If a national network such as ABC or ESPN has exclusive rights to a game, that broadcast will be shown to fans throughout the country and in turn, will be unavailable on Bally Sports Indiana (like playoff games). More often, a nationally televised game will be blocked on from local viewers and still play on Bally Sports Indiana.
Do I have to get Bally Sports Indiana through a third-party provider?
If you are in its broadcast area, you can now get Bally Sports Indian through Bally Sports+, the direct-to-consumer service for all 19 Bally Sports channels that started September 26th, 2022. It costs $19.99/mo or $189.99/yr. Do note, however, that it doesn't include any other channels so you may need to supplement it with a live TV streaming service. Or just get it through FuboTV or DIRECTV STREAM.
Does FuboTV offer Bally Sports?
As of February 2023, FuboTV offers most of the Bally Sports channels including Bally Sports Indiana. As with Hulu + Live TV and YouTube TV, FuboTV dropped the channels (then called Fox Sports) back in 2020. But they are now back. FuboTV offers most other RSNs as well.
Can I get Bally Sports Indiana with Hulu?
Hulu doesn't offer any live channels. Hulu + Live TV offers a great selection of 85+ live entertainment, news, and sports channels. But it does not offer any Bally Sports channels. But its $69.99/mo subscription price does include ESPN+ and Disney+, which may be enough for any but hardcore Indiana Pacers fans.
Does YouTube TV come with Bally Sports Indiana?
YouTube TV does not include any of the Bally Sports channels or much of any RSNs outside of a handful of NBC Sports channels. Otherwise, however, YouTube offers a good selection of sports channels, which should satisfy most fans. In fact, it offers a well-rounded channel lineup for non-sports viewers too.
How can I watch Bally Sports Indiana's games if I'm not in its coverage area?
If you are not in Bally Sports Indiana's coverage area, you can subscribe to out-of-market streaming services like MLB.TV, NBA League Pass, and NHL Center Ice. Alternatively, you can subscribe to general streaming services like FuboTV and Vidgo, ones that will allow you to watch nationally televised games.
Does Fox Sports Indiana still exist?
Fox Sports Indiana was rebranded as Bally Sports Indiana after being acquired by Diamond Sports Group (owned by Sinclair Broadcasting and Entertainment Studios). Diamond Sports acquired all 22 Fox Sports Networks (FSNs) in 2019 due to a demand by the US Department of Justice after determining that owning Fox Sports and ESPN would violate antitrust rules.
How can I watch the Reds' divisional rivals?
To watch other teams in the National League Central see the following articles:
How can I watch the Pacers' divisional rivals?
To watch other teams in the Central Division, see the following articles:
How do I watch sports on channels besides Bally Sports Indiana?
We have dozens of guides that explain how to watch sports on different channels without cable:
Ditch "Big Cable" Now – 3 Simple Steps to Cut the Cord
Pick the right streaming service
Get the content you deserve with the best VPN.
Supercharge your internet provider
That's it — you'll save money, take back control, and enjoy TV more!
Page Updates
▼
▲
Added VPN info. Added links to streaming services. Updated some sub-sections. Updated some section headings. Changes to sections. Removed section. Cleaned up list.

Added VPN info. Added links to streaming services. Added sub-section. Updated some sub-sections. Image changes. Cross linking.

Added buttons for streaming services. Changed a few bits of content.

Added some links. Pricing updates. Various changes to content.

Linking. Small layout changes.

Added sub-section. Added useful links. Pricing updates.

Pricing updates. Additional links. Misc changes.

More links. Formatting. Various changes.
Latest posts by Frank Moraes
(see all)