Disclosure:
Your support helps keep our site running! We earn referral fees for some of the products & services we recommend.
Learn more
If you live in cities such as Indianapolis, Terre Haute, or Muncie, you are likely within the Bally Sports Indiana broadcast zone. This network is the primary broadcast home of the Indiana Pacers as well as select college games between teams that may be of interest to local viewers.
It may also be possible to watch MLB games featuring the Cincinnati Reds or NHL games featuring the St Louis Blues.
In a hurry? For cord-cutters who want to cut to the chase, here it is: If you want Bally Sports Indiana, you need DIRECTV STREAM with the Choice, Ultimate, or Premier plans. You can try it risk-free because it comes with a two-week money-back guarantee.
What Is Bally Sports Indiana?
Bally Sports Indiana is a regional sports network (RSN) that is available to those living throughout the central portion of Indiana. You can obtain access to this network through your local cable provider or by subscribing to DIRECTV STREAM.
You cannot get access to this network if you live outside of its broadcast area as it does not own the rights to do so. Those outside this area have other options, which we discuss below.
Bally Sports Indiana is the home of the Pacers. They provide Pacers games to sister station Bally Sports Midwest. Bally Sports Indiana also airs Cincinnati Reds games via Bally Sports Ohio and St Louis Blues games via Bally Sports Midwest.
Depending on where you are located, you will also see St Louis Cardinals games as well as games from the Detroit area.
Streaming Bally Sports Indiana
A few years ago, FuboTV, Hulu + Live TV, and YouTube TV all provided Bally Sports Indiana to their subscribers. But it's been a while since all of them dropped their contracts. As a result, there is now only one streaming service that provides access to Bally Sports Indiana.
DIRECTV STREAM
DIRECTV STREAM offers multiple service packages that provide access to regional sports networks. Note that DIRECTV STREAM's zip-code lookup tool does not mention Bally Sports Indiana. It is, however, listed in their channel guide.
Subscribers in the Indianapolis area will also get:
Bally Sports Cincinnati: Reds (MLB)
Bally Sports Midwest: Pacers (NBA), Blues (NHL)
Marquee Sports Network: Cubs (MLB)
NBC Sports Chicago: White Sox (MLB), Blackhawks (NHL).
You get all these and roughly 100 other channels with the Choice plan for $84.99/mo. Beyond the RSNs and all the local network affiliates, you get the main national sports channels ESPN, ESPNU, FS1, MLB Network, NBA TV, and NBCSB.
If you move up to the Ultimate plan for $94.99/mo, you'll get 130+ channels including CBS Sports Network, FS2, and NHL Network. The Premier plan is much more expensive ($139.99/mo), but includes a bunch of premium channels from Cinemax, HBO, Showtime, and Starz.
For a thorough discussion of all this, see our DIRECTV STREAM review.
Get Bally Sports Indiana With DIRECTV STREAM!
Bally Sports Indiana Alternatives
It is still possible to watch Pacers, Reds, and Blues games without subscribing to DIRECTV STREAM. It is just a question of how well you can do it.
For instance, it may be possible to get Bally Sports Indiana directly through your cable provider. If you take this route, can stream the channel on the Bally Sports app. See below.
However, if you are intent on cutting the cord for good, you can still watch your favorite teams without a cable subscription. The most obvious way to do this is to limit yourself to nationally televised games. In that case, you will do well with a subscription to a general live streaming service like FuboTV or Sling TV.
If you do not live in the Indiana area but want to watch Indiana-based sports teams, you have a number of options:
MLB.TV: Get all non-blacked out games $24.99/mo. Blacked out games may be watched 90 minutes after they complete.
NBA League Pass: Get all non-blacked out games for $28.99/mo. Blacked out games are usually not available for 3 days so this service really isn't useful for Indiana-based fans.
NHL Center Ice: An out-of-market streaming service. Blacked out games are available after two days, so as with NBA League Pass, this is not a good choice for in-market fans.
ESPN+ is also a good option for MLB and NHL fans.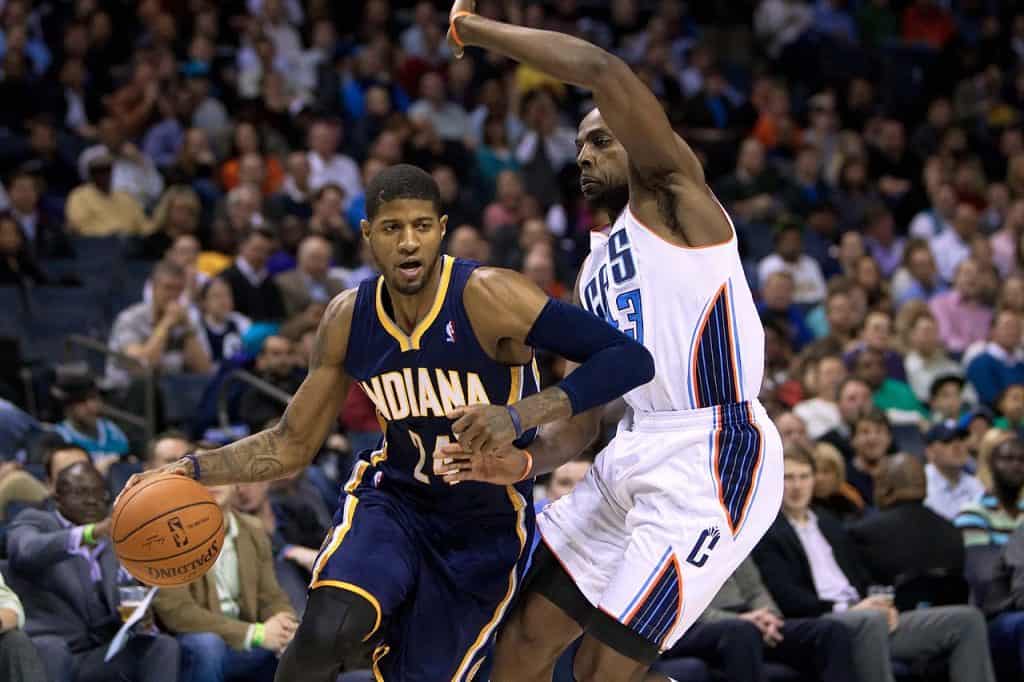 Devices and TVs for Bally Sports Indiana
Most likely, DIRECTV STREAM supports any streaming devices you already own. One weak area is its native coverage of smart TVs. It does support recent Samsung smart TVs but that's about it.
This isn't a problem, however. DIRECTV STREAM supports pretty much all the TV devices like Amazon Fire TV, Apple TV, and most devices from Roku.
And you can watch Bally Sports Indiana on your iOS and Android phones and tablets. You can also use them to stream to your TV that is Chromecast enabled or connected to one.
Most web browsers are also supported. Finally, DIRECTV STREAM offers its own device for $120 or $5/mo.
Additionally, Bally Sports has its own app that you can watch on. These are available on even more devices. To use this app, you need to log in using your DIRECTV STREAM credentials. If you have a cable or satellite provider, those should work too.
Wrapping Up
Bally Sports Indiana has the exclusive regional broadcast rights to Indiana Pacers games. However, this channel may also show content provided by other Bally Sports networks in the region.
You can get access to this network's content by signing up for DIRECTV STREAM or by subscribing to this network through your local cable provider. If all these fail, other services offer the channels that provide national broadcasts of the teams that you follow.
FAQs
Why do I have to be inside the Bally Sports Indiana coverage area to get it?
Regional networks are only allowed to broadcast games within a specific geographic region. This region typically coincides with a local team's home market, to which it also has exclusive rights. Therefore, allowing a regional network to broadcast games outside of its designated broadcast zone would be a violation of a team's territorial rights.
Why is there a blackout on Bally Sports Indiana games?
If a national network such as ABC or ESPN has exclusive rights to a game, that broadcast will be shown to fans throughout the country and in turn, will be unavailable on Bally Sports Indiana (like playoff games). More often, a nationally televised game will be blocked on from local viewers and still play on Bally Sports Indiana.
Do I have to get Bally Sports Indiana through a third-party provider?
Bally Sports does not currently offer subscriptions directly to individuals. At some point in the future, there may be a Bally Sports streaming service made available to consumers. The only way to stream Bally Sports Indiana content right now is through DIRECTV STREAM or by subscribing to this channel through a cable provider.
How can I watch Bally Sports Indiana's games if I'm not in its coverage area?
If you are not in Bally Sports Indiana's coverage area, you can subscribe to out-of-market streaming services like MLB.TV, NBA League Pass, and NHL Center Ice. Alternatively, you can subscribe to general streaming services like FuboTV and Vidgo, ones that will allow you to watch nationally televised games.
Does Fox Sports Indiana still exist?
Fox Sports Indiana was rebranded as Bally Sports Indiana after being acquired by Diamond Sports Group (owned by Sinclair Broadcasting and Entertainment Studios). Diamond Sports acquired all 22 Fox Sports Networks (FSNs) in 2019 due to a demand by the US Department of Justice after determining that owning Fox Sports and ESPN would violate antitrust rules.
How do I watch sports on channels besides Bally Sports Indiana?
We have dozens of guides that explain how to watch sports on different channels without cable:
Latest posts by Frank Moraes
(see all)