Disclosure:
Your support helps keep our site running! We earn referral fees for some of the products & services we recommend.
Learn more
Bally Sports Ohio, which got its start in 1989 as SportsChannel Ohio, broadcasts locally produced games played by several Ohio-based teams to those located in and near the Buckeye State. But it isn't necessary to have a cable contract to watch it. Read on to learn your options.
In a hurry? The only streaming service that provides access to Bally Sports Ohio is DIRECTV STREAM for $89.99 per month. A 5-day free trial is now available for DIRECTV STREAM.
What Is Bally Sports Ohio?
Bally Sports Ohio is one of numerous Bally Sports channels across the nation. It is a regional sports network (RSN), which broadcasts local sports for local fans.
Its programming is only available to those located in its broadcast area although those situated elsewhere can watch out-of-market Bally Sports Ohio game broadcasts through a service such as NBA League Pass ($28.99/mo).
Where Is Bally Sports Ohio Available?
As expected, Bally Sports Ohio is available throughout Ohio. But its broadcast area stretches into Indiana, Kentucky, West Virginia, Pennsylvania, and New York.
What Sports Teams Does Bally Sports Ohio Cover?
Major sports teams covered by Bally Sports Ohio include the Cincinnati Reds (MLB), Cleveland Cavaliers (NBA), Columbus Blue Jackets (NHL), and Columbus Crew (MLS).
Note that several Crew matches are instead shown on its sister channel, Bally Sports Great Lakes, while all locally produced broadcasts of FC Cincinnati (MLS) matches can be found on WSTR Star 64, which is available to DIRECTV STREAM subscribers there.
A notable Ohio-based team not carried by this channel is the Cleveland Guardians (MLB). Their locally-produced games may be found on Bally Sports Great Lakes. Subscribers in Cleveland should also note that Bally Sports Ohio's broadcasts of Reds games are blacked out there although they can access those same broadcasts through an MLB.TV subscription ($24.99/mo).
As is the case throughout the rest of the country, no NFL games are available on Bally Sports Ohio. Those wanting to watch the Cleveland Browns or Cincinnati Bengals play will need to instead head to CBS, Fox, NBC, ABC, ESPN, or NFL Network.
Meanwhile, NCAA Division I sporting events are on a variety of channels, largely dependent on a school's conference or which conference the home team is a member of in the case of non-conference away match-ups.
A few college games are shown on Bally Sports Ohio, but that number is relatively small, and many of those feature teams that do not have a geographical connection with Ohio.
Get Bally Sports Ohio With DIRECTV STREAM!
Bally Sports Ohio Commentators
John Sadak started his tenure as the Cincinnati Reds' television play-by-play announcer in 2021. Chris Welsh, who completed his five-year playing career with a stint in Cincinnati in 1986, joins him as analyst.
Over at Rocket Mortgage FieldHouse, John Michael (play-by-play) and Austin Carr (analyst) describe Cleveland Cavaliers games to the team's local viewing audience. They are sometimes joined by Brad Daugherty. Carr and Daugherty both played for the Cavs.
Above the rink at Nationwide Arena commenting on Columbus Blue Jackets games are Jeff Rimer (play-by-play), Jody Shelley (color analyst), and Dave Maetzold (rink side reporter).
Less than a mile away at Columbus Crew matchups, Neil Sika (play-by-play), Jordan Angeli (analyst), and Brett Hiltbrand (sideline reporter) add their words to the images.
Stream Bally Sports Ohio With DIRECTV STREAM

Those looking to get rid of their cable bill while enjoying Bally Sports Ohio's coverage of the Reds, Cavaliers, Blue Jackets, and Crew need to subscribe to DIRECTV STREAM as that is, unfortunately, the only option. Subscribing to its Choice plan for $89.99/mo will grant you that channel as well as the Big Ten Network, ESPN, ESPNU, FS1, NBC Sports Network, and SEC Network.
Subscribers making the move up to its Ultimate plan, which costs $94.99/mo, will also get CBS Sports Network (CBSSN) and FS2. Fans of Mid-American Conference schools, of which there are six in Ohio, should note that some MAC football and men's basketball games are shown on CBSSN.
In some cases, those who subscribe to at least DIRECTV STREAM's Choice plan will also receive one or more other RSNs. For example, Columbus-based subscribers will get Bally Sports Great Lakes and AT&T SportsNet Pittsburgh as well.
For more information, see our DIRECTV STREAM review.
Alternatives to Bally Sports Ohio
MLB.TV ($24.99/mo), NBA League Pass ($28.99/mo), and ESPN+ ($6.99/mo) offer out-of-market broadcasts to MLB, NBA, NHL, and MLS fans. These are great options for either displaced Ohioans or those who do not have a connection with the state but adopted at least one of its teams as part of their sports fandom.
However, those within Bally Sports Ohio's broadcast area generally cannot use those services to watch their teams. One significant exception, however, is that Guardians fans in Cincinnati and Reds fans in Cleveland can view their favorite team's games on MLB.TV despite being in the same state.
Otherwise, those in this broadcast area do not really have any alternatives unless they do not mind only watching a select number of their teams' games – the ones that are shown nationally. This is a viable option if you would simply like to see your teams play every once in a while in addition to their significant games (the majority of playoff games in these leagues are shown nationally).
If the latter situation describes you, you could subscribe to a different, more affordable streaming service. Other options include Sling TV ($35/mo), Vidgo ($59.95/mo), FuboTV ($69.99/mo), and Hulu + Live TV ($69.99/mo).
Keep in mind that if your sporting focus is solely on one or more college teams, you will not miss much by not having access to Bally Sports Ohio. For example, if you would like to watch the Ohio State Buckeyes play, instead make sure that you have access to channels such as Fox, ABC, FS1, ESPN, ESPN2, CBS, TNT, and Big Ten Network.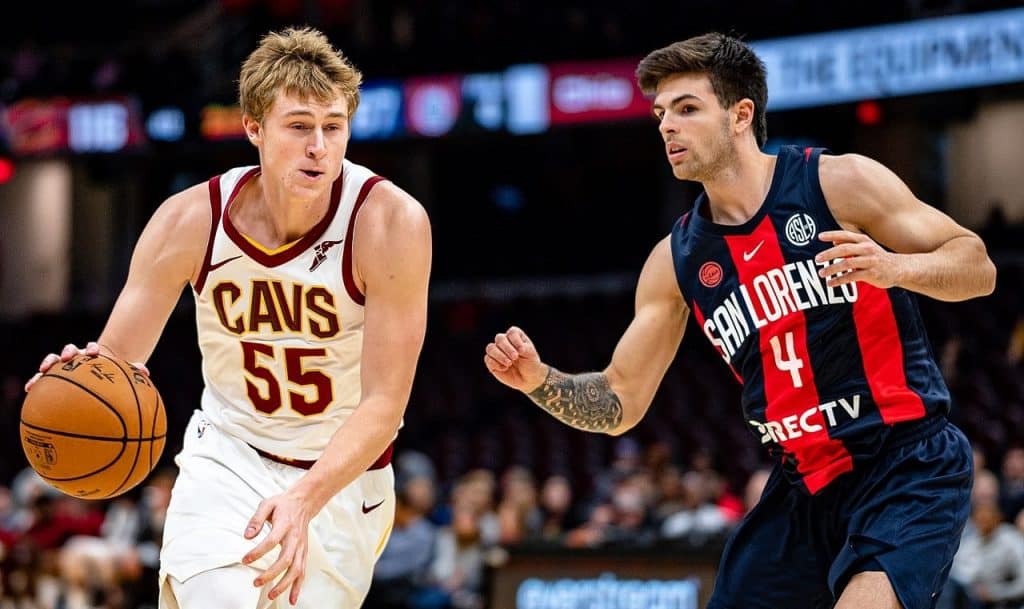 Watch Bally Sports Ohio on Your Streaming TV or Device
DIRECTV STREAM allows you to watch Bally Sports Ohio on most streaming devices. The only explicit smart TV they support is Samsung (recent models). But they also support popular TV devices like Amazon Fire TV, Apple TV, and Roku.
Smartphones and tablets running iOS and Android are supported. You can also use them (and Chrome web browsers) to cast to your TV using Chromecast (either built-in or with an external device). DIRECTV STREAM also offers their own device, which can make the switch from cable to streaming easier. These devices are pricey at $120 but you can pay $5/mo instead.
Your DIRECTV STREAM subscription also allows you to use the Bally Sports App. It supports many devices including Android TV-based devices/TVs and Xbox One gaming consoles.
Wrapping Up
Bally Sports Ohio is essential for Ohio-based sports fans who cheer for major league teams located in the Buckeye State. DIRECTV STREAM ($89.99/mo) is your only option if you want to get this channel while also killing your cable bill.
There's no risk. A 5-day free trial is now available for DIRECTV STREAM.
FAQs
Can I subscribe directly to Bally Sports Ohio?
Unfortunately, channels can rarely be subscribed to directly, and that is the case with Bally Sports Ohio or any Bally Sports affiliate. There has been a rumor that this might change in the coming years but there is nothing certain. Your sole online-only option to get this channel is DIRECTV STREAM ($89.99/mo).
What happened to Fox Sports Ohio?
Fox Sports Ohio became Bally Sports Ohio on March 31, 2021, the day before the Cincinnati Reds opened their campaign with a home game versus the St Louis Cardinals. That was the result of all Fox Sports affiliates being sold due to a requirement from the US Justice Department.
What is Bally Sports Great Lakes? What about Bally Sports Cincinnati?
Bally Sports Great Lakes is a sister channel of Bally Sports Ohio. Its focus is the Cleveland Indians, and it shows nearly all of that team's games. Bally Sports Cincinnati is not an actual channel. It is instead the branding sometimes used to advertise Bally Sports Ohio's coverage of the Cincinnati Reds.
How can I watch Bally Sports Ohio if I am not in its broadcast area?
You cannot watch Bally Sports Ohio if you are not in its broadcast area. However, those who are not blacked out from their favorite teams can still catch many of its game broadcasts through MLB.TV ($24.99/mo), NBA League Pass ($28.99/mo), and ESPN+ ($6.99/mo). This last service provides a lot of coverage of NHL and MLS games.
How can I watch the Reds' divisional rivals?
See the following articles about other teams in the National League Central:
How can I watch the Blue Jackets' divisional rivals?
See the following articles about other teams in the Metropolitan Division:
How can I watch the Cavaliers' divisional rivals?
See the following articles about other teams in the Central Division:
How can I watch sports on channels besides Bally Sports Ohio?
You can learn how to watch games on other channels with the following guides:
Latest posts by Frank Moraes
(see all)