Disclosure:
Your support helps keep our site running! We earn referral fees for some of the products & services we recommend.
Learn more
Bally Sports SoCal is a must-have channel for those who want to watch the NBA's Los Angeles Clippers or the NHL's Anaheim Ducks as it broadcasts locally produced games played by those teams.
In a hurry? Cord-cutters have one option when it comes to Bally Sports SoCal: you need to subscribe to the DIRECTV STREAM Choice Plan for $89.99/mo. But it's worth it because you will likely get other RSNs and roughly 100 other channels. A 5-day free trial is now available for DIRECTV STREAM.
DIRECTV STREAM is the only option for streaming any of the Bally Sports regional sports networks. And that's true for other RSNs as well.
With that said, DIRECTV STREAM ($89.99/mo) is a solid option for LA-based sports fans as it also offers those in the respective channels' broadcast areas access to Bally Sports West, SportsNet LA, and Spectrum SportsNet. These channels show MLB's Los Angeles Angels and Dodgers, the NBA's Los Angeles Lakers, the NHL's Los Angeles Kings, and MLS's Los Angeles Galaxy.
The only major sports franchises in the LA area not carried by that collection of sports networks are the NFL's Chargers and Rams, who you can watch on over-the-air and national cable channels, which you also get with DIRECTV STREAM.
Watch the Ducks With DIRECTV STREAM
What Is Bally Sports SoCal?
Bally Sports SoCal, like Bally Sports West, was originally named Prime Ticket and launched under that moniker in 1985. In the years since, it has also been known as Fox Sports West 2, Fox Sports Net West 2, and FSN West 2.
It took its current name on March 31, 2021, a few months after Bally's Corporation was brought on as a corporate sponsor of the now-named Bally Sports RSNs that are spread across the country.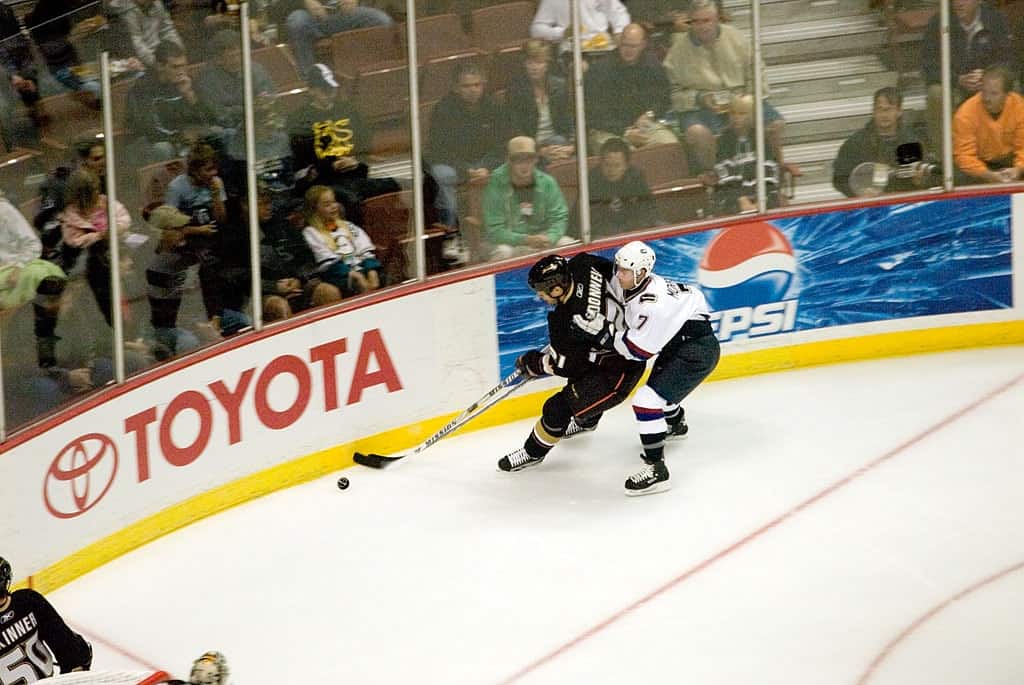 Where Is Bally Sports SoCal Available?
Bally Sports SoCal's broadcast area stretches a considerable distance from the LA metropolitan area. It not only covers all of Southern California but also the Las Vegas metropolitan area and Hawaii.
However, do take into account that some of the teams carried by this RSN are blacked out in some areas. For example, the Ducks are blacked out in Las Vegas as the Vegas Golden Knights are the local team there. The Golden Knights may be viewed on AT&T SportsNet Rocky Mountain West, which DIRECTV STREAM also carries.
Also note that those in San Diego do not get Bally Sports SoCal. They instead receive Bally Sports San Diego, which does carry the Clippers and Ducks but also carries MLB's San Diego Padres.
Which Sports Teams Does Bally Sports SoCal Broadcast?
Bally Sports SoCal's broadcast schedule is busy during the winter months as the channel's primary focuses are the Los Angeles Clippers and Anaheim Ducks.
During the 2021-22 NBA season, the network was scheduled to show the Clippers 73 times with three more games being broadcast on Bally Sports West. Meanwhile, the Ducks have a greater split between those channels. During that same campaign, 39 Ducks games are being shown on Bally Sports SoCal with 22 on Bally Sports West. Another three are being broadcast on KCOP 13, LA's MyNetworkTV affiliate.
Various sports programming fills the rest of this network's slate, including sports events and shows related to poker, surfing, beach volleyball, boxing, and college sports. Note that its college sports coverage rarely features LA-area schools.
Meanwhile, if you are looking for the Los Angeles Dodgers, head to SportsNet LA. Los Angeles Lakers and Los Angeles Galaxy contests are generally shown on Spectrum SportsNet. Those wanting to catch the Los Angeles Angels and Los Angeles Kings will likely be tuning into Bally Sports West. All of these are provided by DIRECTV STREAM to local subscribers.
Fans of the Los Angeles Chargers and Los Angeles Rams will not find any of their games on any RSNs. They are instead shown on CBS, Fox, NBC, ABC, ESPN, and NFL Network.
Subchannels
If you are looking to watch tonight's Los Angeles Clippers or Anaheim Ducks contest and it is not being shown on Bally Sports SoCal or a national outlet such as TNT or ESPN, check Bally Sports West and KCOP 13. Those are where spillover contests are sent in the cases of multiple games being played simultaneously.
Games shown on KCOP 13 are also available through BallySports.com and the Bally Sports app assuming you have a DIRECTV STREAM subscription.
Bally Sports SoCal Commentators
Los Angeles Clippers broadcasts are accompanied by Brian Sieman, who serves as the play-by-play announcer, either Mike Fratello or Jim Jackson in the analyst seat, and either Kristina Pink or Jaime Maggio as the sideline reporter.
Describing the action from Honda Center for Anaheim Ducks games are John Ahlers, who has been the team's play-by-play voice for 20 seasons, and Brian Hayward, a color analyst who has been with the Ducks for 29 years. Aly Lozoff serves as the reporter.
Streaming Bally Sports SoCal
Although Bally Sports SoCal used to be available through a number of streaming services, that is no longer the case. Unless you want to get this RSN through a cable or satellite service, you have one option: DIRECTV STREAM. You will need to get at least its Choice plan ($89.99/mo) in order to access this channel or any of the other RSNs local to your area that it offers.
Note that its Choice plan will also get you channels such as ESPN, ESPN2, Fox Sports 1 (FS1), MLB Network, and NBA TV. However, you will need to move up to its Ultimate plan ($104.99/mo) if you want to watch channels such as the NHL Network, CBS Sports Network, Fox Sports 2 (FS2), and Olympic Channel.
Alternatives to Bally Sports SoCal
The good news is that if you are looking to watch the Los Angeles Clippers or Anaheim Ducks, you can see a selection of their contests with an antenna. This includes games broadcast on network affiliates, such as any contests that the Clippers or Ducks play on ABC. Additionally, the Ducks are shown on KCOP 13.
Of course, if you are situated outside of the blackout areas for those teams, you could watch out-of-market broadcasts of Clippers games through NBA League Pass ($28.99/mo) and Ducks matches through ESPN+ ($6.99/mo).
Meanwhile, other streaming services, such as Hulu + Live TV ($69.99/mo), FuboTV ($64.99/mo), YouTube TV ($64.99/mo), Sling TV ($35/mo), and Vidgo ($55/mo), will grant you access to nationally telecast games. The first three of them also provide access to matchups that are being shown on KCOP 13.
Get Bally Sports With DIRECTV STREAM
TVs and Devices to Stream Bally Sports SoCal
You can use most devices to watch Bally Sports SoCal with DIRECTV STREAM. It supports all the standard TV devices: Amazon Fire TV, Apple TV, and Roku. And it supports Chromecast devices. Finally, it supports smartphones and tablets that run iOS (iPhone, iPad) and Android.
It also supports Samsung smart TVs and most web browsers like Chrome, Edge, and Safari. (In fact, it has a surprisingly good web interface.) Finally, DIRECTV STREAM offers its own streaming device, which you can buy outright for $120 or $5/mo for 24 months.
Wrapping Up
Simply put, if you are in Bally Sports SoCal's broadcast area and want to watch the Los Angeles Clippers or Anaheim Ducks play as often as possible without a cable or subscription bill, DIRECTV STREAM is your only option. Note that you would need to get its Choice plan ($89.99/mo) at a minimum in order to access Bally Sports SoCal as well as Bally Sports West and, for those in the LA area, KCOP 13. But that provides a great overall cable-replacement service.
See our DIRECTV STREAM review for more details about it. A 5-day free trial is now available for DIRECTV STREAM.
FAQs
Can I watch LAFC on Bally Sports SoCal?
The Major League Soccer team Los Angeles FC used to be the primary focus of Bally Sports SoCal in the summer months. During the 2021 season, 18 of that club's matches were shown on either Bally Sports SoCal. Now, games appear on KCOP 13 (English) and Estrella (Spanish). DIRECTV STREAM provides both these channel as well. Fans outside the LA area can watch on ESPN+.
How can I watch the Ducks' divisional rivals?
For more about the other teams in the Pacific Division, see these articles:
How can I watch the Clippers' divisional rivals?
For more information about the other teams in the Pacific Division, see these articles:
How can I watch the LAFC's conference rivals?
The other teams in the Western Conference can be similar streamed. See the following:
How to Watch Other Sports Channels
Check out the guides below for information on watching them without cable:
Latest posts by Frank Moraes
(see all)