Originally launched in 1998 to create a niche for non-British fans of British lifestyle shows, BBC America is the "official" outlet of the British Broadcasting Corporation (though, as you can see below, not the only one).
In a hurry? These are our favorite choices for streaming services that offer BBC America and a lot more:
DIRECTV STREAM: Makes it easy to switch from cable to streaming with their 75+ channel Entertainment plan and options for much more. A 5-day free trial is now available for DIRECTV STREAM.
Philo: This service gives you 60+ live TV channel for just $25/mo!
Sling TV: The top low-cost streaming service provides a great base channel lineup in both its plans. Save 50% your first month with Sling TV.
If you can't watch your favorite movies and shows because of your location, try ExpressVPN to get access to the content you deserve.
Unfortunately, we don't know a streaming service in that offers this TV channel. But if you've already paid for the right service, and just can't watch because of your location, there is an easy way to get the sports, movies, and TV you deserve. You need a VPN, like one of the following.
| | | |
| --- | --- | --- |
| | ExpressVPN: Known as "The VPN that just works," it combines remarkable ease of use with with state-of-the-art power, speed, security, and privacy. Get three extra free months when you sign up for a year. Unleash your streaming with this top-rated VPN. | Sign Up Now |
| | Surfshark: Surfshark: Secure and easy to use with thousands of servers around the world. Of special note is its excellent collection of servers inside the US, which is great for regional sports lie NFL, MLB, and NBA. Get it now with an incredible 82% discount on a 24-month plan. | Sign Up Now |
| | NordVPN: One of the top VPNs with extremely fast servers all over the world. Great for streaming with tested perfomance on the biggest servers and included ad-blocking. Currently offering 70% discount on 2-year plans. | Sign Up Now |
If you're overwhelmed and not sure where to begin, you'll find all the answers in our full VPN guide.
Since its debut, BBC has become a little more "America" and less "BBC." (Hey, Star Trek, what are you doing here?!) But it's still a reliable place to catch new episodes of Doctor Who and classic episodes of Monty Python.
Cue up "God Save the Queen" and grab a scone to nosh while you read all about how you can watch your UK telly faves whilst tossing your cable bill in the rubbish bin.
How to Watch BBC America Live Without Cable
BBC America is co-owned by BBC Studios and AMC Networks, making it sister-stations with AMC, BBC World News (in the US), IFC, and Sundance TV. It's a "basic cable" channel — a term that will probably be in use long after its meaning is relevant, like "hanging up" a phone.
These days, it just means you are likely to find it in the base package of your TV provider — but that provider doesn't have to be a cable company. Newer services that stream over the internet can give you the same and better features and channels, depending on your preference.
What's generally true is that streaming services are cheaper than cable or satellite companies. Which services carry BBC America? Read on to find out.
Unblock Your Favorite Movies and Shows With a VPN
If you can't watch your favorite movies and shows because of your location, a VPN will allow you to get the access you are entitled to, plus extra security and unequalled privacy. Check out our VPN Guide for everything you need to know, including our top pick ExpressVPN.
Other brands worth checking out include Hotspot Shield and CyberGhost.
Streaming Services with BBC America
Of the six major live TV streaming services, FuboTV, Hulu + Live TV, and Vidgo do not carry AMC Networks channels. But the other four all have BBC America in their base tier. So you don't have to pay any more than necessary to want BBC World News, which for some reason often ends up as an add-on.
Let's dive in, shall we?
Philo

Philo doesn't have any tiers, but its single plan is impressive: 60+ channels for $25/mo. You also get unlimited cloud DVR storage and you can stream on 3 devices at once.
Downside: no WarnerMedia channels, NBCUniversal channels, sports channels, or local network affiliates. You have seven days to decide if you can live without them.
On the plus side, BBC World News (the only news channel on Philo) is available next to its siblings BBC America, AMC, IFC, and Sundance TV.
Our Philo review has far more details.
Sling TV

Sling TV is the grand-daddy of cable replacement services, so it's structured a little differently.
You have the base packages Orange and Blue for $40.00/mo for either one (or $55.00/mo for both), and then a bunch of genre-based add-ons of roughly a dozen channels that are mostly around $6/mo extra. In addition, Sling has a selection of "premium" a la carte channels starting at $3/mo extra.
BBC America, AMC, and IFC are all available in either base package, but BBC World News is in the News Extra and Sundance TV is in the Hollywood Extra. Sling's premium channels include Acorn TV and Sundance Now, both of which are full of British goodies.
Find out more in our Sling TV review.
DIRECTV STREAM

DIRECTV STREAM has four tiers of channels, starting with Entertainment, with roughly 80 channels, including your local network affiliates, for $74.99/mo. You also get unlimited hours of cloud DVR storage and you can stream on unlimited devices in your home.
DIRECTV STREAM has BBC America, AMC, IFC, and Sundance TV all in its Entertainment Package. BBC World News is available two tiers up in the Ultimate package for $109.99/mo. This ups your total channel selection to 130 and includes a lot of sports including DIRECTV STREAM's unmatched RSN selection.
Read more in our DIRECTV STREAM review.
Get DIRECTV STREAM Free for 5 Days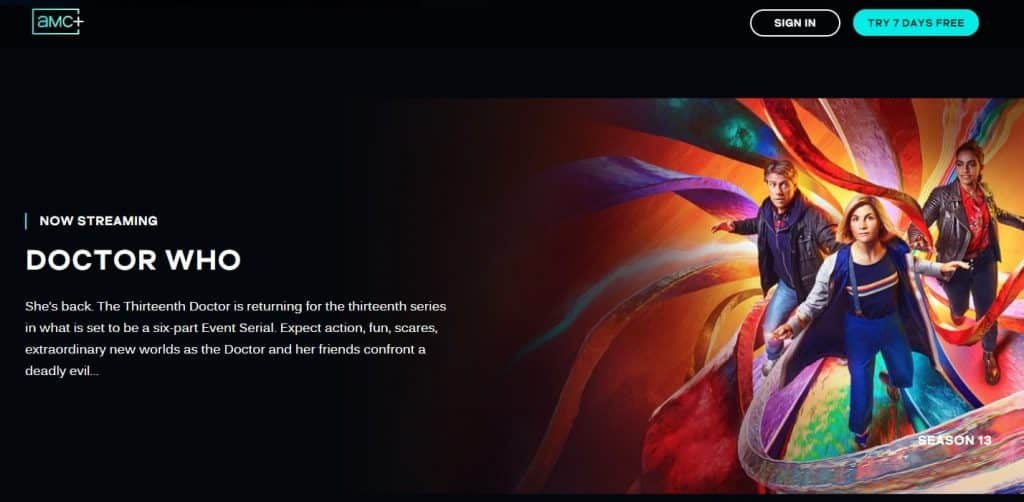 Other Ways to Stream BBC America
But that's not all! There are plenty more ways to watch BBC America and other British shows and movies.
YouTube TV: 85+ channels for $$72.99/mo, unlimited cloud DVR, 7 day free trial, includes BBC America.
AMC+: AMC Networks' ad-free on-demand streaming service, including "the best content" from AMC, BBC America, IFC, and Sundance TV, plus all the content from AMC Networks' other premium streaming services Sundance Now, IFC Films Unlimited, and Shudder. Plans start at $4.99/mo and come with a 7-day free trial. Featured UK titles include Top Gear, Ragdoll, Happy Valley, and the AMC+ Originals The North Water and Gangs of London.
Sundance Now: More British than its film festival namesake, Sundance Now has an entire section of British Dramas, including exclusives Des, Pennance, and The Drowning. Starts at $4.99/mo, has a 7-day free trial.
Discovery+: Discovery co-owned BBC America before AMC did, and it managed to lock up much of BBC's unparallelled natural history library — including Planet Earth I & II, Blue Planet (I and II), Frozen Planet, and Nature's Great Events — to exclusively stream on its own streaming service, Discovery+. Plans start at $4.99 with a seven-day free trial.
Acorn TV: AMC Network's niche service specializing in British TV (over 200 programs) with a side of programming from Ireland, Canada, Australia, New Zealand, and continental Europe. British titles include Acorn TV Originals Pitching In and Queens of Mystery and Acorn TV exclusives Islands of America and Murphy's Law. Acorn TV is $5.99/mo, with 7 day free trial.
BritBox: AMC is also the US partner to this BBC-ITV collaboration. Streaming over 250 British titles for $6.99/mo, it has the most content (quality to be determined by you), and together with Acorn TV are regarded as the streaming services for Anglophiles. Notable titles include the original Upstairs Downstairs, Fawlty Towers, and A Bit of Fry and Laurie.
Amazon Prime Video: This on-demand service is included with your Amazon Prime membership, or comes $8.99/mo by itself. Several Amazon Original British titles are Good Omens, The Grand Tour, and Clarkson's Farm. Amazon Prime Video has "Channels," that are add-on subscriptions with varying monthly prices and seven day free trials. Two of them are Amazon-exclusive sources of British TV:

Best of British TV: $3.99/mo, despite its name it has both movies and TV; some featured titles are Britain on Call, Betrayal, and Outnumbered.
PBS Masterpiece: $5.99/mo, WGBH Boston's amazing collection of British TV includes Unforgotten, The Hunter, and Sanditon.

Peacock: Not the first place you look when you want British TV, NBCUniversal's streaming service has two original British shows: The Capture and Intelligence, as well as Downton Abbey, Noughts + Crosses, and Departure. Accounts are free, $4.99/mo to unlock all content.
HBO Max: HBO collaborates a lot with BBC Studios, as well as being a major importer of global high-quality programming, including from Britain. Titles include His Dark Materials, The Office (UK version), Gentleman Jack, Years and Years, and many others. Subscriptions start at $9.99/mo.
Netflix: Over 200 British shows, by some estimates, including the Netflix-produced The Crown. Other exclusives are Black Mirror and The Great British Baking Show, plus Scottish series Burnistoun and Chewin' the Fat. Easy to find genre categories such as British Crime TV Dramas, British TV Detective Shows, British Comedies, and so on. Accounts start at $8.99/mo.
PBS Passport: Decades before Acorn TV, BritBox, and even BBC America, PBS was bringing the best of British TV to the US. If you aren't already a member of your local PBS station, this is a great reason to become one. For $5/mo, you can stream titles like Call the Midwife, Arthur & George, Grantchester, and the Patrick Stewart productions of Hamlet and Macbeth.
BFI Player Classics: The British Film Institute hand-picked this collection of classic English films, featuring a number of hard-to-find titles. It is $5.99/mo with 7 day free trial. Available films include: The Ladykillers, The Third Man, The Wicker Man (the original), and The Man Who Fell to Earth.
BBC Select: This service features BBC-produced documentaries on all subjects for $4.99/mo with a seven-day free trial. Available only on Amazon Prime Video Channels or Apple TV.
Hulu: Hulu's Live TV service might not carry BBC America, but that doesn't mean Hulu's on-demand library doesn't have a fair bit of UK programming. It is only $6.99/mo with a 30-day trial. Hulu Original series from across the pond include: Harlots, National Treasure, National Treasure: Kiri, Becoming Bond, The Bisexual, and Hard Sun.
The Criterion Channel: For almost 40 years, the Criterion Collection has been dedicated to restoring and preserving the best films of all kinds from around the globe. This includes some of the most critically-acclaimed British films of all time. Subscriptions are $10.99/mo or $99.99/yr with a 14 day free trial. A few films from the UK that have received the Criterion treatment are Maurice, The Plague Dogs, Mahler, Last Holiday, and Bad Timing.
Pluto TV: You have to hunt for it, but there is plenty of British programming on this ad-supported free service. Live channels with English content are British Drama (Ch. 154), BritBox Mysteries (Ch. 387), BBC Food (Ch. 609), and BBC Home (Ch. 610). Plus, there are channels streaming marathons of classic Doctor Who, Midsomer Murders, and the UK Antiques Roadshow. A lot of these episodes on demand.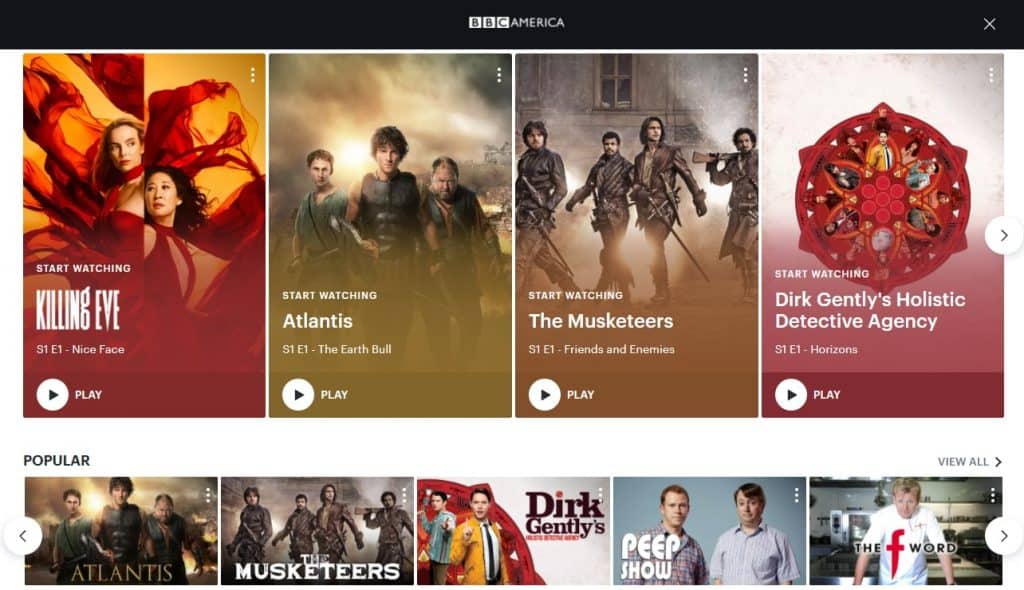 Superpower Your Live TV Streaming With a VPN
You can't beat a VPN for privacy, security, and access. We have used them for years as an important part of our streaming toolkit and we recommend ExpressVPN. Other brands worth checking out include Hotspot Shield and CyberGhost.
TVs and Streaming Devices for BBC America
You can watch BBC America on most modern streaming devices and TVs.All the services support the "stick" TV devices: Amazon Fire TV, Apple TV, and Roku.
Mobile devices running Android and iOS (iPhone/iPad) are also universally supported. And you can use Chromecast to cast from your smartphone or web browser to your TV.
You can, of course, use a web browser, which can also be connected to a TV.
DIRECTV STREAM does not currently support Android TV-based devices, but all the other services do.
Other than Philo, all the services support Samsung smart TVs. Sling TV supports LG and Vizio smart TVs as well as the Xbox One gaming system and the Oculus VR system.
There are more devices supported, which you can find in our individual reviews linked to above.
Wrapping Up
So if you fancy yourself a fan of UK telly or movies, pour yourself a nice cup of tea and enjoy BBC America without cable. You'll get quirky sci-fi, dark crime dramas, and that dry British wit. Sign up for one of the services above, and say "Cheerio!" to your cable bill forever.
FAQs
What kind of shows can I watch on BBC America?
BBC America offers a selection of BBC Studios-produced British TV, "critically acclaimed, thought-provoking" movies (from Britain or America), the BBC natural history shows Discovery+ didn't nab (see above), and some American shows (Star Trek: The Next Generation, Deep Space Nine, and Voyager). It also airs the PDC World Darts Championship.
Top shows currently on BBC America are:
Dirk Gently's Holistic Detective Agency
Doctor Who
Doctor Who: The Evil of the Daleks
Eden: Untamed Planet
The Graham Norton Show
Killing Eve
Life
Meerkat Manor: Rise of the Dynasty
Orphan Black
Star Trek: The Next Generation
Star Trek: Deep Space Nine
Top Gear
The Watch
A Wild Year on Earth.
How can I watch channels other than BBC America without cable?
You'll find details about watching other channels in these guides:
Ditch "Big Cable" Now – 3 Simple Steps to Cut the Cord
Pick the right streaming service
Get the content you deserve with the best VPN.
Supercharge your internet provider
That's it — you'll save money, take back control, and enjoy TV more!
Page Updates
▼
▲
Updated some section headings. Updated some sub-sections. Additional links.

Added buttons for streaming services. Updated some sub-sections. Image changes. Pricing updates.

Image changes. Pricing updates. More links.

Added VPN info. Image changes. Added a few links. Pricing updates.

Image changes. Pricing updates. More links.

Pricing updates. Changed a few bits of content.

Updated some section headings. Updated some sub-sections. Added useful links.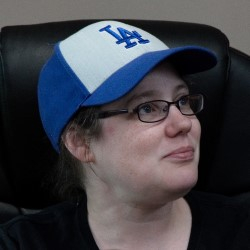 Latest posts by Alanna Baker
(see all)