The 2023 NFL football season has begun! Get all the information in our NFL Guide!

And you can follow the whole season with Fubo. Try it free!
If you are a fan of college sports, the Big Ten Network is an important part of your TV diet. Thankfully, like most college conference networks, you have plenty of options beyond the usual cable and satellite contracts. Read on to learn everything.
In a hurry? If you just want to start watching and don't care to dive into the details, these streaming services will make you happy:
Fubo: The best streaming service for international sports also provides 150+ well-selected channels. Fubo allows you to try out its service with a free trial.
DIRECTV STREAM: Get a great channel lineup with the best selection of RSNs in the industry. A 5-day free trial is now available for DIRECTV STREAM.
Sling TV: This low-cost service allows you to select just the channel lineup you want. Save 50% on Sling TV now.
If you can't watch your favorite sports because of your location, get ExpressVPN to access the content you deserve.
Unfortunately, we don't know a streaming service in that covers this sport. But if you've already paid for the right service, and just can't watch because of your location, there is an easy way to get the content you deserve. You need a VPN, like one of the following.
| | | |
| --- | --- | --- |
| | ExpressVPN: Known as "The VPN that just works," it combines remarkable ease of use with with state-of-the-art power, speed, security, and privacy. Get three extra free months when you sign up for a year. Unleash your streaming with this top-rated VPN. | Sign Up Now |
| | Hotspot Shield: Connect to servers in 80+ different countries and 25+ US cities. HotSpot Shield features extremely fast servers and connections and is specially tuned for use with streaming services. And you can try it risk-free with a 7-day free trial and a 45-day money-back guarantee! | Sign Up Now |
| | CyberGhost: Great low-cost service with ultra-fast servers in 90+ countries for smooth live sports streaming. It also provides great security and privacy. See if it's right for you with a free 24-hour trial and test it out with a 45-day money-back guarantee. | Sign Up Now |
If you're overwhelmed and not sure where to begin, you'll find all the answers in our full VPN guide.
Are you an alum or a fan of a Big Ten university? Or do you simply enjoy watching many of the country's best teams play? If either of those descriptions fit you, you'll want to have access to the Big Ten Network.
Although the most significant sporting events played by Big Ten schools, particularly in football and men's basketball, will be shown elsewhere, plenty of engaging contests will be here. And this is a must-have channel if you want to watch your team play as often as possible.
Fortunately, it is effortless to get the Big Ten Network, as it is available on most of the major live streaming services.
What Is Big Ten Network?
The Big Ten Network, or BTN for short, was one of the first conference-focused sports channels. It launched on Aug. 30, 2007, a year after the now-defunct Mountain West Sports Network hit the airwaves. And the Big Ten Network made an immediate splash.
Its first live sports event was the famous Appalachian State football win over Michigan in Ann Arbor. That 34-32 decision marked the first time that an FCS team had ever defeated a ranked FBS team.
Big Ten Network focuses its coverage on sporting events hosted by Big Ten schools that are not carried by national sports outlets, such as Fox, FS1, and ESPN. This leads to it broadcasting a relatively small number of college football games and men's basketball matchups, and having more extensive coverage of other Big Ten sports.
However, note that several Big Ten Basketball Tournament games are shown on the Big Ten Network. It also broadcasted the neutral-site NCAA Women's Frozen Four from 2017-19.
Unblock Your Favorite Movies and Shows With a VPN
If you can't watch your favorite movies and shows because of your location, a VPN will allow you to get the access you are entitled to, plus extra security and unequalled privacy. Check out our VPN Guide for everything you need to know, including our top pick ExpressVPN.
Other brands worth checking out include Hotspot Shield and CyberGhost.
How to Watch the Big Ten Network Without Cable
As is the norm for sports-oriented channels, it is not possible to watch Big Ten Network with an antenna. It is also not possible to subscribe to it directly.
Although BTN Plus (also called B1G+) is a standalone streaming service, it only offers access to games that are not being televised. That's great if you want to garner complete access to Big Ten sporting events, but useless for watching live Big Ten Network games.
Read on to learn how to use a streaming service to watch the Big Ten Network.
Fubo

The Big Ten Network is included in Fubo's base plan: Pro ($74.99/mo). Along with that channel, you will get CBS Sports Network, FS1, FS2, ESPN, ESPN2, and many TUDN and beIN Sports channels.
You can add to your Fubo college sports-oriented channels by purchasing an add-on. The Fubo Extra ($7.99/mo) adds 48 channels including ESPNU, ACC Network, SEC Network, and the national Pac-12 Network channel.
With Sports Plus ($10.99/mo), you get 26 additional sports channels, including all the ones in the Fubo Extra add-on plus all 7 of the Pac-12 Network channels.
All Fubo plans come with the ability to stream to up to 10 devices at a time, plus a 1000-hour cloud DVR. Read our Fubo review for more details.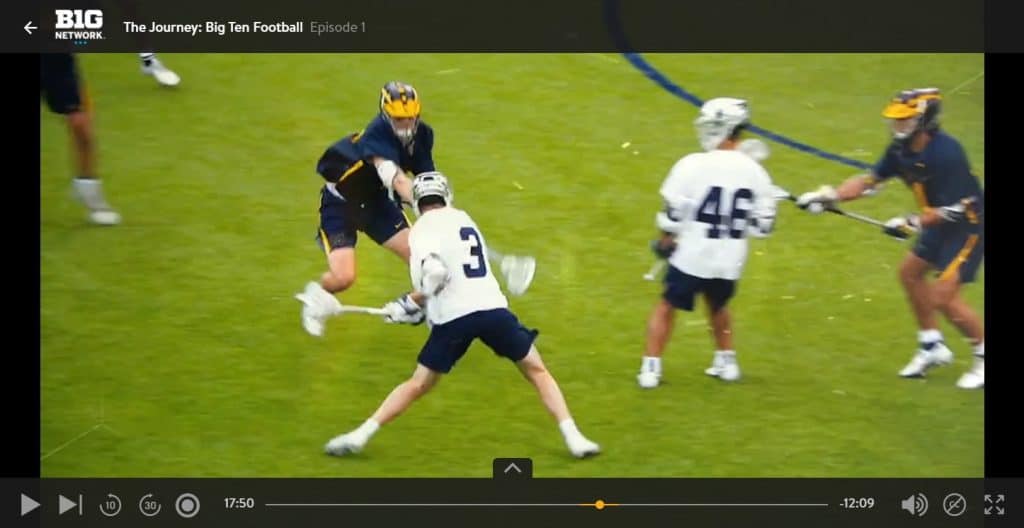 Sling TV

To watch the Big Ten Network through Sling TV, you will need to subscribe to its Blue package for $40.00/mo and also get the Sports Extra add-on for $11/mo.
However, do not let that extra step dissuade you, as that combined cost of $46/mo is less than the base plans offered by any other streaming service we've found.
With that said, unless the Big Ten Network is what you are narrowly focused on, you will want to consider getting Sling TV's Orange & Blue combined plan for $55.00/mo as solely accessing its Blue channels will cause you to miss out on ESPN and ESPN2.
In addition, the Sports Extra add-on associated with the Orange plan provides exclusive access to the ACC Network, ESPNU, and Longhorn Network.
If you're a particular fan of baseball, see our guide to NCAA Baseball on Sling TV for more info. And you can also check out our guide to Men's March Madness coverage and schedule and the Women's Basketball Final as well as NCAA baseball and schedule. Not to mention the NCAA Division I Men's Golf Championship.
Sling TV offers the most customization of any streaming service, so see our thorough review for details.
DIRECTV STREAM

DIRECTV STREAM (formerly AT&T TV) offers four packages: Entertainment ($74.99/mo), Choice ($99.99/mo), Ultimate ($109.99/mo), and Premier ($154.99/mo). The Choice plan will give you access to the Big Ten Network.
The Choice plan will also get you numerous other college sports events on the ACC Network, ESPN, ESPN2, ESPNU, FS1, and SEC Network. At this level, you also get access to their great selection of regional sports networks (RSNs), which are essential for MLB, NBA, and NHL fans.
All these plans come with unlimited cloud DVR and streaming on unlimited devices at once. New subscribers can pick up a 5-day free trial! Our DIRECTV STREAM review has all the details.
Get DIRECTV STREAM Free for 5 Days
Hulu + Live TV

Hulu + Live TV offers the Big Ten Network in its base plan, which costs $69.99/mo.
But that isn't the only conference network it offers; you also get ACC Network and SEC Network in addition to ESPNU and ESPN College Extra. Finally, you get a great selection of national sports channels like ESPN, ESPN2, CBS Sports Network, FS1, FS2, and all your local network affiliates.
Hulu + Live TV is not limited to sports. It provides its iconic on-demand library in addition to a total of 85+ total live TV channels. Additionally, you can watch on up to two devices and unlimited cloud DVR with 9 months of storage.
As if all that weren't enough, you also get ESPN+ and Disney+ included in your subscription. For more information, see our Hulu + Live TV review.
Vidgo

Vidgo offers a great deal: 100+ channels for $69.99/mo. It includes the Big Ten Network, of course. But it also comes with ACC Network, Longhorn Network, SEC Network, and all 7 Pac-12 Network channels.
They also include a great selection of national sports networks: ESPN, ESPN2, ESPNU, FS1, FS2, Stadium, NFL Network, and NFL RedZone. Overall, it is a great option for gaining access to many of the away and neutral-site contests played by Big Ten sports teams.
Vidgo doesn't offer a cloud DVR, but it does allow you to stream on three devices simultaneously. Find out more in our Vidgo review.
Other Ways to Get the Big Ten Network
Another way to stream Big Ten Network is through YouTube TV ($72.99/mo). Plus, of course, you can most likely get it through your local cable or satellite service.
BTN Plus (B1G+)
If you are interested in the Big Ten Network, then you will probably also be interested in BTN Plus, also known as B1G+. It used to be known as BTN2GO. Similar to ESPN+, this service provides access to events that are not shown on the Big Ten Network or any other television channels. It is a must-have for those who want to watch as many Big Ten sporting events as possible.
Fans solely focused on football and men's basketball games should note that sporadic men's basketball contests are only streamed here. One example is Michigan State's home men's basketball game versus Eastern Michigan on Nov. 20, 2021.
BTN Plus costs $14.95/mo for all of its content, or $9.95/mo for all of its content that is only related to one school. You can also get a sport-specific subscription. Those range in price from $39.99/yr to $69.99/yr.
Superpower Your Live TV Streaming With a VPN
You can't beat a VPN for privacy, security, and access. We have used them for years as an important part of our streaming toolkit and we recommend ExpressVPN. Other brands worth checking out include Hotspot Shield and CyberGhost.
TVs and Devices to Watch Big Ten Network
You view Big Ten Network through the apps provided by the streaming services. They support most devices that are in common use today. They all support the following:
All the services support Android gadgets (Samsung, LG, Pixel) and iOS devices (iPhone, iPad). Android TV-based devices and TVs are supported by all the services but DIRECTV STREAM. And all the services support web browsers (which can be connected to a TV).
All the services except Vidgo support Samsung smart TVs. Hulu, Fubo, and Sling TV also support Vizio and LG smart TVs.
Fubo supports Hisense smart TVs. Hulu, Sling TV, and Fubo support the Xbox One. Hulu supports other gaming devices.
See the reviews we linked to above for complete lists of supported devices.
Wrapping Up
You can to keep up to date on all the happenings with your favorite school, or simply with the Big Ten Conference as a whole. Just make sure to subscribe to one of the streaming services noted above and enjoy access to the Big Ten Network and all of its live game broadcasts.
FAQs
Does BTN have an app?
You can watch BTN on the Fox Sports app, or stream it on foxsports.com. You will have to log in with your TV provider username and password, provided your provider also provides TV Everywhere support. Most major cable and satellite providers do, as well as most of the major streaming services.
Sling TV is a great service, but unfortunately, it has very limited TV Everywhere support, and BTN is not one of the included networks. Vidgo does support TV Everywhere for BTN.
What streaming services have the Big Ten Network?
Most streaming services, big and small, carry Big Ten Network. fubo, Hulu Live, Vidgo, and YouTube TV all offer it in their base plans. Sling TV has it in the Sports Extra add-on. And DIRECTV STREAM includes it in its second tier, Choice, which is also the smallest package you can subscribe to and still get all the juicy regional sports networks.
Philo is the only service that doesn't carry it at all, but Philo doesn't carry any sports channels, so that's not surprising.
What is the cheapest way of live streaming Big Ten Network?
The cheapest way to get the Big Ten Network is through a subscription to Sling Blue ($40.00/mo) with the Sports Extra add-on ($11/mo) for a total of $46/mo. However, Vidgo might offer you the best value at $69.99/mo, considering the other channels that you get for that price. These include the ACC Network, Pac-12 Networks, SEC Network, ESPN, ESPN2, ESPNU, Stadium, FS1, and FS2.
What sports are on BTN?
Football and basketball, which you would expect, but also a wide variety of others: wrestling, volleyball, soccer, cross-country, field and ice hockey, swimming and diving, indoor and outdoor track and field, gymnastics, baseball, softball, tennis, golf, lacrosse, and rowing. All sports include comparable coverage of men's and women's sports whenever possible.
What schools are broadcast on BTN?
BTN shows only sports from the Big Ten Conference. The now-inaccurately named collegiate conference is up to 14 college teams. There are 7 in the West:
Indiana University Hoosiers
Michigan State University Spartans
Ohio State University Buckeyes (football, basketball)
And there are 7 teams in the East:
University of Illinois Fighting Illini
University of Iowa Hawkeyes
University of Minnesota Golden Gophers
University of Nebraska Cornhuskers
Northwestern University Wildcats
How can you watch a BTN game that you missed?
This is where BTN Plus comes in. Once the game airs, it goes into the BTN library, which is only available through BTN Plus. Kind of like Hulu, only instead of catching the latest episode of Survivor, it's last night's contest between Ohio and Michigan State.
It is unclear from the website if you can still replay recently aired live games through Fox Sports, though several viewers have reported they believe this functionality was removed when BTN2GO was removed.
Are Big Ten Network games available in HD?
The Big Ten Network records and broadcasts all of its content in High Definition (HD) resolution. BTN leaves it up to the various TV providers whether they want to make it available in HD or not. Games and series are not available in 4K.
How do I watch BTN on Roku?
You need a TV provider, such as one of the streaming services discussed above. Once you have a TV provider, you can either watch it through their Roku channel (if they have one, such as fubo or Sling) or through the Fox Sports Roku channel (if they don't, like some cable services).
Is Big Ten Network on Sling TV?
Yes! Big Ten Network is available with Sling Blue, one of Sling's base packages for $40.00/mo, with the addition of the Sports Extra, which is $11/mo. ACCN, SEC, NBA TV, Pac-12 Network, beIN Sports, Longhorn Network, ACCN Extra, MLB Network, SEC+, ESPNU, ESPNews, Tennis Channel, NHL Network, and MLB StrikeZone also come along for the ride.
Does Hulu have Big Ten Network?
Hulu + Live TV comes with Big Ten Network right in its base plan for $69.99/mo, which also covers Disney+ and ESPN+ along with over 85 live channels such as TLC, Disney Channel, Syfy, A&E, and FX. You also get unlimited DVR storage, and all of Hulu's fabulous on-demand library.
Is Big Ten Network on Netflix?
No. Netflix is solely an on-demand platform, with no live events or channels of any kind. They do have some sports documentaries and docuseries, and some movies and shows about sports (like Love & Basketball or Friday Night Lights), but you won't find any live ball games there.
What is BTN Plus?
BTN Plus, also known as B1G+ or Big Ten Plus, is the Big Ten Network's streaming service. This is not where you will find live Big Ten football. You will find non-televised games, replays of recent games (televised or not), and the entire BTN library of original programming and classic games.
Can I watch Big Ten Network through a BTN Plus subscription?
The Big Ten Network offers the BTN Plus/B1G+, but maintains the channel and the streaming subscription as separate entities. They are connected, but no live game broadcasts that are being shown on the Big Ten Network are available for live viewing through B1G+. However, with that said, many Big Ten fans do subscribe to both of these services.
Ditch "Big Cable" Now – 3 Simple Steps to Cut the Cord
Pick the right streaming service
Get the content you deserve with the best VPN.
Supercharge your internet provider
That's it — you'll save money, take back control, and enjoy TV more!
Page Updates
▼
▲
Updated some sub-sections. Pricing updates. Cross linking.

Updated some sub-sections. Updated some section headings. Added some links.

Additional links. Pricing updates. Reworded some things.

Image changes. Mentioned offers. Pricing updates.

Added buttons for streaming services. Added VPN info. Added links to streaming services. Updated some sub-sections. Image changes. More links.

Updated some sub-sections. Pricing updates. Image changes.

Updated some sub-sections. Updated some section headings. Image changes.
Latest posts by Frank Moraes
(see all)