For years, accessing all of Bravo's premium content required a cable TV subscription. But no more. If you are looking to watch Bravo without cable, you came to the right place!
All you need is an internet connection and a streaming service that hosts Bravo. We'll cover all you need to know to watch Bravo without a cable TV or satellite subscription.
In a hurry? If you don't have time to dive into the detail, any of these three streaming services will provide you with Bravo and a lot more, and cheaper than cable:
Fubo: With 130+ channels, it offers something for everyone. Fubo allows you to try out its service free for 7 days.
DIRECTV STREAM: Provides everything you expect from cable with many options. A 5-day free trial is now available for DIRECTV STREAM.
Sling TV: Probably the best streaming service in terms of customization with a super low price and a 50% discount on your first month!
If you can't watch your favorite sports, TV and movies because of your location, try ExpressVPN to get access to the content you deserve. Signup now.
Unfortunately, we don't know a streaming service in that offers this TV channel. But if you've already paid for the right service, and just can't watch because of your location, there is an easy way to get the sports, movies, and TV you deserve. You need a VPN, like one of the following.
| | | |
| --- | --- | --- |
| | ExpressVPN: Known as "The VPN that just works," it combines remarkable ease of use with with state-of-the-art power, speed, security, and privacy. Get three extra free months when you sign up for a year. Unleash your streaming with this top-rated VPN. | Sign Up Now |
| | Surfshark: Surfshark: Secure and easy to use with thousands of servers around the world. Of special note is its excellent collection of servers inside the US, which is great for regional sports lie NFL, MLB, and NBA. Get it now with an incredible 82% discount on a 24-month plan. | Sign Up Now |
| | NordVPN: One of the top VPNs with extremely fast servers all over the world. Great for streaming with tested perfomance on the biggest servers and included ad-blocking. Currently offering 70% discount on 2-year plans. | Sign Up Now |
If you're overwhelmed and not sure where to begin, you'll find all the answers in our full VPN guide.
Sign Up for a Free 7-Day Fubo Trial
How to Watch Bravo Without Cable
Bravo TV has quickly become renowned as the prime service for quality reality TV shows like The Real Housewives of Beverly Hills, Top Chef Amateurs, and Watch What Happens Live. Launched on December 8th, 1980, it is an American cable network owned by NBCUniversal Television.
When we say Bravo is a "cable network," we mean it isn't broadcast over the air (OTA) and so you must get it through a provider. At one time, that meant cable. Later, you could get it via satellite. But today, it is available from most streaming services. And for a lot less money!
Bravo is part of NBCUniversal. As a result, streaming services that offer it, normally also offer a good selection of other NBC channels.
In addition to other NBC channels, Bravo fans will likely be interested in other channels that produce the best reality TV. This includes E!, A&E, MTV, and VH1. It also includes the networks — especially Fox and NBC.
Unblock Your Favorite Movies and Shows With a VPN
If you can't watch your favorite movies and shows because of your location, a VPN will allow you to get the access you are entitled to, plus extra security and unequalled privacy. Check out our VPN Guide for everything you need to know, including our top pick ExpressVPN.
Streaming Services with Bravo
The streaming services that offer Bravo are an easy way to stream the content you're after. There aren't many, but here are a few places you can watch Bravo:
FuboTV

| | |
| --- | --- |
| NBCUniversal Channels | Bravo, E!, NBC, Oxygen, SyFy, CNBC, MSNBC |
| Other Reality TV Channels | Discovery, Fox, MTV, VH1 |
| Total Channels | 130+ |
| Cloud DVR | 1000 hours |
| Simultaneous Screens | 10 |
| Free Trial | ✅ |
| FuboTV Price | $74.99/mo |
Widely known for its vast collection of live sports channels, FuboTV is also a great general streaming service with over 130 channels. These include Bravo, a full slate of NBCUniversal channels, and the main reality TV sources.
The one exception is A&E. In mid-2021, as a cost-cutting measure, FuboTV stopped carrying it as well as FYI Channel, History Channel, Lifetime, Lifetime Movie Network, and Vice. But this is a fairly minor exception given all of FuboTV's other features.
See the following to learn more about FuboTV:
Sign Up for a Free 7-Day Fubo Trial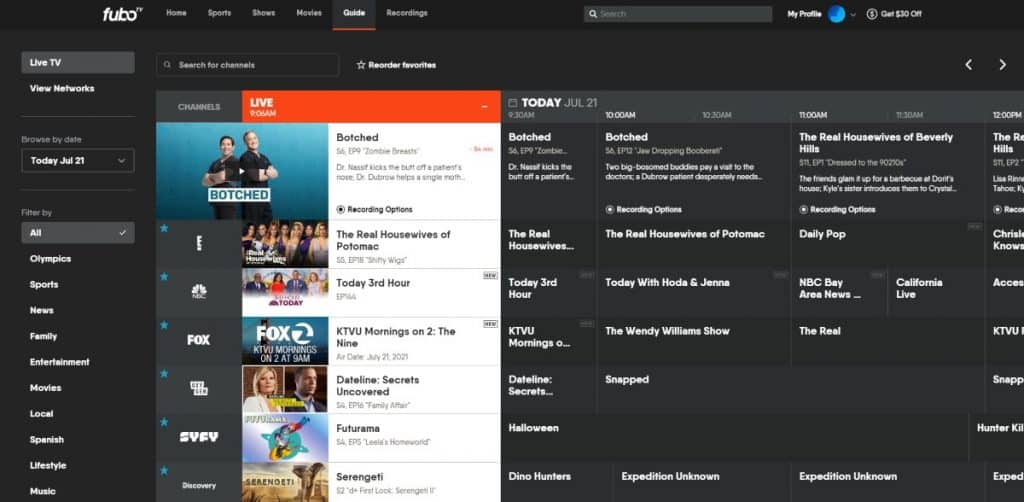 DIRECTV STREAM for Bravo

| | |
| --- | --- |
| NBCUniversal Channels | Bravo, E!, NBC, SyFy, CNBC, MSNBC |
| Other Reality TV Channels | A&E, Discovery, Fox, MTV, VH1 |
| Total Channels | 75+ |
| Cloud DVR | Unlimited* |
| Simultaneous Screens | Unlimited |
| Free Trial* | ✅ |
| DIRECTV STREAM Price | $74.99/mo |
* Online sign up required.
DIRECTV STREAM (formerly AT&T TV) starts at $74.99/mo and offers 75+ channels. This includes Bravo and all the other NBC Universal channels, except for Oxygen. To get Oxygen, you will need to upgrade to the Ultimate plan for $109.99/mo. For that, you get 130+ channels including HBO MAX for a year.
Although DIRECTV STREAM's higher-tier plans are more expensive than other services, it offers a lot of flexibility. And for sports fans, it offers by far the best selection of regional sports networks (RSNs) in the industry.
Learn more about DIRECTV STREAM here:
Get DIRECTV STREAM Free for 5 Days
Sling TV for Bravo

| | |
| --- | --- |
| NBCUniversal Channels | Bravo, E!, NBC, SyFy, CNBC, MSNBC |
| Other Reality TV Channels | A&E, Discovery, Fox |
| Total Channels | 40+ |
| Cloud DVR | 50 hours |
| Simultaneous Screens | 3 |
| Free Trial | ❌ |
| Sling TV Price* | $40.00/mo |
*Sling TV offers the first month for $10.
Sling TV is the low-cost live TV streaming leader. The Sling Blue plan is just $40.00/mo and offers over 40 channels including Bravo. It doesn't include the related channels Oxygen, MTV, and VH1.
You can get Oxygen and VH1 with the Lifestyle Extra add-on for $6/mo. MTV comes with the Comedy Extra add-on for $6/mo. Additionally, these add-ons come with 10+ other channels each
See the following for more information:
Hulu + Live TV

| | |
| --- | --- |
| NBCUniversal Channels | Bravo, E!, NBC, Oxygen, SyFy, CNBC, MSNBC |
| Other Reality TV Channels | A&E, Discovery, Fox, MTV, VH1 |
| Total Channels | 85+ |
| Cloud DVR | Unlimited (9 month storage) |
| Simultaneous Screens | 2 |
| Free Trial | ❌ |
| Hulu Price | $69.99/mo |
Hulu + Live TV is the biggest live TV streaming service. It complements its industry-leading on-demand library with 85+ live TV channels including Bravo and all the related channels. It also comes with ESPN+ and Disney+.
For fans of Bravo, it's hard to beat Hulu Live TV. It has a well-balanced channel selection that should please everyone in your household.
For more information on Hulu + Live TV, see these articles:
Other Ways to Get Bravo
There are a couple of other ways you can get Bravo:
Peacock Premium: For $4.99/mo, you can get access to a huge library of NBCUniversal channel shows, including Bravo, plus Universal Studios movies, as well as live events and sports and exclusive Peacock series. Subscribers can watch new episodes of their favorite Bravo current shows are available the next day after airing!
Bravo app: Allows you to watch Bravo and other NBCUniversal shows live and has a great selection of on-demand shows. The catch is that you need a TV provider to live stream or watch full episodes. Any of the streaming services we highlighted above will work.
YouTube TV: Includes Bravo in their package for $72.99/mo along with 100+ other channels.
Other On Demand: Many Bravo shows are available on-demand on services like Amazon Prime and Hulu.
Superpower Your Live TV Streaming With a VPN
You can't beat a VPN for privacy, security, and access. We have used them for years as an important part of our streaming toolkit and we recommend ExpressVPN.
TVs and Mobile Devices for Bravo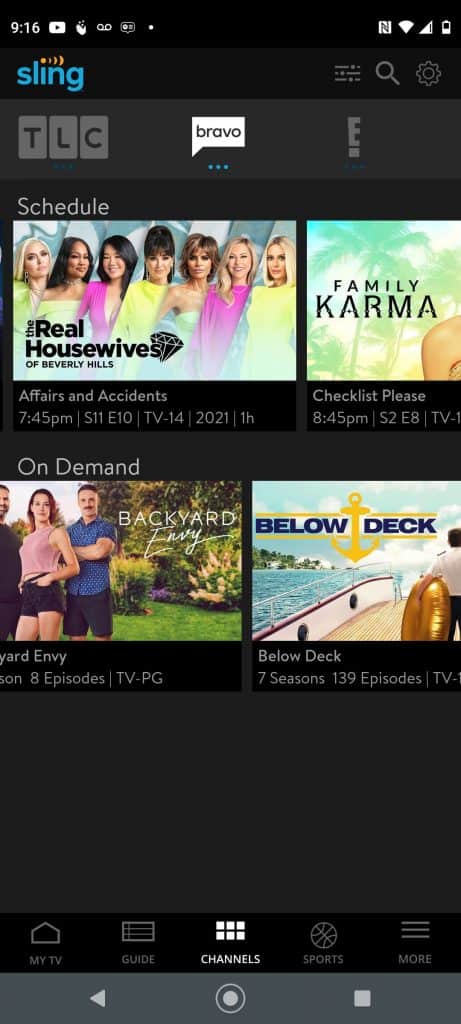 Just like you need a TV to watch cable, you need a TV or similar streaming device to watch Bravo through streaming services. However, unlike cable, most streaming services offer a diverse range of possible devices.
Hulu + Live TV, FuboTV, Sling TV, and DIRECTV STREAM all allow you to stream on the following devices:
Amazon Fire TV
Android mobile devices
Apple TV
Google Chromecast
iOS devices (iPhone, iPad)
Roku
Samsung Smart TVs
Web browsers.
Note that even if your TV isn't directly supported, you can use it with either casting or HDMI connections.
All the services except DIRECTV STREAM also support Android TV compatible TVs and LG smart TVs. FuboTV supports Hisense smart TVs as well.
Though slightly more uncommon, all but DIRECTV STREAM support the Xbox One. Hulu + Live TV lets you stream on PlayStation and Nintendo Switch. And Sling TV supports the Oculus for the VR fans out there.
DIRECTV STREAM also offers its own streaming device, which makes the transition from cable easier. Your entire streaming system is in one place with one company to provide you with support.
Sign Up for a Free 7-Day Fubo Trial
Wrapping Up
Streaming Bravo online is pretty simple these days. You don't have to worry about the expenses racking up from keeping cable only to watch Bravo. And with easy-to-use and ever more powerful devices, you will have no trouble enjoying Bravo without cable.
To get Bravo, you can sign up for any or all of the above streaming services. Most offer one or more of free trials, money-back guarantees, or low-cost introductions. And all of them can be canceled at any time.
So what are you waiting for? Sign up now!
FAQs
What shows are on Bravo?
Bravo offers a diverse range of reality TV shows. Well-known shows such as Top Chef and Below Deck are all available through streaming services that offer Bravo. On Bravo, there are dozens of shows to choose from, with daily or weekly uploads for each. Here's a few more of the most popular titles:
Watch What Happens Live with Andy Cohen
Vanderpump Rules
Kandi & the Gang
Project Runway
Million Dollar Listing Los Angeles
Million Dollar Listing New York
The Real Housewives of Atlanta
The Real Housewives of New Jersey
The Real Housewives of Salt Lake City
The Real Housewives of Potomac
Southern Charm
Summer House.
Are all Bravo shows broadcasted in high definition?
All new shows are in HD, as well as all seasons of older shows that came out after 2009. If it came out before 2009 (such as the first four seasons of Top Chef or the first two seasons of Million Dollar Listing), you won't be able to view it in high definition.
Are there any free ways to watch Bravo?
There are unfortunately no ways to watch Bravo for free. It isn't a channel that you can catch over the air through an antenna. It is, however, possible to watch Bravo for free for a limited time period through the trials offered by Hulu + Live TV and FuboTV.
How can I watch alternative entertainment channels without cable?
Check out the following list for other entertainment channels:
Ditch "Big Cable" Now – 3 Simple Steps to Cut the Cord
Pick the right streaming service
Get the content you deserve with the best VPN.
Supercharge your internet provider
That's it — you'll save money, take back control, and enjoy TV more!
Page Updates
▼
▲
Updated some sub-sections. Updated some section headings. Misc changes.

Added buttons for streaming services. Mentioned offers. Pricing updates. Added some more links.

Added VPN info. Mentioned offers. Misc changes to content. Cleaned up list.

Added buttons for streaming services. Added links to streaming services. Updated some sub-sections. Image changes. Pricing updates.

Mentioned channel info. Image changes. Pricing updates. Changed a few bits of content.

Image changes. Pricing updates. More links.

Updated some sub-sections. Updated some section headings. Image changes.

Changed some content in main section.
Latest posts by Frank Moraes
(see all)