If you are a financial news junkie, CNBC is probably a must-have channel. But this is no reason to keep your cable or satellite subscription. CNBC is available from a number of streaming services for little money.
In a hurry? If you just want to watch CNBC right now, here are our top choices:
Fubo: With 150+ channels, it offers something for everyone. Fubo allows you to try out its service with a free trial.
DIRECTV STREAM: Provides everything you expect from cable with many options. A 5-day free trial is now available for DIRECTV STREAM.
Sling TV: Probably the best streaming service in terms of customization with a super low price and a 50% discount on your first month!
If you can't watch your favorite sports, TV and movies because of your location, try ExpressVPN to get access to the content you deserve. Signup now.
Unfortunately, we don't know a streaming service in that offers this TV channel. But if you've already paid for the right service, and just can't watch because of your location, there is an easy way to get the sports, movies, and TV you deserve. You need a VPN, like one of the following.
| | | |
| --- | --- | --- |
| | ExpressVPN: Known as "The VPN that just works," it combines remarkable ease of use with with state-of-the-art power, speed, security, and privacy. Get three extra free months when you sign up for a year. Unleash your streaming with this top-rated VPN. | Sign Up Now |
| | Hotspot Shield: Connect to servers in 80+ different countries and 25+ US cities. HotSpot Shield features extremely fast servers and connections and is specially tuned for use with streaming services. And you can try it risk-free with a 7-day free trial and a 45-day money-back guarantee! | Sign Up Now |
| | CyberGhost: Great low-cost service with ultra-fast servers in 90+ countries for smooth live sports streaming. It also provides great security and privacy. See if it's right for you with a free 24-hour trial and test it out with a 45-day money-back guarantee. | Sign Up Now |
If you're overwhelmed and not sure where to begin, you'll find all the answers in our full VPN guide.
CNBC has long been the go-to channel for financial news. It balances live coverage, breaking news, and in-depth market reporting and analysis for executives and power brokers with more diverse fare aimed at the increasing number of market dabblers.
From to on weekdays, the channel features financial market coverage. In the evenings, it switches to exclusive CNBC-produced series and in-house documentaries.
But don't sell yourself short when it comes to your TV provider — you can fire your cable company and still catch Squawk on the Street every morning by investing in one of the streaming services discussed below.
CNBC World
CNBC World expands on CNBC's domestic coverage of financial markets to its bureaus in Singapore and London and studios in Hong Kong, Bangkok, Taipei, Sydney, Shanghai, Tokyo, and 25 cities across Europe.
In addition to major world stock exchanges such as the Shanghai Stock Exchange, Euronext, and the Japan Exchange Group, CNBC World provides 24-hour coverage of industry news conferences, world markets, and international merges and acquisitions, plus interviews with CEOs and other global business newsmakers.
Popular shows include Asia Squawk Box, Squawk Box Europe, Street Signs Asia, Street Signs Europe, and American Greed (a documentary series on U.S. white collar crime.)
How to Watch CNBC Live Without Cable
CNBC is part of the NBCUniversal media family. It's mainly focused on US domestic markets like the NYSE and NASDAQ, while its sister-channel CNBC World covers major foreign markets. NBCUniversal networks also include MSNBC, USA Network, Golf Channel, Syfy, Bravo, and E!
Other channels that cover financial and business news are Fox Business, a division of Fox News, and Bloomberg Television.
CNBC is a pay channel — you need a subscription to a service in order to watch, and it's not available OTA (Over the Air) via antenna. You used to need to subscribe through your cable or satellite provider, but now more and more people are turning to services that stream programming over the internet.
These Over the Top (OTT) services are often cheaper than cable and don't require the contracts, time commitments, or special hardware that cable or satellite does.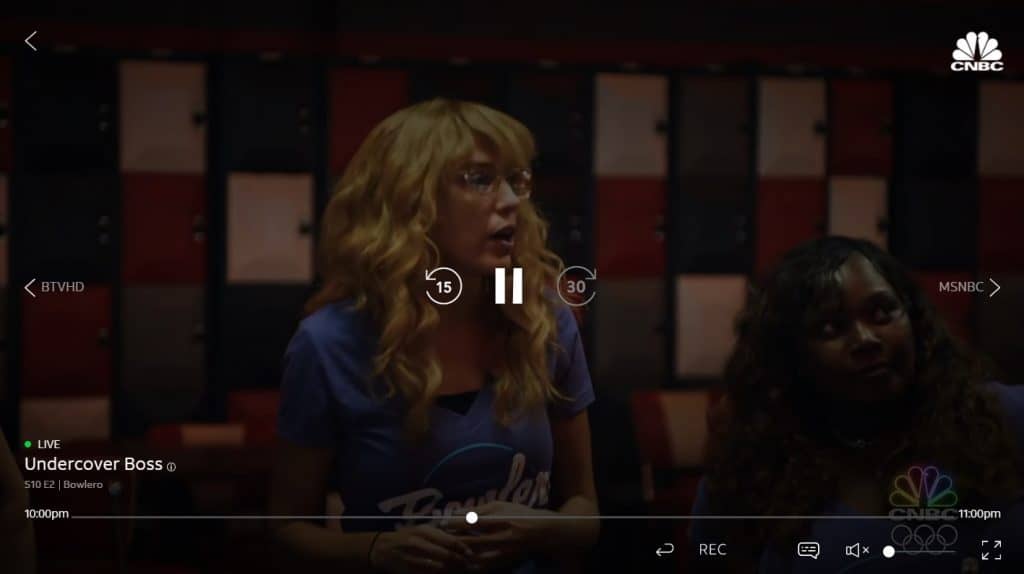 Unblock Your Favorite Movies and Shows With a VPN
If you can't watch your favorite movies and shows because of your location, a VPN will allow you to get the access you are entitled to, plus extra security and unequalled privacy. Check out our VPN Guide for everything you need to know, including our top pick ExpressVPN.
Other brands worth checking out include Hotspot Shield and CyberGhost.
Streaming Services with CNBC
CNBC may have been a basic cable staple for years, but not all the major TV streaming services carry it. Neither Vidgo nor Philo includes it. But you're in luck because they're not the only OTT services you have to choose from.
Fubo

Total Channels
110+
News Channels
CNBC, Fox Business, FOX News, MSNBC
ABC, CBS, FOX, NBC
Cloud DVR storage
1000 hours
Fubo Price
$74.99/mo
Free Trial
✔️ Try it now
Fubo is known as a great service for sports fans but they are much more than that. Their base plan includes access to all the local network affiliates in most areas. And they've got all the NBC favorites, including CNBC in their $74.99/mo Pro package, which includes 110+ channels, a generous 1000 hours of Cloud DVR, and streaming on up to ten screens at a time.
They've also got Fox Business though they do not currently have Bloomberg, although you can stream it 30 minutes a day on its own app. And the biggest hole in their lineup is CNN. CNBC World is available as part of the Extra add-on for an additional fee.
Find out more about Fubo here:
Sling TV

Total Channels
40+
News Channels
CNN, FOX News, MSNBC
FOX, NBC*
Cloud DVR Storage
50 hours
Sling TV Price
$40.00/mo
Free Trial
❌
* You can get access to more local channels via Sling TV by using an HD Antenna. It comes free when you prepay two months of Sling TV.
Sling TV is the most affordable option on this list, even though CNBC isn't even included in either of their basic packages, which are $40.00/mo, or $55.00/mo for both. The Sling Blue plan comes with 40+ channels including CNN, Fox, Fox News, MSNBC, and NBC. Save 50% on Sling TV now!
For just $6 more, you can get the News Extra add-on with 14 other channels including CNBC, Fox Business, and Newsmax. Those looking for CNBC's more worldly, well-traveled sibling, CNBC World, will be disappointed though; it's just not available through Sling.
See the following for more information: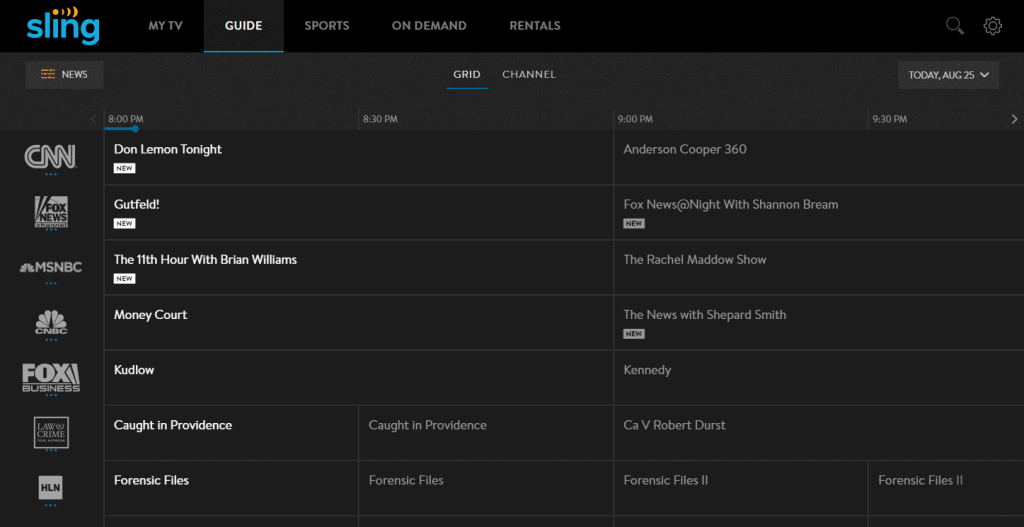 DIRECTV STREAM

Total Channels
75+
News Channels
CNBC, CNN, Fox Business, FOX News, MSNBC
ABC, CBS, FOX, NBC
Cloud DVR Storage
Unlimited*
DirecTV Price
$74.99/mo
Free Trial
✔️ Try it now
* Online signup only
The DIRECTV STREAM (formerly AT&T TV) Entertainment package, their lowest-priced, is $74.99/mo for over 75 channels, unlimited cloud DVR as long as you sign-up online, and a crazy unlimited simultaneous streams in the same house. They even provide the option of their own streaming device, which has a lot of fun features like voice-activated commands through the remote control.
Most NBC channels are present and accounted for in the Entertainment package, including CNBC, as well as Fox Business and the 3 main cable news channels. You'll have to spring for the Choice package ($99.99/mo), however, that's if you want CNBC World.
On the bright side, if you sign up for a Choice or higher package, you get a free year of HBO Max, plus all the regional sports networks in your area. Find out more in our DIRECTV STREAM review.
Get DIRECTV STREAM Free for 5 Days
Hulu + Live TV
Total Channels
85+
News Channels
CNBC, CNN, Fox Business, FOX News, MSNBC
ABC, CBS, FOX, NBC
Cloud DVR Storage
Unlimited*
Hulu + Live TV Price
$69.99/mo
Free Trial
❌
*9 month storage
Hulu + Live TV keeps it simple with over 85 channels. The plan is $69.99/mo, including unlimited Cloud DVR (9 month storage) and two simultaneous streams allowed. You also get access to Hulu's unmatched library of on-demand shows, plus their acclaimed original programming such as Castle Rock. Finally, you get Disney+ and ESPN+.
Hulu + Live TV also includes local network stations in most areas. Best of all, they carry all of NBC's pay channels, including CNBC, and CNBC World is available in the Entertainment Add-on for just a few more dollars. They also have Fox Business and CNN.
See the following for more information:
Other Ways to Stream CNBC
There are a couple of other ways to cut the cord and still make sure you don't miss Power Lunch:
YouTubeTV: Both CNBC and CNBC World, plus all the other NBC channels, are all available for $72.99/mo.
CNBC Pro: Gives you a CNBC live stream from the US, Europe, and Asia whenever they're on the air for $29.99/mo or $299.99/yr. This is a lot of money if you only want the live stream. But it also provides subscribers with various perks such as member-only access to analyses, interviews, and discussions with experts and CEOs.
Superpower Your Live TV Streaming With a VPN
You can't beat a VPN for privacy, security, and access. We have used them for years as an important part of our streaming toolkit and we recommend ExpressVPN. Other brands worth checking out include Hotspot Shield and CyberGhost.
Watch CNBC on TVs and Streaming Devices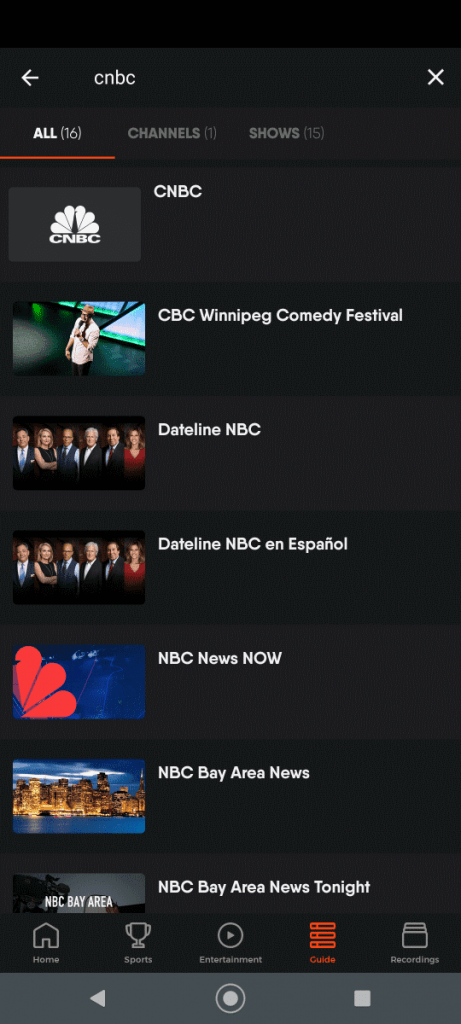 Just like with cable or an antenna, you need something to watch TV on with a streaming service. These are called streaming devices and they range from the smallest smartphones to the largest 4K smart TVs.
It is almost certainly the case that you can stream CNBC on one or more devices you already own. Over the last couple of years, the top streaming services have done a great job of supporting the hardware that is currently in use.
The most common way that people stream live TV is by using a TV device that allows you to run apps. All the services allow you to use the standard devices:
Amazon FireTV
AppleTV
Chromecast
Roku.
You can also watch on web browsers like Chrome, Edge, Firefox, and Safari. The same goes for mobile devices Android or iOS (iPhone, iPad).
Other than DIRECTV STREAM, all the services support TVs that run Android TV.
The Samsung and LG smart TVs are also supported by Fubo, Sling TV, and Hulu. They also support the gaming console Xbox One.
Hulu + Live TV supports other gaming consoles like the PlayStation and Nintendo Switch. Sling TV supports the VR device Oculus.
There are other devices supported so if you don't see yours here, check with the streaming service.
Wrapping Up
If you want to divest yourself of your cable bill, but you don't want to miss out on your favorite CNBC personalities like Melissa Lee, Jim Cramer, or Marcus Lemonis, sign up for one of these streaming services. Then you'll always have the oldest provider of real-time financial market coverage at your fingertips.
Fubo is our top choice for streaming CNBC. Fubo allows you to try out its service with a free trial.
FAQs
Can you stream CNBC for free?
No. Beware any site that promises otherwise. They are not doing it legally, and even just visiting the site is practically begging for a virus or malware. Support the folks that make content that you find interesting enough to watch — Sling TV is only $40.00/mo, plus $6/mo for the News Extra.
Can you stream CNBC on Peacock?
Short answer, no. Peacock's live news reports are sourced from all of NBCUniversal's many news outlets, including CNBC, but there is currently no live channel on Peacock for financial news or CNBC series. You can find select interviews and other snippets in the "Clips" section.
What are some popular CNBC shows?
CNBC features daytime financial news coverage and analysis, and evening financial-news-adjacent entertainment. Some popular shows during the day are Fast Money Halftime, Closing Bell, and Mad Money with Jim Cramer. The daytime info-and-analysis shows end with The News with Shepard Smith, CNBC's nightly news broadcast.
The evening block consists of original reality shows mixed with competitions. Shows featured on cnbc.com include:
Jay Leno's Garage
American Greed
Shark Tank
Money Court.
Can I watch CNBC through Amazon Prime?
There are some CNBC shows available in Amazon Prime Video's on-demand content, including The Profit, American Greed, Streets of Dreams, Empires of New York, Billion Dollar Buyer, and others. But you can't stream it live as it airs. If you enjoy CNBC's evening programming more than its daytime market coverage, this may be a good option for you.
What is the cheapest way to get CNBC?
The most affordable streaming service to carry CNBC is Sling TV. The Blue package is $40.00/mo. With the $6/mo News Extra add-on, that makes it a total of $46/mo, which is still far below the others, which start at $69.99/mo. Even if you add in the Blue Sports Extra for $11/mo, it's still only $57/mo.
Can I subscribe to just CNBC by itself?
Yes, but it's probably not as cheap as you hope. CNBC offers its own subscription-based service, CNBC Pro, which is $29.99 per month or $299.99 per year. It comes with various interviews, discussions, and other exclusive content. If the CEO interviews don't interest you, Sling TV Blue plus News Extra is only $11 more and gets you CNBC plus over fifty other TV channels.
Which streaming services carry CNBC?
Almost all the major streaming services carry CNBC. There are some exceptions, however. While great services, neither Vidgo nor Philo carry any of the NBCUniversal channels — so no CNBC or MSNBC or Golf Channel for sports, and no entertainment networks like USA, Syfy, or E! So which services do have it?
How can I watch other news channels without cable?
Looking for more info on how to watch the news without cable? Don't miss these guides:
Ditch "Big Cable" Now – 3 Simple Steps to Cut the Cord
Pick the right streaming service
Get the content you deserve with the best VPN.
Supercharge your internet provider
That's it — you'll save money, take back control, and enjoy TV more!
Page Updates
▼
▲
Added buttons for streaming services. Updated some sub-sections. Updated some section headings. Image changes.

Image changes. Added some links. Various changes to content.

Image changes. Pricing updates. Linking.

Added VPN info. Added sub-section. Image changes. Various changes.

Added buttons for streaming services. Mentioned channel info. Updated some sub-sections. Pricing updates. Image changes.

Updated some section headings. Linking. Image changes.

Pricing updates. Image changes. Added useful links.

Added a few links. Misc content updates.

Updated some section headings.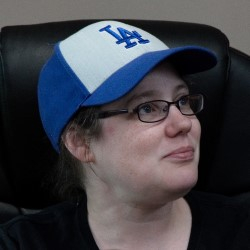 Latest posts by Alanna Baker
(see all)