If you are a fan of the Curiosity Stream service or just generally like documentaries, you should check out Curiosity Channel. Read on to learn the best ways to get it!
In a hurry? The Curiosity Channel is available from a handful of streaming services:
FuboTV: The king of sports streaming is also the king of documentaries with Curiosity Stream included in its base 130+ channel line up. Fubo allows you to try out its service with a free trial.
Vidgo: Curiosity Stream comes with the base plan. Try one month for $20.
Curiosity Channel is a linear channel built on top of the Curiosity Stream on-demand service. It features everything from shorts to feature-length films and series featuring real information about science, history, nature and more.
What Is Curiosity Channel
Curiosity Stream was launched in 2015 by John Hendricks, the founder of the Discovery Channel. It features thousands of commercial-free documentaries. In 2021, Curiosity Channel began.
Curiosity Channel is the live linear channel for Curiosity Stream. It's a live channel that presents a curated feed of content taken from the Curiosity Stream library.
People often get stuck in their ways only going to check for new science content, for example. The live channel is a great resource for introducing viewers to the full range of available content. Of course, that may make you want to sign up for the full streaming service.
But Curiosity Channel also exists in the context of other channels. It is the place you can go for thoughtful documentaries. If you've had it with the conspiracy theories and pseudoscience that litter the "cable" channel schedule, Curiosity Channel is the cure for the nonsense.
And it never gets dull. The feed cycles through its varied library of documentaries about science, history, technology, nature, society, lifestyle, and more.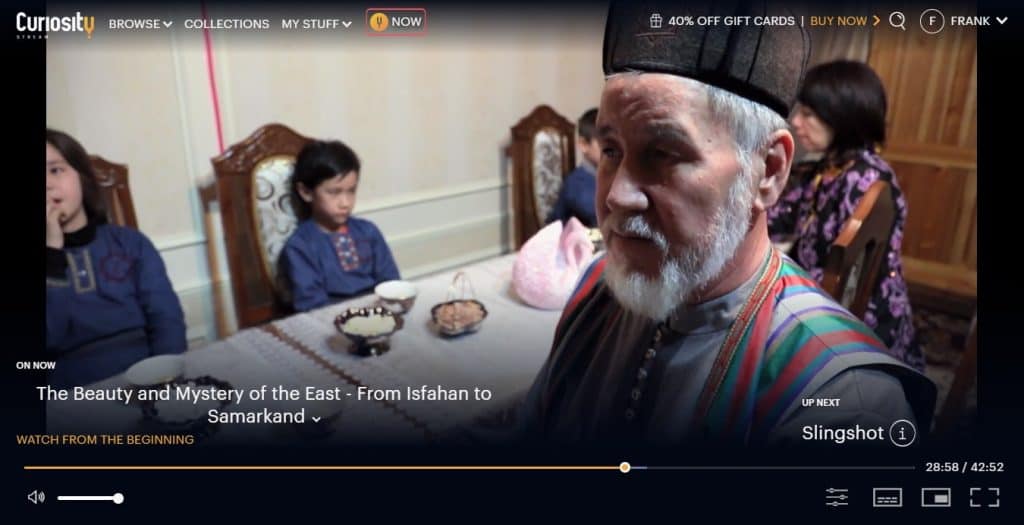 Unblock Your Favorite Movies and Shows With a VPN
If you can't watch your favorite movies and shows because of your location, a VPN will allow you to get the access you are entitled to, plus extra security and unequalled privacy. Check out our VPN Guide for everything you need to know, including our top pick ExpressVPN.
Other brands worth checking out include Hotspot Shield and CyberGhost.
Getting Curiosity Channel
It might sound weird that a video-on-demand service like Curiosity Stream has a live TV channel. But the line between a live "always-on with scheduled programming" channel and an on-demand video streaming service is getting fuzzier every day.
For example, Roku, Amazon Prime Video, and Apple TV all have "channels," which are simply individual apps, some of which have free content and some require a subscription. So Netflix is a channel, and so is YouTube, and so is Sling TV.
Even more confusing, Shout Factory TV is an on-demand service featuring old and unusual films and TV shows — that also includes 5 live channels. Welcome to the future!
See our Curiosity Stream review for all about the service. Below are the live TV streaming services that provide the channel. Note that the streaming service itself includes the live feed.
FuboTV

FuboTV started as a service focused on soccer and other international sports, but it's grown into a broad service with wide appeal. And it's got an educational side, too. You get Curiosity Channel with 130+ other channels in its Pro plan for $74.99/mo. This also includes Discovery, Discovery Family, National Geographic, and Smithsonian Channel. If you want more, the Fubo Extra add-on for $7.99/mo gives you 46 more.
All FuboTV plans come with 1000 hours of cloud DVR storage and streaming on up to 10 devices at once. All the details can be found in our FuboTV review.
Vidgo

Like FuboTV, Vidgo includes Curiosity Channels in its base plan for $69.99/mo. It also carries the NatGeo channels, History, Science, Discovery — 100+ channels in all. It also has only conservative new channels (a plus or minus depending on your personal politics) and NFL Redzone, but no DVR or on-demand library.
See our Vidgo review for more.
Frndly TV
Frndly TV is a skinny live TV service starting at $6.99/mo (ad-free and DVR available for additional fees) for about 30 channels. Specializing in family-friendly entertainment, most of the channels are live, but a handful are on-demand. Also has A&E, FYI, History, and The Weather Channel.
See our Frndly TV review for details.
Streaming Devices to Watch Curiosity Channel
The live TV streaming services we discussed above all support the following devices:
Amazon Fire TV
Android mobile
Android TV (eg, Sony TVs)
Apple TV
Chromecast
iOS (iPhones,iPods,iPads)
Roku
Web browsers.
FuboTV supports a number of other devices including Hisense, LG, and Samsung smart TVs and Xbox gaming systems. See our FuboTV devices guide for complete information.
Superpower Your Live TV Streaming With a VPN
You can't beat a VPN for privacy, security, and access. We have used them for years as an important part of our streaming toolkit and we recommend ExpressVPN. Other brands worth checking out include Hotspot Shield and CyberGhost.
Wrapping Up
Most people will want to subscribe to the full Curiosity Stream service. But the live channel is a wonderful resource and all many people will want. And it comes with the base plans of streaming services like FuboTV.
Ditch "Big Cable" Now – 3 Simple Steps to Cut the Cord
Pick the right streaming service
Get the content you deserve with the best VPN.
Supercharge your internet provider
That's it — you'll save money, take back control, and enjoy TV more!
Page Updates
▼
▲
Additional links. Misc changes.

Image changes. Pricing updates. Reformatting.

Added buttons for streaming services. Updated some sub-sections. Pricing updates. Added some links.

Mentioned channel info. Updated some section headings. Updated some sub-sections. Added a few links. Cleaned up list.

Pricing updates. Added useful links. Reworded some things.

Added links to streaming services. Mentioned channel info. Updated some sub-sections. Added some links. Pricing updates.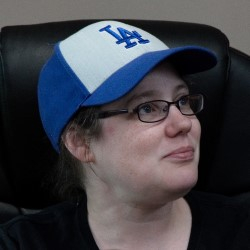 Latest posts by Alanna Baker
(see all)