The CW is not as well-known as the Big Four networks. But it's a great one with lots of fun content. And depending on the station, local sports and news. In many places, you can get it via antenna. But if not, The CW is widely available from streaming services. No need for a cable contract!
In a hurry? If you want a well-rounded cable replacement service that also provides The CW, these plans will work great:
FuboTV: With 100+ channels, it offers something for everyone. FuboTV allows you to try out its service free for 7 days.
DIRECTV STREAM: Makes it easy to switch from cable to streaming with their 75+ channel Entertainment plan and options for much more. A 5-day free trial is now available for DIRECTV STREAM.
Hulu + Live TV: This service adds 85+ live TV channel to their outstanding on demand service as well as Disney+ and ESPN+.
The CW: Warner Entertainment and Paramount Global's supernatural teenage drama baby. Ok, maybe not every show on The CW features superpowered teens or twenty-somethings — whether they're witches, superheroes, vampires, angels, demons, or fighting them — but a lot of them do. It is a theme going all the way back to its roots in The WB.
But you don't have to succumb to frustrated adolescent angst at the cost of your cable bill just because you're a major Legends of Tomorrow fan. Read on to find out how you can get your Riverdale fix without cable.
How to Watch The CW Live Without Cable
The CW, as mentioned, is a joint venture between what are now Paramount Global (formerly ViacomCBS) and the AT&T-owned WarnerMedia (more on that in the FAQ), which leads to some weird family relations.
Sister-stations on the WarnerMedia side include HBO, Cinemax, TNT, and TBS; on the Paramount Global side, broadcast network rival CBS, Showtime, Paramount Network, and MTV. Also popular with the 18-49 crowd are Bravo, USA, ABC, NBC, Fox, Discovery, and TLC.
As an over-the-air (OTA) station, The CW is free to whoever is in range of a signal. For the price of an antenna, you can watch it on your TV totally free, just like other networks.
But if you don't want to go that route, you still don't need a cable company. OTT (over-the-top) streaming services provide all the same channels and features as cable subscriptions, for less money and hassle. Which ones carry The CW? Let's find out.
Streaming Services with The CW
So the bad news is that because OTT streaming services are relatively new, they don't always have quite the clout (or the money) to negotiate the networks into line. This means that some services have better network coverage than others.
What does this mean for you and your All American obsession? We're happy to tell you that four of the biggest streaming services carry all the OTA networks, including The CW, assuming you're in the coverage area. If not, don't panic! We'll go into other options further down.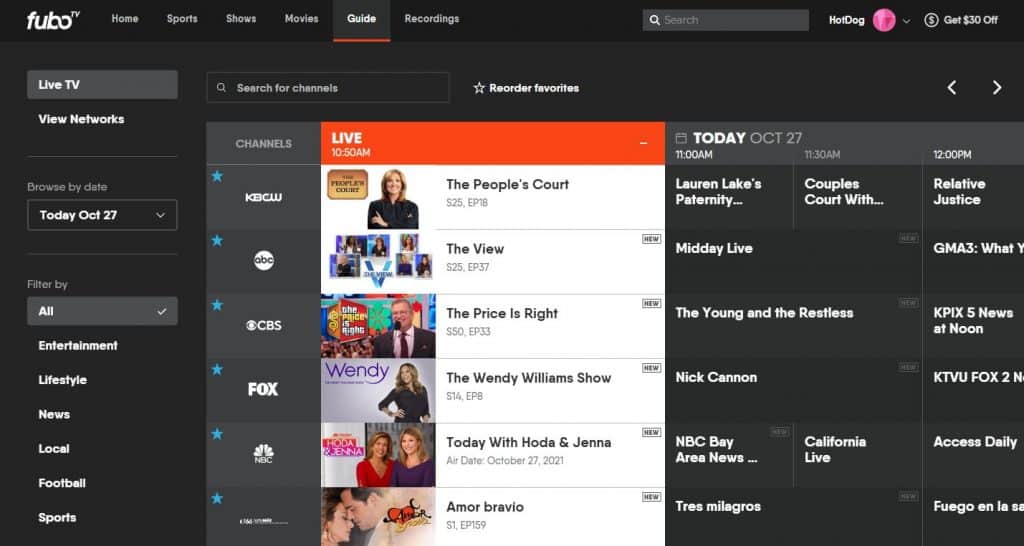 FuboTV

FuboTV has got the sports. All the sports. Seriously, try to find a sport this service doesn't cover.
So if you like your dark fantasy sulking and moping with a side of football, or baseball, or basketball, or, really, any kind of ball — this is the service for you. It has a large number of sports channels including ESPN, ESPN2, FS1, FS2, and CBS Sports Network as well as multiple beIN Sports and TUDN channels.
The one downside is that Fubo doesn't carry WarnerMedia channels. I guess half-Warner is ok, but HBO, Cinemax, TBS, and TNT are just straight out. This is particularly unfortunate since HBO Max has pretty much exclusive rights to on-demand streaming CW shows. You can, of course, get the standalone HBO Max service.
FuboTV is $69.99/mo for well over 105 channels. You also get 750 hours of cloud DVR storage and you can stream on up to 10 devices at a time. But, unless you are a hardcore sports fan, you're probably better off with Hulu + Live TV. Try FuboTV free for 7 days.
Our FuboTV review has all the details.
DIRECTV STREAM

The base package from DIRECTV STREAM (formerly AT&T TV) offers over 65 channels of pure entertainment — so much, that's what they call it: the Entertainment package.
They've got it all: network stations (including The CW), popular "basic cable" channels (such as AMC, Discovery, Paramount Network, Bravo, MTV, TBS, TLC, TNT, and USA), and premium options (Cinemax, HBO, and Showtime, among others).
All plans come with unlimited cloud DVR storage as long as you sign-up online. They allow streaming on up to 20 devices in your home at the same time — and 3 away from home! All this, for just $69.99/mo. Get DIRECTV STREAM free for 5 days.
Get more details in our DIRECTV STREAM review.
Hulu + Live TV

Hulu + Live TV starts with the outstanding Hulu on-demand library. It adds 85+ live TV channels to that for $69.99. This includes The CW pretty much everywhere. Hulu Live comes with unlimited cloud DVR and 9 months of storage. And you can stream on up to 2 devices simultaneously.
Note that most premium subscriptions through Hulu — like HBO, ESPN+, Disney+, Cinemax, Showtime, and Starz — give you access to all six to eight multiplexed linear channels.
So, for example, you don't just get HBO and HBO2 when you get HBO Max through Hulu — you also get HBO Comedy, HBO Family, HBO Latino, HBO Signature (for the ladies), and HBO Zone (for the millennials). DIRECTV STREAM, by contrast, only offers HBO and HBO2.
See our Hulu + Live TV review for more details.
Other Ways to Stream The CW
Another option for streaming The CW is YouTube TV. It offers 85+ channels for $64.99/mo and is generally similar to Hulu + Live TV.
But maybe you live in a rural area like the Kents in Smallville and there isn't an affiliate of The CW. Or your city ought to have an affiliate but just hasn't gotten around to finding one. No worries, check out these other options:
HBO Max: The exclusive streaming home of all new Warner-produced CW content, which is to say, pretty much all of the most popular stuff, and anything that takes place in the DC universe, which is all the various superhero dramas. You can pick up a subscription direct from HBO starting at $9.99/mo. This doesn't give you access to a live CW channel and locally-produced content, but it's the next best thing; new episodes will be available the day after they air, or sooner.
CW Seed: The CW's experimental new free web-channel contains almost all original Seed-exclusive shows, but we did spot Whose Line Is It Anyway?, so they have at least one broadcast crossover. You can watch it and other shows for free on The CW app. Note that it does not include The CW live stream.
TVs and Mobile Devices to Live Stream The CW
The services above allow you to watch on most TVs and other devices. All the popular "stick" devices are supported: Amazon Fire TV, Apple TV, and Roku.
Recent model Samsung smart TVs are also supported. FuboTV and Hulu + Live TV also support smart TVs from LG, Vizio, and Android TV-based systems.
You can also stream on Android and iOS smartphones and tablets. And you can cast from these devices (also some web browsers) to your smart TV with Chromecast built-in or external.
Fubo and Hulu both let you watch on the Xbox One. Hulu also supports the PlayStation and Nintendo Switch.
If you don't see your device, look in our streaming service reviews. They each have complete lists.
Wrapping Up
So whether you prefer your young protagonists to battle their inner demons or actual demons, you can banish your hell-beast of a cable bill from your life completely.
Just sign up for one of the services above and enjoy the new season of Walker, without the cable bill drama.
FAQs
What kind of shows can I watch on The CW?
The CW's signature teen/young adult dramas fit into three categories: regular dark, brooding, and gritty; supernatural or sci-fi dark, brooding, and gritty; or DC universe superhero dark, brooding, and gritty. They also keep a handful of comedies (just for contrast) and another handful of reality/competition TV shows.
In addition to the aforementioned Gen-Z targeted dramas, The CW is known for its ability to cannibalize its own IPs. Here's a list of current and former top shows — note the number of reboots and spin-offs and spin-offs of spin-offs. Don't get dizzy.
Current drama series:
4400 (reboot)
All American
Batwoman (DC Universe)
Charmed (reboot)
DC's Legends of Tomorrow (Arrow/Flash spin-off/DC Universe)
Dynasty (reboot)
The Flash (Arrow spin-off/ DC Universe)
Legacies (spin-off of The Originals which was a spin-off of The Vampire Diaries)
Nancy Drew
Riverdale
Supergirl
Walker (reboot).
Former drama series:
The 100
Arrow (DC Universe)
Black Lightning (DC Universe)
Crazy Ex-Girlfriend (a Golden Globe winner)
Jane the Virgin (a Golden Globe winner)
Katy Keene (Riverdale spin-off)
Smallville (DC Universe)
Supernatural
The Vampire Diaries.
What happened to The WB and UPN?
Way back in 1995, two major media companies, Time Warner and Paramount Pictures, each launched their own little over-the-air networks, The WB and UPN. Fox, launched about a decade earlier, showed that a new network could, in theory, compete with the Big Three. Sadly, both of the baby networks' success was predicated on being the only newcomer on the network field. The divided viewership doomed the fledgling channels from the start.
Eleven years later, both networks were still hemorrhaging money from their parent companies. So Time Warner and CBS, which had gained ownership of UPN, hashed out a plan to close down their respective networks and go in 50-50 on a new one that would broadcast the most successful TV shows from both former channels.
The new network was christened The CW (CBS-Warner) and launched on September 18, 2006. That's what happened to The WB and UPN and how we all got to watch Supernatural for fifteen years.
Does The CW show sports?
The CW network itself does not broadcast much in terms of sports. But many local affiliates of The CW do. Of particular note is WPIX (PIX11) in New York. Although it is part of The CW network, it is also a big broadcaster of both Yankees and Mets games. Check out the schedule of your local affiliate.
How can I watch other local channels without cable?
These guides show you how to watch other local channels without cable — both OTA and streaming:
How can I watch other entertainment channels without cable?
Our guides for watching other entertainment channels: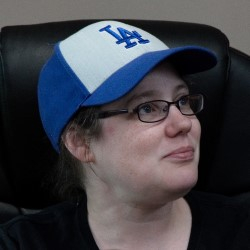 Latest posts by Alanna Baker
(see all)