There are many ways to enjoy Destination America without cable — whether you like its current travel-oriented content or its older library of paranormal content. Read on to learn your options!
In a hurry? Being part of the Discovery family, Destination America is widely available from streaming services. These are our top choices:
FuboTV: With 120+ channels, it offers something for everyone. FuboTV allows you to try out its service free for 7 days.
Sling TV: Probably the best streaming service in terms of customization with a super low price!
DIRECTV STREAM: Provides everything you expect from cable with many options. A 5-day free trial is now available for DIRECTV STREAM.
If you can't watch your favorite sports, TV and movies because of your location, try ExpressVPN to get access to the content you deserve. Signup now.
Unfortunately, we don't know a streaming service in that offers this TV channel. But if you've already paid for the right service, and just can't watch because of your location, there is an easy way to get the sports, movies, and TV you deserve. You need a VPN, like one of the following.
ExpressVPN: Premium VPN provider that just works, with 3,000+ locations in 94 countries. Supports five simultaneous devices and comes with a 30-day money-back guarantee. (ExpressVPN review)
Surfshark: Connect to over 3,200 servers in 99 countries (+ tonnes of US metro areas). Try it with a 7-day free trial.
NordVPN: Connect to over 5,000 premium servers in 60+ countries. Comes with a 30-day money-back guarantee!
If you're overwhelmed and not sure where to begin, you'll find all the answers in our full VPN guide.
Destination America provides a little bit for everybody. Its lineup is filled with the latest cultural trends in segments like travel, food, and lifestyle. Plus, it has quite a library of old content. At one point, it delivered 8000+ hours of original programming each year.
If you are interested in watching some fabulous episodes from this library, you don't need a cable subscription. There are many streaming services that offer this network.
Sign Up for a Free 7-Day Fubo Trial
What Is Destination America?
Destination America is owned by Discovery Inc. It is one of a number of prominent lifestyle channels including its sister channels.
It launched in 1996 as Discovery Travel & Living Network. At that point, it produced shows that dealt with cooking, leisure, and home improvement.
In 2008, there was a major rebranding. The network was renamed Planet Green. It shifted programming to environmental topics and sustainable living. Unfortunately, this venture was not successful.
To turn things around, Destination America was born in 2012. Originally, it aired programs that were based around cultural entertainment.
A few years later, the network was rebranded once again. This time, it decided to air programs about paranormal activity. The series premiere of Paranormal Lockdown drew the highest ratings in network history.
In 2018, the channel was acquired by Scripps Networks Interactive. Once again, major changes were made. Today, it appears that the original format has returned, and programming includes reruns of popular Travel Channel shows.
Destination America Programming
In the past, some of the most popular shows on this network centered around the paranormal. If you would love learning about the possible existence of unearthly beings, these shows are sure to please.
Paranormal Lockdown: Join Nick Groff and Katrina Weidman as they explore some of the country's most haunted places.
America's Most Haunted Asylum: Pennhurst Asylum, an outdated facility in Pennsylvania, may be one of the scariest places in America. The show follows mediums and paranormal investigators who go deep underground beneath the tunnels and hallways of this place to uncover what spirits are left behind.
These types of shows have been removed from the normal schedule. Fortunately, they can still be viewed on Discovery+. Some content will also generally be available on-demand from live TV streaming services that offer the channel.
As far as the current lineup on Destination America, the theme is centered around "heartland" entertainment. Currently, it provides old reruns from HGTV, Travel, and other channels that are affiliated with the Discovery networks.
Sign Up for a Free 7-Day Fubo Trial
Destination America Sister Channels
Unblock Your Favorite Movies and Shows With a VPN
If you can't watch your favorite movies and shows because of your location, a VPN will allow you to get the access you are entitled to, plus extra security and unequalled privacy. Check out our VPN Guide for everything you need to know, including our top pick ExpressVPN.
Stream Destination America
Destination America is a "cable" channel so you can't pick it up over-the-air with an antenna. But there are quite a few options to stream Destination America live or on-demand.
Live TV Streaming Services
The only major live TV streaming service that does not offer Destination America is YouTube TV.
FuboTV: The base (Pro) package gives you 130+ live TV channels for $74.99/mo. To get Destination America, you need the Fubo Extra add-on for $7.99/mo. This adds a total of 46 more channels. The plan comes with 1000 hours of cloud DVR storage and streaming on up to 10 devices at home and two away. (FuboTV review)
DIRECTV STREAM: To get Destination America you need the Ultimate plan, which offers over 130 channels for $109.99/mo. You also receive 8 premium Starz Encore channels. All plans come with unlimited cloud DVR (online sign-up only) and streaming on unlimited devices at once. (DIRECTV STREAM review)
Sling TV: Offers the most customizable service around. You start with Sling Blue (40+ channels including NBC, Fox) or Sling Orange (30+ channels including Disney, ESPN) for $40.00/mo (or $55.00/mo for both). Then you add Heartland Extra for $6/mo, which gives you ~12 more channels including Destination America, The Cowboy Channel, and RFD-TV. Both plans come with 50 hours of cloud DVR. (Sling TV review)
Hulu + Live TV: Stream 85+ top channels with this service along with ESPN+ and Disney+ for $69.99/mo. The Entertainment add-on for $7.99/mo adds 16 more channels including Destination America. (Hulu + Live TV review)
Philo: This is perfect for budget-minded television watchers. For $25/mo, you receive 60+ channels, including Destination America, Food Network, and Discovery. The low price comes at the cost of sports and local channels. But it does come with unlimited cloud DVR storage and streaming on up to 3 devices. (Philo review)
Vidgo: Destination America comes with its base plan of 100+ channels for $59.95/mo. It allows you to stream on up to 3 devices at once. But you will need to purchase the Premium plan ($79.95/mo) to get a cloud DVR. (Vidgo review)
Another way to view content is through the Destination America GO app. You can choose live on-demand episodes. However, it is necessary to have a TV provider. All the streaming services above (other than Sling TV) allow you to do this.
Discovery+
Many of the past shows on Destination America, especially the ones that were associated with paranormal themes, are now available to stream on Discovery+. This network can be purchased through a direct subscription or through the Amazon Prime Discovery+ channel.
See our Discovery+ review for more information.
Sign Up for a Free 7-Day Fubo Trial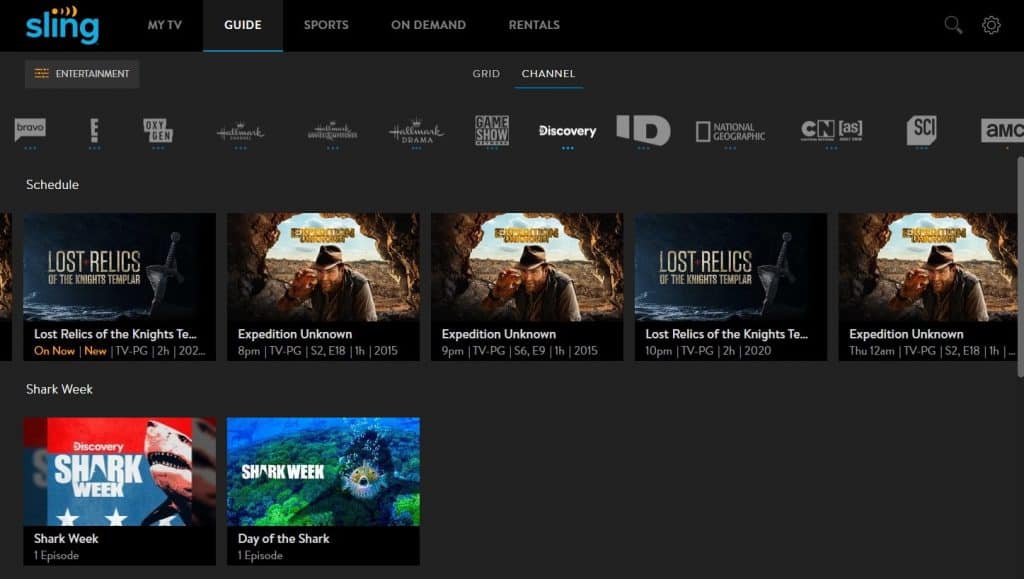 Devices to Live Stream Destination America
You can watch Destination America on most devices:
Amazon Fire TV
Apple TV
Android mobile
Chromecast
iOS devices
Roku
Web browsers.
Most services also support Android TV-compatible, LG, Samsung, and VIZIO smart TVs. They also support Xbox gaming system. Only Hulu supports PlayStation units.
See our streaming reviews (linked above) for complete details.
Superpower Your Live TV Streaming With a VPN
You can't beat a VPN for privacy, security, and access. We have used them for years as an important part of our streaming toolkit and we recommend ExpressVPN.
Wrapping Up
Although Destination America programming has changed over the course of its existence, it still provides useful content. Today, its shows focus on "heartland" themes. To view this type of entertainment, cable is not necessary. We recommend Sling TV with Heartland Extra for streaming Destination America.
More Entertainment Channels to Stream Online
The list below has all the information on other entertainment channels to watch:
Ditch "Big Cable" Now – 3 Simple Steps to Cut the Cord
Pick the right streaming service
Get the content you deserve with the best VPN.
Supercharge your internet provider
That's it — you'll save money, take back control, and enjoy TV more!
Latest posts by Frank Moraes
(see all)