Disclosure:
Your support helps keep our site running! We earn referral fees for some of the products & services we recommend.
Learn more
Discovery is one of the iconic cable TV stations. It isn't most people's favorite channel, but it's one that most people want around because of its consistently interesting high-quality content. Thankfully, it isn't necessary to have cable to include Discovery in your channel lineup.
In a hurry? If you just want to make sure you have Discovery and related channels, these streaming services are great choices:
Hulu + Live TV: This is a great overall entertainment package with 85+ live channels and an outstanding on-demand library. Try it free for 7 days!
Sling TV: For just $35/mo, the Sling Blue plan includes Discovery as well as 40+ other channels including your local Fox and NBC affiliates. Check it out with a 3-day free trial.
Philo: If you are on a budget, this is the way to go. Get the 3 main Discovery channels and 60+ others for just $25/mo. Sign up for the 7-day free trial.
Debuting in 1985, the Discovery Channel almost immediately became one of the important sources of information for those who enjoyed topics such as history and science. In 1988, the first iteration of Shark Week was seen by viewers in hundreds of thousands of households throughout the United States.
Today, Discovery is available to more than 50 million households. And it is available on a number of streaming platforms. In addition, there are a number of offshoots such as Investigation Discovery, Discovery Family, and Discovery Life.
How to Watch Discovery Channel Live Without Cable
Watching content via a streaming service may be ideal for those who want the flexibility to watch television on their terms. Most platforms allow you to cancel service whenever you want or take your plan to a new home or apartment without the need to go through a formal transfer process.
The Discovery Channel is a premium "cable" network, which means that you won't be able to watch it with an antenna. The same is true of the other channels that fall under the Discovery umbrella of networks.
To watch these channels without a cable or satellite subscription, you will need to subscribe to one of the several streaming platforms that offer it as part of their base or premium packages.
Streaming Services with Discovery Channel
Most major streaming platforms provide access to content produced by Discovery and its sister networks. Therefore, it should be relatively easy to find a plan that meets both your needs and your budget.
Philo

Philo comes with Discovery, Discovery Life, and Discovery Family as part of its base 60+ channel lineup. You will pay $25/mo for this service, and you can add various movie and entertainment options for an additional monthly fee.
Philo may be the best option for those who don't watch sports or don't want to pay extra for local channels. The absence of these kinds of channels is what keeps its price so low.
But apart from relatively limited channel selection, Philo is a first-class streaming service with a great interface, unlimited DVR, streaming on up to 3 devices, and a 7-day free trial.
See our Philo review for all the details.
Hulu + Live TV

Hulu + Live TV offers Discovery Channel along with 85+ others for $69.99 a month. This includes a bunch of sports channels and network affiliates in almost every location. You also get Disney+ and ESPN+.
You can get Discovery Family and Discovery Life through the Entertainment add-on ($7.99/mo), which includes 14 other channels. In addition, Discovery Familia and Discovery en Español can be yours by signing up for the Español add-on ($4.99/mo).
Get all the details in our Hulu + Live TV review.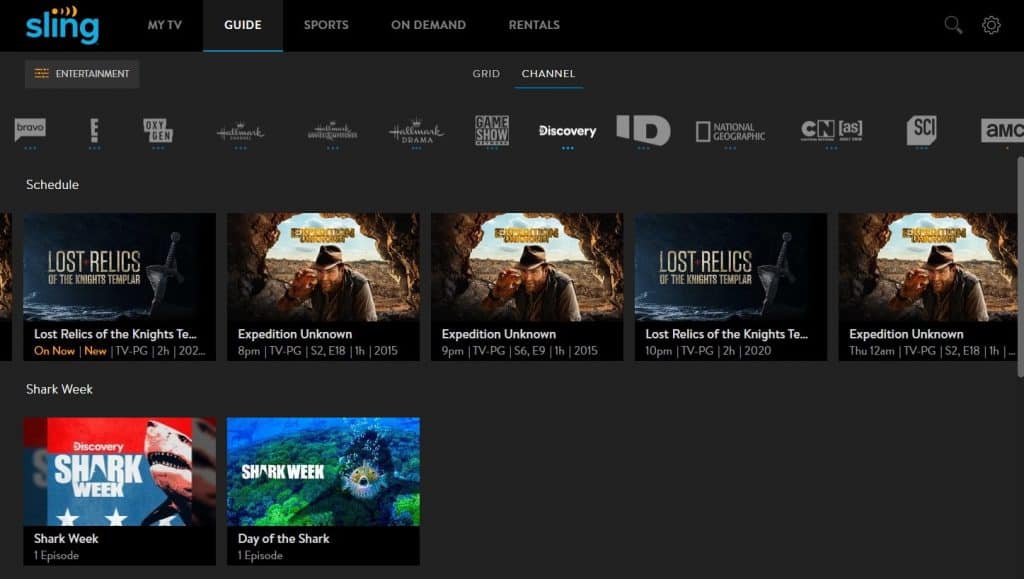 Sling TV

Discovery Channel is available along with 40+ others with the Sling Blue package for $35 per month. You also get Investigation Discovery as well as the local affiliates of Fox and NBC. Unfortunately, there is no way to get Discovery Family and Discovery Life with Sling TV.
But if Discovery Channel is enough, Sling TV is an awesome service with 50 hours of DVR, streaming on 3 simultaneous devices, and a great interface. Try it for free for 3 days.
See our Sling TV review for more information.
FuboTV

Discovery is available in the base (Startup) FuboTV plan for $64.99 per month. You can also get Discovery Life and Discovery Family with the Fubo Extra ($7.99/mo) plan that includes 48 total channels.
If you want to watch this channel in Spanish, you can acquire Discovery Familia, Discovery en Español, and 14 others with the Latino Plus add-on for an extra $19.99 per month.
If you are a sports fan, FuboTV is the way to go. Of its 100+ channel lineup, a third are sports-oriented. It also features what we consider the best interface in the industry.
For all the details, see our FuboTV review.
Vidgo

Like Sling TV, Vidgo offers both the primary Discovery network as well as Investigation Discovery as part of its base package for $55 per month for a total of over 85 channels.
For $79.95/mo, you can upgrade to the Vidgo Premium package, which includes Discovery Life and Discovery Family. Discovery Familia and Discovery en Espanol are both available as part of the Vidgo Mas package, which offers 25+ channels for $30/mo.
Check out for Vidgo review for more information.
DIRECTV STREAM

DIRECTV STREAM (formerly AT&T TV) offers Discovery Channel and Investigation Discovery with its base Entertainment play with 65+ channels for $69.99/mo. If you upgrade to the Ultimate plan ($94.99/mo), you get 130+ channels including Discovery Family and Discovery Life. Discovery en Español is also available as an add-on.
Read our DIRECTV STREAM review for details.
Other Ways to Get Discovery Channel
There are other ways to watch Discovery without signing up for a cable or satellite subscription.
Discovery+: This $4.99/mo plan allows you to stream most Discovery shows. You do not get the live stream, however. But you also get content from the sister channels.
YouTube TV: Its base plan comes with Discovery and Investigation Discovery along with 85+ other live TV channels for $64.99/mo. None of the other Discovery channels are available.
Discovery App: You can stream Discovery through its app, but you will need a streaming subscription to log in.
TVs and Streaming Devices for Discovery Channel
You'll need a device capable of installing streaming apps to watch Discovery Channel. This should be easy enough because you almost certainly own one or more of them. For example, all the services support the standard "stick" devices:
Mobile devices running Android and iOS (iPhone/iPad) are also supported. And you can use them to cast Discovery to your TV using Chromecast.
All the services (except DIRECTV STREAM) support Android TV-based devices. And, of course, you can use a web browser, which can be connected to a TV.
All the services except Philo and Vidgo support Samsung smart TVs. Hulu + Live TV, FuboTV, and Sling TV support LG and Vizio smart TVs. FuboTV supports Hisense TVs. Hulu, Sling, and FuboTV also support the Xbox One gaming console.
There are other devices supported. See our individual reviews for a complete list.
Wrapping Up
Over the past 35+ years, Discovery has been helping people learn more about the world around them. Whether you want to learn how to cook, renovate your home, or complete other tasks, it is likely a channel that you will enjoy watching.
The same is true if you are a science, history, or general education buff who likes to watch content that is thoughtful and exciting at the same time.
You can get Discovery through most general streaming services. And you can get most of its content by signing up for Discovery+.
FAQs
How many channels are part of the Discovery brand?
In addition to Discovery, Discovery Life, and Discovery Family, Discovery Inc owns the Science Channel, Food Network, and almost a dozen other channels. Most of the channels are available through your favorite streaming service. They also own the Spanish-language channels Discovery Familia and Discovery en Español
Do I need to adjust my device's settings to watch content in Spanish?
As a general rule, Discovery channels that broadcast in Spanish will stream just like channels that broadcast content in English. However, it may be possible to watch Spanish content with subtitles if you need help following along for any reason. Alternatively, it may be possible to watch content with Spanish subtitles if that makes it easier to meet your content consumption needs.
How can I watch other entertainment channels without cable?
If you want to watch other entertainment channels without a cable TV subscription, these guides should help:
Latest posts by Frank Moraes
(see all)