Watch Manchester City and Manchester United in the 2023 FA Cup Final on June 3rd at .

Watch it on ESPN+!
For sports fans, ESPN is really a must-have channel. It's the place to go for Sunday Night Baseball and Monday Night Football. But ESPN covers the entire world of sports with all its channels.
But what if you don't have a cable or satellite subscription? Can you watch ESPN online without cable TV? The answer is a resounding yes. Read on to see your options.
In a hurry? If you just want to start watching your favorite sports with the main ESPN channels now, these three services will do that and provide good overall viewing options:
Watch ESPN Online For Monday Night Football and More
Probably the number one reason people want access to ESPN is so that they can watch Monday Night Football. The groundbreaking nighttime game first showed on ABC but those days are mostly gone.
Occasionally (once a season), MNF will be simulcast on ABC. But it is always on ESPN — week after week — even during the playoffs. You will also see a couple of Saturday NFL games.
In addition, ESPN provides great coverage of all the professional leagues: MLB, NBA, NHL, WNBA, NCAA, MLS, UFC, and much more. And you don't have to pay much to get it all. For just $40.00/mo, Sling TV offers ESPN, ESPN2, and ESPN3!
If you go up to $69.99/mo, Vidgo offers ESPN, ESPN2, ESPNews, ESPNU, and ESPN Deportes as well as ESPN's college channels ACC Network, Longhorn Network, and SEC Network.
Sign Up for a Free 7-Day Fubo Trial
Unblock Your Favorite Movies and Shows With a VPN
If you can't watch your favorite movies and shows because of your location, a VPN will allow you to get the access you are entitled to, plus extra security and unequalled privacy. Check out our VPN Guide for everything you need to know, including our top pick ExpressVPN.
Watch ESPN With Online Streaming Services
ESPN isn't broadcast over the airways so you can't get it with a TV antenna. In the past, that meant that you needed a cable or satellite subscription. But today, ESPN is available via a number of live TV streaming services.
Even ESPN has gotten in on the streaming action. In 2018, they started ESPN+. But it doesn't allow you to live stream ESPN. It provides access to a lot of live events that do not appear on the regular channels. Check out our full review of ESPN+.
For cord-cutters who want ESPN, streaming services are your primary option. Luckily, because the ESPN channels are so popular, most services provide access to them in their base plans.
Given how well ESPN is supported, your choice of service will probably be driven more by the other channels provided and the price of the service.
Here's the ESPN channel lineup and how each streaming service provides them:
Sign Up for a Free 7-Day Fubo Trial
Watch ESPN Online With Fubo TV
FuboTV's base plan only includes the basics: ESPN and ESPN2. You can add ESPNews and ESPNU with either the Fubo Extra ($7.99/mo) or Sports Plus ($10.99/mo) add-ons. Both those add-ons also provide ACC Network and SEC Network from ESPN
And you can Get ESPN Deportes with either the International Sports Plus ($6.99/mo) or Latino Plus ($19.99/mo) add-ons.
But if you are a sports fan, you may not need more than the two ESPN channels. FuboTV's base plan comes with 38 sports channels including 9 beIN Sports channels, 4 Big Ten Network channels, the two Fox Sports channels, 12 TUDN channels, CBS Sports Network, Olympic Channel, and NFL Network.
Fubo allows you to try out its service free for 7 days. If this piqued your interest but you want to know more, check out these resources:
Sign Up for a Free 7-Day Fubo Trial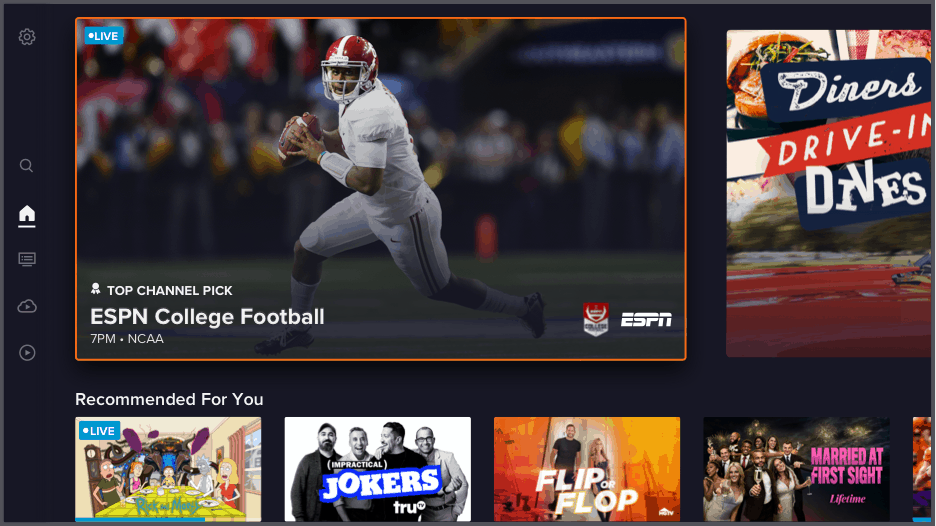 ESPN on Sling TV
For just $40.00/mo, the Sling Orange plan offers ESPN, ESPN2, and ESPN3. While you can get ESPN3 via ESPN's app, it's a nice touch that Sling TV integrates it with its interface.
The NCAA Men's and Women's Division I National Lacrosse Tournaments are going on through May 29 — watch with Sling TV for less!
You can add ESPNews and ESPNU with the Sports Extra ($11/mo) add-on. This also includes the ESPN channels SEC Network (base and Plus), ACC Network (base and Extra), and Longhorn Network. To make it even better, this includes MLB Network, NBA TV, and NFL Network.
We have plenty of Sling TV guides like ours on the NFL draft.
The Orange plan offers 30 other channels including CNN, HGTV, and TBS. If you want local channels (Fox and NBC) and more sports, you can combine this plan with the Blue plan for a total of 50 channels.
You can find more details with the following guides:
DIRECTV STREAM With ESPN
The DIRECTV STREAM (formerly AT&T TV) base plan only includes ESPN and ESPN2, although that is a lot! If you want, you can add ESPN Deportes with the Deportes package for an extra $5 per month.
You can also get ESPNews and ESPNU if you upgrade to the Choice package for $99.99/mo. It comes with 100+ channels, unlimited DVR, and access to the best collection of regional sports networks in the industry. As an added bonus, you get HBO MAX for the first year free.
DIRECTV STREAM will probably be especially appealing to cord-cutters who are currently AT&T or DirecTV subscribers.
Get more information in the following guides:
Get DIRECTV STREAM Free for 5 Days
Watch ESPN on Hulu + Live TV
If ESPN is the focus of your TV viewing, Hulu + Live TV is a great way to go. They offer one of the best selections of ESPN channels of any base plan: ESPN, ESPN2, ESPNews, ESPNU, and ESPN College Extra.
And now, Hulu Live also gives you ESPN+. And Disney+. And their usual outstanding on-demand library.
They also provide the ESPN college channels ACC Network and SEC Network.
Of the two ESPN channels that don't come with the base plan, you can get ESPN Deportes with the Español add-on for an additional $4.99/mo. Although Hulu Live TV doesn't offer ESPN3, it is available on the ESPN app using your Hulu subscription.
In addition to the ESPN channels, Hulu + Live TV offers a good selection of other channels including local affiliates and sports channels like the ESPN SEC Network as well as its exceptional on-demand content library.
Want more information? Check out these resources:
Vidgo With ESPN
Vidgo offers a great deal. For just $69.99/mo, you get the most important channels: ESPN, ESPN2, ESPNU, ESPNews, and ESPN Deportes.
Additionally, you get the three college-oriented channels: ACC Network, Longhorn Network, and SEC Network.
Vidgo keeps things simple. There are no regular add-ons. But you probably don't need them. They provide local affiliates for ABC and Fox in most areas; they offer family-friendly channels like Disney and Nick Jr. And they provide great sports channels like FS1, FS2, 6 Pac-12 channels, SEC Network, NFL Network, and NFL RedZone!
Enticed? Check out these articles for more details:
Other Options To Stream ESPN
If the streaming services we reviewed above are not what you're looking for, you can watch ESPN without cable using the following services:
ESPN+: Although it isn't a replacement for the ESPN channels, ESPN+ gives access to a lot of live sports content (as well as an on-demand library) for a low price. There are many other events you can stream by logging in with your TV provider (cable, satellite, streaming).
YouTube TV: This is a solid package of 100+ channels that includes ESPN, ESPN2, ESPNews, and ESPNU. You also get a good selection of local channels and sports channels.
Sign Up for a Free 7-Day Fubo Trial
Devices You Can Use to Watch ESPN
You should be able to watch ESPN on most devices that you own. As long as your device is recognized by the streaming service you've chosen, you're covered.
TVs and TV Devices That Get ESPN
To use a streaming service with your TV, you need to have a supported smart TV or TV device like a "stick." Pretty much every service supports smart TVs from the last 5 years — especially those from Samsung.
They also all support the following devices and operating systems:
Amazon Fire TV: This device plugs into your TV's HDMI jack and makes it "smart" — able to run the various streaming apps available.
Android TV: This is roughly the Amazon Fire TV but built into TVs like the Hisense.
Apple TV: Roughly the same as the Fire TV stick but from Apple.
Roku: One of the earliest devices to augment TVs to run apps.
Mobile Devices For Streaming ESPN
All the streaming services support the major smartphones and tablets.
Android Phones: All the more recent Android-powered smartphones.
iOS devices (iPhones, iPads): Apple's more recent smartphones and tablets.
Any computer, laptop, or other device with a web browser can display ESPN with the streaming services listed above. Some of these devices can also be connected to a regular (non-smart) TV. If the TV provider supports TV Everywhere, you can stream it from espn.com as well.
A similar feature is available with Chromecast, which allows you to stream from your phone to your TV. It is really simple to do.
Gaming Consoles and VR That Can Stream ESPN
Lots of people watch movies on their gaming consoles. Except for DIRECTV STREAM and Vidgo, all the streaming services support Xbox One. Hulu supports PlayStation and Nintendo Switch. And if virtual reality (VR) is your thing, Sling TV supports Oculus.
Sign Up for a Free 7-Day Fubo Trial
Superpower Your Live TV Streaming With a VPN
You can't beat a VPN for privacy, security, and access. We have used them for years as an important part of our streaming toolkit and we recommend ExpressVPN.
What ESPN Channels Are Available?
ESPN started as a regional sports channel in 1979 as the Entertainment and Sports Programming Network. But even before it went live it was a national channel. In 1988, ESPN expanded to other nations. And in 1993, a second channel was added with more to follow.
ABC bought a controlling interest in ESPN in 1984. As a result of mergers, that means The Walt Disney Company now owns 80% of ESPN.
ESPN: The flagship channel of the network that broadcasts many live sporting events but also shows like SportsCenter.
ESPN2: Acts as a spillover channel for ESPN with events from MLB, WNBA, and NCAA football and basketball. It is also the base for ESPN's tennis coverage.
ESPN3: A streaming service that presents an array of sporting events including soccer. Much of its content has been moved to the pay-service ESPN+ over the last few years. But it still streams an enormous amount including virtually everything aired on ABC Sports.
ESPNews: Despite the name, it broadcasts repeats of events although it does feature some live events and shows.
ESPNU: Broadcasts a wide selection of college sports. It's related to the later formed Longhorn Network, SEC Network, and ACC Network.
ESPN Classic: broadcasts mostly old games and shows. It is the only ESPN channel not broadcast in HD because most of what it shows predated HDTV. No major streaming service offers it.
ESPN College Extra: Focuses on college football and basketball live games drawn from ESPN3.
ESPN Deportes: As the name implies, the Spanish-language ESPN with live events and shows.
ESPN also operates a number of networks focused on specific areas of college sports:
ACC Network: Focuses on sports involving the Atlantic Coast Conference.
ACC Network Extra: Predates ACC Network and continues to show events that don't fit on the main channel.
Longhorn Network: Shows and live events involving the University of Texas, Austin.
SEC Network: Covers all sports in the Southeastern Conference.
SEC Network Plus: Spillover content from SEC Network.
Sign Up for a Free 7-Day Fubo Trial
Wrapping Up
The ESPN channels are a mainstay of cable TV. ESPN and ESPN2 are offered in the basic plans of all the major streaming services. And all the others (with the exception of ESPN Classic) are available for little or no extra charge.
If you've been thinking of taking the cord-cutting plunge, you shouldn't worry about ESPN. The major streaming services have it covered — even the low-cost providers.
FuboTV is our first recommendation for streaming ESPN. Fubo allows you to try out its service free for 7 days.
Still have some questions about enjoying ESPN without the hassle of a cable or satellite contract? These resources will help:
See this streaming service guide to compare what they have to offer.
Sign Up for a Free 7-Day Fubo Trial
FAQs
Does ESPN have the NFL playoffs?
Yes! ESPN, ESPN2, and ABC will air the last Wild Card game of the NFL postseason on January 16, 2023. Subsequent rounds will be broadcast by a combination of CBS, Fox, and NBC. The Super Bowl (also called the Championship game) will be held on Sunday, February 12, 2023 and broadcast on Fox.
Who will play in the NFL playoffs in 2022?
As of this writing, 11 teams have clinched a spot in the NFL playoffs. The AFC teams that have punched their postseason ticket are Buffalo, Kansas City, Cincinnati, Baltimore, and the LA Chargers. In the NFC, we have Philadelphia, Minnesota, San Francisco, and the Cowboys with guaranteed spots.
Teams that still have a shot at the five remaining berths are: Tampa Bay, the New York Giants, Washington, Seattle, Detroit, Green Bay, Carolina, and New Orleans in the NFC — and Jacksonville, Miami, New England, the NY Jets, Tennessee, Pittsburgh, and Las Vegas in the AFC.
What are the NFL playoffs?
The NFL playoffs is a single-elimination tournament held at the end of the regular NFL season which determines which teams will vie for the Vince Lombardi Trophy, in the NFL Championship game — commonly known as the Super Bowl. There are three rounds prior to the Super Bowl: the Wild Card Round (12 teams), the Divisional Round (8 teams), and the Conference Championships (4 teams).
When do the NFL playoffs start this year?
The 2022-23 NFL playoffs start with the Wild Card Rounds on Saturday and Sunday, January 14-15, 2023. The postseason teams will then play elimination rounds over the next two weekends. The two teams who are playing in the Super Bowl will have a weekend off before the Championship game on February 12, 2023.
Is ESPN good for the NFL playoffs?
ESPN provides great news coverage of the NFL playoffs, so in that sense, it is good. But in terms of postseason games, it isn't. Each year, ESPN (usually simulcast on ABC and ESPN2) airs one Wild Card game on Monday Night. This still makes ESPN important for fans to have, since they will want to see every playoff game.
Here is the 2023 matchup:
Mon Jan 16 : AFC/NFC Wild Card Round (ABC/ESPN/ESPN2)
The same is generally true of the regular season. ESPN broadcasts Monday Night Football and one or two International Games. It's not a lot of football but it is essential football! If you want to know how to watch a particular team — on ESPN or not — see our viewer's guides:
Is the Super Bowl on ESPN?
Super Bowl LVII will not air on ESPN (it is on Fox this year). In fact, ESPN has never hosted the Super Bowl. But that is about to change. Super Bowl LXI in 2027 will be broadcast by ABC and ESPN as part of a four-year cycle along with CBS, Fox, and NBC.
Can I watch ESPN on Amazon Prime?
Amazon Prime Video is an on-demand streaming service so it doesn't air live games. It does, however, stream some content. In particular, you can watch the ESPN documentary series 30 for 30. However, this is not available free to Prime subscribers; you can buy episodes and seasons.
Can I watch ESPN for free?
You cannot watch live games on ESPN for free outside of a free trial with a streaming service. If you install the ESPN app, you can watch clips from events and shows. But it is frustrating and you will probably find yourself signing up for ESPN+ before long.
Can I watch ESPN live with ESPN+?
ESPN+ allows you to watch many live events. It does not, however, allow you to watch live events that are showing on ESPN and ESPN2. ESPN+ is an addition to these TV channels, not a replacement. Note that ESPN+ is a pay-service that costs $5.99/mo or $59.99/yr.
Can I watch ESPN without a TV provider?
No. It's not an over-the-air network that you can receive on an antenna; you must subscribe to a pay TV provider that carries ESPN. Most (but not all) TV providers offer ESPN, so make sure to check the service's channel lineup before you commit. ESPN+ is an over-the-top streaming service (meaning straight from ESPN, without a TV provider middleman) that you can get as a stand-alone subscription without a TV provider, but you won't get the live ESPN or ESPN2 channels from it.
Which streaming services have ESPN?
Any multichannel live streaming service that carries live sports at all carries ESPN. So except for Philo and Frndly TV, you're covered. You can choose from DIRECTV STREAM, fuboTV, Hulu Live, Sling TV, or Vidgo. You can read more about these services above in the "Online Streaming Services" section.
What devices can I stream ESPN on?
That depends on your TV provider. Some providers support more devices than others — Hulu Live supports a LOT of different streaming gadgets, while Vidgo only supports the most popular. The standard ones that almost everyone supports are Amazon Fire TV, Apple TV, Roku, Chromecast, iOS or Android mobiles, and computer web browsers.
How do I stream ESPN on my computer?
The easiest way is to use your TV provider's app or website and simply turn the channel to ESPN just like you would on a TV. If your TV provider supports TV Everywhere, you can also go to ESPN.com and sign in using your provider's credentials and stream ESPN from there.
What is the cheapest way to stream ESPN?
Sling TV is the cheapest way to stream ESPN. For $40.00/mo, they provide you with ESPN, ESPN2, and ESPN3. For an additional $11/mo you can get the Sports Extra add-on, which also gives you ESPNU and ESPNews. For $69.99/mo, Vidgo offers you ESPN, ESPN2, ESPNU, ESPNews, and ESPN Deportes.
What does ESPN offer other than live sports?
ESPN has developed many shows over the years. These go far beyond pregame shows like Monday Night Countdown and NBA Countdown. Some of the most popular ESPN shows are:
Around the Horn: A sports panel show with notable sportswriters.
Baseball Tonight: One-hour discussion of what's happening in MLB.
E:60: More or less the 60 Minutes of sports.
First Take: Two hours of sports discussion right after Get Up!
Get Up!: Two hours of sports talk each weekday morning.
NBA Today: Weekly show about the happenings in the National Basketball Association.
NFL Live: Daily show featuring news about the National Football League.
Outside the Lines: Saturday morning sports news show with Jeremy Schaap.
Pardon the Interruption: A lively discussion of sports news.
SportsCenter: ESPN's flagship program provides sports news and information.
This Just In: Daily sports talk show with host Max Kellerman.
Is Monday Night Football on ABC?
Monday Night Football is rarely on ABC. Although the weekly event started on ABC, once ESPN became part of Walt Disney, the game was moved. Monday Night Football does, however, sometimes simulcast on ABC, like it did the first week of the 2021 season. And ABC will air two Saturday games at the end of the season.
How do I watch channels besides ESPN without cable?
These guides show you how to watch other live channels with sports coverage: