Over the years, ESPN has become one of the most important sports networks with over a dozen sports channels. ESPN2 is part of this huge sports network, and you don't need cable to enjoy it.
In a hurry? If you don't care about the details of ESPN2 and all its related channels, you can try these three streaming services to watch ESPN2, and more:
Watch ESPN2 Via Online Streaming
ESPN2 and its sister networks broadcast live sporting events for basically every mainstream sport at both the collegiate and professional levels. Similarly, popular shows such as SportsCenter, Get Up, and First Take can all be caught on ESPN2.
But there are also ESPN2-specific shows like College Football Saturday Primetime and Garage.
Like all other ESPN channels, ESPN2 is a pay service. It is not available over the air so you can't watch it via an antenna. You must get it from a third-party provider. Traditionally, this meant a cable or satellite company. But now, ESPN2 is widely-supported by live TV streaming services.
Normally, ESPN2 will come with at least one other ESPN channel — almost always with ESPN, but also with ESPNU, ESPNews, various college league channels, and more.
To stream ESPN2, you need the following:
Internet connection: Most of the time, high-speed internet isn't necessary — generally 8 mbps is fine.
Streaming device: Almost all streaming services support smart TVs, mobiles, tablets, and other devices.
Streaming service: All the major services provide ESPN, and you'll need a subscription with one of them.
Unblock Your Favorite Movies and Shows With a VPN
If you can't watch your favorite movies and shows because of your location, a VPN will allow you to get the access you are entitled to, plus extra security and unequalled privacy. Check out our VPN Guide for everything you need to know, including our top pick ExpressVPN.
Other brands worth checking out include Hotspot Shield and CyberGhost.
Streaming Services with ESPN
ESPN2 is a premium channel, so only the larger streaming services provide it. In fact, at one time, the sports-focused FuboTV didn't offer it. All of the following services do, however.
Speaking of FuboTV, read on to find out what else you get alongside ESPN2 with major streaming providers.
FuboTV
FuboTV is well-known for its big collection of live sports channels. It is a great overall streaming service with 130+ channels, including ESPN and ESPN2. However, FuboTV isn't focused on ESPN in their base plan.
If you want the full range of ESPN channels, you should opt for the Fubo Extra add-on for $7.99/mo, which adds ESPNU, ESPNews, ACCN, and SEC Network.
The base FuboTV plan comes with many other sports channels including NFL Network, FS1, FS2, 9 beIN Sports, 4 Big Ten, Golf Channel, 12 TUDN, and more. This package costs $74.99/mo. If you want, you can upgrade to the Sports Plus add-on with 26 more channels including NFL RedZone, MLB Network, NBA TV, and NHL Network.
FuboTV also comes with excellent coverage of the local network affiliates (ABC, CBS, Fox, NBC) and general cable channels like Disney, HGTV, and USA.
You can record up to 1000 hours of cloud DVR and stream on ten devices simultaneously. If you are unsure about subscribing, they offer a free trial.
See the following guides for more: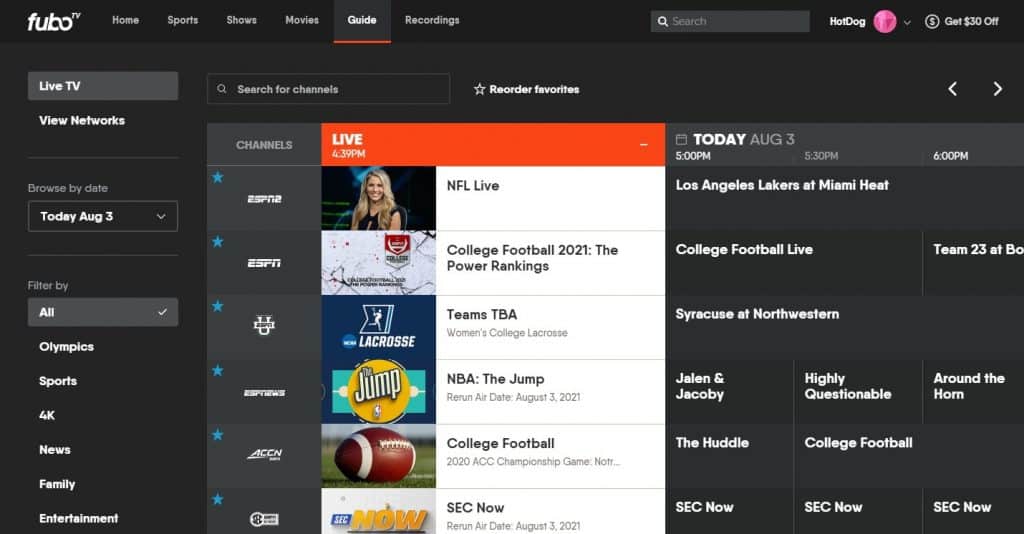 Sling TV
The NCAA Men's and Women's Division I National Lacrosse Tournaments are going on through May 29 — watch with Sling TV for less!
Sling TV is an ideal low-cost streaming service. The Sling Orange plan is only $40.00/mo and you get 30+ channels, including ESPN, ESPN2, and ESPN3. The inclusion of ESPN3 is notable because most streaming services provide access to it only via the ESPN app — not in their channel guide as Sling TV does.
You can get most ESPN branded channels with the Sports Extra add-on for $11/mo. This gives you ACC Network, ACC Network Extra, Longhorn Network, SEC Network, SEC Network+, and Pac-12 Network. What's more, you get MLB Network, MLB StrikeZone, NBA TV, and NHL Network. That's quite a sports channel selection for a total of $51/mo.
Other than that, you can record up to 50 hours of cloud DVR. You are, however, limited to streaming on a single device at once. You can increase this to four simultaneous screens by getting the Orange + Blue plan for :slingtv-orange-blue.
Find more info on Sling TV here:
DIRECTV STREAM
DIRECTV STREAM (formerly AT&T TV) offers numerous packages, but their base plan (Entertainment) includes only ESPN and ESPN2 for $74.99/mo. If you upgrade to the Choice plan for $99.99/mo, you can watch ESPNU, ESPNews, ACC Network, and SEC Network.
DIRECTV STREAM's Choice plan is pricier than the likes of fuboTV and Hulu, though it includes 100+ channels overall, along with access to DIRECTV STREAM's unmatched selection of regional sports networks. It also includes free HBO MAX for three months.
You can record unlimited hours of content on a cloud DVR. For $10/mo extra, this can be made unlimited, and you also get unlimited DVR with a two-year contract. DIRECTV STREAM also allows you to stream on unlimited devices simultaneously, which is great for large households and groups.
Find out more in our DIRECTV STREAM review.
Get DIRECTV STREAM Free for 5 Days
Hulu + Live TV
Hulu + Live TV is one of the most popular live TV streaming services. It includes Hulu's popular on-demand service as well as 85+ live channels, including ESPN2. This plan is $69.99/mo, and it offers various regional, entertainment, sports, and family channels.
In addition to ESPN2, Hulu Live offers ESPN, ESPNews, ESPNU, and ESPN College Extra. You also get college league channels like ACC Network, SEC Network, and SEC Network+, and general sports channels like FS1, FS2, and CBS Sports Network.
Hulu + Live TV features a good overall selection of channels including local affiliates of ABC, CBS, Fox, and NBC in most locations.
You can record unlimited cloud DVR with 9 months of storage and simultaneously stream on up to two devices.
For more information, see:
Vidgo
Vidgo is a relatively new streaming service with an impressive base plan. A subscription includes ESPN2 as well as the base ESPN, ESPNU, ESPNews, and the Spanish-language ESPN Deportes. In total, Vidgo offers over 110 channels for $69.99/mo.
There are a couple of negatives with Vidgo. The only widely covered local networks they offer are ABC and FOX, and there is no cloud DVR included. However, you can use an external DVR unit.
With Vidgo, you can stream on three devices at-a-time.
Read more about Vidgo in these guides: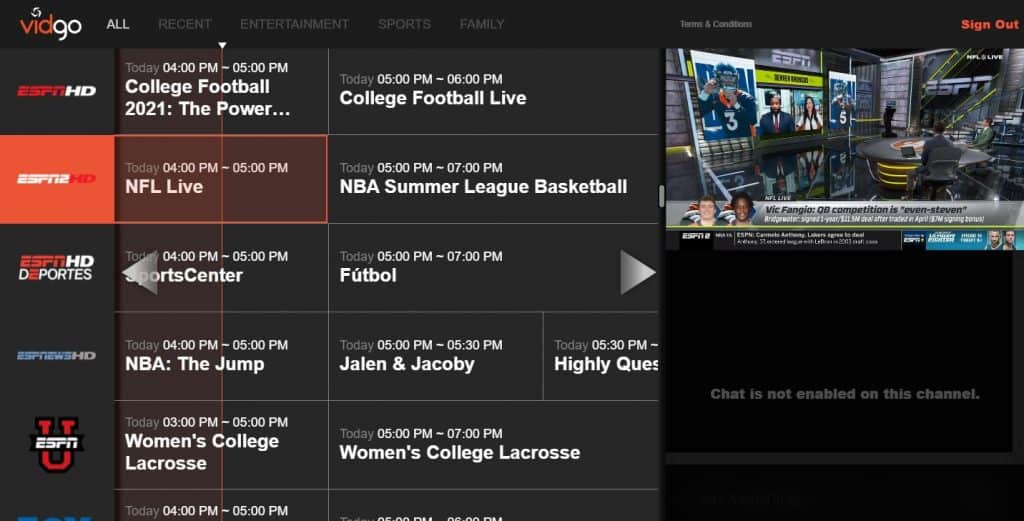 Other Ways to Get ESPN2
There are other ways to watch ESPN, including:
YouTube TV: General streaming service with ESPN, ESPN2, and ESPNU for $72.99/mo.
ESPN App: The interface for all the ESPN channels. You must have a streaming service log-in to get this. And to access the ESPN+ content, you need an additional subscription.
Superpower Your Live TV Streaming With a VPN
You can't beat a VPN for privacy, security, and access. We have used them for years as an important part of our streaming toolkit and we recommend ExpressVPN. Other brands worth checking out include Hotspot Shield and CyberGhost.
TVs and Devices to Watch ESPN2
All the services we've highlighted allow you to stream ESPN2 on most TVs or devices you already own.
TV Devices and Smart TVs
Most of the streaming services support Samsung smart TVs. Vidgo is the only one that doesn't mention these.
Similarly, only DIRECTV STREAM fails to support Android smart TVs.
FuboTV, Hulu, and Sling TV all support LG smart TVs. And FuboTV supports Hisense TVs.
All mentioned services support the following streaming devices that plug into TVs to allow them to run apps:
Amazon Fire TV
Apple TV
Roku
Chromecast is a similar device that allows you to cast from a device and have it display on your TV.
Mobile Devices
The main mobile operating systems are supported by all the streaming services:
Android Phones
iOS devices (iPhones, iPads)
Any device with a web browser can display ESPN2 with these streaming services. What's more, you can connect mobiles (via cast or cable) to TVs.
Gaming Consules
Hulu, FuboTV and Sling TV allow you to stream ESPN2 on Xbox One. Hulu also supports PlayStation and Echo Show. And VR fans can use Oculus VR to watch Sling TV.
Wrapping Up
Watching ESPN2 through streaming services is relatively easy and you hav plenty of streaming services to choose from. Most of these subscriptions plans are rolling contracts, so you can cancel any time with little commitment.
You either have a free trial, money-back guarantee, or a low-cost introductory month. So what are you waiting for?!
FAQs
What sports are available on ESPN2?
You can find the most popular sports on ESPN2. It features NCAA football and basketball, soccer, baseball, Arena Football League, WNBA, regular season KHL games, and motorsports. It even features some high school sports. Other than that, ESPN2 has also acquired broadcast rights to delay airing on some American Le Mans Series events.
Are there any free ways to watch ESPN2?
Unfortunately, there is no way to watch ESPN2 for free. You can't catch the channel over the air through an antenna. However, you can catch ESPN2 for free with a few of the aforementioned services for a limited period.