Disclosure:
Your support helps keep our site running! We earn referral fees for some of the products & services we recommend.
Learn more
ESPNews (sometimes erroneously "ESPN News") may not be the channel it once was but it's still the place to keep up-to-date on the latest sports news and see a lot of live sports as well. And you don't need cable to watch. Read on to learn everything you need to know.
In a hurry? ESPNews is offered by almost all live TV streaming services. These are our top picks:
Hulu + Live TV: Get all the major ESPN channels along with ESPN+ and more — much more.
Sling TV: With Sling Orange plus the Sports Extra add-on, you get all the ESPN channels and more for a low price. Save 50% on your first month of Sling TV.
FuboTV: This sports-focused service gives you 110+ channels with options for many more. FuboTV allows you to try out its service free for 7 days.
A part of the ESPN family of networks since 1996, ESPNews has been the place for sports fans to get the latest updates on important sports stories ever since. Although its role has changed greatly throughout the past decade, it is still an important asset that ESPN uses to deliver quality sports coverage.
Let's take a closer look at this channel's history, what it is typically used for today, and how you can watch ESPNews without the need for a cable subscription.
About ESPNews
In 1979, ESPN was launched as a regional sports network in Connecticut. However, during the 1980s, the network quickly expanded and became a national broadcast outlet that featured a variety of amateur and professional sporting events.
The network is widely credited for elevating the Big East conference to national powerhouse status, and it is also credited for turning the NFL Draft into the spectacle that it is today.
ESPNews Early Years
In 1996, ESPNews was made available to the viewing public as a premium cable channel. As of February 2022, this channel is still typically included as an add-on to base cable channels. Depending on the streaming platform that you use, it may also only be available as an add-on or as part of a more expensive base package.
For the first decade of its existence, ESPNews served as the CNN of professional sports. It was dedicated to providing coverage of breaking news stories as well as other content from a journalistic perspective. If a major story broke after SportsCenter aired in the morning, coverage of that story would typically be simulcast on both ESPNews and ESPN.
Recent ESPNews History
However, as the cable sports landscape shifted, ESPNews began to offer much of the same content that could be seen on ESPN or ESPN2. In recent years, morning television and radio shows have been simulcast or replayed on the channel in an effort to showcase them to a larger audience. Although the channel still provides coverage of breaking news stories, it tends to play a secondary role to coverage provided independently by ESPN and ESPN2.
In addition to airing replays of morning shows, ESPNews also serves as a relief valve when programming conflicts arise. For instance, if a game goes long on ESPN or ESPN2, this channel will broadcast whatever was supposed to be shown on that other channel.
Over the past two seasons, ESPNews has served as a hub for college football fans. The network will offer live reporting of important games that are going on around the country each Saturday during the football season.
There are also studio shows featuring insight from analysts, game highlights, and other content that might not be available anywhere else.
Historic games and documentaries are also broadcast on a regular basis on ESPNews. For example, you may be able to watch replays of shows such as 30 for 30. This show takes a deep look at famous athletes, famous plays, or other important stories that may not have gotten the attention that they deserve from other sources.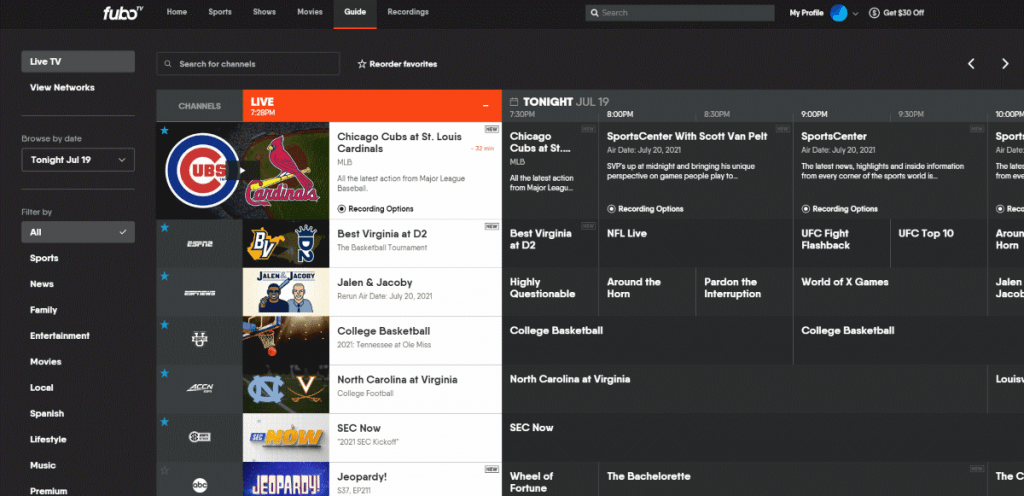 Streaming ESPNews
Philo is the only major live TV streaming service that does not offer ESPNews.
Hulu + Live TV

We think Hulu + Live TV is the best general streaming deal around. For $69.99, you'll get access to both 85+ channels including ESPN, ESPN2, ESPNU, ACC Network, and SEC Network. It also includes the outstanding Hulu on-demand library, Disney+, and ESPN+.
The plan comes with unlimited cloud DVR (9 months of storage) and streaming on up to two devices at once. (Hulu + Live TV review)
Fubo TV

The base FuboTV Pro plan is $69.99/mo and comes with 110+ channels. This includes over 35 sports channels like ESPN and ESPN2 but not ESPNews. To get ESPNews, you need to upgrade. The cheapest way to do this is with the Fubo Extra add-on for an extra $7.99/mo, which comes with 46 additional channels. Try FuboTV free for 7 days.
All FuboTV plans come with 1000 hours of cloud DVR and simultaneous streaming on up to 10 devices. (FuboTV review)
DIRECTV STREAM

ESPNews is available through the DIRECTV STREAM (formerly AT&T TV) Choice package, which starts at $89.99 per month. This package includes roughly 100 channels including the best selection of regional sports networks (RSNs) in the industry. These are the channels you need to watch your local MLB, NBA, NHL, and MLS teams. Get DIRECTV STREAM free for 5 days.
If you purchase online, all plans include unlimited cloud DVR storage and streaming on up to 20 devices at the same time. (DIRECTV STREAM review)
Sling TV

The Sling Orange package is $35 per month and comes with ESPN, ESPN2, and ESPN3. The Sling Orange Sports Extra package is $11 per month and comes with ESPNews, ESPNU, ACC Network, SEC Network, and Longhorn Network. It also includes MLB Network, NBA TV and NHL Network. Currently, save 50% on your first month of Sling TV.
You can also get Fox and NBC channels if you upgrade to the Orange & Blue plan. This rises the price to $50 and the Sports Extra add-on is $15. But this does give you an impressive selection of 70 channels for $65/mo.
This package restricts you to streaming on one device but you do get 50 hours of cloud DVR storage. (Sling TV review)
Vidgo

In addition to ESPNews, the Vidgo Plus plan comes with ESPN, ESPN2, and ESPNU. You'll also be able to get access to Big Ten Network (BTN), ACCN, SEC Network, and Longhorn Network as part of this package that costs $59.95 a month. In select areas it also comes with local stations from ABC and Fox. Usually for an English-language plan, ESPN Deportes is also included. Base plan has over 100 channels.
Vidgo does not offer a cloud DVR at this time. It does, however, allow you to stream on up to 3 devices. (Vidgo review)
YouTube TV

Along with ESPNews, YouTube TV offers ESPN, ESPN2, and ESPNU as part of its $64.99 per month base package. In all, you get 85+ live TV channels, unlimited DVR storage, and streaming on up to three devices.
Devices to Live Stream ESPNews
All of the services above support these streaming devices:
Amazon Fire TV
Android mobile
Apple TV
Chromecast
iOS (iPhone,iPad)

Roku

Web browsers

.
They all the services support Android TV devices (except DIRECTV STREAM) and Samsung smart TVs (except Vidgo). They also all support LG and VIZIO smart TVs and Xbox systems (except DIRECTV STREAM and Vidgo). Only Hulu and YouTube TV support recent PlayStation models.
See our streaming service reviews for complete lists.
Wrapping Up
Although ESPNews isn't just a news outlet anymore, it does have a mix of quality live content as well as historic games and documentaries available on-demand. It is available on most major live TV streaming platforms, but we recommend Hulu + Live TV.
How do I watch channels besides ESPNews without cable?
These guides show you how to watch other sports channels:
Latest posts by Frank Moraes
(see all)