ESPNews (sometimes erroneously "ESPN News," although that is how it is pronounced) may not be the channel it once was but it's still the place to keep up-to-date on the latest sports news and see a lot of live sports as well. And you don't need cable to watch. Read on to learn everything you need to know.
In a hurry? ESPNews is offered by almost all live TV streaming services. These are our top picks:
FuboTV: The best streaming service for international sports also provides 130+ well-selected channels. FuboTV allows you to try out its service free for 7 days.
Sling TV: This low-cost service allows you to select just the channel lineup you want. Save a bundle with Sling TV.
DIRECTV STREAM: Get a great channel lineup with the best selection of RSNs in the industry. A 5-day free trial is now available for DIRECTV STREAM.
If you can't watch your favorite sports because of your location, get ExpressVPN to access the content you deserve.
Unfortunately, we don't know a streaming service in that covers this sport. But if you've already paid for the right service, and just can't watch because of your location, there is an easy way to get the content you deserve. You need a VPN, like one of the following.
ExpressVPN: Premium VPN provider that just works, with 3,000+ locations in 94 countries. Supports five simultaneous devices and comes with a 30-day money-back guarantee. (ExpressVPN review)
Surfshark: Connect to over 3,200 servers in 99 countries (+ tonnes of US metro areas). Try it with a 7-day free trial.
NordVPN: Connect to over 5,000 premium servers in 60+ countries. Comes with a 30-day money-back guarantee!
If you're overwhelmed and not sure where to begin, you'll find all the answers in our full VPN guide.
A part of the ESPN family of networks since 1996, ESPNews has been the place for sports fans to get the latest updates on important sports stories ever since. Although its role has changed greatly throughout the past decade, it is still an important asset that ESPN uses to deliver quality sports coverage.
Let's take a closer look at this channel's history, what it is typically used for today, and how you can watch ESPNews without the need for a cable subscription.
Sign Up for a Free 7-Day Fubo Trial
About ESPNews
In 1979, ESPN was launched as a regional sports network in Connecticut. However, during the 1980s, the network quickly expanded and became a national broadcast outlet that featured a variety of amateur and professional sporting events.
ABC took control of the parent company, ESPN Inc, in 1984. This made it part of The Walt Disney Company when ABC was acquired in 1995.
The network is widely credited for elevating the Big East conference to national powerhouse status, and it is also credited for turning the NFL Draft into the spectacle that it is today.
ESPNews Early Years
In 1996, ESPNews was made available to the viewing public as a premium cable channel. As of February 2022, this channel is still typically included as an add-on to base cable channels. Depending on the streaming platform that you use, it may also only be available as an add-on or as part of a more expensive base package.
For the first decade of its existence, ESPNews served as the CNN of professional sports. It was dedicated to providing in-depth coverage of breaking news stories as well as other content from a journalistic perspective. If a major story broke after SportsCenter aired in the morning, coverage of that story would typically be simulcast on both ESPNews and ESPN.
Recent ESPNews History
However, as the cable sports landscape shifted, ESPNews began to offer much of the same content that could be seen on ESPN or ESPN2. In recent years, morning television and ESPN radio shows have been simulcast or replayed on the channel in an effort to showcase them to a larger audience. Although the channel still provides coverage of breaking news stories, it tends to play a secondary role to coverage provided independently by ESPN and ESPN2.
In addition to airing replays of morning shows, ESPNews serves as a relief valve when programming conflicts arise. For instance, if a game goes long on ESPN or ESPN2, especially major playoffs, this channel may broadcast whatever was supposed to be shown on that other channel.
Recent ESPNews Content
In recent years, ESPNews has served as a hub for college football fans. The network will offer live reporting of important games that are going on around the country each Saturday during the football season.
It also features a lot of boxing and mixed martial arts coverage from the UFC. Other sports include auto racing and soccer. World of X Games is also featured on ESPNews.
Most times ESPN is the the broadcaster for a major event, ESPNews will feature some of the content. For example, since ESPN is home of tennis' US Open, ESPNews will also feature matches.
ESPNews is also a good place to go for less-popular sports: axe throwing, chase tag, climbing, cornhole, karate, little league baseball and softball, polo, skateboarding, spikeball, teqball, and weightlifting. There is even coverage of cheer leading and dog shows.
Note that blackout restrictions can apply to ESPNews but this is extremely rare due to the sports and leagues it covers.
Shows on ESPNews
There are also studio shows featuring insight from analysts, game highlights, and other content. But pretty much none of it is exclusive to ESPNews:
Around the Horn: Roundtable discussion of sports topics hosted by Tony Reali.
College Football Live: Wendi Nix hosts news and commentary about college football.
Daily Wager: Daily sports betting show.
E:60: ESPN's award-winning sports magazine show.
First Take: Stephen A Smith and Molly Qerim host this afternoon sports talk show.
Get Up: Mike Greenberg discusses sports in this morning show.
Jalen & Jacoby: Talk show about sports and pop culture with Jalen Rose and David Jacoby.
Keyshawn, JWill and Max: Keyshawn Johnson, Jay Williams, and Zubin Mehenti present the sports news for the day.
Max on Boxing: Max Kellerman discusses boxing and other combat sports.
NBA Today: NBA-related sports talk hosted by Malika Andrews.
Pardon the Interruption: Tony Kornheiser and Michael Wilbon discuss and debate the day's sports news.
SportsCenter: ESPN's flagship daily news program.
This Just In: Max Kellerman discusses under-reported sports stories.
Historic games and documentaries are also broadcast on a regular basis on ESPNews. For example, you may be able to watch replays of shows such as 30 for 30. This show takes a deep look at famous athletes, famous plays, or other important stories that may not have gotten the attention that they deserve from other sources.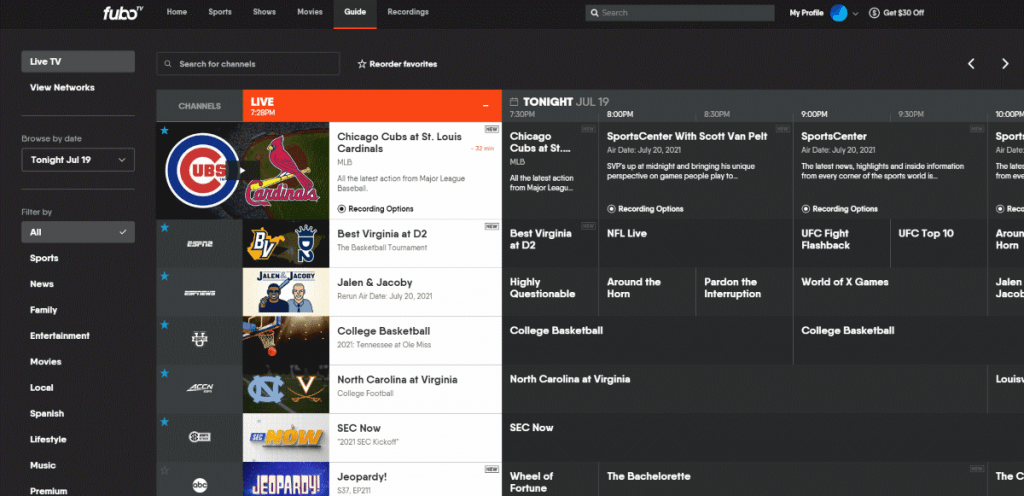 Unblock Your Favorite Movies and Shows With a VPN
If you can't watch your favorite movies and shows because of your location, a VPN will allow you to get the access you are entitled to, plus extra security and unequalled privacy. Check out our VPN Guide for everything you need to know, including our top pick ExpressVPN.
Streaming ESPNews
Philo is the only major live TV streaming service that does not offer ESPNews. All of the following services except Vidgo have non-sports premiums like HBO Max and Showtime available as add-ons so there's something for everyone.
Fubo TV

The base FuboTV Pro plan is a 100+ channel package for $69.99/mo. This includes over 35 sports channels like ESPN and ESPN2 but not ESPNews. To get ESPNews, you need to upgrade. The cheapest way to do this is with the Fubo Extra add-on for an extra $7.99/mo, which comes with 46 additional channels. FuboTV allows you to try out its service free for 7 days.
All plans include channel lineups with Fox Sports, NBC Sports, and CBS Sports in addition to all your local channels.
All FuboTV plans come with 750 hours of cloud DVR and simultaneous streaming on up to 10 devices. (FuboTV review)
Sign Up for a Free 7-Day Fubo Trial
DIRECTV STREAM

ESPNews is available through the DIRECTV STREAM (formerly AT&T TV) Choice package, which starts at $89.99 per month. This package includes roughly 100 channels including the best selection of regional sports networks (RSNs) in the industry. These are the channels you need to watch your local MLB, NBA, NHL, and MLS teams. New customers get 5-day free trial with DIRECTV STREAM.
If you purchase online, all plans include unlimited cloud DVR storage and streaming on unlimited devices in your home. (DIRECTV STREAM review)
Get DIRECTV STREAM Free for 5 Days
Sling TV

The Sling Orange package is $35 per month and comes with ESPN, ESPN2, and ESPN3. The Sling Orange Sports Extra package is $11 per month and comes with many ESPN networks: ESPNews, ESPNU, ACC Network, SEC Network, and Longhorn Network. It also includes MLB Network, NBA TV and NHL Network. Save 50% With Sling TV.
You can also get Fox and NBC channels if you upgrade to the Orange & Blue plan. This raises the price to $50 and the Sports Extra add-on is $15. But this does give you an impressive selection of 70 channels for $65/mo.
This package restricts you to streaming on one device but you do get 50 hours of cloud DVR storage. (Sling TV review)
Hulu + Live TV

We think Hulu + Live TV is the best general streaming deal around. For $69.99, you'll get access to both 85+ channels that allow you to stream ESPN, ESPN2, ESPNU, ACC Network, and SEC Network. It also includes an outstanding library of on-demand content, Disney+, and ESPN+.
The plan comes with unlimited cloud DVR (9 months of storage) and streaming on up to two devices at once. (Hulu + Live TV review)
Vidgo

In addition to ESPNews, the Vidgo Plus plan comes with ESPN, ESPN2, and ESPNU. You'll also be able to get access to Big Ten Network (BTN), ACCN, SEC Network, and Longhorn Network as part of this package that costs $59.95 a month. In select areas it also comes with local stations from ABC and Fox. Usually for an English-language plan, ESPN Deportes is also included. Base plan has over 100 channels.
Vidgo offers minimal cloud DVR at this time. It does, however, allow you to stream on up to 3 devices. (Vidgo review)
YouTube TV

Along with ESPNews, YouTube TV offers ESPN, ESPN2, and ESPNU as part of its $64.99 per month base package. In all, you get 85+ live TV channels, unlimited DVR storage, and streaming on up to three devices.
Devices to Live Stream ESPNews
All of the services above support these streaming devices:
Amazon Fire TV
Android mobile
Apple TV
Chromecast
iOS (iPhone,iPad)

Roku

Web browsers

.
They all the services support Android TV devices (except DIRECTV STREAM) and Samsung smart TVs (except Vidgo). They also all support LG and VIZIO smart TVs and Xbox One systems (except DIRECTV STREAM and Vidgo). Only Hulu and YouTube TV support recent PlayStation models.
See our streaming service reviews for complete lists.
Sign Up for a Free 7-Day Fubo Trial
Superpower Your Live TV Streaming With a VPN
You can't beat a VPN for privacy, security, and access. We have used them for years as an important part of our streaming toolkit and we recommend ExpressVPN.
Wrapping Up
Although ESPNews isn't just a news outlet anymore, it does have a mix of quality live content as well as historic games and documentaries available on-demand. It is available on most major live TV streaming platforms, but we recommend Hulu + Live TV.
FAQs
Is ESPNews included with ESPN+?
ESPNews is a live TV channel and is not included with ESPN+. This is because ESPN+ offers live sporting events but not live TV channels. But if you are interested in the NCAA and less-popular sports ESPNews provides access to, getting ESPN+ is a great idea.
Does Philo offer ESPNews?
Philo does not offer ESPNews or any of the ESPN channels. In fact, Philo doesn't offer any sports channels or local channels (which also broadcast a lot of sports). They offer a very inexpensive ($25/mo) service that provides the basic cable channels. It's great — especially when combined with an antenna. But it isn't a good service for sports fans.
How do I live stream ESPNews?
There are two ways to live stream ESPNews. The first is to sign up for a streaming service that includes ESPNews and to stream directly from its app. The other is to get a TV provider (streaming or not) that allows you to stream from within the ESPN app using TV Everywhere.
Can I watch ESPNews for free?
In general, there is no legal way to watch ESPNews for free. You can do so temporarily with a free trial from FuboTV or DIRECTV STREAM. Otherwise, you are out of luck. You will occasionally come upon illegal free streams but these open you up to viruses, spam, and even legal action.
What is WatchESPN?
WatchESPN was basically just the brand for ESPN's live TV streaming. It allowed users to stream using TV Everywhere, so they still had to have access to the channels through a TV provider. Today, this is all done with the ESPN app and the ESPN website.
Can I watch ESPNews with Sling Blue?
You cannot get ESPNews or any of the ESPN channels (eg, Longhorn Network) with the Sling Blue. This is true even with add-ons like the Sports Extra. The only thing you can do is to get the Orange + Blue plan for $50/mo and then get the $15/mo Sports Extra add-on.
Sling TV provides the most customization of any streaming service. But separating the ESPN channels from the Fox and NBC channels is one way they encourage subscribers to upgrade.
Is ESPNews a channel?
Yes. It is part of the larger family of ESPN networks, which include ESPN, ESPN2 and ESPN3, ESPN Deportes (Spanish), ESPNU (college), and ACCN and SECN (college divisions). ESPNews is a regular "basic cable" channel, though it's usually included on a higher tier than the basic package.
It's not a premium channel like HBO or Showtime that you order by itself, nor is it a stand-alone streaming service like Discovery+ or AMC+ that you subscribe to. ESPN does have one of those — ESPN+ — which carries a variety of sports from around the world.
Does Hulu have ESPNews?
Hulu + Live TV includes ESPNews in its base package for $69.99/mo. That monthly price includes ESPN+ and Disney+ as well as all the live channels and Hulu's own on-demand streaming library. If you have a subscription to just the on-demand streaming library without the Live TV, it doesn't have any live channels. You can get it bundled with ESPN+, which would give you some live sports, but still no live traditional live channels.
What is the programming on ESPNews?
ESPNews is currently best known for simulcasting ESPN radio shows. It also replays shows from ESPN and ESPN2. It serves as an overflow channel for ESPN and ESPN2 when needed, and has live coverage of some more obscure sports. In addition, you can count on ESPNews for live reporting on important college games.
How can I watch channels besides ESPNews without cable?
These guides show you how to watch other sports channels:
Ditch "Big Cable" Now – 3 Simple Steps to Cut the Cord
Pick the right streaming service
Get the content you deserve with the best VPN.
Supercharge your internet provider
That's it — you'll save money, take back control, and enjoy TV more!
Latest posts by Frank Moraes
(see all)