If you love horse racing — especially if you like to place the occasional bet — FanDuel is an essential channel. And cord-cutters are in luck because you don't need a cable subscription to watch.
In a hurry? A few of the biggest streaming services allow you to watch FanDuel. These are our top picks:
DIRECTV STREAM: Get FanDuel with its Choice plan including its best-in-industry RSN collection. A 5-day free trial is now available for DIRECTV STREAM.
Hulu + Live TV: Offers an outstanding overall entertainment service, which you can supplement with the Sports add-on featuring FanDuel and FanDuel Racing. Try one month for $69.99.
At this very moment, there's a good chance that at least one horse or dog racing track is open for business in some part of the world. If you have access to the FanDuel, you can watch and even place a bet at these tracks without having to leave home.
With convenient funding methods, bet sizes, and bet types, you can make legal wagers in a responsible and educated fashion from any place that has an internet connection.
What Is FanDuel?
FanDuel is owned by the FanDuel Group and is headquartered in Oregon. The FanDuel Group operates one of the largest fantasy sports platforms in the world, and if you have a FanDuel account, you can use it to bet on a number of sporting events in addition to horse racing such as baseball, football, and hockey games.
This network was originally founded in 1999 by the owners of the TV Guide Network, which was also known as TVG. That entity is now known as Pop TV and is not affiliated with the gambling industry in any way.
Over the next two decades, TVG would have several owners such as Macrovision and Betfair that took steps to help make the company into what it is today. FanDuel acquired the firm in Jul 2018 in an effort to gain market share after US states began legalized sports betting.
In September 2022, TVG changed its name to FanDuel and TVG2 changed its name to FanDuel Racing.
Programming
FanDuel has a variety of shows that are aimed at multiple segments of its audience. For instance, some of the shows are geared toward audiences who know little about horse racing and want to learn more about it.
There are also programs that offer an in-depth look at the world of horse racing. And there are shows that offer live betting odds and additional insight designed to help viewers make informed wagers.
Shows
If you like to watch live racing, you will likely want to check out Race Night on Monday through Thursday nights. FanDuel offers live coverage from more than 100 tracks throughout the United States and other countries such as Japan, Saudi Arabia, and Sweden.
Horseracing All Access should be considered mandatory viewing if you are looking to get an inside view of the world of horse racing. Each weekday morning, the folks at The Morning Line will provide you with weather reports, injury updates, and other information from tracks around the country.
Finally, you may want to tune into The Barstool Sports Advisors on Sunday mornings if you are a fan of witty banter and irreverent humor. This program is hosted by some of the most interesting personalities from Barstool Sports such as Dave Portnoy and Dan Katz.
Sports
FanDuel offers live and encore coverage of multiple key racing events such as the Travers Stakes and the Melbourne Cup. You can also watch replays of most races that take place at any track that is affiliated with FanDuel. Coverage of these events is provided by a number of quality commentators such as Tom Amoss, Peter Lurie, and Donna Barton Brothers.
You will also be able to watch show jumping, rodeo, and other events that involve horses or other large animals.
FanDuel Racing
FanDuel Racing is a digital cable channel that is also sometimes referred to as HRTV. This network used to be FanDuel's main competitor before it was purchased by Betfair.
Today, FanDuel Racing is used to provide additional coverage of live races and other events. It also features a number of documentaries and original programming that you won't necessarily find on FanDuel.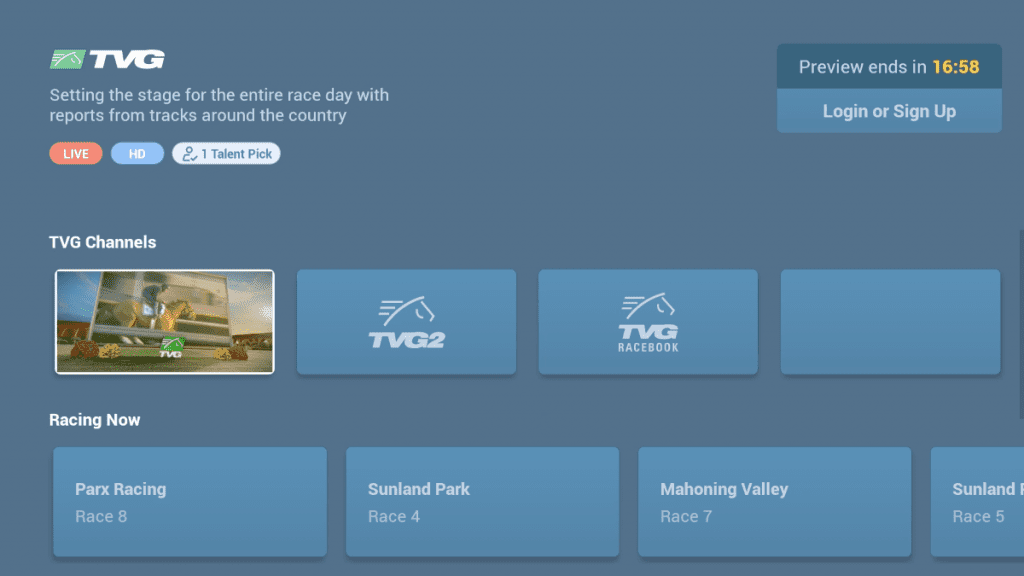 Unblock Your Favorite Movies and Shows With a VPN
If you can't watch your favorite movies and shows because of your location, a VPN will allow you to get the access you are entitled to, plus extra security and unequalled privacy. Check out our VPN Guide for everything you need to know, including our top pick ExpressVPN.
Other brands worth checking out include Hotspot Shield and CyberGhost.
Getting FanDuel Directly
You can get a subscription to FanDuel directly. It is reasonably priced at $3.99/mo. There is no yearly price.
Your subscription allows you access to the company's app, which can be used to watch races, make wagers, and perform other tasks from wherever you happen to be. In most cases, you'll be able to use your FanDuel account to fund your wagers and transfer winnings to your bank account.
Getting FanDuel With Live TV
Most of the major streaming services offer FanDuel. The major exceptions are Sling TV and FuboTV. All of those that do are full-cable replacement services. Their base plans come with all your local channels (ABC, CBS, Fox, NBC, and Telemundo).
And they all provide the basic live sports channels ESPN, ESPN2, and FS1.
DIRECTV STREAM (formerly AT&T TV): To get FanDuel, you need the Choice plan for $99.99/mo. But this comes with quite a lot. In all, you get roughly 100 channels. And this includes the best selection of regional sports networks in the industry. You also get unlimited cloud DVR storage and the ability to stream on unlimited devices at once. (DIRECTV STREAM review)
Hulu + Live TV: This is probably the best overall entertainment service with 85+ live TV channels, an outstanding on-demand library, Disney+, and ESPN+ for $69.99/mo. If you get the Sports add-on for $9.99/mo extra, it includes FanDuel and FanDuel Racing. The base plan comes with unlimited cloud DVR (9 months storage) and streaming on up to two devices at the same time. (Hulu + Live TV review)
YouTube TV: Offers a similar plan to Hulu + Live TV without most of the extras but costing a bit less, $72.99/mo. FanDuel (but not FanDuel Racing) comes with the Sports Plus add-on for an additional $10.99/mo.
Note that FanDuel does not support TV Everywhere. So you can't use any of these streaming services to log into the FanDuel app. If you want to use the FanDuel app, you must sign-up specifically with FanDuel TV+.
Superpower Your Live TV Streaming With a VPN
You can't beat a VPN for privacy, security, and access. We have used them for years as an important part of our streaming toolkit and we recommend ExpressVPN. Other brands worth checking out include Hotspot Shield and CyberGhost.
Streaming Devices for FanDuel
With the standalone subscription to FanDuel, you are somewhat limited in terms of streaming devices. You can use Android and iOS mobile devices, TV devices, and web browsers. But they do not support any smart TVs or gaming consoles.
All the live TV streaming services support the following devices:
Amazon Fire TV
Android mobile devices
Apple TV
Google Chromecast
iOS devices (iPhone, iPad)

Roku
Samsung smart TVs
Web browsers.
Additionally, both Hulu + Live TV and FuboTV support these devices:
Android TV devices
LG smart TVs
VIZIO smartcast TVs
Xbox One.
Finally, Hulu + Live TV supports the gaming systems PlayStation and Nintendo Switch.
But there's more! See our live TV streaming reviews for complete lists.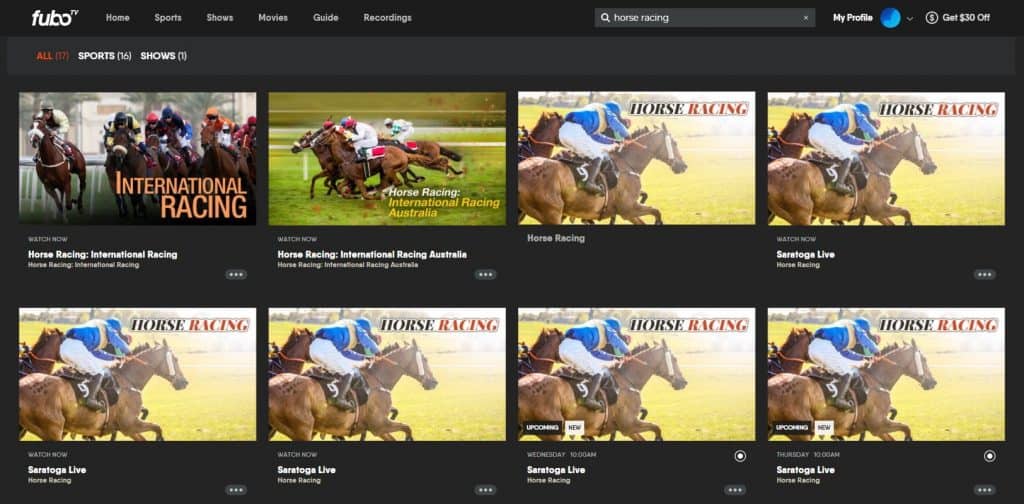 Wrapping Up
If you enjoy watching content involving horses, greyhounds, or other large animals, you will likely want to subscribe to FanDuel. This is even more true if you enjoy making wagers on races or other events.
As a general rule, it may be easier to make full use of what this channel offers by creating a FanDuel account and getting a full FanDuel subscription. But there are many advantages to including it with your regular TV package.
The easiest way to gain access to FanDuel is to sign-up with the DIRECTV STREAM Choice package.
Ditch "Big Cable" Now – 3 Simple Steps to Cut the Cord
Pick the right streaming service
Get the content you deserve with the best VPN.
Supercharge your internet provider
That's it — you'll save money, take back control, and enjoy TV more!
Page Updates
▼
▲
Updated some section headings. Updated some sub-sections. Added some links.

Updated some section headings. Updated some sub-sections. Mentioned offers.

Put related links. Pricing updates. Various changes to content.

Added VPN info. Image changes. Added a few links. Reworded some things.

Added buttons for streaming services. Mentioned offers. Pricing updates. Reworded some things.

Put related links. Changed a few bits of content.

Mentioned offers. Pricing updates.

Added links to streaming services. Updated some section headings. Put related links. Mentioned offers.
Latest posts by Frank Moraes
(see all)