If you are a golf fan, The Golf Channel is an essential part of your live TV channel lineup. It really does a great job covering the sport. And thankfully, it is widely available from streaming services. All your options for following Jordan Spieth and Tiger Woods are discussed below.
In a hurry? But if you just want to start viewing, these are our top picks for golf fans:
Fubo: The best streaming service for international sports also provides 150+ well-selected channels. Fubo allows you to try out its service with a free trial.
DIRECTV STREAM: Get a great channel lineup with the best selection of RSNs in the industry. A 5-day free trial is now available for DIRECTV STREAM.
Sling TV: This low-cost service allows you to select just the channel lineup you want. Save 50% on Sling TV now.
If you can't watch your favorite sports because of your location, get ExpressVPN to access the content you deserve.
Unfortunately, we don't know a streaming service in that covers this sport. But if you've already paid for the right service, and just can't watch because of your location, there is an easy way to get the content you deserve. You need a VPN, like one of the following.
| | | |
| --- | --- | --- |
| | ExpressVPN: Known as "The VPN that just works," it combines remarkable ease of use with with state-of-the-art power, speed, security, and privacy. Get three extra free months when you sign up for a year. Unleash your streaming with this top-rated VPN. | Sign Up Now |
| | Hotspot Shield: Connect to servers in 80+ different countries and 25+ US cities. HotSpot Shield features extremely fast servers and connections and is specially tuned for use with streaming services. And you can try it risk-free with a 7-day free trial and a 45-day money-back guarantee! | Sign Up Now |
| | CyberGhost: Great low-cost service with ultra-fast servers in 90+ countries for smooth live sports streaming. It also provides great security and privacy. See if it's right for you with a free 24-hour trial and test it out with a 45-day money-back guarantee. | Sign Up Now |
If you're overwhelmed and not sure where to begin, you'll find all the answers in our full VPN guide.
The Golf Channel (often referred to as simply "Golf") is a cable network that is part of the NBC Sports Group owned by NBCUniversal.
It offers exclusive coverage of the first two rounds of most PGA Tour events, like the Champions Tour, as well as early morning coverage of the final two rounds of most tournaments. Some major events include the President's Cup/Ryder Cup, US Open, and Tour Championship.
In addition to coverage of the PGA and LPGA Tours, you will find live broadcasts of golf events taking place in Asia and Europe, such as the Ryder Cup. Finally, Golf Channel offers a variety of original programming aimed at teaching viewers how to play the game.
How to Watch Golf Channel Live Without Cable
If you want to stream Golf Channel live without cable, you will need to subscribe to a streaming service. There are many streaming platforms that offer this channel as part of a base package or as part of a low-cost add-on to an existing package.
Unfortunately, you will not be able to watch this channel using an antenna. This is because Golf Channel does not broadcast a signal over the air (OTA). It is only available through a third-party provider.
However, you may be able to acquire a signal from NBC itself as it does broadcast OTA in most areas. The primary NBC network generally has coverage of golf events on Saturday and Sunday afternoons during most of the calendar year.
You can always find tee times and channels for this weekend's golf events on our guide to watching golf without cable.
Unblock Your Favorite Movies and Shows With a VPN
If you can't watch your favorite movies and shows because of your location, a VPN will allow you to get the access you are entitled to, plus extra security and unequalled privacy. Check out our VPN Guide for everything you need to know, including our top pick ExpressVPN.
Other brands worth checking out include Hotspot Shield and CyberGhost.
Streaming Services With Golf Channel
Subscribing to a streaming platform may be the best way for those who want to cut the cord to watch their favorite sport on a regular basis. You can watch live coverage of most major golf events and get the latest news from the links, plus it is usually possible to record your favorite shows, highlights, and anything else that you'd want to watch again in the future.
And streaming services allow you to cancel or transfer your service at any time, which makes it easier to watch TV on your terms.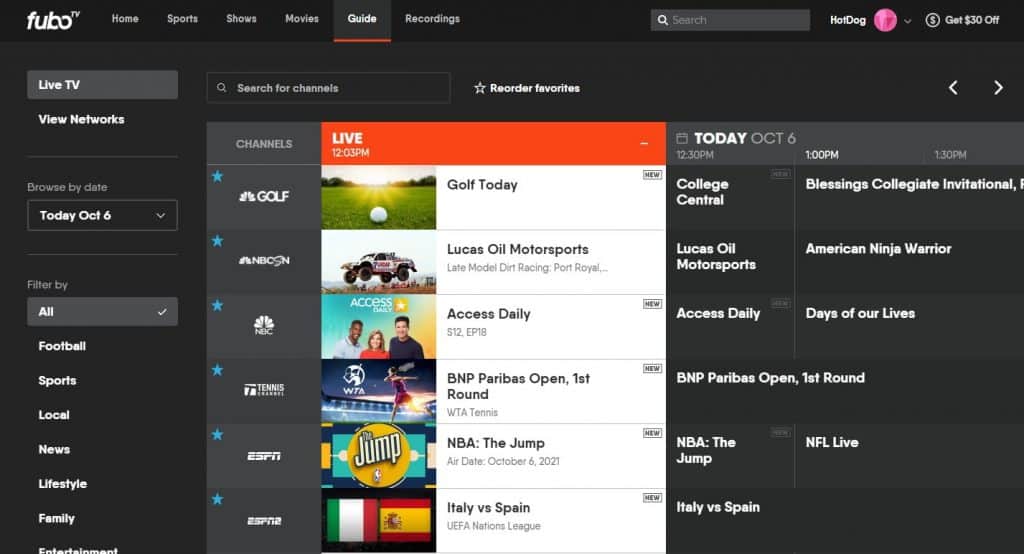 FuboTV

FuboTV makes the Golf Channel available to customers as part of its standard base (Pro) package. For $69.99 a month, you'll have the chance to watch your favorite PGA Tour pros from almost any device or TV.
The base plan gives you access to over 100 live TV channels including your local NBC station, NBC Universo and other NBCUniversal channels.
Included with this are 35+ live sports channels including ESPN, FS1, CBS Sports Network, NHL Network, and several channels from TUDN and beIN Sports. It also provides regional sports networks (RSNs) in many areas.
All plans come with the ability to stream on up to ten devices at once and 750 hours of cloud DVR. For details, see our FuboTV review.
Sling TV

Sling TV includes the Golf Channel as part of its Sling Blue Sports Extra package, which costs $11 per month. The Sling Blue plan itself will cost you $35 a month, for a total of $46/mo for 50+ channels. These also include NFL Network, NFL RedZone, NBA TV, MLB Network, MLB Strike Zone, and NHL Network.
The main downside of this plan is that it doesn't include any ESPN channels. You can opt to purchase both the Sling Blue and Sling Orange plan for $50/mo. If you do, you can add the complete Sports Extra package, which is $15 a month.
This will give you access to 70+ channels including all the above and over a half-dozen ESPN channels, Big Ten Network, and beIN Sports.
To learn more read our Sling TV review. We also have Masters, Masters Finals, LPGA Tour, PGA Championship, US Open, and NCAA Men's Golf Championship guides.
DIRECTV STREAM

The Golf Channel is available as part of the DIRECTV STREAM (formerly AT&T TV) Ultimate plan, which starts at $104.99 per month. This gives you access to over 130 live TV channels including many owned by NBCUniversal such as USA. You'll also get your local NBC station.
DIRECTV STREAM also provides the best coverage of RSNs in the industry. These are the channels you need if you want to watch all the games of your local MLB, NBA, and NHL teams.
All plans come with unlimited DVR storage as long as you sign-up online and the ability to stream on up to 20 devices at one time at home or 3 when on the road.
Find out more in our DIRECTV STREAM review.
Get DIRECTV STREAM Free for 5 Days
Hulu + Live TV

The Golf Channel is available as part of the Hulu + Live TV base TV package, which is $69.99 per month. This includes other sports channels including several from ESPN, FS2, Olympic Channel, and more. They also have TBS and TNT.
The base plan comes with unlimited cloud DVR (9-month storage) and the ability to watch on two devices at the same time. Plus you get on-demand content from Hulu, Disney+, and ESPN+.
For more information, see our Hulu + Live TV review.
Other Ways to Get Golf Channel
YouTube TV offers the Golf Channel for $64.99/mo. You'll also receive access to NBC Universo and other NBC stations as part of your monthly service charge.
You can use the NBC Sports app to watch Golf Channel and other channels. You need to log in using your streaming service, so this isn't a way to get Golf without an account, but it is handy. Note that it doesn't provide a live stream of the channel but does provide live streams of events.
As we noted above, NBC itself shows a lot of golf tournaments. So even if you can't get Golf Channel, you will be able to watch some events for free on NBC. You can also watch some events on Peacock.
Superpower Your Live TV Streaming With a VPN
You can't beat a VPN for privacy, security, and access. We have used them for years as an important part of our streaming toolkit and we recommend ExpressVPN. Other brands worth checking out include Hotspot Shield and CyberGhost.
Watch Golf Channel on Streaming TVs and Devices
More than most sports, golf really needs a good device to watch on. Luckily, the streaming services we've discussed offer many streaming options for watching Golf Channel in all its glory:
Amazon Fire TV
Android mobile devices
Apple TV
Google Chromecast
iOS devices (iPhone, iPad)
Roku
Samsung smart TVs
Web browsers.
FuboTV, Hulu + Live TV, and Sling TV support smart TVs from LG, Vizio, and those that run Android TV. They also support the Xbox One. Sling TV supports the Oculus VR system. Hulu + Live TV also supports Nintendo Switch and PlayStation systems.
This list isn't complete. For the full list, see the streaming service reviews we linked to above.
Wrapping Up
The Golf Channel is a "cable" station that is owned by NBCUniversal and is available in millions of American homes via various providers.
If you don't want to sign-up for a long-term cable or satellite package, you can get access to this network by subscribing to one of the many streaming platforms that carry it.
In most cases, you will have access to Golf within minutes of signing up. So what are you waiting for?
FAQs
What is the Golf Channel?
Golf Channel is the foundation of NBC Sports Group's golf division. Originally founded by legendary golfer Arnold Palmer in 1995, it has more live golf coverage than all other US networks combined. It also features news, technical instruction, and original programming, including retrospectives and documentaries.
Can I stream just the Golf Channel?
No. NBC Sports does not offer the Golf Channel by itself. You can subscribe to Peacock Premium, which gives you access to some golf events (though not as many as the Golf Channel), or the GolfPass, which has some Golf Channel content (Big Break and Feherty).
Which streaming service has Golf Channel?
All the major ones carry it: sports-centered fuboTV, larger-than-life DIRECTV STREAM, mix-and-match Sling TV, and on-demand overload Hulu + Live TV. Hulu Live and fubo offer it as part of their base packages, DIRECTV STREAM and Sling, you'll have to upgrade to a higher-priced package.
Does the Golf Channel carry The Masters Tournament?
No. The Masters Tournament is on ESPN (Rounds 1 and 2) and CBS (Rounds 3 and 4). ESPN is available on every major streaming service, and CBS is on most of them. You can get a CBS live stream by itself by subscribing to Paramount+ ($9.99/mo). Sling TV, at $40.00/mo, is the cheapest way to watch ESPN. See our guide to watching The Masters on Sling TV for more info.
Can I get the Golf Channel on Amazon Prime?
No. Amazon Prime does not have any live channels, though they do have some select live sports events, including a subscription to live coverage of featured PGA Tour groups. To watch Golf Channel, you need a live TV provider to get Golf Channel, such as cable, satellite, or the excellent streaming services listed above.
Is Golf Channel available in Canada?
Yes! Several Canadian cable and satellite providers offer the Golf Channel. Coverage may vary from the United States' version due to differing licensing agreements, blackouts, and other contract and copyright oddities. You can also find golf in Canada, or straight from the horse's mouth, as it were, with PGA Tour Live.
Is Golf Channel available everywhere in the US?
Yes, you can get Golf Channel through a streaming service regardless of where you live in the United States. Most streaming providers will have an address tool that allows you to see what local channels you will get. This lets you determine if this channel is available before spending any money. But Golf is a national channel and is provided to all subscribers.
Do I need the Golf Channel if I have Peacock?
If you have the Peacock Premium package, you may already have access to a significant amount of content that airs on Golf Channel. However, there is no guarantee that a specific show, live event, or other piece of programming will be available without subscribing to a service that offers the channel itself. Peacock Premium does not provide the Golf live stream.
Peacock has plans to introduce a service called GolfPass, which offers much of the same content that Golf Channel does. Therefore, you may not need both if you already have a subscription to NBC's streaming service. But that isn't true today.
What happens if NBC stations are removed from a streaming provider?
In September 2021, YouTube TV and NBCUniversal had trouble with their contract negotiations. There was much concern among YouTube TV subscribers that they were going to lose access to the NBC channels.
In the end, a deal was reached. But in cases where a streaming service can't reach a deal with a TV network, the subscribers lose access and need to move to another service if the lost channels are important to them.
How do I watch major golf events?
We have special guides for the majors:
Ditch "Big Cable" Now – 3 Simple Steps to Cut the Cord
Pick the right streaming service
Get the content you deserve with the best VPN.
Supercharge your internet provider
That's it — you'll save money, take back control, and enjoy TV more!
Page Updates
▼
▲
Updated some sub-sections. Image changes. Pricing updates.

Updated some sub-sections. Updated some section headings. Image changes.

Image changes. Updated some sub-sections. Mentioned offers.

Added buttons for streaming services. Added VPN info. Image changes. Pricing updates. Misc changes to content.

Updated some sub-sections. Image changes. More links.

Image changes. Put related links. Pricing updates.

Updated some sub-sections. Pricing updates. Added links.
Latest posts by Frank Moraes
(see all)