English Premier League is back.

Stream it live on NBCUniversal channels with Fubo!
If you are a soccer fan, you will want GolTV. And you don't need cable to get access. Read on to learn your options.
In a hurry? Only a couple of streaming services currently offer GolTV. We recommend FuboTV. It provides 110+ channels with a heavy focus on international soccer for $69.99/mo. The International Sports Plus add-on ($6.99/mo) gives you both the English and Spanish GolTV channels and 9 others. FuboTV allows you to try out its service free for 7 days.
GolTV (Gol TV, GOLTV) is a soccer-focused channel that provides content from a variety of competitions, including the Primeira Liga, home to the big three of Porto, Sporting CP, and Benfica. It used to carry FIFA World Cup qualifying matches and games from leagues such as the Bundesliga, but its content has changed significantly through the years.
Those looking to secure access to GolTV through a streaming service have three options: FuboTV ($76.98/mo), DIRECTV STREAM ($89.99/mo), and YouTube TV ($75.98/mo).
What Is GolTV?
GolTV has been broadcasting live soccer matches to American audiences since its launch in 2003. The channel's first coup was securing the US rights to La Liga games. Although it did later lose those to beIN Sports, it has also held them for several other prestigious competitions over the years. These include:
Coppa Italia
Eredivisie
Ascenso MX*
Scottish Cup.
* Ascenso MX was later replaced by Liga de Expansion MX.
This channel is also the only one in the US that is 100% devoted to soccer as far as its non-paid programming is concerned.
GolTV en Espanol
GolTV en Espanol is a companion channel that broadcasts the exact same matches that GolTV does but with Spanish-language commentary instead of the English-language commentators that GolTV employs.
The two channels (GolTV and GolTV en Espanol) taken together are essentially the US's first completely bilingual soccer channel.
Programming
GolTV's premier European offering is the Primeira Liga, Portugal's top league. It is where teams such as Sporting CP, Benfica, Porto, and Braga compete for national honors. It is also where the teams seek places in the UEFA Champions League, UEFA Europa League, and UEFA Europa Conference League.
GolTV also broadcasts matches from a number of top leagues in South America, including Ecuador's Serie A, Peru's Primera Division, and Uruguay's Primera Division. These leagues are where teams battle for national honors and spots at the Copa Libertadores and Copa Sudamericana. (See have a general guide for Brazilian soccer fans.)
Another competition showcasing top clubs that GolTV carries is the KNVB Cup, the Netherlands' primary domestic cup. It features teams such as Ajax, Feyenoord, and Eindhoven. The winner qualifies for the next season's Europa League unless it has qualified for the Champions League through its Eredivisie placement.
Meanwhile, shows that are broadcast on GolTV include Te Futbol, which shares commentary and highlights of matches played in South America. It also features Portugol, GO GO GOAL, and The Football Review. However, the bulk of its programming consists of live and recorded matches and paid programming.
Former Programming
GolTV's biggest loss was the rights to La Liga in 2012 after having carried Spain's top league since 2004. Others in this group of no longer being broadcast on GolTV include the Europa League, Bundesliga, Coppa Italia, Eredivisie, US Open Cup, and Campeonato Brasileiro Serie A.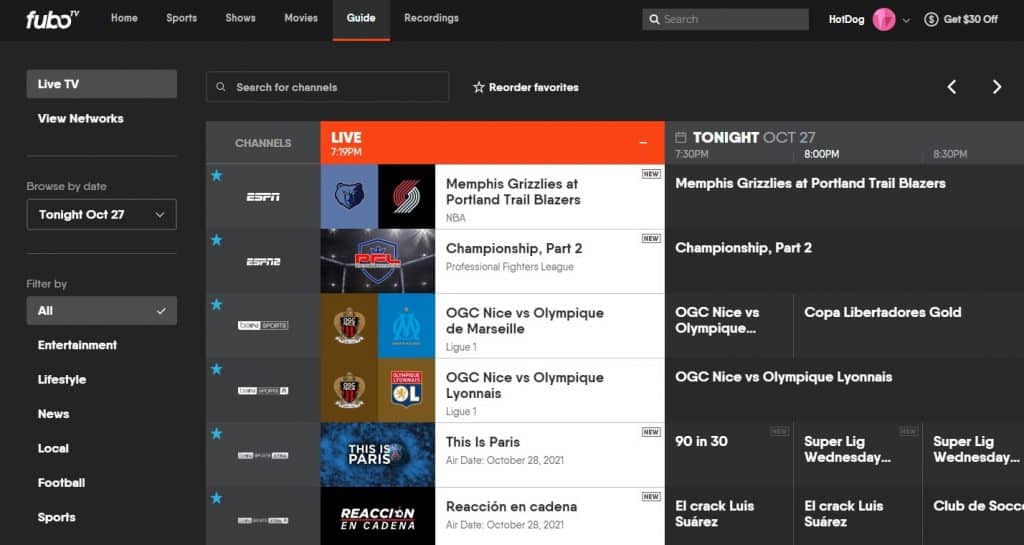 Unblock Your Favorite Movies and Shows With a VPN
If you can't watch your favorite movies and shows because of your location, a VPN will allow you to get the access you are entitled to, plus extra security and unequalled privacy. Check out our VPN Guide for everything you need to know, including our top pick ExpressVPN.
Other brands worth checking out include Hotspot Shield and CyberGhost.
Streaming GolTV
Those looking to get the English- or Spanish-language versions of GolTV or both have a few multichannel streaming service options. Also, GolTV offers a companion streaming service, which costs extra.
FuboTV

FuboTV offers GolTV, but you need to purchase an add-on in addition to its base Pro ($69.99/mo). You have three choices. Try FuboTV free for 7 days.
One is the International Sports Plus add-on ($6.99/mo), which includes both GolTV and GolTV en Espanol as well as ESPN Deportes, Fox Deports, Fox Soccer Plus, and TyC Sports. Another is its Latino Plus add-on ($19.99/mo), which includes GolTV en Espanol, Fox Deports, ESPN Deportes, TyC sports, and several general interest channels (eg, Discovery en Espanol and Nat Geo Mundo). Meanwhile, Portuguese Plus ($14.99/mo) focuses on RTP-related offerings in addition to GolTV en Espanol.
Also note that FuboTV's base plan's wide selection of channels includes Fox Sports 1 (FS1), Fox Sports 2 (FS2), ESPN, ESPN2, beIN Sports, TUDN, Univision, UniMas, Telemundo, and Galavision.
All FuboTV plans come with 1000 hours of cloud DVR storage and streaming on up to ten devices at once. See our FuboTV review for details.
DIRECTV STREAM

The base DIRECTV STREAM plan (formerly AT&T TV) for $69.99/mo provides roughly 80 channels including ESPN, ESPN2, and FS1. Two bumps up to its Ultimate plan ($104.99/mo) would get you over 130 channels and secure your access to FS2 and CBS Sports Network. Get DIRECTV STREAM free for 5 days.
To get GolTV, you need to get the Espanol add-on for $15/mo extra. But this provides almost 60 extra channels. See our DIRECTV STREAM review for more information.
Get DIRECTV STREAM Free for 5 Days
YouTube TV

If you get YouTube TV ($64.99/mo) and its Sports plus add-on ($10.99/mo), you can watch GolTV. Also included with that add-on are channels such as beIN Sports and Fox Soccer Plus while YouTube TV's base plan includes CBSSN, ESPN, ESPN2, FS1, FS2, Univision, UniMas, and Galavision.
GolTV Play
Although there is no overflow channel for GolTV, it does offer a separate streaming service that provides access to additional live broadcasts: GolTV Play. However, there are extra charges, and geographic restrictions apply. The plans are related to the national leagues of Portugal (Primeira Liga), Ecuador (Serie A), Peru (Primera Division), Uruguay (Primera Division), and Venezuela (Primera Division).
The one for Portugal's league ($9.99/mo) is available in Canada and Latin America with the exception of Brazil. The plan for Ecuador's league ($9.99/mo) is accessible worldwide except for those in Latin America. Those looking for access to Peru's top league can get the plan associated with it ($9.99/mo) as long as they are in the US, Canada, or Spain. Uruguay's top league may be viewed by those not in Latin America for $13.99/mo while fans not in the US or Latin America can watch Venezuela's top league for $9.99/mo.
Live Streaming Devices for GolTV Sports
Most streaming devices are supported by the services that offer GolTV:
Amazon Fire TV
Android mobile devices
Apple TV
Google Chromecast
iOS devices (iPhone, iPad)

Roku
Samsung smart TVs
Web browsers.
FuboTV and YouTube TV also support these devices:
Android TV devices
LG smart TVs
VIZIO smartcast TVs
Xbox One.
If you don't see your device, see our streaming service reviews, which have complete lists of supported devices.
Superpower Your Live TV Streaming With a VPN
You can't beat a VPN for privacy, security, and access. We have used them for years as an important part of our streaming toolkit and we recommend ExpressVPN. Other brands worth checking out include Hotspot Shield and CyberGhost.
Wrapping Up
To get GolTV through a streaming service, FuboTV appears to be the best option thanks to its offerings and its price, which comes to $76.98/mo if you get the necessary base plan and International Sports Plus add-on.
FAQ
Is GolTV one channel or two?
You may come across two different GolTV channels, such as after getting FuboTV's International Sports Plus add-on. One of them is accompanied by English-language commentary while Spanish-language speakers serve as announcers on the other, which is named GolTV en Espanol. Sometimes, depending on the specific streaming service and add-on you get, you may only have access to one or the other.
GolTV became the country's first soccer channel to offer commentary in both of those languages for every match broadcast. (Their match schedules are identical.)
Ditch "Big Cable" Now – 3 Simple Steps to Cut the Cord
Pick the right streaming service
Get the content you deserve with the best VPN.
Supercharge your internet provider
That's it — you'll save money, take back control, and enjoy TV more!
Page Updates
▼
▲
Updated some sub-sections. Updated some section headings. Added some links.

Added some more links. Image changes. Changes to formatting.

Added buttons for streaming services. Added VPN info. Misc content updates.

Image changes. Pricing updates. Added some links.

More links. Various changes to content.

Put related links. Image changes. Various content updates.

Pricing updates. Put related links. Changed a few bits of content.

Mentioned channel info. Added sub-section. More links. Changed a few bits of content.
Latest posts by Frank Moraes
(see all)