Hallmark Movies & Mysteries is a great channel for mystery lovers who want to share with the whole family. And you don't need a cable subscription to enjoy it. In fact, you have better options online.
In a hurry? If you just want a good source for Movies & Mysteries and the other Hallmark channels, these services provide that and a whole lot more:
FuboTV: With 130+ channels, it offers something for everyone. FuboTV allows you to try out its service free for 7 days.
Sling TV: Probably the best streaming service in terms of customization with a super low price!
DIRECTV STREAM: Provides everything you expect from cable with many options. A 5-day free trial is now available for DIRECTV STREAM.
If you can't watch your favorite sports, TV and movies because of your location, try ExpressVPN to get access to the content you deserve. Signup now.
Unfortunately, we don't know a streaming service in that offers this TV channel. But if you've already paid for the right service, and just can't watch because of your location, there is an easy way to get the sports, movies, and TV you deserve. You need a VPN, like one of the following.
ExpressVPN: Premium VPN provider that just works, with 3,000+ locations in 94 countries. Supports five simultaneous devices and comes with a 30-day money-back guarantee. (ExpressVPN review)
Surfshark: Connect to over 3,200 servers in 99 countries (+ tonnes of US metro areas). Try it with a 7-day free trial.
NordVPN: Connect to over 5,000 premium servers in 60+ countries. Comes with a 30-day money-back guarantee!
If you're overwhelmed and not sure where to begin, you'll find all the answers in our full VPN guide.
The Hallmark channels, as a group, are synonymous with family-friendly made-for-TV movies and an annual two-month celebration of televised Christmas Americana.
Hallmark Movies & Mysteries (HMM) specializes in mystery and murder-themed series and movies, with some non-mystery Hallmark Channel movies and a few classic syndicated mystery TV series such as Matlock and Magnum, PI.
When it comes to killing your cable bill, though, there's no mystery: you can get away with it without missing a single installment of Aurora Teagarden. Read on to find out how!
Sign Up for a Free 7-Day Fubo Trial
How to Watch Hallmark Movies & Mysteries Live Without Cable
Hallmark's production company, Crown Media, oversees the programming for all three Hallmark channels: The Hallmark Channel, Hallmark Movies & Mysteries (formerly The Hallmark Movie Channel), and Hallmark Drama.
While Hallmark movies and series are largely religiously neutral, due to their family-friendly content and wholesome reputation, their audience overlaps a fair bit with more religious-based family channels, such as INSP, FETV, Pixl, and Freeform, which used to be the Family Channel.
Those who enjoy the Hallmark channels for their romance or lifestyle programming may also enjoy Lifetime and Lifetime Movie Network (LMN), Discovery Channel, and Oprah Winfrey Network (OWN).
The Hallmark channels are not available over the air (OTA), meaning you can't pick them up with an antenna like ABC or CBS. Instead, you need to subscribe to a third-party provider.
The good news is that this third party doesn't necessarily have to be a cable or satellite company. For many people, online streaming services can completely replace your traditional cable, both lowering your bill and providing more flexibility in what and how you watch. Read on for more details.
Unblock Your Favorite Movies and Shows With a VPN
If you can't watch your favorite movies and shows because of your location, a VPN will allow you to get the access you are entitled to, plus extra security and unequalled privacy. Check out our VPN Guide for everything you need to know, including our top pick ExpressVPN.
Streaming Services With Hallmark Movies & Mysteries
Of the major streaming services, only Hulu + Live TV lacks support for Hallmark.
But the good news is that, for most of these services, the three Hallmark channels stick together, and can all be found in the same tier, package, or add-on. In other words, if you get one, you'll usually get all three.
FuboTV

FuboTV may focus on sports, but the vast majority of its 130+ core channels feature programming other than athletic competitions — including all three Hallmark channels, Freeform, Oprah Winfrey Network, and the Discovery Channel. INSP is available as an add-on, but sadly, no Lifetime channels are here.
Fubo's programming packages start at $74.99/mo (Pro). It also includes 1000 hours of Cloud DVR storage and streaming on up to 10 screens at a time. In most areas, it includes all your local channels including less-available ones like The CW.
For more information about FuboTV, see our detailed review.
Sign Up for a Free 7-Day Fubo Trial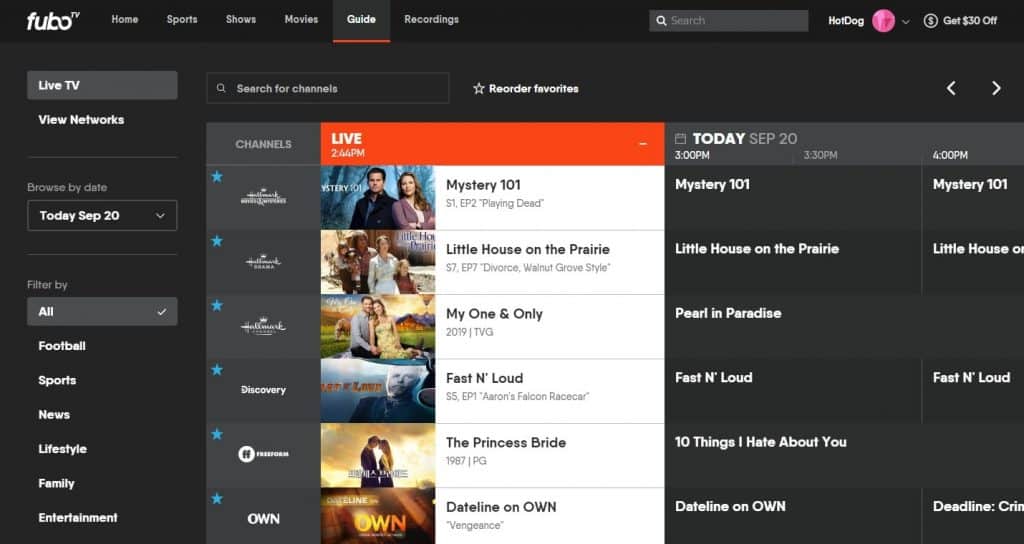 Sling TV

Sling TV offers two plans for $40.00/mo each: the Orange plan ("Good for NCAA football and families") and the Blue plan ("Good for pro football and news"). For the terminally indecisive (or seriously TV-obsessed), there's also the Orange + Blue plan for $55.00/mo.
In order to get the Hallmark channels, you'll need to get Lifestyle Extra, an add-on that also includes the Lifetime Movie Network. It adds $6/mo to the total cost of your package. Other channels available on Sling are Freeform, Discovery, Lifetime, FETV, Insp, and Pixl.
All Sling TV plans come with 50 hours of DVR storage and the Blue plan allows you to watch on up to 3 devices at once. For more information, check out our Sling TV review.
DIRECTV STREAM

DIRECTV STREAM (formerly AT&T TV) is the only service to split up the Hallmark trio. Hallmark Movies & Mysteries and the Hallmark Channel are available in the base Entertainment package ($74.99/mo). It also includes Lifetime, Freeform, and Discovery.
Hallmark Drama is only available as an add-on. It's worth noting that, for some reason, HMM is included in the Entertainment and Premier plans but is an add-on with Choice and Ultimate, the two middle tiers.
All packages come with unlimited cloud DVR (as long as you sign up online), unlimited simultaneous screens, and local network channels. Read our DIRECTV STREAM review for more details.
Get DIRECTV STREAM Free for 5 Days
Philo

Little Philo keeps its service affordable by taking a pass on the more expensive channel licensing (yes, WarnerMedia, we're looking at you). But they still manage to maintain a very respectable collection of cable favorites.
As a result, they are able to offer over 65 channels for only $25/mo, with a 7-day free trial. They even throw in unlimited Cloud DVR and streaming on up to 3 devices at once.
They carry all three Hallmark channels, plus INSP, OWN, Discovery Channel, Lifetime, and the Lifetime Movie Network. See our Philo review for details!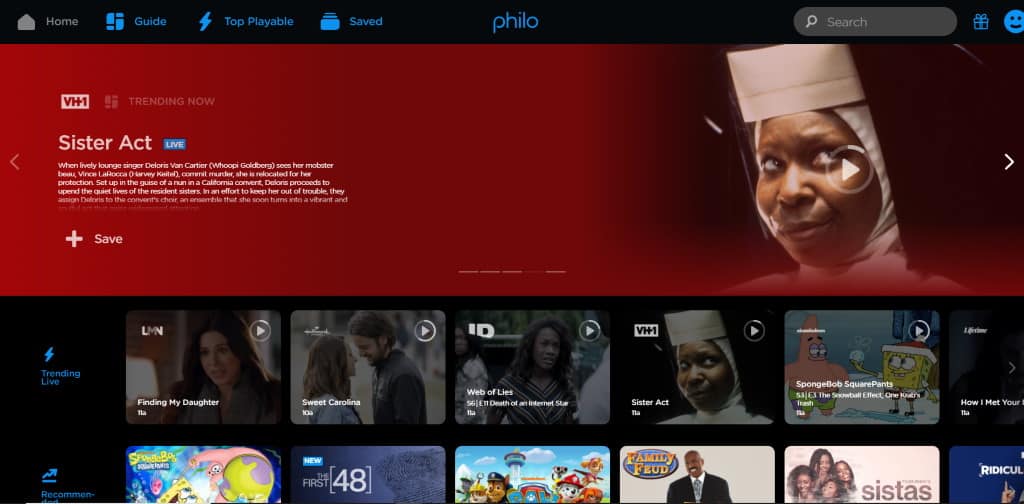 Vidgo

Vidgo is a good mid-range service offering over 110 channels for only $69.99/mo. Try one month for $64.95.
Vidgo's channel line-up already tends to the family-friendly, so it's not surprising they carry all three Hallmark channels, plus FETV, INSP, Lifetime, Lifetime Movies, Discovery, Oprah Winfrey Network, and Freeform.
For more information on Vidgo, see our detailed review.
Other Ways to Stream Hallmark Movies & Mysteries
Don't go yet! There are some alternate ways to watch Cedar Cove and other Hallmark favorites:
Frndly TV: This amazing little site provides over 20 channels of feelgood family entertainment, education, and information starting at just :frndly-price:/mo. You get ad-free original movies, series, and brand-new exclusive content from HMM, the Hallmark Channel, and the Hallmark Hall of Fame film series. (Frndly TV review)
On-demand: Hallmark content is individually available streaming on-demand or for purchase on various streaming services such as iTunes, VUDU, Google Play, Amazon Prime Video, Xbox, and others.
Hallmark TV App: This app allows you to watch all three Hallmark channels live as well as on-demand content. You need to log in with your provider via TV Everywhere, however.
Hallmark Movies Now
Hallmark Movies Now is an on-demand streaming service featuring commercial-free movies and series from The Hallmark Channel, Hallmark Movies & Mysteries, Hallmark Drama, and the Hallmark Hall of Fame movies. It also includes with 1,000 hours of programming not found on the live channels.
You can subscribe directly through Hallmark for $5.99/mo ($59.99/year, save a dollar a month) after a seven-day free trial. Or you may be able to subscribe through your TV provider (such as Sling TV).
Superpower Your Live TV Streaming With a VPN
You can't beat a VPN for privacy, security, and access. We have used them for years as an important part of our streaming toolkit and we recommend ExpressVPN.
Watching HMM With Your TVs and Streaming Devices
The streaming industry has really come together over the past few years in its support of the many smart TVs and streaming devices on the market. You can now watch HMM on most devices you own.
All the services (except DIRECTV STREAM) run on smart TVs based on Android TV. And casting to TVs has become very popular with most smart TVs having Chromecast built-in. And if not, you can also get a Chromecast device to connect to your TV.
Many of the services directly support some smart TVs. All of them other than Vidgo and Philo support recent Samsung models. Sling TV, FuboTV, and Hulu support LG and Vizio smart TVs. FuboTV also supports Hisense smart TVs.
There is universal support for the popular TV "stick" devices Amazon Fire TV, Apple TV, and Roku.
And if you want to watch HMM on your phone or tablet, everyone supports iOS (iPhone, iPad) and Android.
Sling TV, FuboTV, and Hulu support the Xbox One gaming console. Hulu also provides support for the PlayStation and Nintendo Switch.
There are more supported devices than these. Check our service reviews or the service provider's website if you don't see your device listed here.
Wrapping Up
So if you're hooked on both Murder, She Baked and Murder, She Wrote, you won't be missing your favorite amateur sleuths if you murder your cable bill. Just sign up for one of the services above and mark this case closed.
Sign Up for a Free 7-Day Fubo Trial
FAQs
What happened to the Hallmark Movie Channel?
Hallmark Movies & Mysteries launched in 2004 as the Hallmark Movie Channel, an overflow channel for The Hallmark Channel. In 2008, the Mystery Movie film series was moved to the movie channel to make more room on the main Hallmark Channel for lighter romances. Scripted TV series followed in 2010. In 2014, the third Hallmark network, Hallmark Drama, was added and the Hallmark Movie Channel became Hallmark Movies & Mysteries.
What kind of shows can I watch on Hallmark Movies & Mysteries?
Hallmark Movies & Mysteries shows a variety of movies, most of them made-for-TV features that already premiered on The Hallmark Channel. They range from romance to western. And of course, every year comes the hotly anticipated Christmas programming, consisting of original holiday-themed movies mixed in with marathons of classics.
Recent HMM movie premieres include:
Aurora Teagarden Mysteries: Honeymoon, Honeymurder
Sweet Revenge: A Hannah Swensen Mystery
Mystery 101: Deadly History
To Catch a Spy
Morning Show Mysteries: Murder Ever After.
Several of these are part of the Signature Mystery Movie series. Other currently running Signature Mystery Movies include:
Murder, She Baked aka Hannah Swensen Mysteries
Crossword Mysteries
Martha's Vineyard Mysteries
Signed, Sealed, Delivered aka Lost Letter Mysteries.
HMM also has some original series:
Cedar Cove
Chesapeake Shores
Good Witch.
And finally, they air some classic syndicated mystery series from the 80s and 90s:
Murder, She Wrote
Matlock
Magnum PI
Diagnosis: Murder
Monk.
What's the cheapest way to watch Hallmark Movies & Mysteries?
The cheapest way to watch HMM is Frndly TV, at $5.99/mo. Even if you went for their top package with the HD and all the extras (same channel listing though), it would still only be $9.99. If you're looking for more than feel-good family vibes, Philo is the next cheapest at $25/mo for over 60 channels. Or you could go for a Sling TV package, also an excellent value at $40.00/mo.
How do I watch entertainment channels besides HMM?
These guides will help you watch the most popular channels without cable or satellite TV:
How can I watch other family and kids channels without cable?
Here is our list for watching related channels:
Ditch "Big Cable" Now – 3 Simple Steps to Cut the Cord
Pick the right streaming service
Get the content you deserve with the best VPN.
Supercharge your internet provider
That's it — you'll save money, take back control, and enjoy TV more!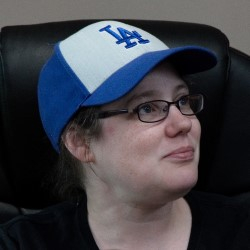 Latest posts by Alanna Baker
(see all)