Marquee Sports Network is the official home of the Chicago Cubs, providing unmatched access to live baseball games and other premium sports content. And, you don't need cable to enjoy all the action.
In a hurry? If you just want to enjoy the Cubs season, these two streaming services provide everything you need:
FuboTV: Although it doesn't offer as many other regional sports channels, it costs just $74.99/mo and offers over 130 other channels. FuboTV allows you to try out its service free for 7 days.
DIRECTV STREAM: Sets you up with every regional channel in your area plus about 100 others. A 5-day free trial is now available for DIRECTV STREAM.
If you can't watch your favorite sports because of your location, get ExpressVPN to access the content you deserve.
Oops! The two streaming services aren't available in . But if you've already paid for the right service, and just can't watch because of your location, there is an easy way to get the content you deserve. You need a VPN, like one of the following.
ExpressVPN: Premium VPN provider that just works, with 3,000+ locations in 94 countries. Supports five simultaneous devices and comes with a 30-day money-back guarantee. (ExpressVPN review)
Surfshark: Connect to over 3,200 servers in 99 countries (+ tonnes of US metro areas). Try it with a 7-day free trial.
NordVPN: Connect to over 5,000 premium servers in 60+ countries. Comes with a 30-day money-back guarantee!
If you're overwhelmed and not sure where to begin, you'll find all the answers in our full VPN guide.
How to Watch Marquee Sports Network Live Without Cable
Formed in February 2020, Marquee Sports Network is dedicated to the Chicago Cubs. Along with game broadcasts, it also features pregame and postgame coverage, local sports programming, documentaries, behind-the-scenes Cubs coverage, national sports programs, and even minor league games.
In other words, Marquee is a must-have channel for Cubs fans.
In addition, Marquee Sports Network provides a lot of other content. They have original shows like Let's Play Two! as well as syndicated shows like Follow the Money.
Streaming services are the only way to watch Marquee Sports Network without cable. They have become popular for their convenience and affordability. But most of them do not provide wide support for regional sports networks (RSNs) like Marquee.
Besides Marquee, which is focused on the Cubs, the Chicago area has one other important RSN: NBC Sports Chicago. It provides coverage for the White Sox (MLB), Bulls (NBA), and Blackhawks (NHL).
Sign Up for a Free 7-Day Fubo Trial
Availability and Price
Marquee Sports Network, like most RSNs, is only available to customers in its coverage area. In this case, that means parts of Illinois, Indiana, Iowa, and Wisconsin. This may seem like a great restriction, but it really isn't. Cubs fans outside the coverage area can get MLB.tv, which we discuss below.
There are many advantages to using a streaming service to deliver Marquee Sports Network. The biggest is probably price. Even the relatively expensive streaming services are notably cheaper than cable.
Streaming services also allow you to watch TV on multiple TVs and devices. So if you have a large household that can't agree on what to watch, there's no problem. And the streaming services work on just about every device imaginable — from the biggest smart TV to the smallest iPhone.
Marquee Sports Network Commentators
Jon Sciambi has been the play-by-play announcer for local Chicago Cubs broadcasts since the 2021 campaign. He also provides his talents to ESPN Radio's national airings of MLB games.
Color commentator Jim Deshaies joined the booth at the same time as Sciambi. Pat Hughes and Beth Mowins are heard sporadically while Taylor McGregor and Elise Menaker regularly serve as field reporters.
Unblock Your Favorite Movies and Shows With a VPN
If you can't watch your favorite movies and shows because of your location, a VPN will allow you to get the access you are entitled to, plus extra security and unequalled privacy. Check out our VPN Guide for everything you need to know, including our top pick ExpressVPN.
Streaming Services with Marquee Sports Network
Since Marquee Sports Network is relatively new, only two streaming services currently offer it.
FuboTV

Chicago RSNs
Marquee Sports Network
NBC Sports Chicago
NBC Sports Chicago Plus
NBC Sports Chicago Plus 2
Local Chicago Channels
ABC, CBS, Fox, NBC
Total Channels
105+
Cloud DVR
750 hours
Simultaneous Screens
10
Free Trial
✅
FuboTV Price
$69.99/mo
FuboTV includes Marquee Sports Network in its Fubo package as well as the three NBC Sports RSNs for $69.99/mo. It also includes all the local channels so you won't miss out on what's going on.
In addition to this, FuboTV is arguably the best overall sports streaming service. Of the over 105 channels in its base plan, over 35 are sports-focused. These include CBS Sports Network, ESPN, ESPN2, FS1, FS2, and many more. And FuboTV streams over 130 events each year in 4K!
Cubs fans really can't do as well with any other service. If you want more information, check out these articles:
Sign Up for a Free 7-Day Fubo Trial
DIRECTV STREAM

Chicago RSNs
Marquee Sports Network
NBC Sports Chicago
Local Chicago Channels
ABC, CBS, Fox, NBC
Total Channels
90+
Cloud DVR
Unlimited (online sign-up)
Simultaneous Screens
20 (home) and 3 (away)
Free Trial
✅
DIRECTV STREAM Price
$89.99/mo
You can catch up on the Chicago Cubs games this MLB season through Marquee Sports Network on DIRECTV STREAM (formerly AT&T TV). It also includes NBC Sports Chicago so you will get great coverage of all the local teams. And, of course, you get the local network affiliates.
In order to get the RSNs, you must purchase DIRECTV STREAM's Choice plan. It's $20/mo more so you are better off with FuboTV if you are only interested in Chicago teams. But if you live in Indianapolis, for example, you will also get Bally Sports Ohio Plus and Bally Sports Midwest, which provides coverage of Reds (MLB), Pacers (NBA), and Blues (NHL). FuboTV doesn't offer those, so in particular cases, DIRECTV STREAM can be a great deal.
You will also get other sports channels ESPN, ESPN2, ESPNU, FS1, and more. If you want to know more about DIRECTV STREAM, see our review.
Get DIRECTV STREAM Free for 5 Days
Other Ways to Get Marquee Sports Network
Apart from online streaming services, you have two options.
Marquee Sports Network App
You can also watch Marquee Sports Network on the official app, which is available on Amazon Fire TV, Android, iOS, Roku, and tvOS.
It still requires that you subscribe to a service that includes Marquee Sports Network. To make matters worse, the app currently doesn't support FuboTV. Only DIRECTV STREAM customers can use it.
And, of course, Marquee Sports Network is only available in-home television territories. These are areas defined by MLB as part of a club's home market. So this app doesn't really provide anything you aren't already getting from the streaming services.
MLB.tv
MLB.tv will not provide you access to the Marquee Sports Network. But it is a great option for a certain kind of Cubs fan — the kind that doesn't live in Chicago.
MLB.tv provides access to most live MLB games for $24.99 per month or $149.99 for the whole season. The catch? There is a blackout delay for all in-market games. So if you live near the Cubs, you will have to wait an hour and a half after each game to watch it.
But for Cubs fans who live far away, this is a great deal!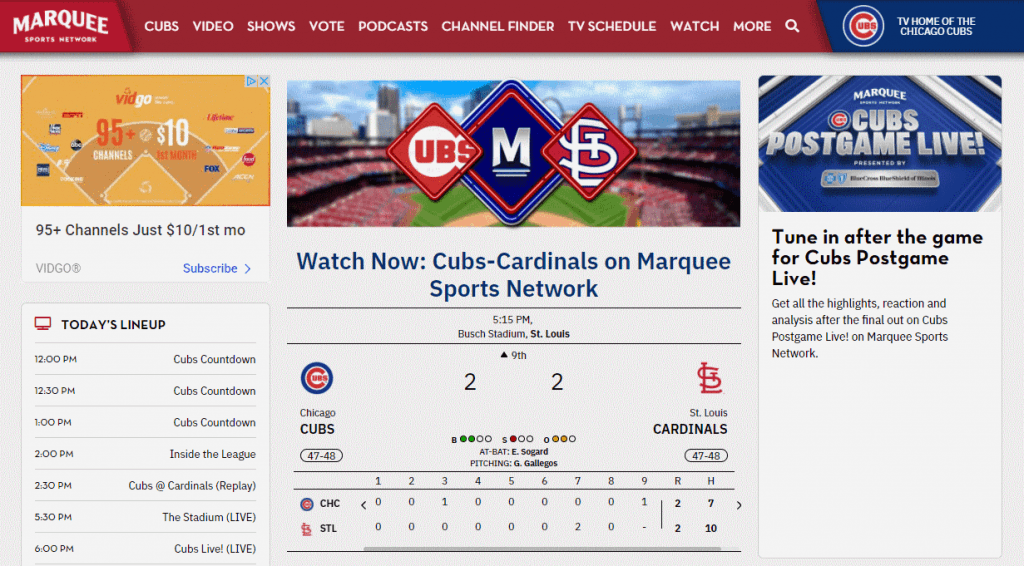 Superpower Your Live TV Streaming With a VPN
You can't beat a VPN for privacy, security, and access. We have used them for years as an important part of our streaming toolkit and we recommend ExpressVPN.
TVs and Mobile Devices for Marquee Sports Network
There are a lot of details about just what TVs and devices different live TV streaming services provide.
But, the bottom line is always the same: they provide support for the vast majority of units. Unless you have an old or unusual device, you are almost certainly covered.
FuboTV Supported Devices
TVs: Hisense, LG, Samsung, and those with Android TV built in
Streaming Media Players: Amazon Fire TV, Apple TV, Roku, Chromecast
Browsers: All major
Mobile: Android, iOS (iPhone, iPad, iPod Touch)
Game Consoles: Xbox One.
DIRECTV STREAM Supported Devices
TVs: Samsung
Streaming Media Players: Apple TV, Amazon Fire TV, Roku, Chromecast
Browsers: All major
Mobile: Android, iOS (iPhone, iPad, iPod Touch)
Note that DIRECTV STREAM provides its own streaming device, which can make the process of transitioning from cable easier.
Sign Up for a Free 7-Day Fubo Trial
Wrapping Up
Marquee Sports Network is an emerging contender in the world of network sports. With dedicated coverage of the Chicago Cubs and exclusive TV shows such as Cubs 360 Daily, Cubs Classics, and Marquee Sports Network Films, it has proven to be an invaluable resource for Cubs fans. If you are one, Marquee Sports Network is a must.
Since it is relatively new, you have only two options to get Marquee without cable: DIRECTV STREAM and FuboTV. Both these services offer excellent and convenient packages even without Marquee.
If you're in or near the Chicago area and passionate about baseball, then get Marquee Sports Network on your favorite online streaming service now!
FAQs
Can I watch Marquee Sports Network on Hulu + Live TV?
Unfortunately, Hulu + Live TV dropped Marquee Sports Network from its channel line-up in October 2020. Hulu + Live TV could not reach an agreement with the Sinclair Broadcast Group, which along with the Chicago Cubs, owns the network. Hulu has not shown much interest in adding new RSNs to its lineup.
Does YouTube TV offer Marquee Sports Network?
YouTube TV ended its relationship with Sinclair at roughly the same time as Hulu + Live TV. At this time, they only offer the same NBC Sports RSNs as Hulu provides. Similarly, they have not shown any interest in adding RSNs unlike FuboTV, which has added Marquee and other RSNs over the last year.
Other than Chicago Cubs games, what does Marquee Sports Network air?
Along with the Chicago Cubs' coverage, Marquee provides pre and postgame shows, documentaries, and other sports coverage including minor league games. It also airs shows:
Play at Home Trivia
Cubs Countdown
Marquee Sports Network Films
Cubs 360 Daily.
Can I live stream Marquee Sports Network?
Yes, you can easily stream Marquee Sports Network on most devices you own. Both FuboTV and DIRECTV STREAM offer their own apps on all supported devices that will allow you to watch every Cubs game live. You can also use the Marquee Sports Network app with your DIRECTV STREAM credentials. If you use FuboTV, you will need to stick to its app.
How can I watch the Cubs' divisional rivals?
See the following links for information on streaming other teams in the National League Central:
How can I watch other sports channels?
The following guides show you how to watch most major sports channels without cable:
Ditch "Big Cable" Now – 3 Simple Steps to Cut the Cord
Pick the right streaming service
Get the content you deserve with the best VPN.
Supercharge your internet provider
That's it — you'll save money, take back control, and enjoy TV more!
Latest posts by Frank Moraes
(see all)